It's coming to the end of 2018, so it's time to say out with the old and in with the new. Yes 2019 may be a challenging year for the country as a whole, but what will the new year hold for us locally? We asked 19 familiar Croydon faces for their thoughts on the year ahead and what they are looking forward to in our borough in 2019. In no particular order here they are…
1: Croydon Literary Festival co-founder, Cassie Whittell
I'm trying to remain optimistic about 2019, with the spectre of Brexit hanging over us. So for me, the reopening of the Fairfield Halls is one thing I'm very much looking forward to. Putting aside the controversies around the delays in the opening, and the cost of the refurb, the Halls could become a hugely important south London cultural hub. I can't wait to see how it impacts on our borough's arts scene.
On a smaller scale – new pubs and bars like The Joker and Art + Craft seem to be bringing a different sensibility to Croydon's beleaguered night-time economy; I'm looking forward to seeing more places like Mr Fox opening up in 2019.
And last but definitely not least – I want to try and support local bands and the Croydon music scene more in 2019. A good place to start is The Weird Things and WitchDoktors gig at Hoodoo's on 1-2 February. See you there!
2: Croydon FM director Clive Campbell
2019 is set to be a great year in Croydon. So many exciting projects and ideas coming to life, already we are hearing talks of new music festivals, the launch of the Legacy Youth Zone, Fairfield Halls reopening, the new initiatives for young people, the list goes on… Croydon winning the bid in becoming one of London's first Creative Enterprise Zones – Can you imagine the impact this will have on our town, and of course, Croydon FM is right in the mix of it all.
3: Zoo Co creative producer Rosalind Hoy
2018 was Zoo Co's biggest year yet and we are raring to build upon the work we've done to make 2019 even bigger! We've got loads of projects in the pipeline from an immersive show in the woods to our farthest reaching tour to date which culminates in a big gala performance of Sirens with loads of young people at Fairfield Halls. We are slightly weary to get too excited for this as a lot of it is funding dependent but we'll be keeping everything crossed! The thing we're most looking forward to next year is continuing Theatre on the High Street at Croydon's Whitgift Centre and (once again, with many things pending) the possible transfer of it to another place in Croydon – watch this space! In the meantime, there is plenty happening at the current Theatre on the High Street from now until the end of January including workshops, family shows and visiting theatre companies. Other than what we've got going on, we of course are also hugely excited for Croydonites 2019 and the reopening of Fairfield too!
4: Fairfield Halls venue director, Neil Chandler
Aspire and be inspired in 2019: Croydon is home to one of the country's biggest cultural events in 2019 and it promises to be a great year. The opening of Fairfield Halls, South London's largest arts centre – right in the heart of Croydon is set for 16 September 2019.  There are many wonderful people working on the project and over the last twelve months I have had the opportunity to meet with a vast number of passionate creative people living in the borough to hear what they want from the refurbished Fairfield. I am confident that we can deliver an arts centre that will offer both inspiration and aspiration for the residents of Croydon and the wider community. Croydon is moving in the right direction and the re-opening of Fairfield will make a huge, positive difference to the borough.
5: Artist, Kate Marsden
2018 has been challenging, but next year I'm looking forward to getting involved in more local events, and working with the local community. I've really enjoyed taking my work out to Boxpark and to our annual Open Studios, so there will be more of that, and working to commission more has been really rewarding as I find out more about my clients and their stories. I'm also hoping to publish another book, so watch this space…
6: The Whitgift Foundation head of comms, Catherine Shirley
2018 saw the Whitgift Foundation help thousands of people in the Croydon community: carers visiting the Carers Support Centre, George Street, to find information, advice and wellbeing activities to help them in their caring role; older people living in our warm and friendly communities at Whitgift Care, local older people visiting the 1596 Club day care service to make friends and have fun; and almost half of students receiving bursaries and scholarships at our three schools Old Palace, Whitgift and Trinity to transform their lives. I look forward to 2019 to hear more stories of how the Foundation has touched the lives of many more people in our vibrant and diverse community.
7: Director of Croydonites, Anna Arthur
I am looking forward to bringing more kick arse theatre to Croydon, the opening of Fairfield Halls and (hopefully) another long hot summer!
8: Author, Elizabeth Sheppard
The saddest thing is life is wasted talent. Robert de Niro's words from the film A Bronx Tale are written on the paving stones of St George's Walk to inspire us. But another tagline from the film describes our town: one man lives in the neighbourhood, another man owns it. It's just how far too many Croydonians feel.
You can have all the talent in the world, but if you don't do the right thing, nothing happens, de Niro goes on. We've definitely got the talent and potential here in Croydon – so now let's put it to good use. Let's house people affordably, safeguard children and the vulnerable, welcome incomers and reach across communities to include everyone in Croydon's success. In 2019, I look forward to us doing the right thing.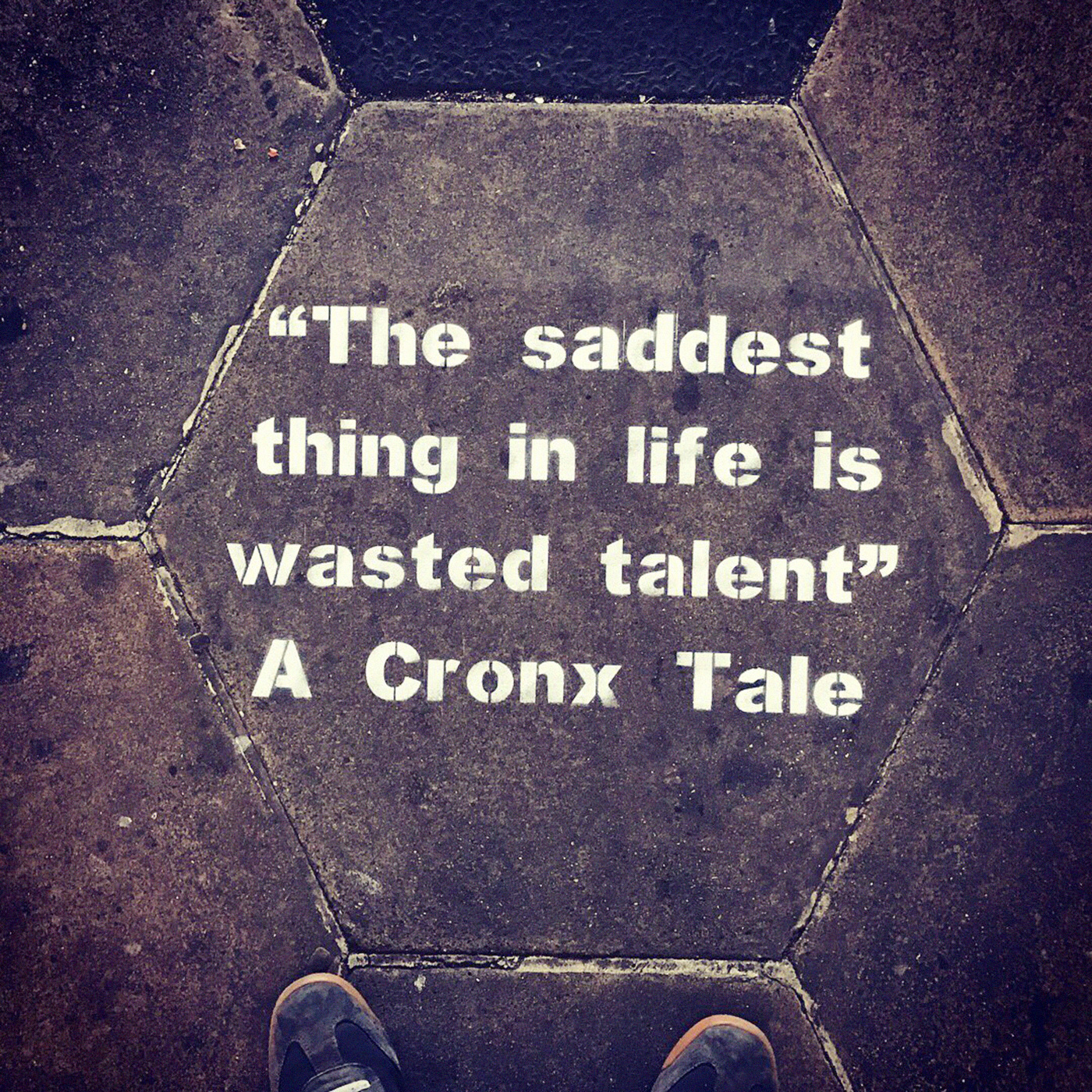 9: The Turf Projects team
Going into 2019 thinking about the words of Rhea Storr, whose Fungus Press posters are currently up around Croydon; "Resist and Play".
10: Artistic Director of Tempting Failure, Dr Thomas John Bacon
The birthplace of punk sees Cro Cro Land breath fire into the music scene of Croydon for 2019. I can't wait to see what they host and hope that it takes some risks worthy of our punk heritage and the recent rise of grime. If TF18 taught us anything this year; never shy away from supporting marginalised artist's voices and don't be afraid to offend a Tory or two! In the year BREXIT takes hold we need to hear screams of disillusionment now more than ever!
11: South Norwood Community Kitchen founders, Laura and Paul
2019 is really exciting for us, we are moving to our own premises and joining forces with other community groups to create a community owned space, nurturing new opportunities and projects, and bringing people together to support each other.
12: Get in Her Ears co-founder, Mari Lane
Having lived for the last 6 years in South West London, I've been used to having an abundance of places to go/eat/drink on my doorstep. So, on moving further out of town to Croydon this summer, I was worried that I wouldn't get out to see live music as much as I would have liked. However, I was – thankfully – to be proved wrong. The transport links are so great from Croydon into both Central and East London, and I'm still just as active a gig goer as ever.
In 2019, though, my hope is for more live music events to be happening within Croydon itself; it would be really great for a bit of a community to get going here – there's so many great bands coming out of South East London and surrounding areas at the moment, I definitely think there's potential for some awesome nights of live music to start happening here.
For the time being, however, I'm super looking forward Cro Cro Land festival on 6th April – an incredible sounding event showcasing some great new music, paving the way for exciting times ahead!
13: My Super Connector founder, Jennifer Corcoran
I'm really looking forward to 2019.  I'll be launching my first online course 'LinkedIn Profile Success' in February and locally I'll be continuing to work out of NEXUS on Croydon High Street and host workshops there on raising your visibility on LinkedIn. NEXUS is a fantastic co-working space and community of like minded creatives where we are able to work with each other and leverage individual skill sets for mutual benefit. I'm also really chuffed to have been invited to speak to the students at the Royal Russell School on their first drop down day at the end of January. 15 years ago my role didn't exist so it's fantastic that the school is showing their students alternative career options.
14: Artist, Tina Crawford
I'm going into 2019 slightly apprehensive – my current art studios building is being sold and after a year of benefiting from the most inspiring place I find myself work homeless. My hopes for the new year are that disused buildings aren't waiting to be sold but are given new life by creatives! We've got some fantastic buildings in Croydon sitting empty like the beautiful old electric & gas buildings – imagine how inspiring they would be if they were art studios! I live in hope that boroughs think more about people than profit.
15: CEO of Lives Not Knives, Eliza Rebeiro
2019 will be a year of education and bringing people together through real life stories. We will be working across London to give teachers the resources to teach young people about knife crime and its devastating effects. We plan to educate over 10,000 young people and work closely with our local schools to support young people with the mentoring and support they need to live a happy life.
16: Director of Made in Croydon CIC, Josi Kiss
Since we set up in 2016, Made in Croydon's busiest year has been 2018; I'd like to thank to everyone involved in Made in Croydon; Michael To (our coordinator in 2019), all of our volunteer directors, our events team, our awesome artists, designers and makers without whom our various projects and events wouldn't have come to life. I'd also like to say a huge thank you to all the members of the public who've supported Made in Croydon.
2019 is going to be even more challenging for all the Made in Croydon team and our fantastic members, as we try to grow the awareness by residents of Croydon of the great artists and makers who live in and around the borough and get local support to create even more exciting events, exhibitions and larger projects. We're really looking forward to working with other inspirational groups in Croydon in our joint aims to continue to create a vibrant and positive image of Croydon across London and the UK.
However I think we'd all agree that 2019 is going to be a time for tremendous change throughout the World, Europe and the UK and we are going to feel it directly in oh so many ways in Croydon. Change is the biggest thing human beings have to deal with so let's help each other to put the negatives of upheaval to one side, let's make an effort to hold onto the positives that change can bring and help each other grow and find peace, beauty & prosperity for all.
17: Owners of Retro store Atomica, Nicky and David
We are so looking forward to 2019. It's been a blast opening the store and we've had the most fun meeting fellow retroholics. We never knew there were so many vintage lovers in Croydon! We are so grateful for the warm welcome we've received here and have made some firm friendships with our lovely customers. We're looking to expand the shop in 2019 making it two floors and are opening a vegan coffee shop in store too.
18: Artist, James Oliver
Looking forwards to the opening of the new Fairfield Halls and Cro Cro Land – hoping they trigger/influence a new wave of musical, theatrical and artistic creativity in and around Croydon to top up the last one inspired by RISE and their street art incentive.
19: Co-founder of Cellar Door, Lost Format Society, Coffee Shotter and Nexus, Mark Sarfo-Kantanka
At Cellar Door the words 'Talk Less, Do More' have always resonated with us. Moving into 2019 however, we encourage more Croydon natives and new residents / businesses to shout more about all positive happenings in the borough. With so many contributors to the cultural scene, it's important to share one another's success and events, as we look forward to continued positive change for Croydon.
And there you have it folks – it's definitely going to be a year of change. We look forward to celebrating all the cool and quirky Croydon culture going on in it. Goodbye 2018, bring on 2019…
Eye illustration in header by Andy Santos-Johnson, adapted by the Croydonist
Posted by Julia