4 Locos has just celebrated its 4th birthday. It doesn't seem that long ago that we first went through its doors when it opened. It was launched in 2018 by four friends, keen to bring a slice of Argentinian beef to Purley. I was very happy to see that 4 Locos has weathered the covid storm, which has been tough on so many hospitality businesses.
The atmosphere and décor are relaxed and welcoming, and we have always received a warm welcome here. The appeal of a good neighbourhood restaurant is a familiarity but also that it should feel like a treat. 4 Locos achieves this with aplomb. We visited on a Wednesday night and the dining room was full of the sounds of families and friends enjoying their meals out.

I think you should always start with a pre-dinner drink and for me that usually means a G&T. If you are a gin lover, you will be spoilt for choice. There are over 15 gins on the menu and if gin's not your bag, all of the classic cocktails are covered, which is not surprising considering the bartending and beverage pedigree of co-owner Diego.
The wine list is mostly Argentinian as you would expect with a wide selection of Malbec, but if big hearty reds aren't your thing, there are many other wine options. We opted for an Argentine Syrah, which was spicy, smokey and ripe.
The starter menu is full of Argentine treats with a few Spanish touches. I was tempted by empanadas but worried about an eyes and belly mismatch and I didn't think a plateful of Argentinian pasties would leave much room for the steak.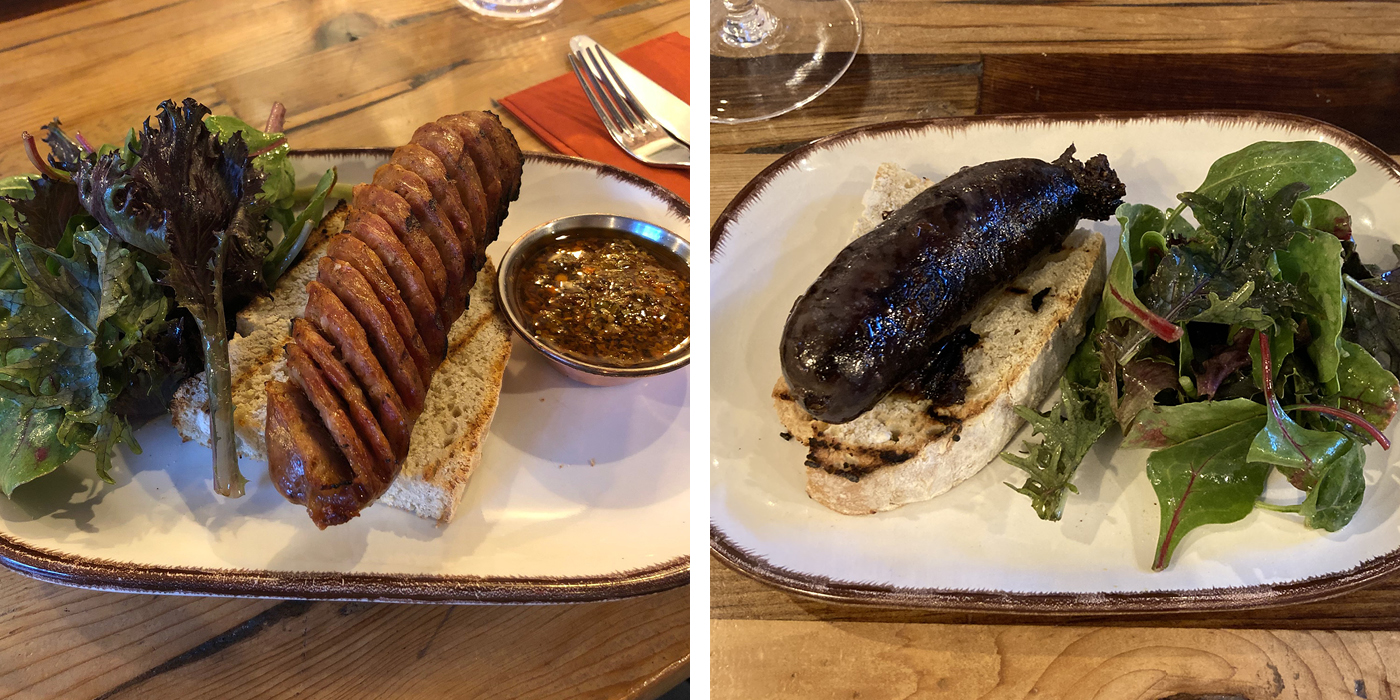 So, in our wisdom we chose two different sausage on toast options. In Argentina, sausage sandwiches known as choripán (a portmanteau of chorizo and pan (bread)), are a popular street food. In reference to choripánes, the chorizo on toast is served with a punchy chimichurri sauce, full of herbs and chilli. Argentine chorizo is different to the cured chorizo from Spain. This is a fresh sausage seasoned with garlic, paprika and red wine. At 4 Locos it's grilled "al la Criolla" with hasselback-like cuts down its length which encourages extra crispy nuggets to form on the grill. It was garlicky and delicious.
My morcilla was a Spanish style black pudding with sweet onions running through the rich filling. Slash through the springy skin and spread the innards on the toast like disturbing butter. Absolutely delicious. Both starters come with a well dressed salad in a nod to vitamins.
As a steak house there are a lot of options when it comes to beef. The cuts on offer are illustrated on the tiled wall of the dining room as well as on the menu. Rump, ribeye, fillet and sirloin come in different sizes to suit all appetites and occasions. There are a few other special occasion steaks on offer including a half kilo T-bone and the Churrasco de lomo, a large fillet marinated in chimichurri. And the chef will cook it expertly however rare (or not) you want your steak. The menu has plenty of alternatives for the beef averse. Burgers, grilled chicken, ribs and vegetarian options as well as some fantastic sharing platter options make 4 Locos a good location for larger groups. If you pop along on a Sunday there is the special mixed grill which would happily replace a roast!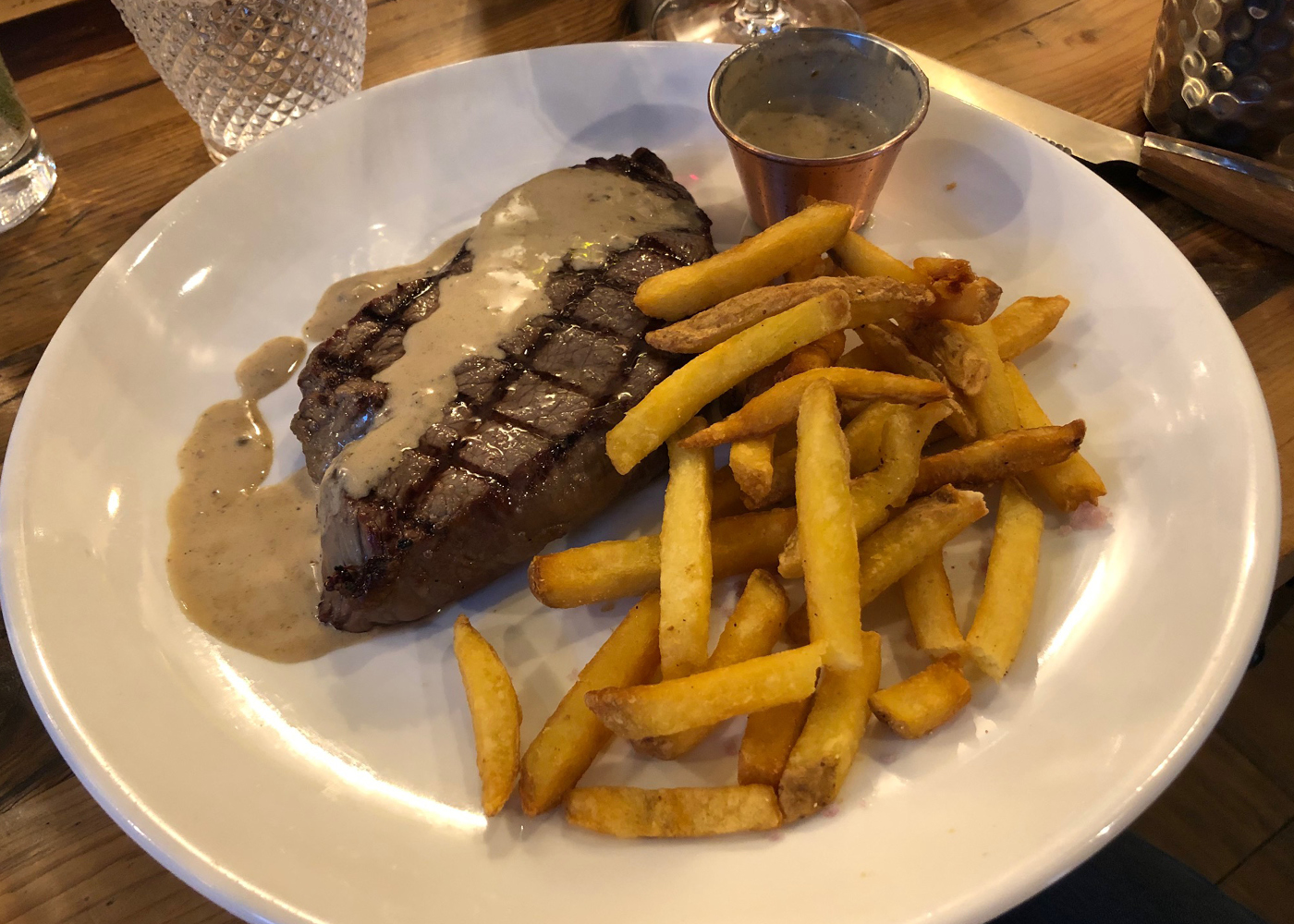 C opted for her preferred steak – rump cooked rare. It was great quality and cooked with skill. Too often a steak doesn't have enough of the beef about it. Not the case here. Alongside it were plenty of fries and a peppercorn sauce – rich, savoury and spicy with black pepper as it should be. In fact, it also went very well with my Milanese and I can highly recommend it – the sauce that is – not to steal from your partner's plate.
The "Milanesa Completa" is a dinner plate sized escalope of beef, breadcrumbed, fried and topped with a couple of fried eggs. Generally, I'm wary of Milanese and schnitzels, they can be under-seasoned and flabby with pale breadcrumb coatings soggy with oil or steam. That is absolutely not the case here, with the crunchy breadcrumb crust hiding a moist and delicious steak – the soft cooked egg yolks making a satisfying sauce for the steak and the chips and enhanced even further with pilfered peppercorn sauce.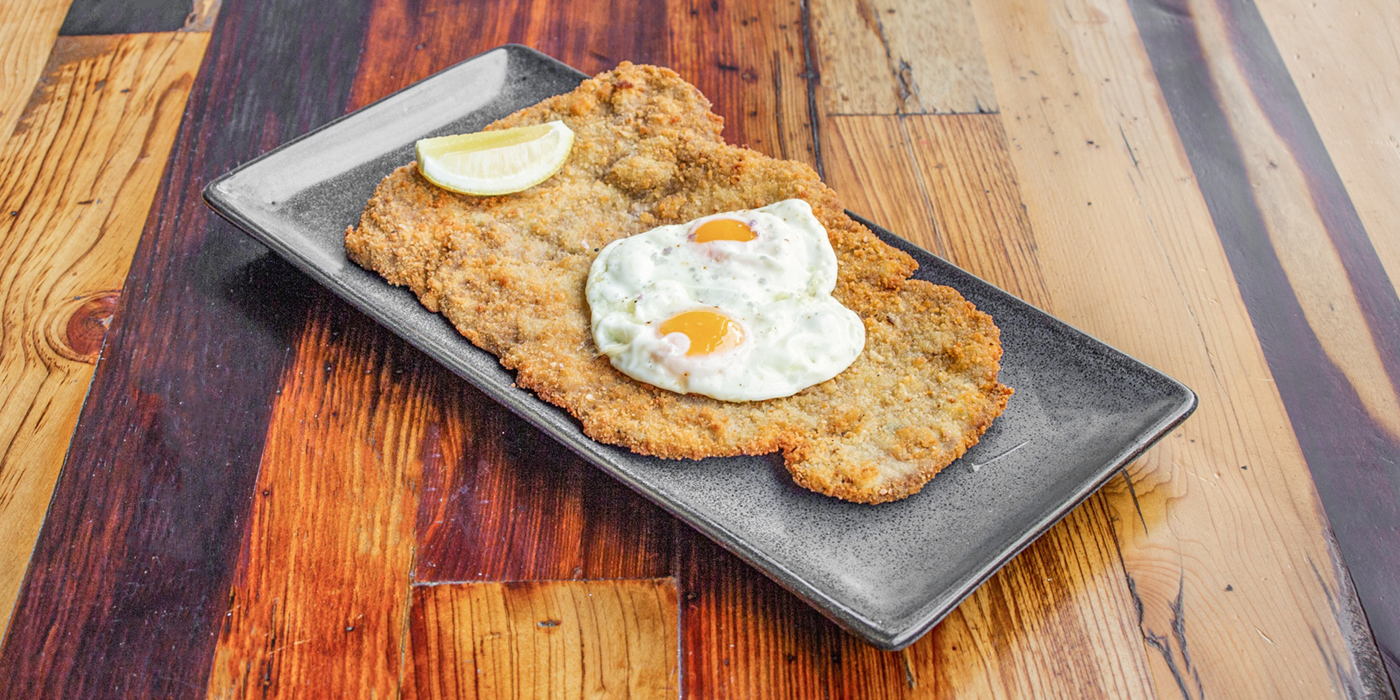 After main courses at a restaurant like this you have a choice. Do you risk the feeling of being overfull by finishing with a dessert, or do you take coffee and relax. Perhaps anticipating the stretched waistlines of the customers there are plenty of lighter dessert options. I was tempted by limoncello sorbet but affogato satisfied my urge for sugar and coffee in one hit. If you do have room after your steak there is a cheesecake or banana sticky toffee to round it off. We left happy and content. It's fantastic to have a high quality restaurant like 4 Locos in Purley, and it has now become a firm favourite.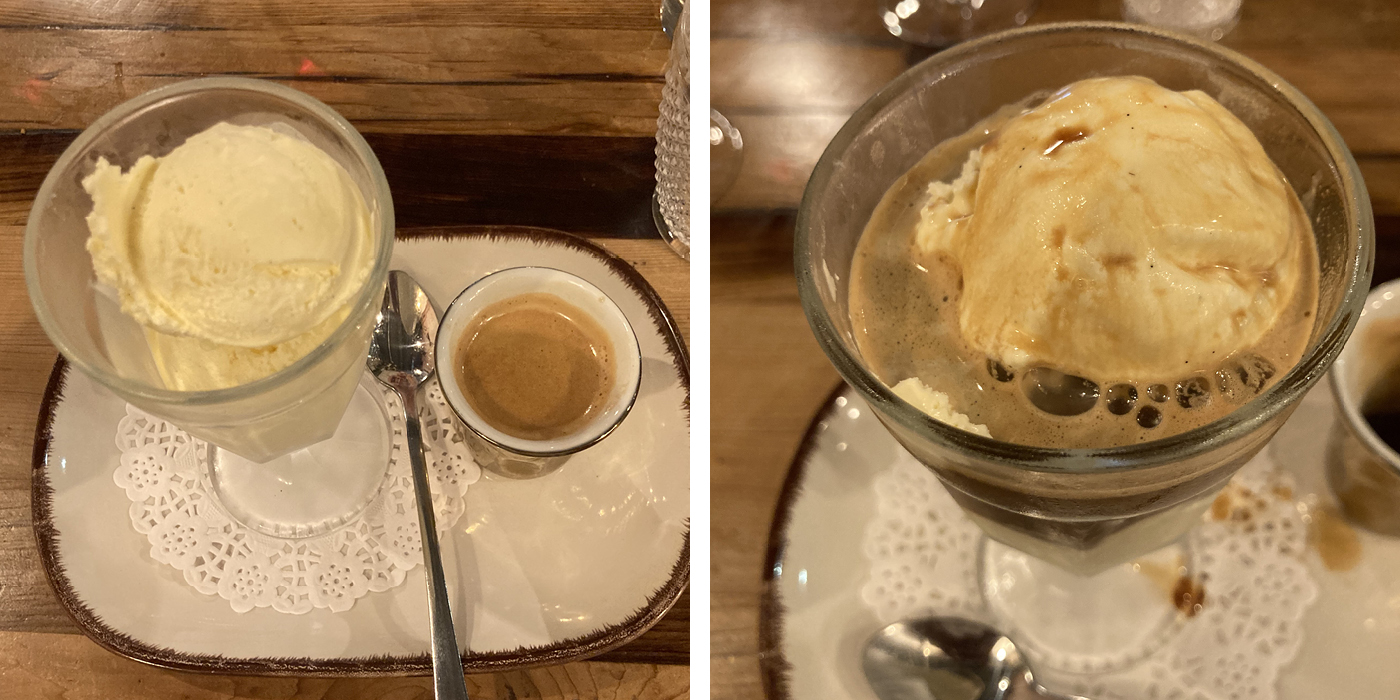 See the full 4 Locos menu on their website, and follow them on Instagram and Facebook. If you're looking for an excuse to dine there asap they have a 2-4-1 cocktail offer running Tuesday-Thursday 5-7pm until the end of August.
You can find  4 Locos at 6-8 Tudor Court, Russell Hill Road, Purley CR8 2LA
Posted by guest writer Sam Hill
Photos 1, 2, 4 and 6 courtesy of 4 Locos and photos 3, 5 and 7 courtesy of Sam.
Sam is a food, beer and wine obsessive who enjoys experiencing and writing about all the culinary delights that Croydon has to offer.