At the end of September the Whitgift Centre got a whole lot more cultured when a multi-level arts space landed in the heart of our favourite shopping centre. If you haven't come across it yet, let us introduce you to Croydon Arts Store. We caught up with Alice Cretney and Becky Atherton from Turf Projects, whose gallery occupies the ground floor space, to find out more.
Croydonist: First of all what's the Croydon Arts Store all about?
Turf: Croydon Arts Store is a formerly empty four-floor unit in the Whitgift Centre transformed into an artist and community-led visual arts space, run collaboratively by a group of local arts organisations and made possible with support from Croydon Council.
Croydonist: With four floors dedicated to the arts, tell us the differences between each floor?
Turf: Let's go from the top down! The space hosts…
Loft
A community project space which is completely free to use by Croydon-based individuals, participants and organisations for creative projects, events and exhibitions.
First floor
First Floor Space is a creative workshop space operated by ArtHalo. Hosting studio sessions to make work alongside other artists, after school creative sessions and workshops, plus an artist residency by Charlie Lang.
Research Space (also on the first floor) is facilitated by Croydon Council and Kingston School of Art. Research Space is a dedicated space to discuss and research the ongoing role of art and culture in Croydon. In addition to hosting talks and discussions, the space will give the public the opportunity to chat to the Croydon Council Placemaking team and exchange thoughts about upcoming projects.
Ground floor
Artist-led gallery Turf Projects' new home. Hosting Turf's ongoing free contemporary art exhibitions and workshop programme. Including family and youth workshops, artist development workshops teaching creatives practical career skills, weekly workshops with MOSS (a collective of adult artists living with learning disabilities), and more.
Basement
To be able to retain a creative community throughout the town's regeneration, Croydon desperately needs space for artists to be able to make work. Local artists and makers are busying away in an Alice-in-Wonderland-esque warren of artist workspaces which has tripled the small provision at Keeley Road. We'll be hosting open studio events soon so people can come and peep…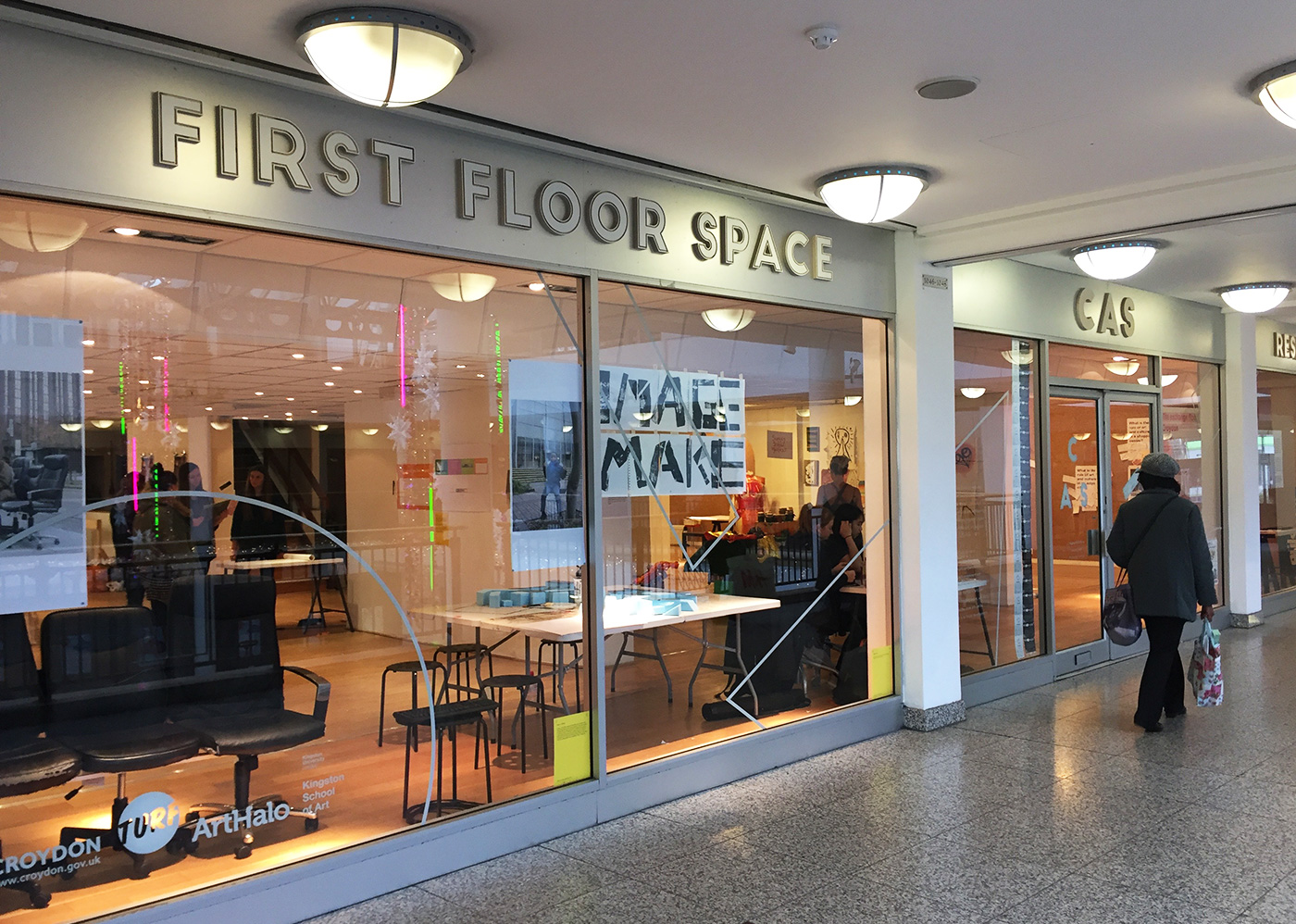 Croydonist: Can anyone drop by to get involved in Croydon's art scene?
Turf: Croydon Arts Store is open to all Wed-Sun 11-5pm. Exhibitions and workshops are free though some require booking – check with the CAS partner running the workshop for details of whether you need to book.
Croydonist: The Whitgift Centre is an unusual space for an art gallery – why there?
Turf: As a charity, Turf currently operate in spaces which would otherwise be empty and this often comes with quite temporary lease agreements, so early this year we found ourselves on the hunt for a new home. Turf's previous unit was part of Centrale (tucked away on the outside on Keeley Road) so we already had that connection. Croydon Council was looking to bring together a consortium of local partners in an ex-retail space and the Whitgift were open to bringing in temporary uses of empty units, so things all fell into place.
Though it's still only a temporary home for Turf, being within the shopping centre means having the opportunity to meet and chat with a much wider cross-section of Croydon's population. In terms of having an easily and publicly accessible space it makes a lot of sense. I think there's no doubt that people can still feel intimidated or alienated by art spaces, but it's already evident that the location encourages people to feel that they are free to just walk in, as they can with any other shop in the centre.
Aside from that we're all locals and some of us grew up with the Whitgift Centre, so it's pretty cool to be able to scurry about in its underbelly as an adult before it's gone!
Croydonist: That sounds amazing. We may have to ask for a sneaky peek sometime. But what were the challenges of converting the retail spaces into a gallery?
Turf: When we arrived a lot of the space was olive green, so mainly painting. So much painting. We had an incredible team of volunteers who helped us out and we couldn't have done it without them.
The uncertainty around the lifespan of the space is obviously a bit of a tricky one at the moment, given that the Whitgift is set to be demolished. The positive feedback from everyone has been really great, so we hope it'll be a stepping stone to a more stable, permanent space.
Croydonist: Any funny stories so far of being located in a shopping centre?
Turf: Just a lot more smudges on our windows than usual from tiny fingers and faces pressed up against the glass! Kids really loved our launch exhibition Peaks & Troughs (by Saelia Aparicio).
Croydonist: What events and exhibitions have you got planned for the rest of the year and beyond?
Turf: In December we'll be hosting a filmmaker, Seth Pimlott, in residence. We'll be working in collaboration with Croydon's Polish community, Seth Pimlott, Gasworks and Poles Connect. The residency will be a great chance for people to get involved in seeing how the different stages of the production of the film happen. There will also be a number of events including screenings of contemporary Polish artist's film and video, discussions, and an evening of music and pierogi!
Our next exhibition, Frivolous Convulsions, will be a group show of 10 artists with a focus on painting, so quite a deviation from Peaks & Troughs! The exhibition will explore painting as an antidote to the often instructive and inauthentic nature of modern life. "The ubiquity of photography and advertising and our involuntary immersion in the mediated world assembled by it, demand a creative human response."
Croydonist: We'll be definitely popping by for those. Finally your favourite Croydon haunts…
Favourite spot for a coffee/glass of wine?
Turf: Would have to be an old favourite – Matthews Yard
Croydonist: Favourite gallery (other than yours) for inspiration?
Turf: Museum of Croydon, Gallery & Archives
Croydonist: Favourite cinema to get lost in a movie?
Turf: David Lean. It's a while away, but we're also looking forward to the reveal of the next location of Lost Format Society. Already dreaming of Summer…
Croydonist: Favourite greenspace for a wander?
Turf: Coombe Wood
Croydonist: Favourite spot in Croydon to daydream?
Turf: Any secret space that's been forgotten about.
Thanks to Turf for chatting to the Croydonist. Find out more about Croydon Arts Store here and Turf Projects' full programme of events here.
Posted by Julia