The Purley Way shopping experience just got infinitely more exciting with the opening of Atomica. If you're fans of Croydon's sixties architecture like we are, you'll definitely be fans of this shop. A hidden treasure tucked behind Next and John Lewis on Commerce Way, Atomica is a shrine to all things mid-century – whether it's some fifties furniture you're after, vintage vinyl, a sixties mini-skirt or a seventies soda syphon it's likely you'll find it here. An ever-changing selection of vintage goodies is peppered with newly designed mid-century-inspired homeware all lovingly chosen by owners Nicky and David. It's like walking through a portal into a different era, where even Nicky and David are dressed the part. We didn't want to leave when we visited, so we couldn't wait to hear more about this vintage heaven from the delightful duo.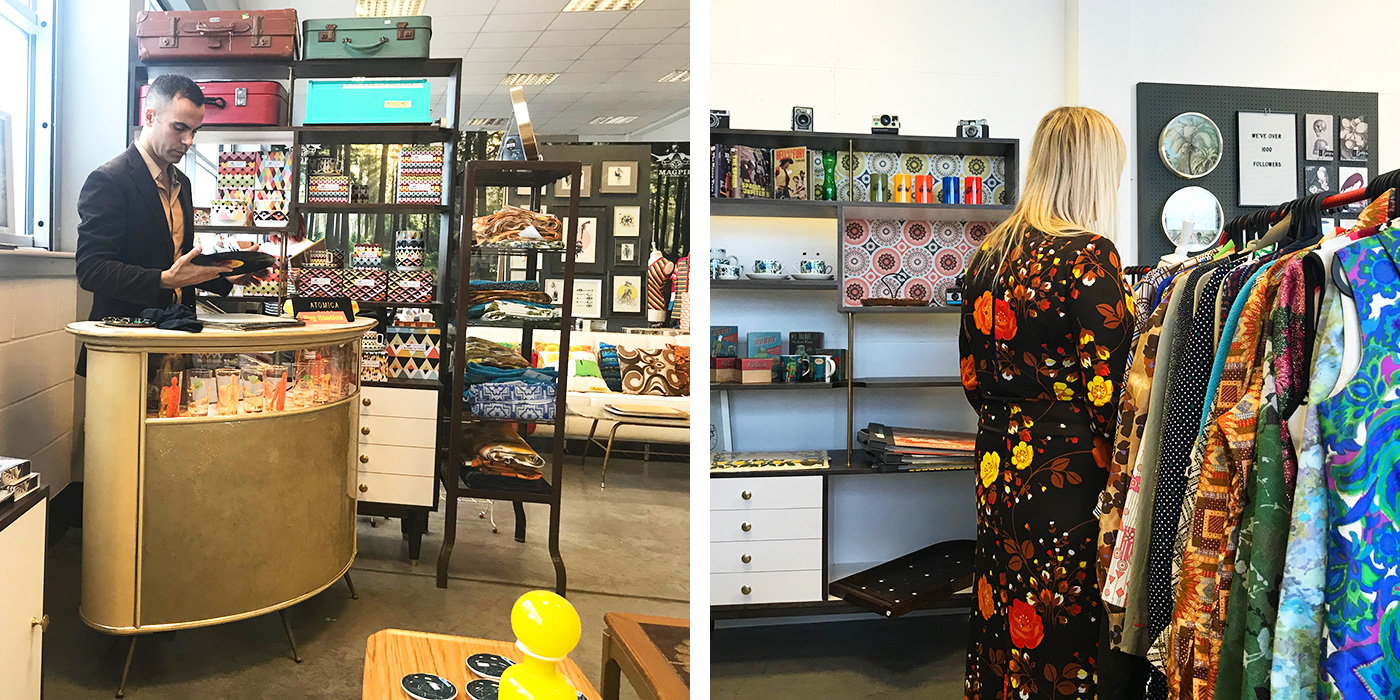 Croydonist: First off, are you both Croydon natives or converts or a mixture of the two?
Atomica: We love Croydon! Whilst we don't live here, we come in every day; it's a great place to work. We are a mixture of native and convert, David grew up in Croydon but left when he was 18 and Nicky has based her work here for nearly ten years.
Croydonist: So where do you call home?
Atomica: We now live in West Sussex and enjoy the daily commute along the M23!
Croydonist: Tell us a little bit about your backgrounds.
Atomica: David is a collage artist and Nicky is a designer. Nicky owns the lifestyle brand Magpie and Atomica has the full range sitting alongside the vintage lines.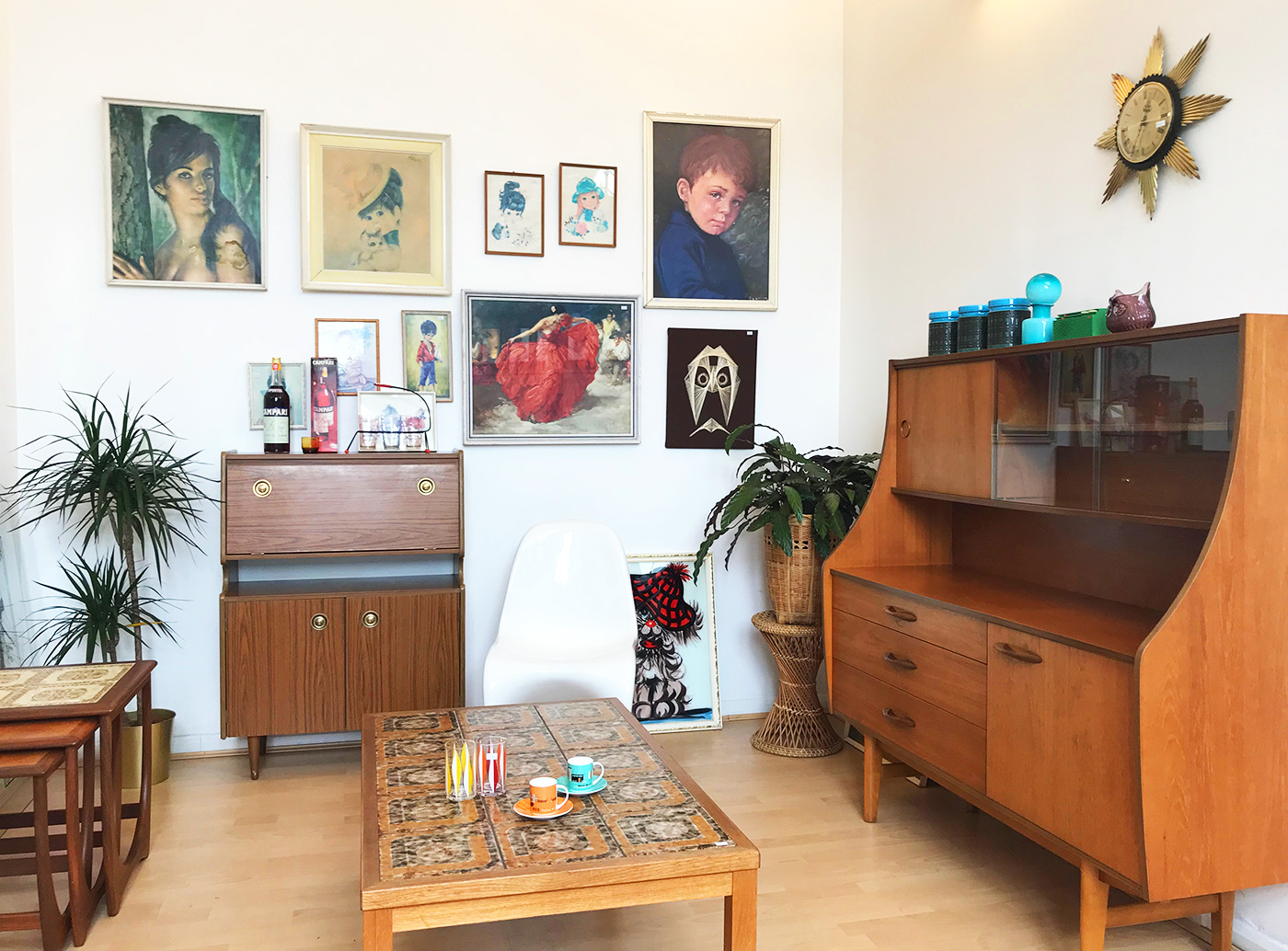 Croydonist: Atomica is clearly more than just a shop – it feels like a homage to all things retro – how did you decide on Purley Way for the location?
Atomica: Purley Way is the Home store quarter of Croydon! With Ikea at one end and John Lewis Home at the other, there's a plethora of interior shops and we felt it would be perfect for us. We have a huge space that we can really show our wares, oodles of free parking and are a short walk from the tram.
Croydonist: Why the name Atomica?
Atomica: We are obsessed with the Festival of Britain of 1951, the country was coming out of a long period of austerity, and this was a celebration of the arts, technology, science and industry in Britain. So many amazing buildings were built for this exhibition and the influence of science was huge. Furniture and architecture had a distinct atomic vibe, with science being at the forefront of the design development of the period. We felt the name Atomica was a great fit with our style of store, which is a celebration of this era and beyond.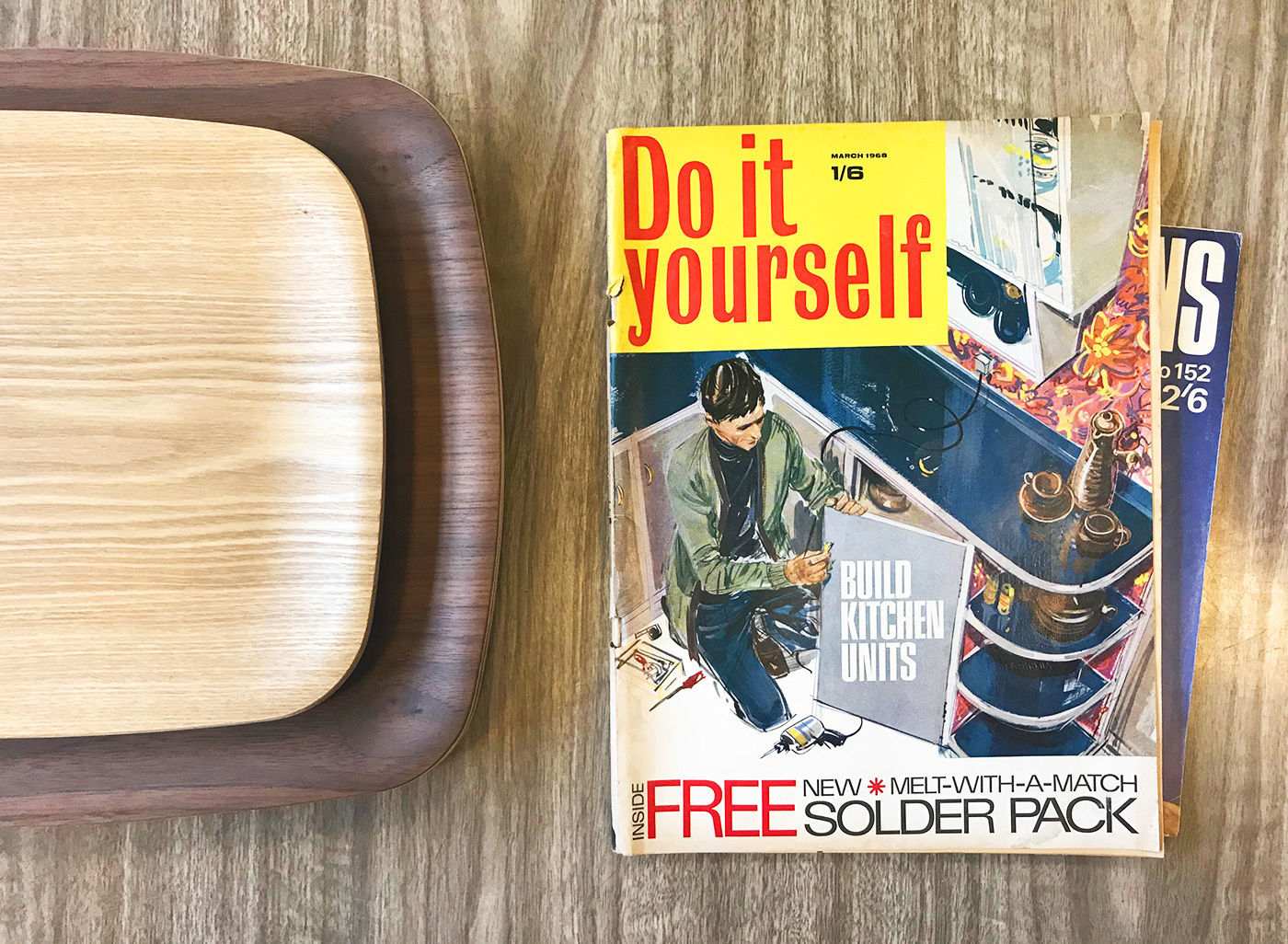 Croydonist: Where do you go to source your retro treasures?
Atomica: There's only one answer: we are time travellers!
Croydonist: How and when did your love of this post-war era start?
Atomica: Music and fashion was the start, we both have a huge passion for the 60's and 70's sound and look. Furniture and homewares from these eras just capture everything we love about that time, designs were new, fresh and interesting, homes were a riot of colour and print and as far away from magnolia as they could be. Mid-century furniture is as relevant now as it was then, you can mix in a 60's sideboard with modern pieces and it still looks fab. This design period really has stood the test of time.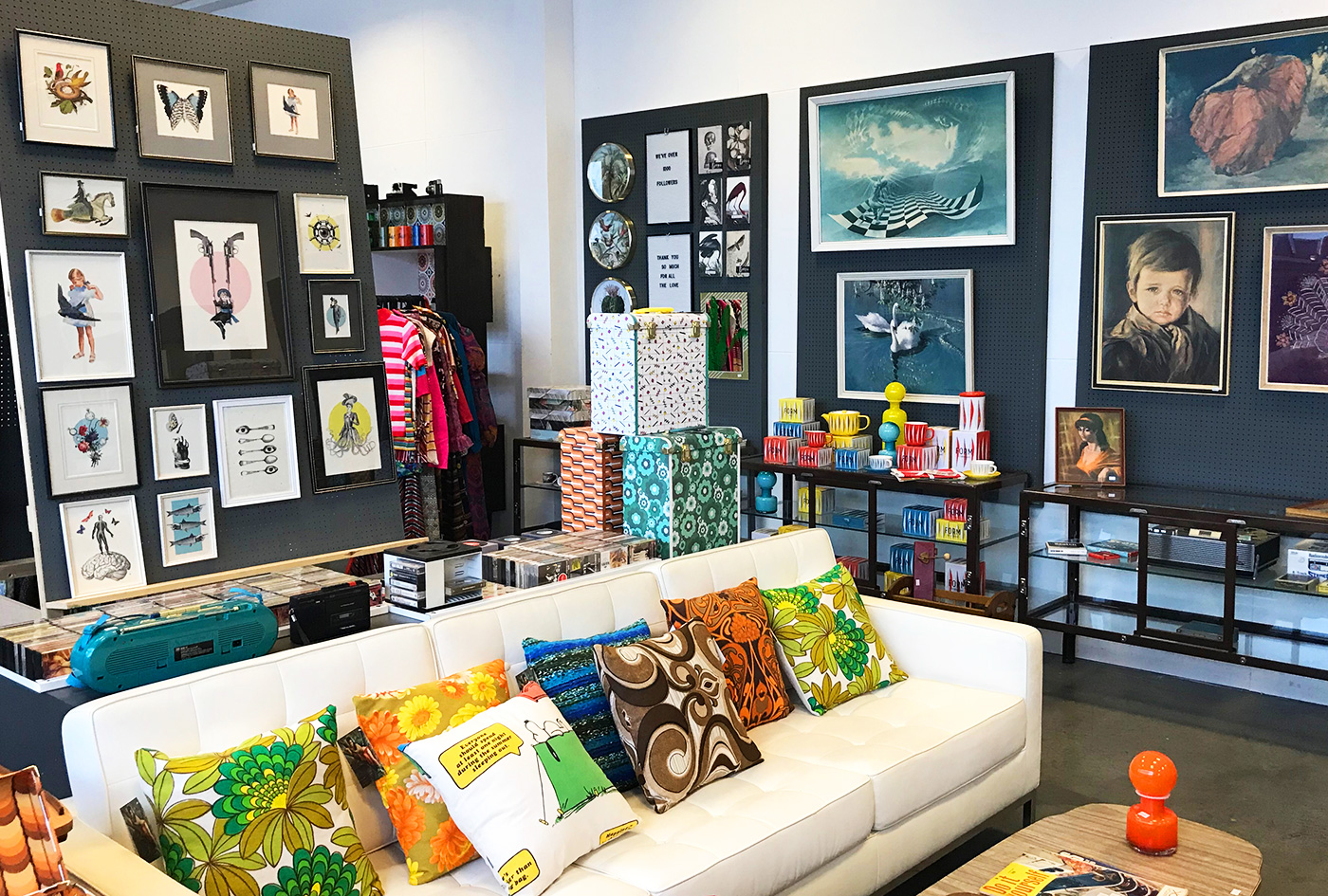 Croydonist: Being you both have a huge passion for all things mid-century, how do you bear to part with the items in your shop – do lots of things get kept back for home?
Atomica: We have both been collecting mid-century items for years so have a very full house! We still want to keep everything we sell, as vintage furniture is so unique and we rarely find the same items twice but we are so happy when customers choose a piece for their home as we know they will love it as much as we have.
Croydonist: If you could be teleported to another year (à la Sam Beckett from Quantum Leap) which would it be and why?
Atomica: I think for both of us it's got to be 1951. To have visited the Festival of Britain would have been absolutely incredible.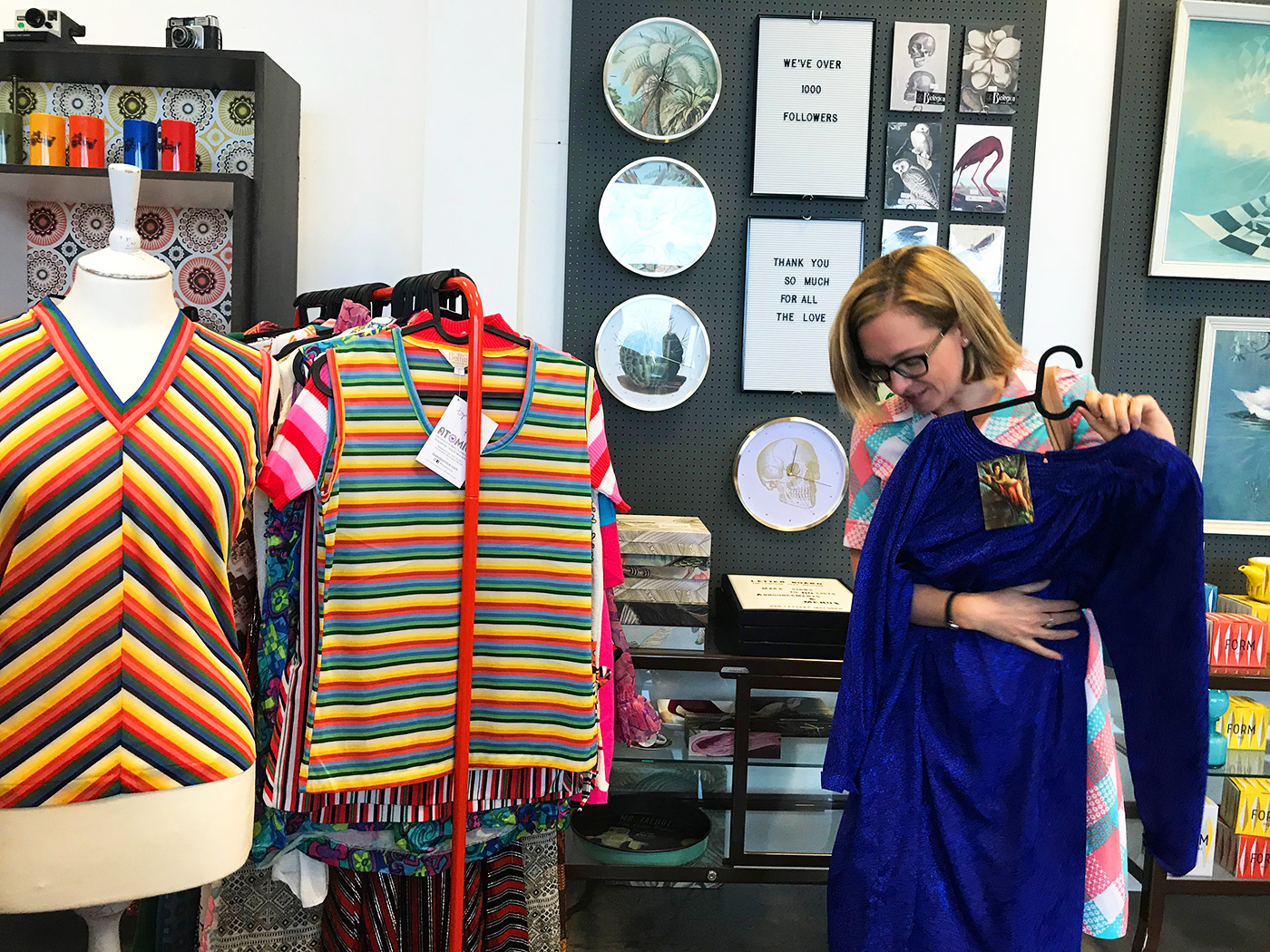 Croydonist: What's been your best find for Atomica?
Atomica: We've sold a lot of unique items this year, the ones we found hardest to part with were a set of storage jars designed by Mary Quant and a Marconiphone record player.
Croydonist: Do you have any events coming up we should know about?
Atomica: We currently open 3 days a week but from next week we will be open Monday to Friday and also every other Saturday and will be starting late night shopping and weekend hours closer to Christmas. We are planning an in-store café too!
Croydonist: Best thing about 2018 so far?
Atomica: Opening the shop and meeting so many like-minded retro rebels!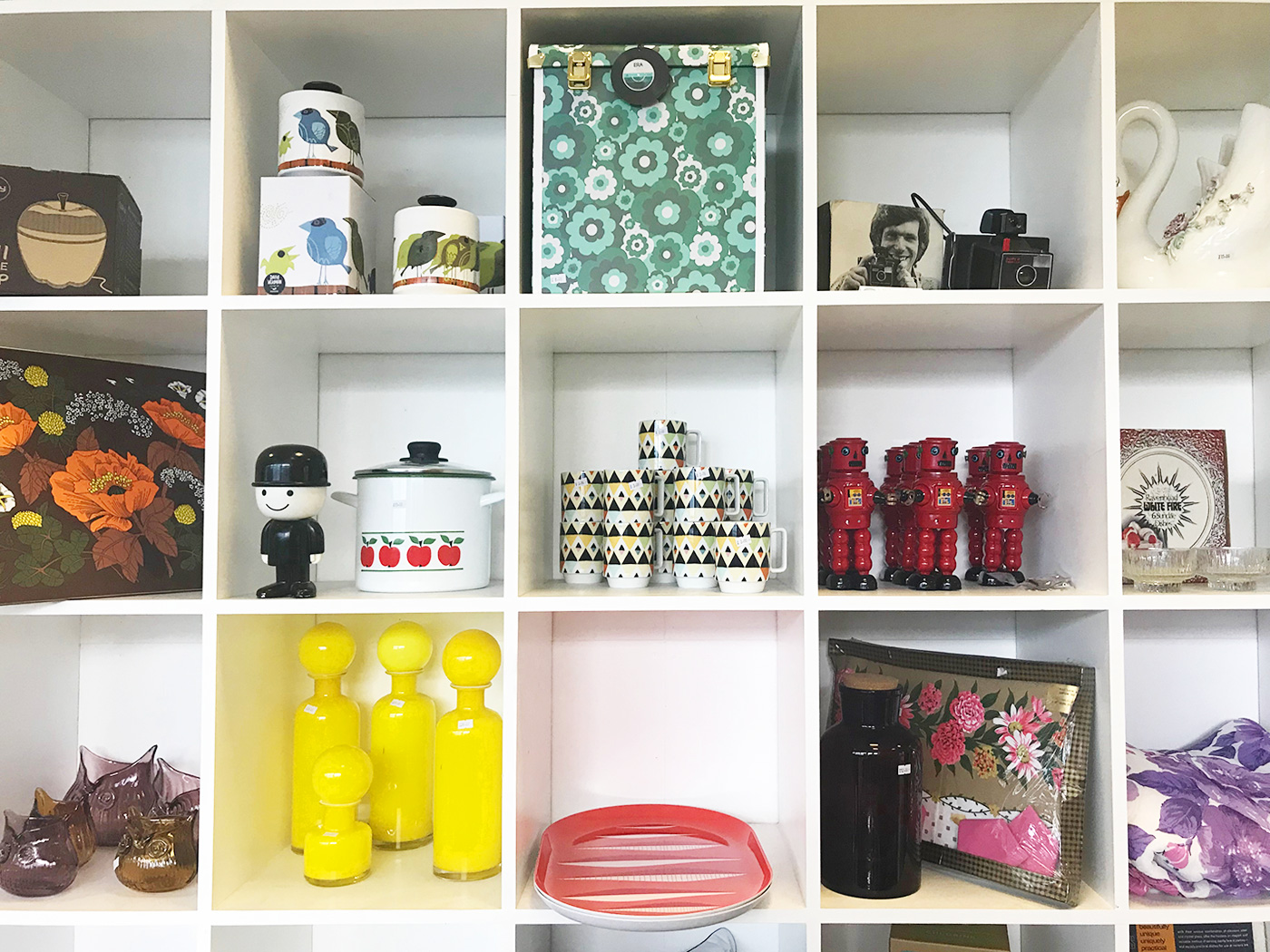 Thanks to Nicky and David for chatting to the Croydonist. Get yourselves down to Atomica folks – check out their website for their current opening times, and follow them on Instagram if you want to geek out on their retro treasures. We'll be back there for a spot of Christmas shopping soon.
Atomica's Showroom is at Cubic, Unit 1, ZK Park, 23 Commerce Way, Croydon CR0 4ZS
Models in image 1, David and Nicky, on the spot modelling by Made by Mrs M in image 5.
Posted by Julia