Lush foliage and racks and racks of wine bottles gleaming in the downlights greet you as you enter Old Coulsdon's dazzling The Aycorn Shoppe. Mixing an unbelievable array of plants and foliage – moss walls and giant ficus abound – with wines from South Africa and a glittery selection of homewares (think golden panther ornaments, colourful pottery and octopus candelabras), Coulsdon's newest bar is a glamorous, gorgeous space to while away an afternoon or evening.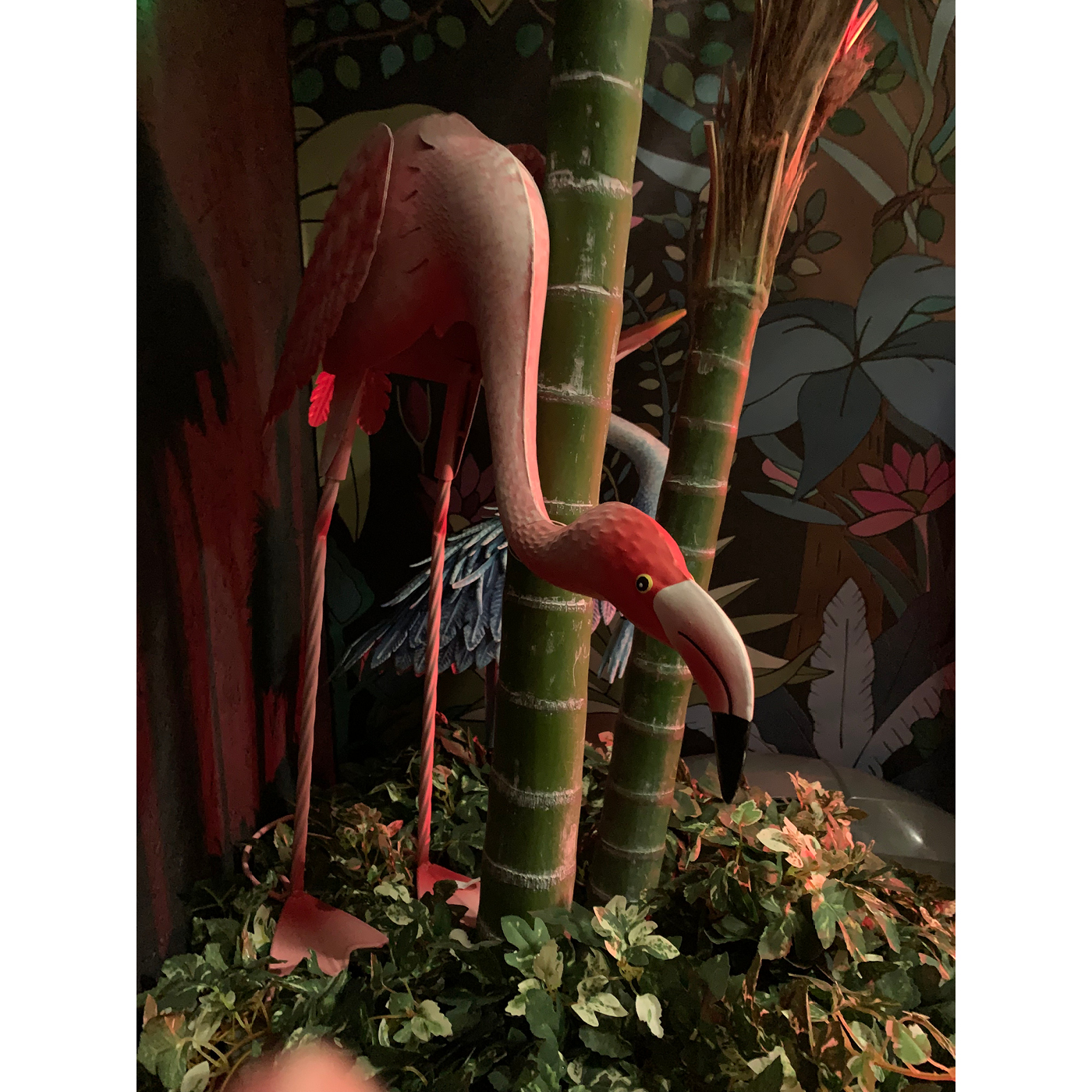 We headed up to Old Coulsdon on a cold Saturday night, grateful that the 466 bus dropped us directly outside our destination. Pushing through the palm trees and hanging plants, we emerged into a cosy bar area, with soft stools to perch on and a fantastic array of '80s power pop being played on the speakers. This was the warmest of welcomes and we were soon gazing at a carefully curated selection of South African wines on the menu, while being tempted by the generous sharing platters on offer.
The Aycorn Shoppe is vibrant and bursting with life, so the ZA rose – Mason Road Serendipity – I chose was an ideal match, fresh and light with a cherry zing of flavour and a smooth, more-ish quality. Served perfectly in a carafe, it's a summery drink – but was just what I wanted on a cold winter night. My companion decided to try the Hunters Dry Cider, a South African favourite, and it made a change from the usual pint of Thatcher's Haze. With a depth of flavour we'd not tasted before in UK ciders and plenty of kick and bite as the bottle went down, it was a real crowd pleaser – and one that I'm not sorry to say we drank 3 of as the night wore on.
With lots of atmosphere – the space at the front where we were sat was designed for twos, with high tables and lots of hanging vines creating privacy – and plenty of conversation and advice on the wine menu from the ebullient hosts, we were well on our way to forgetting we were in chilly Coulsdon. Mentioning a Steve Winwood '80s pop classic to the bartender meant it was soon being played on the sound system (who doesn't love the original 'Valerie'?) and it started to feel like we were actually in a charming private members' club that had somehow read our minds and knew exactly what we liked to do when winding down on a Saturday night.
Food at The Aycorn Shoppe is simple and stylish – sharing platters of meats and cheeses, designed for two or four people, with vegetarian options and an interesting South African platter that I'll be trying next time. Bagels and baked goods make up the rest of the menu, with an array of small bites to fill you up if needed, or if you just fancy a nibble. It's the sort of food you eat mainly on holiday – a torn slab of crusty bread, some soft brie, a bit of salami – and we tackled the two-person cheese and meat platter when it arrived in the same spirit.
The food is good; tasty and easy to eat, with an array of Cheddar, Brie and Stilton, complemented by a warm baguette, pickles, salamis and prosciutto. Crackers gave some snap and a smoky fig chutney added sweetness and depth, with garlic puffs to nibble on before you dig in. I'm disappointed I didn't get to try the pain au fromage – pull-apart cheese bread, according to the menu – but I was pretty full after eating loads of brie, so decided to give that a miss. Well, I need an excuse to go back, right?
It was heartening to see The Aycorn Shoppe bursting with life – both plant and people – and with such a luxe spot almost on my doorstep, I'm having to hold myself back from jumping back on to the No 466 and heading back there quite so soon. With 6 drinks and the sharing platter, coming to around £55 for two people, it's definitely a treat night out, but I'd say worth it – for the '80s pop and the chic surroundings alone.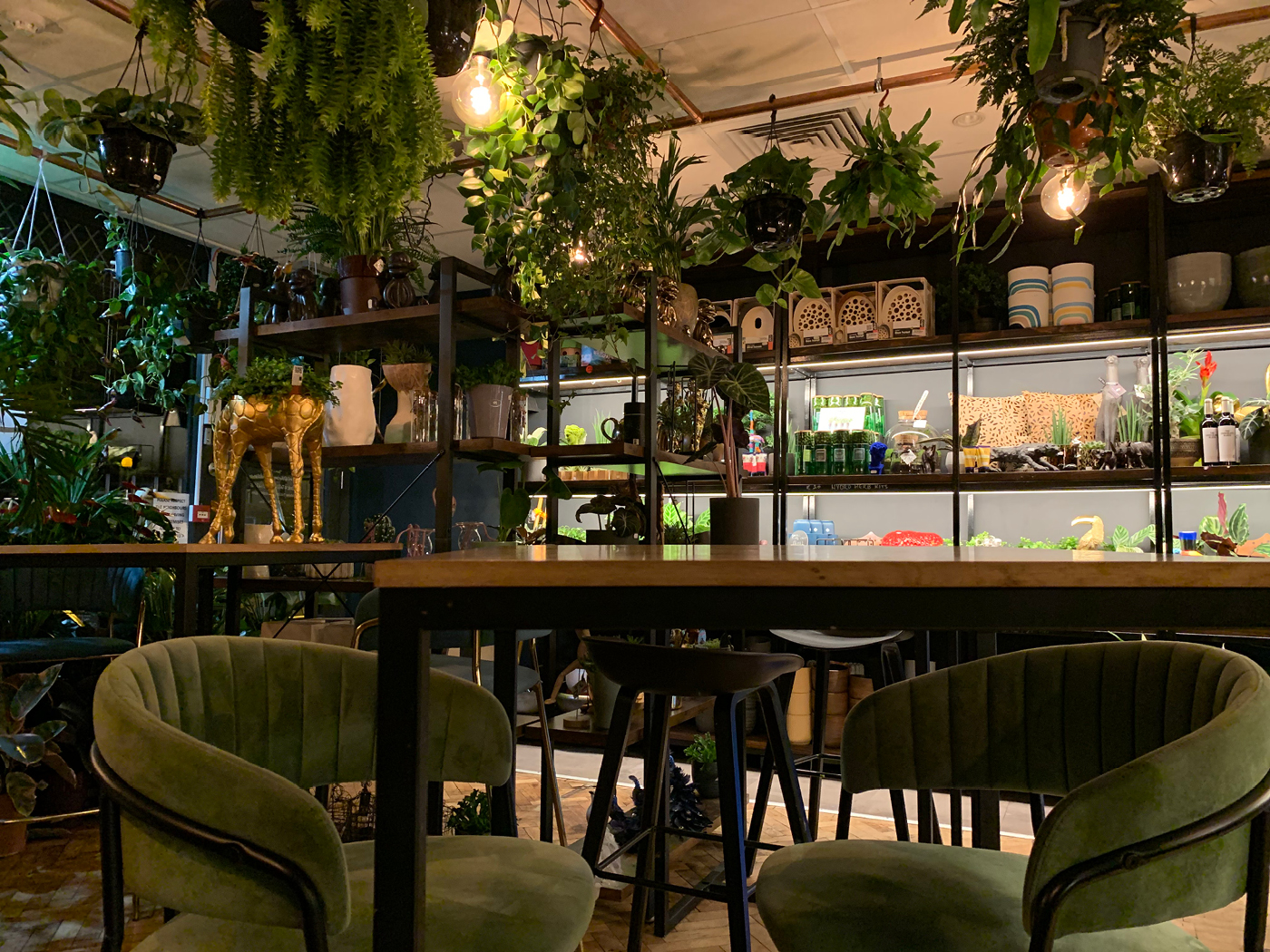 Keep up to date with The Aycorn Shoppe on their website and follow them on Instagram and Facebook.
Interior photos by Brad Merrett, food photos courtesy of The Aycorn Shoppe
Posted by guest writer Cassie Whittell
Cassie has lived in and around Croydon since 1988. Her passion for The Store's £5 co-working afternoons is only matched by her love for Whyteleafe FC.