Axe Throwing in Croydon!
That's right, you can throw axes in Croydon. Axe throwing comes from Canada where people casually throw axes in their backyard. It is a popular sport in Canada as well as the USA and has been rising in popularity here in the last couple of years. When you walk past Boxpark you will see people throwing axes over their heads aiming for a bullseye. Newly opened during the summer at Boxpark is Bad Axe.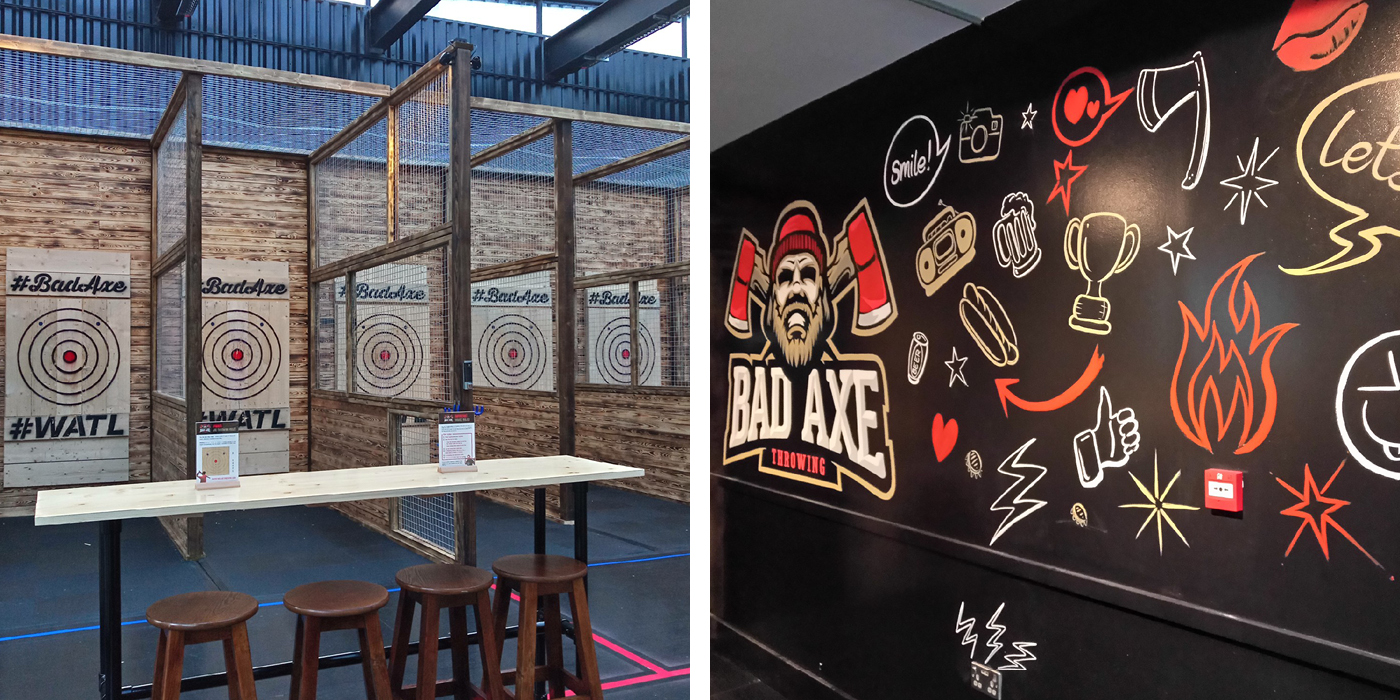 The Bad Axe Throwing Group is the world's biggest urban axe throwing club. Their mission is to bring the thrill of a traditional Canadian backyard pastime to urban communities. With the help of their talented axe throwing coaches, hundreds of thousands of people have been able to share a passion for throwing axes. They pride themselves in delivering outstanding customer service to all of their clients whether it's for walk-ins, leagues, private parties and team building events.
Bad Axe Throwing was founded by their Ontario-based CEO Mario Zelaya back in 2014, where they also opened their first location (in Burlington if you know your Canadian geography). In just a few years, Bad Axe has expanded across Canada, the US, and now the UK, with over 40 locations.
I seized the chance one afternoon when it was nice and quiet to experience Bad Axe Throwing.  When I got there, I was greeted by staff who explained what to do. As a first-time experience, they went through axe throwing etiquette, like where to stand, how to hold an axe and important safety rules – the rules were quite reasonable, like do not take the axe outside the throwing lanes and do not point an axe at someone. They also serve alcohol at the venue so it was obvious not to throw when drunk!

Now to my first throw! I missed!!
It wasn't as easy as it looked when I saw other people throwing. I found it quite physical as the axe was rather heavy*. However after a few throws I felt more comfortable but I was still not axing the target. After a few more attempts, I finally managed to get my axe to hit the target and it felt good!
I kept going and somehow I randomly hit the bullseye (anything in the red circle is classified as a bullseye). It was just priceless yet I feel I have yet to master my technique. I'll be back for more sessions. This would definitely make a fun after work or group activity.
 Prices for walk-ins are £20 per person (peak) and £15 per person (off peak), and each session lasts an hour.
Bad Axe is at unit 53-57 BOXPARK Croydon and is open 11am – 8pm – more details here.
*I hear lighter axes have actually recently been introduced, so good news for my next visit.
Posted by guest writer Helena (Photos and video courtesy of Helena).
Croydonist guest writer Helena is a foodie enthusiast who loves eating out as well as trying the latest snacks and supermarket finds. She has been documenting her food journey since 2010 on her blog.