Croydon you are spoiling us with the extremely scrumptious taste bud teasers available at the one, the only, Big Mike's Calypso Kitchen.
Bringing flavours of the Caribbean to Croydon's Boxpark, Big Mike's is refreshingly different. We headed there this week for an absolute feast whilst we had a great catch-up with founder and chef Mike Springer over lunch about the importance of community, good food and more. The menu has some fab classics from jerk chicken charcoal grilled in Bertha for that authentic smokey BBQ taste, as well as curry goat, jerk pork and stewed beef, but we opted for veggie and fish options. We chatted with Mike whilst we ate…
Croydonist: First of all, Croydon native or convert, and what area do you call home? 
Mike: Native for the first 10 years of my life, followed by seven years in Barbados and then back to Croydon.
Croydonist: How did you become a chef and what was your journey to opening Big Mike's Calypso Kitchen? 
Mike: It was a long road. I had dreams of becoming a chef but instead chose to climb the corporate ladder in the insurance industry. I'd always been a chef alongside my career and a long-held ambition to open a restaurant finally came true some years ago. Big Mike's opened in July 2020 and it's been a challenging year but it's given us a chance to put so many business ideas into practice.
Croydonist: How would you describe your restaurant? 
Mike: Bajan cuisine and as we like to say, a small taste of Barbados and a big taste of the Caribbean. London's long had a love affair with Caribbean food but Big Mike's is the only Bajan restaurant in London. As well as Big Mike's Calypso Kitchen, we recently started Big Mike's Rooftop Lime – BBQ, great music and lots of rum punch on the Terrace at Boxpark, most Sundays over the summer. We're also working on plans for Big Mike's @Home range – a nationwide delivery service of our most popular products and dishes.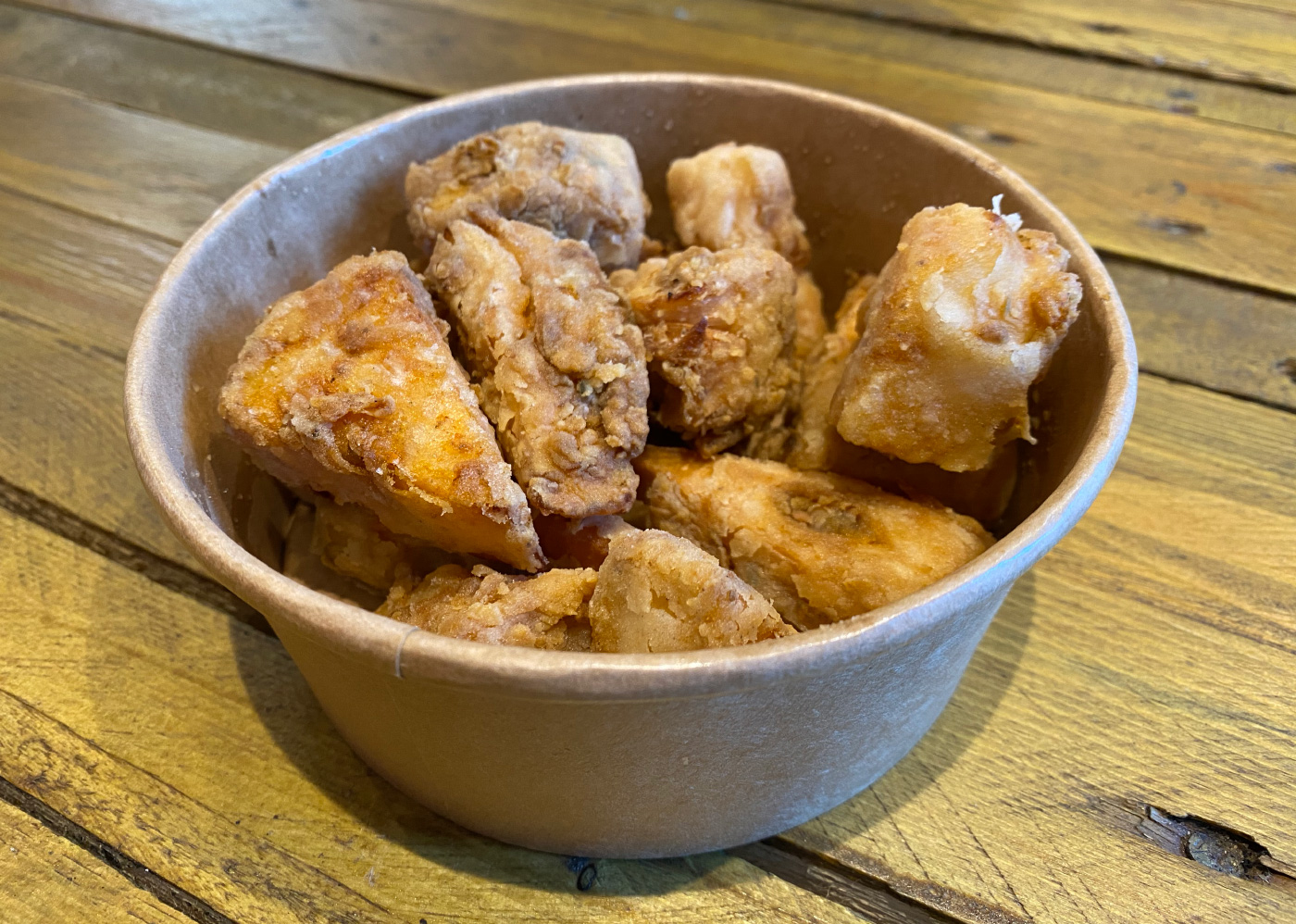 The first dish we sampled was the vegan fried chicken (jackfruit) – totally satisfying. It does have the texture of chicken but it really isn't chicken. Incredibly moreish, especially with the sweet chilli dip! Served with rice and peas or plain white rice or chips it's dinner sorted.
Croydonist: Tell us more about Big Mike's Rooftop Lime? 
Mike: Across the Caribbean, people lime. What is a lime? It's a gathering of friends – meeting up over good food, great music and usually lots of rum. It's about creating good times and memories. Croydon has taken the event to its heart quite quickly. The beat of the steel pan has gotten people up dancing. On the food front, it's been great to showcase Caribbean BBQ and dishes that aren't on our à la carte menu. We just have a really good time on the Terrace at Boxpark Croydon. The next one is going to be big as it's Father's Day as well – 20th June 2021.
Croydonist: What is Big Mike's Challenge 100 and how can our readers get involved? 
Mike: Big Mike's Calypso Kitchen aims to donate 100 meals to the homeless, working with Croydon Nightwatch twice a month because we believe that no-one should go hungry in this country. Donations are always welcome and these can be made at: www.bigmikesck.com
Croydonist: Why do you feel it's important to support local charities? 
Mike: It's all about feeding our community. As a community we have a duty to look after one another and it's about giving back to our community.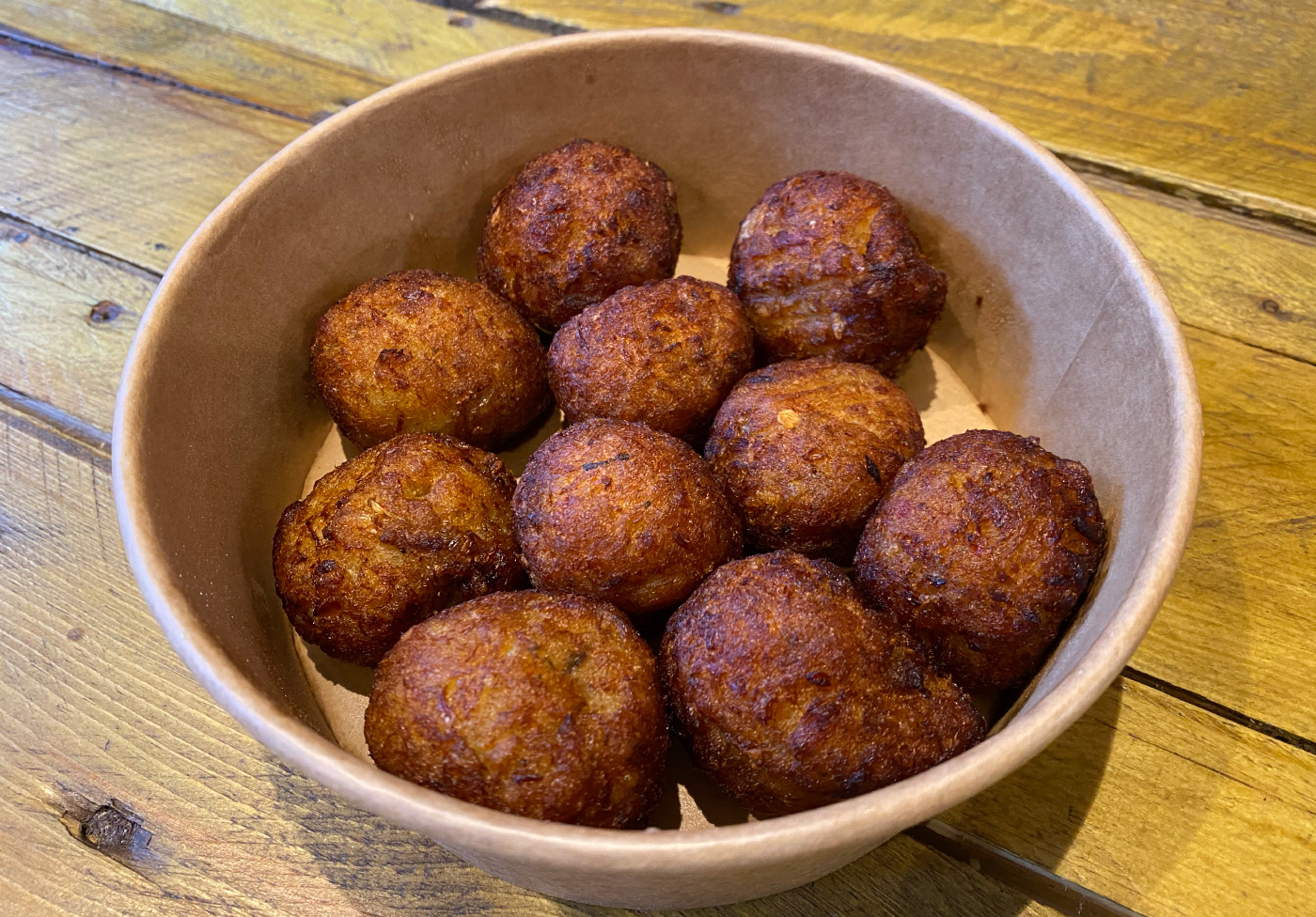 Moving on to our next dish, we tried Big Mike's award winning Bajan fish cakes. A true taste from Barbados. Magnificent only goes half-way to praise these little fish cake wonders. It's salted fish encapsulated in a light fresh herb seasoned batter and fried to a golden brown. Available to order as 3, 6 or 10 cakes. Eat on the fly or take them home and add a salad. These are really some of the best fish cakes we've had in a very long time.
We also sampled the plantain which has always been a favourite and Big Mike's version does not disappoint. In the style of Goldilocks, it wasn't overdone or underdone, but just right.
Croydonist: What's your favourite dish on your menu, to cook, eat or both? 
Mike: It's one of the most popular on the menu, with good reason, it tastes so good. It has to be curry goat roti.
Croydonist: What's been the greatest challenge and the greatest joy to running your own restaurant? 
Mike: Challenge – this past year and all that Lockdown has brought.  Greatest joy –  opening up Big Mike's and feeding the homeless. There really is nothing more important.
Croydonist: Classic interview question – if you had to invite 3 important people for dinner at your restaurant (dead or alive) who would they be? 
Mike: Nelson Mandela – one of the most balanced human beings  ever to walk this earth.  President of South Africa, he was smart enough to tell his people to live as one. Only two people have ever managed to do this, him and Ghandi. Next, would be Alex Ferguson – I'm a Man U fan and admire Sir Alex because sometimes you have to ruffle a few feathers. And finally, my wife. I've never met anyone with a purer heart. She just believes in people and I admire that quality greatly.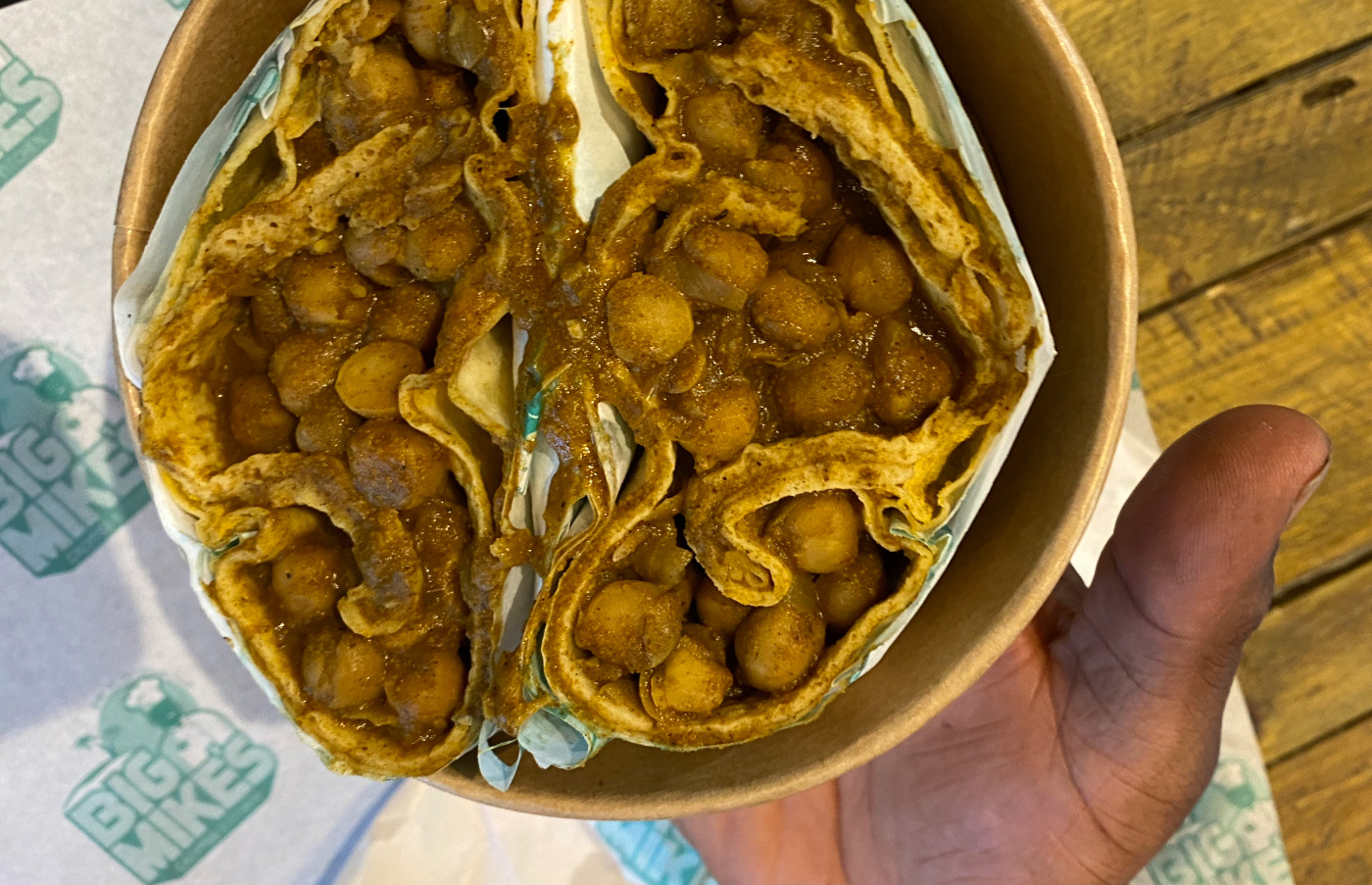 The final dish that we saved room for was the Chana curry roti. Have a napkin handy as this gets messy, but very much worth it. Comforting and packed with flavour, this is an authentic handmade Caribbean Dhal Puri Roti. You simply add your favourite filling. There's a range of Roti's available, including Curried chicken, Curried Goat and beef.
Croydonist: What's your favourite place to relax in Croydon? 
Mike: Big Mike's Calypso Kitchen of course. We're looking forward to getting back to weekend fun – with friends hanging out, enjoying good food and playing dominoes.
Thank you to Mike for chatting with us and for the delicious lunch – we can't wait to visit the Rooftop Lime one sunday soon.
Big Mike's Calypso Kitchen is open daily:
12:00 – 21:00 Sundays, Mondays, Tuesdays and Wednesday
12:00 – 22:00 Thursdays and Fridays
12:00 – 23:00 Saturdays
It can be found on the Dingwall Road side of Boxpark (Unit 5 & 6).
Check out their full menu on their website, Keep up to date with the restaurant's events on Facebook, Instagram and Twitter.
You can book your free tickets to Big Mike's Rooftop Lime via eventbrite here.
Summer Sunday dates are 20 June, 4 July, 8 August, 15 August, 22 August, 29  August, 5 September, 12 September, 19 September and 26  September.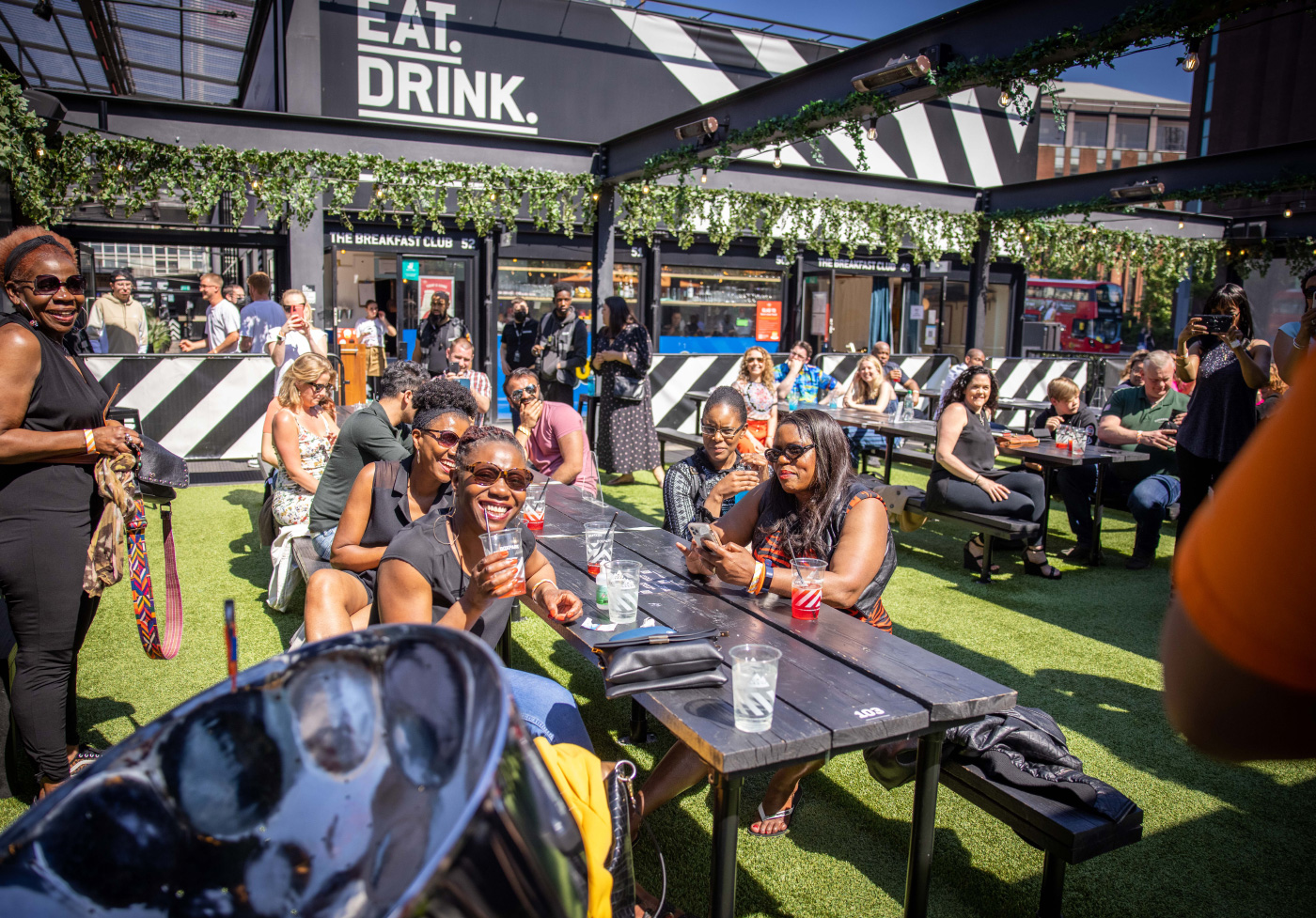 Rooftop Lime photos courtesy of Big Mike. Food pictures by the Croydonist.
Posted by Julia and Angela