Last week we had the pleasure of heading to Croydon's 'newest' hotel in Selsdon. Us seasoned locals will likely always think of the location as Selsdon Park Hotel, but what was last De Vere Selsdon has now been taken over by Birch. And before you think, 'oh just another hotel chain', Birch is a very different animal. Being socially conscious is at the core of what they do, and (in their words) they give a sh*t about people, places, and moments. Birch already has an award-winning hotel, members club and co-working space north of London in Cheshunt which boasts an on-site farm offering introductions to composting and foraging, as well as supplying produce for its two restaurants. They are environmentally conscious, and take the well-being of their guests and members seriously.
We last visited Selsdon Park Hotel (as De Vere Selsdon) for a night's stay about 5 years ago and whilst the 19th Century mansion and grounds were clearly beautiful, the whole estate was feeling rather tired. Therefore I'm excited that this potentially stunning location is now in the hands of Birch.
Birch Selsdon are billing the next couple of months as a soft launch as there is obviously a lot to do in reshaping 181 rooms and 200 acres of grounds.
At the moment they are open for bookings – both for overnight stays and reservations in their all-day brasserie Vervain, as well as taking applications for membership – but they are still in the process of rewilding the vast grounds, which was until recently a golf course, and are gradually opening their facilities. These include an art-deco inspired lido (due to open later this summer – I'm beyond excited about this!), a wellness space with gym, their signature restaurant Elodie (set to open this month), pottery and screen-printing studios, an arcade, screening room and a 'Birchlings' kids club.
Last week we sampled some dishes at their brasserie, Vervain, created by Michelin starred chef, Lee Westcott, and then went on a guided tour of the grounds with furniture designer, maker and environmentalist, Sebastian Cox, who is leading the rewilding of the estate – set to be one of the largest projects of its kind in London.
Sebastian says of the project, 'Our concept for what we grow and rear at Birch Selsdon is to look past the Victorian and Edwardian dominance of the site, and revive the mediaeval farmstead that once stood at Selsdon. Plants will be older varieties with great diversity and resilience. Everything we grow anywhere (including trees or shrubs we plant around the gardens) should have a use – for humans as food or pollination or for wildlife and biodiversity by being native and wild'.
The project's intention is to recreate a northern hemisphere scrubland savannah, free from human intervention. Walking around the grounds already feels like you are in the middle of the countryside – all rolling hills, meadows and woodland. They are planning a pond on one of the hills where the soil is most suitable, there are hammocks and picnic benches if people want to enjoy the wilderness, and in the coming weeks (once their perimeter fences are all secure) they are introducing three Sussex cattle, three Exmoor ponies and three Tamworth pigs to roam free in the area, and live sustainably off the land.
Sebastian has also created furniture for the bedrooms, reusing wood from the Selsdon estate. Whilst other furnishings utilise recycled glass and textiles, to make the remodelling as sustainable as possible.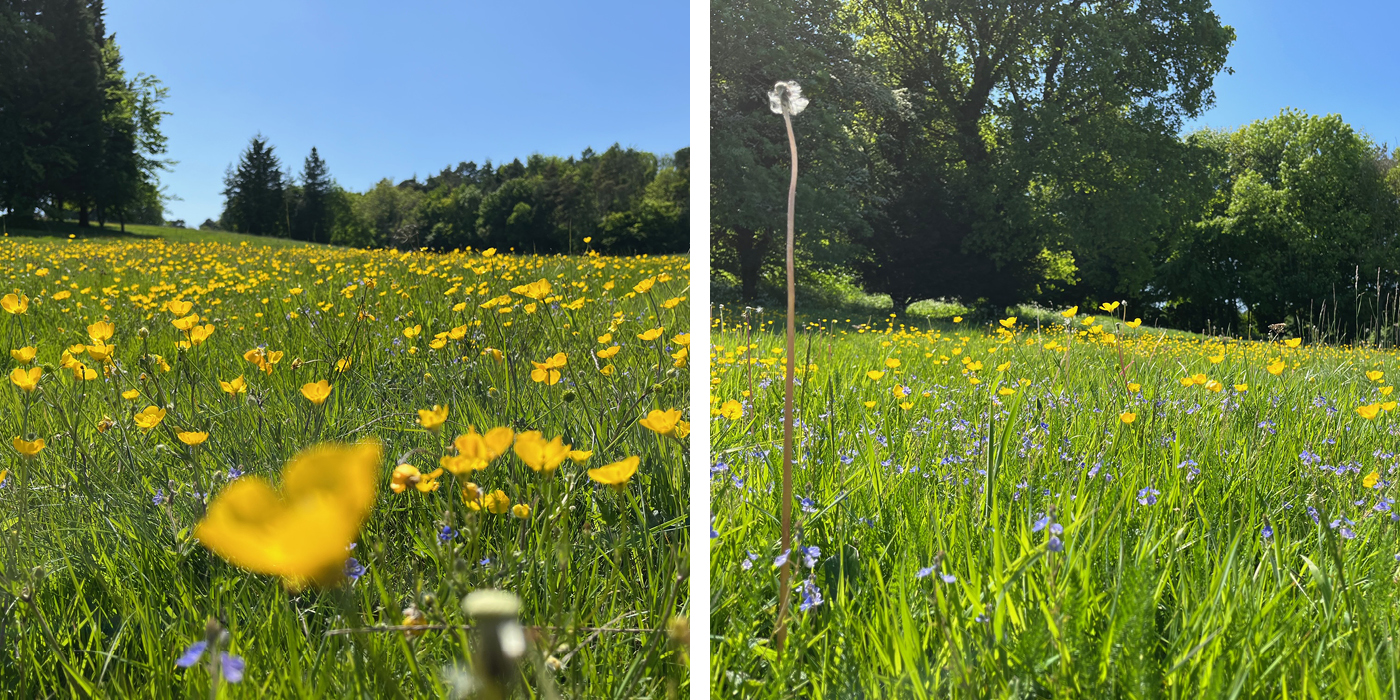 As for the food at Vervain, the menu features fresh ingredients and seasonal produce.
We started lunch with their toasted sourdough which comes with an extremely moreish marmite butter & roasted yeast. I can confirm from fellow diners that regardless whether you love or hate marmite, you'll love this.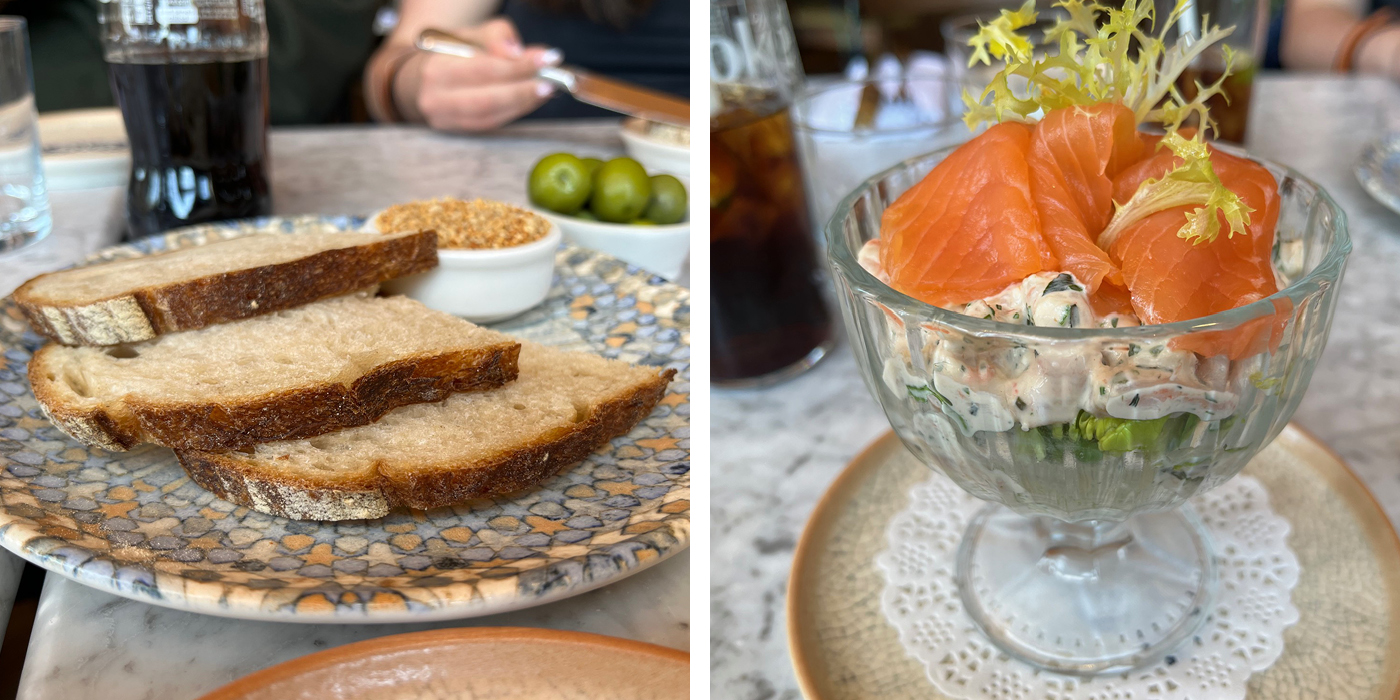 For my starter I ordered a modern take on a prawn cocktail which also contained smoked salmon, with a cocktail sauce that had a pleasing kick. Other starters round our table included Birch soup (the prettiest soup I've seen in a while, where the waiter poured the soup at the table over a central display of flowers), and crispy pigs head bites, on a bed of parsley, garlic and lemon.
For my main I went for the Birch pasta as it contained two of my favourite ingredients (olives and capers), as well as wild garlic, chilli and spenwood. If you like a bit of spice, this dish is for you as it is a refreshing twist on your usual veggie pasta. Fellow diners sampled the braised hispi cabbage with romesco sauce, miso & kale, which I'm told was the perfect light lunch dish, and the herdwick shepherd's pie with mash, new season peas and mint (yummy was the verdict).
I couldn't fit in a dessert – it was lunch after all, but I did have my eye on the English trifle with white chocolate and rhubarb.
I can't wait to revisit the estate later in the summer to have a dip in the lido, followed by a cocktail on the terrace whilst looking out at the fab Richard Woods artwork on the lawn, and over to the rewilded meadows and grazing animals beyond. Yes this is Birch Selsdon folks.
Find out more about Birch on their website, Instagram and Facebook.
All photos by the Croydonist except the lido visualisation which is courtesy of Birch.
Posted by Julia