When Boxpark landed next to East Croydon station to a fanfare of Grime music and Boxercise, it also brought with it an array of eateries and food. With forty different restaurants, cafes, bars and diners inside and outside its walls even the most determined eater can be paralysed by choice. So here is my short list of Boxpark treats I can't help but go back for more of.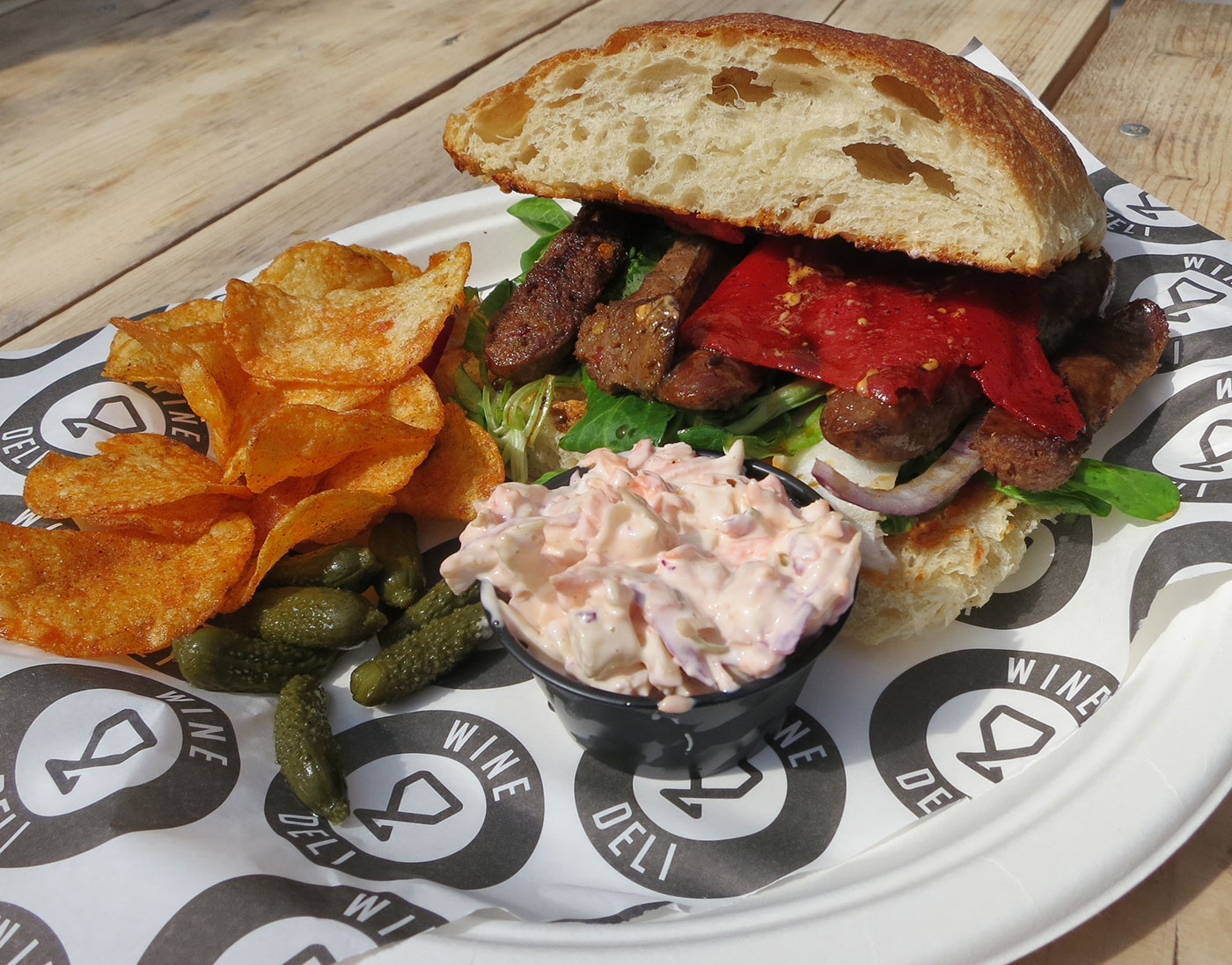 Wine & Deli Sandwiches
Not only do the boys from BRGR&BEER know their burgers and their beers but it turns out they know a fair bit about wine, charcuterie and sandwiches too, which they sell at my Boxpark favourite, Wine & Deli. It's the sandwiches which I'll focus on here. Chunky great things stuffed with flavour combinations that have encouraged me to go through the whole range. Personal favourites of mine are the buffalo chicken sandwich with blue cheese and buffalo dressing and the vegetarian halloumi sandwich with hummus, aubergine and rocket. And I can highly recommend the specials like the pictured spicy merguez sausage with harissa mayo and grilled pepper. Check out the rest of the menu too for great wings and arancini if they bring them back(are you listening Wine & Deli?).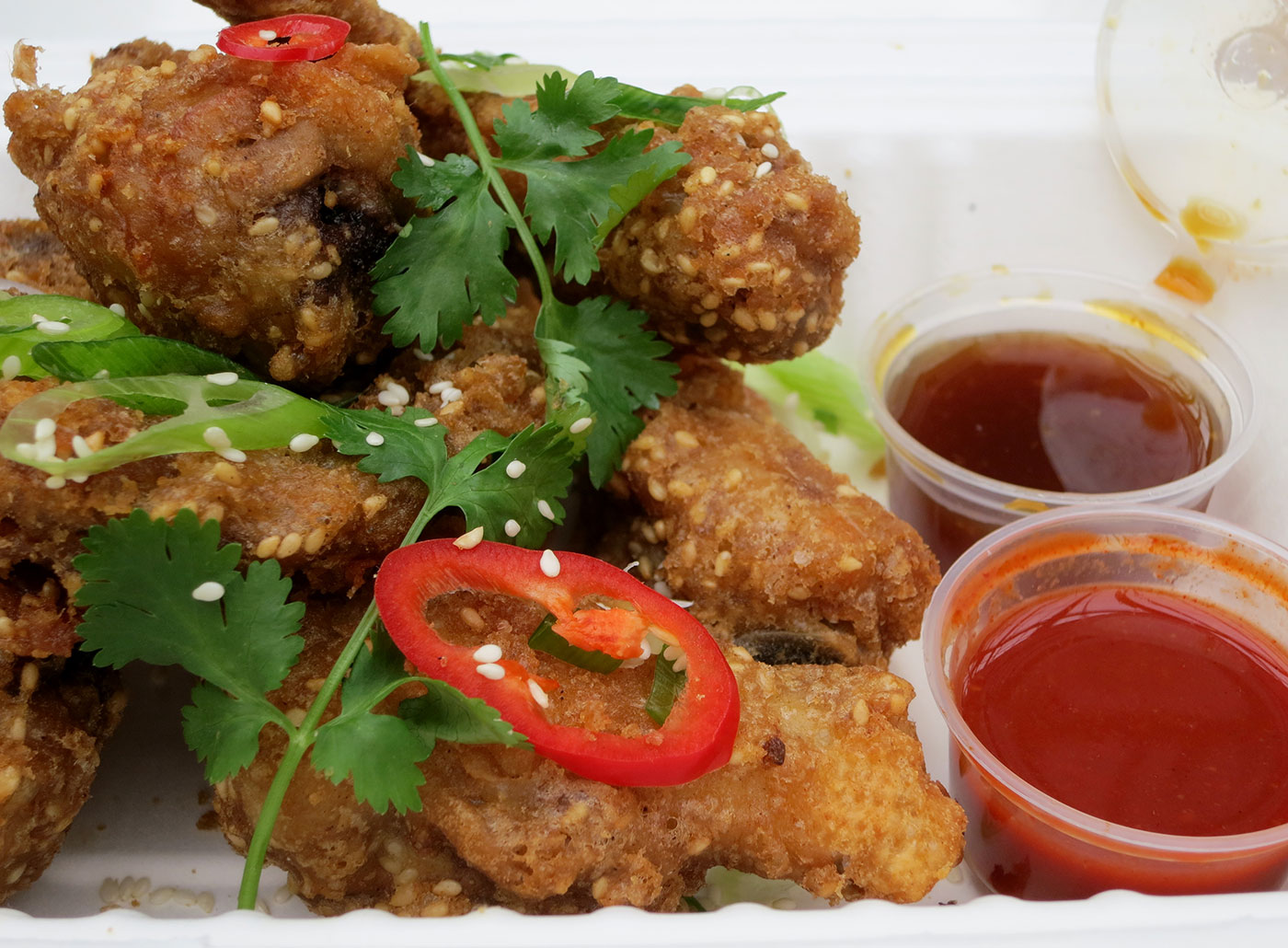 Coqfighter Korean Wings
Wings are my favourite part of the chicken to eat and currently Coqfighter's Korean style wings are my favourites. These are big wings with a light, sesame seed spiked batter covering the juicy meat. They come with a pot of sweetened, ginger heavy soy glaze and an equally delicious (and very hot) Korean chilli sauce. If you are lucky, you get a small paintbrush with which you can artfully daub your sauce onto the wings. Otherwise it's dip and bite – this is a messy affair; be sure to grab lots of napkins. Coqfighter also do a good line of burgers and bao buns but it's the wings I always go back for.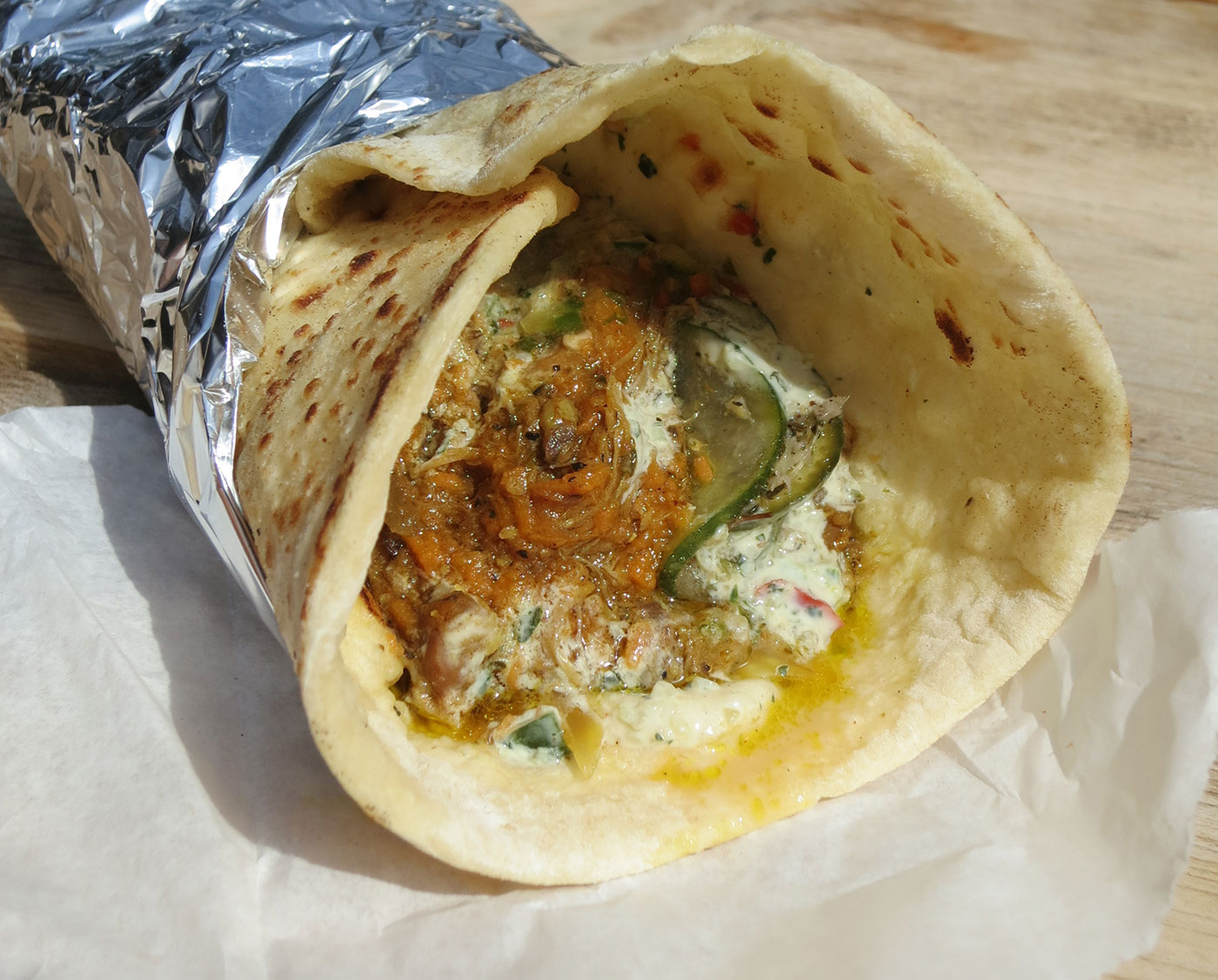 Nanny Outars Lamb Roti
Order your Guyanan style roti from Nanny Outars and they will get straight to work rolling out the fresh roti dough and grilling it on the flat top grill at the counter. Then ours was laden with juicy, slow cooked lamb, spicy yogurt, chilli sauce and pickles. Then it's all wrapped up and ready for you to sink your teeth into. Please remember your napkins because although this one starts all neat and tidy after a couple of bites the juices start to flow. Before you know it there will be a partial structural collapse and the plate, the table and you will be covered in deliciousness. For the roti fillings you can also choose from chicken, pork and a vegetarian dahl or a mix of the above!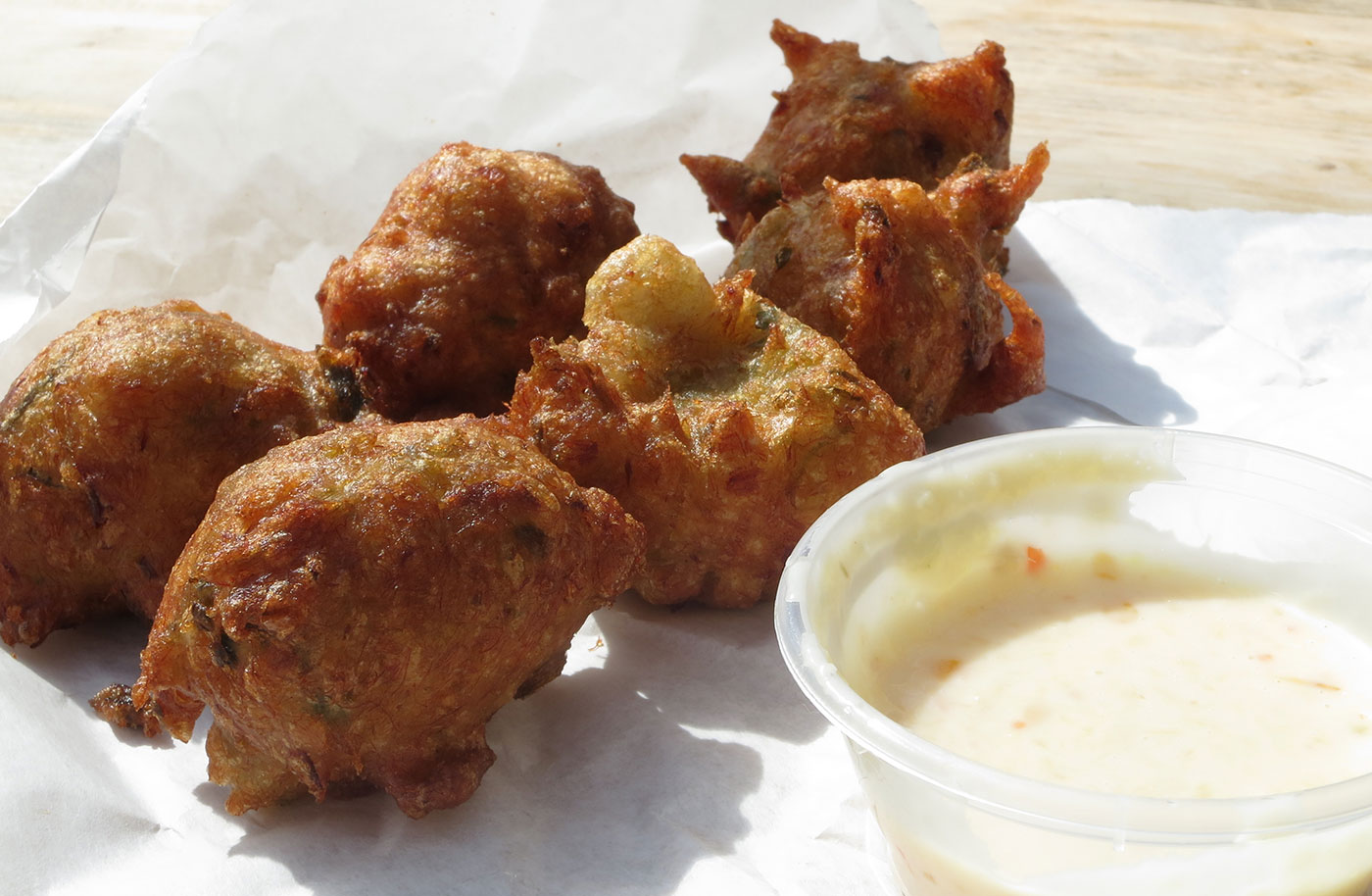 Fish, Wings & Tings Codfish Fritters
For a quick bite, grab some codfish fritters from Fish, Wings & Tings. These balls of salt cod are fried till golden and served with a ginger and lime aioli. These are better than any fish finger you've ever had and dipped in the fruity mayo make for a great starter or snack. Check out the rest of the menu at Fish, Wings & Tings for jerk chicken, curried goat and their excellent wings.
Carioca Beef Rib Croquettes
Make sure you let these deep fried beef croquettes cool off a bit before you sink your teeth into them or you won't be able to enjoy them as much as you should. Slow cooked beef has been shredded mixed with onions and stuffed with cheese before being deep-fried and drizzled with spicy Brazilian Churrasco sauce. All of this flavour and texture make these one of the most addictive things you can buy at Boxpark. Carioca have a great menu of Brazilian street food with wings, beef rib burgers, black bean stews and muffins.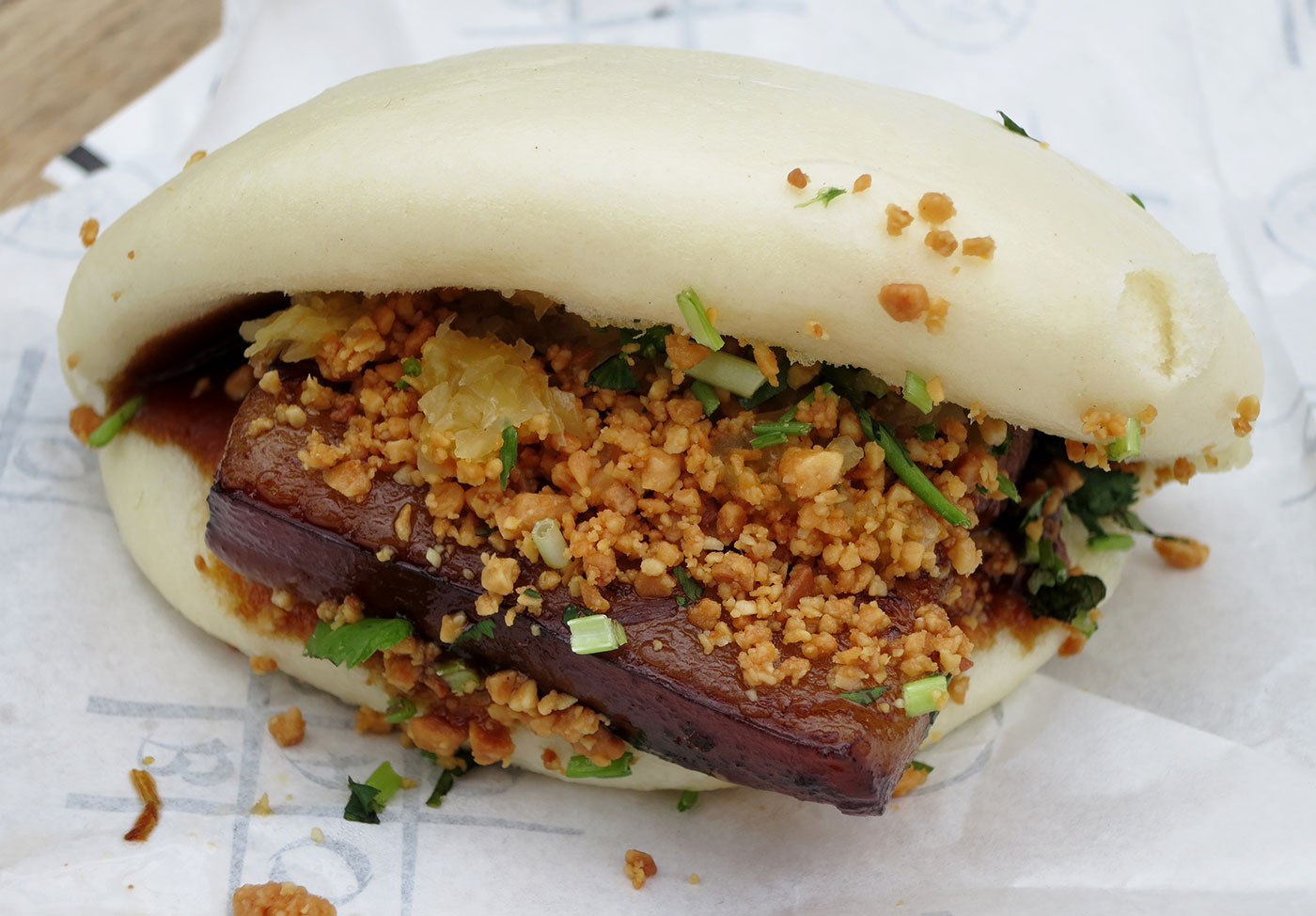 Bao Bao Pork and Lamb Bao Buns
We met up with some Croydon friends recently and after explaining our quest to find the best bites at Boxpark they enthused so much about the bao buns at Bao Bao we knew we had to try them. I'm glad we did because they are so good they squeezed into this five item list and turned it into six. Bao Bao is tucked in a corner on the street-facing west side on Dingwall Road. The steamed buns are light and just firm enough to safely house the carefully cooked fillings. The juicy roast pork belly version is served with a Taiwanese Sauerkraut and hoisin sauce. Our favourite though is the slow cooked cumin lamb with red onion pickle and a cheeky mint sauce. Our friends highly rate the shiitake mushroom version too. Bao Bao also do a full menu of Taiwanese specialties and a range of bubble teas. They are also one of the few Boxpark vendors to have their own enclosed restaurant area.
Food photos courtesy of Sam Hill
Posted by Sam