Monday 31st October saw the fences come down and the shutters open for Boxpark Croydon – the latest addition to our ever expanding food and entertainment spaces in the borough. Spearheading casual dining on mass, you'll find every kind of food imaginable with 40+ food outlets to choose from.
Veggie? Yep they have it covered.
Vegan? Sure thing.
Meat, meat and more meat? You won't be disappointed.
Demand booze? Cronx brewery, TICK. Wine&Deli, TICK, funky black and white bar. TICK. Plus restaurants with all the usual suspects.
We, at the Croydonist, were invited along for a tasting session and sneak preview last week before the grand opening, accompanied by some very cool live music.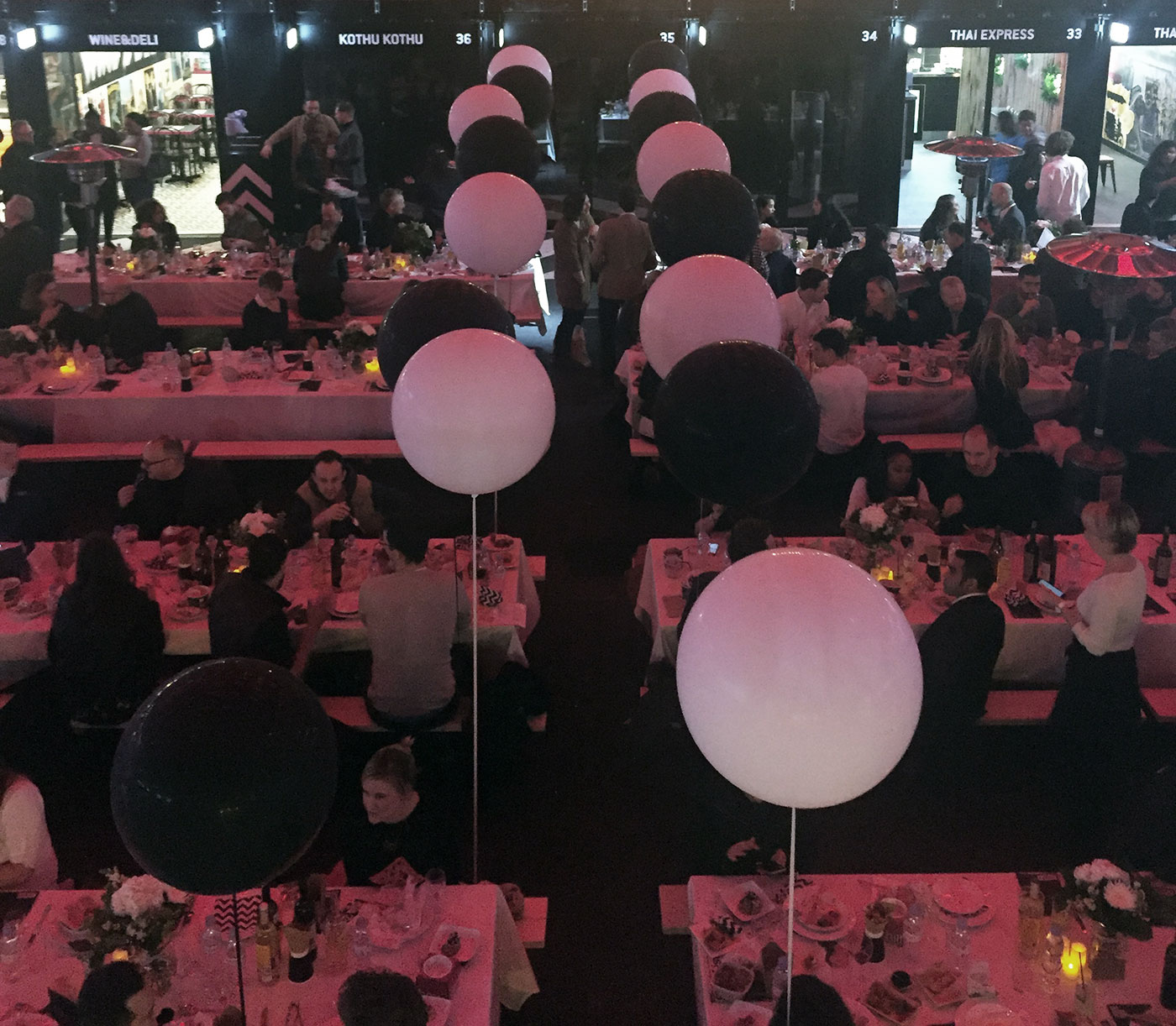 Here's a lowdown on what we sampled:
Dondas Tapas served up potatoes shaken in paprika and sea salt, topped with in house bravas sauce and aioli. An excellent start to the evening. Potatoes done just right with a warming tomato bravas. The aioli was top notch with garlic blending it all together. If you're having this dish, make sure whoever you plan to kiss tries some too for obvious reasons.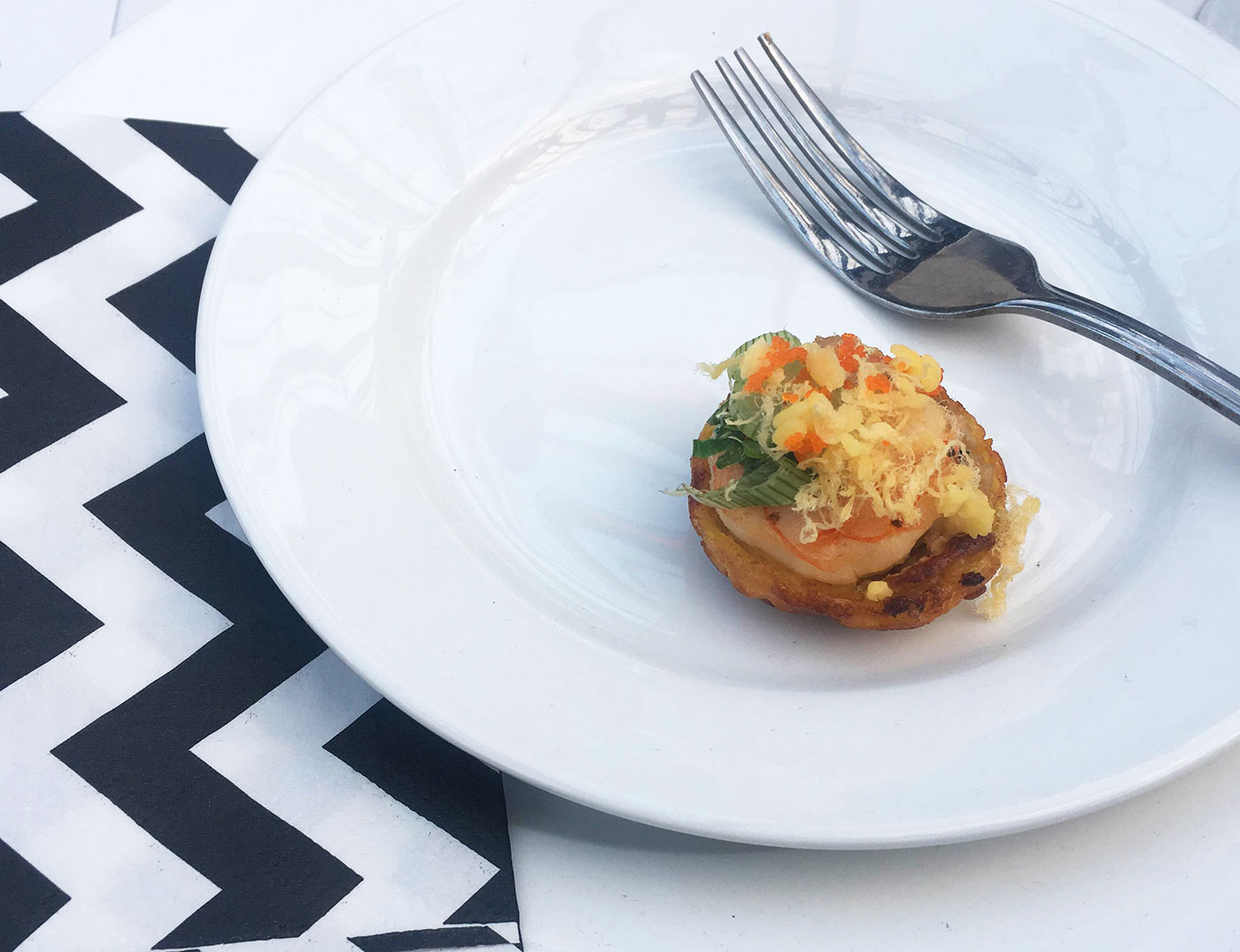 Next up Bang Bang Hawker Kitchen who served the mouth wateringly good, crispy rice cake with prawn, pickled jalapeno, tobiko and chicken floss. The genius in this dish was how it tasted so light and delicious while still feeling like rich comfort food. I'm hungry just thinking about it now.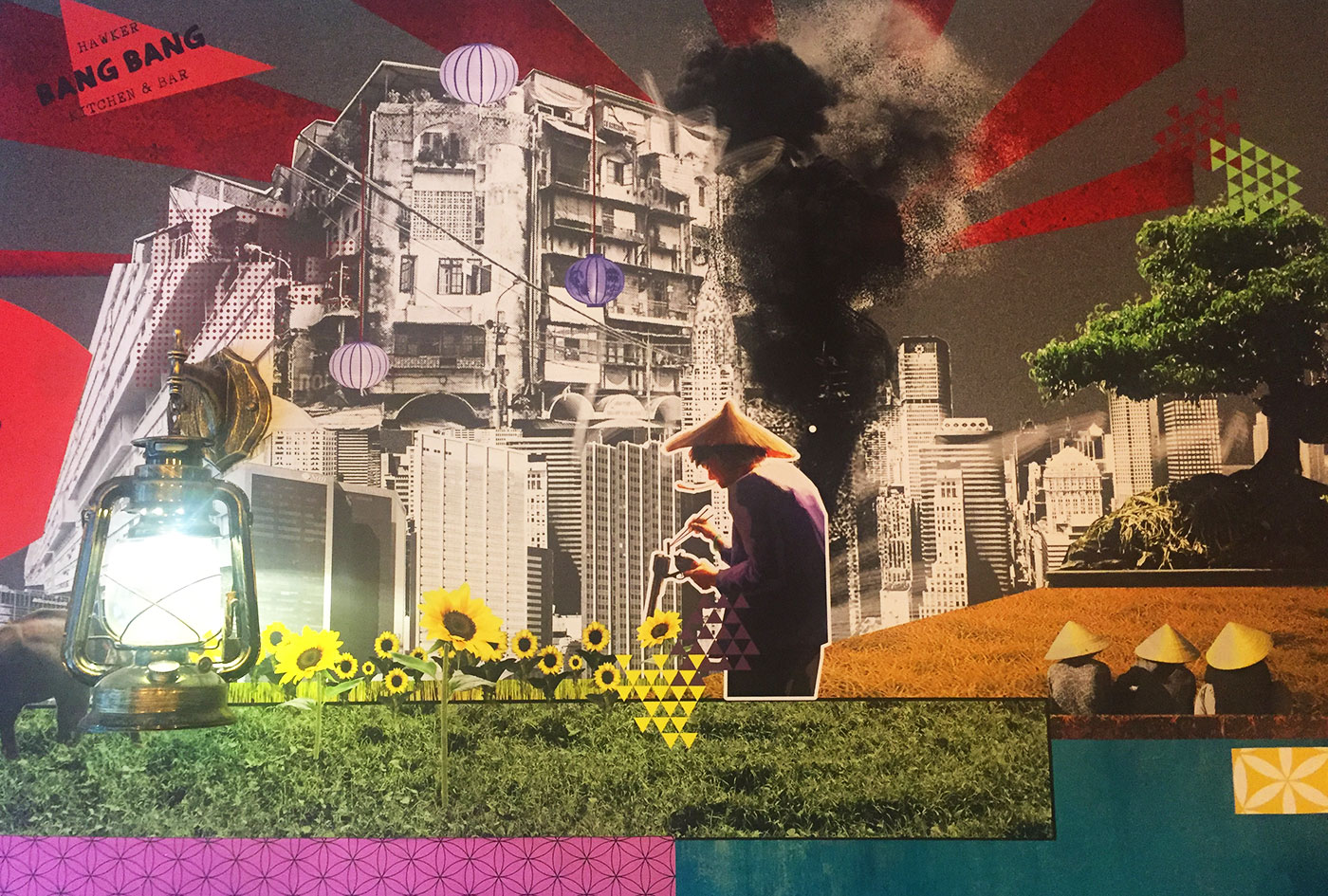 A sip of Coors light from the Boxpark Bar and I'm onto my third taster. This time from Ind-go, serving up an Indian papdi chaat. This is street food that enlivens the taste buds with a kick of freshness. Moorish to the max.
Yumn gave me a taste of food heaven. I can't tell you the exact name of the dish as they went slightly off menu, but it was an awesome lamb starter. I was also lucky enough to try one of their fish cakes. This is certainly one of my top places for a revisit soon.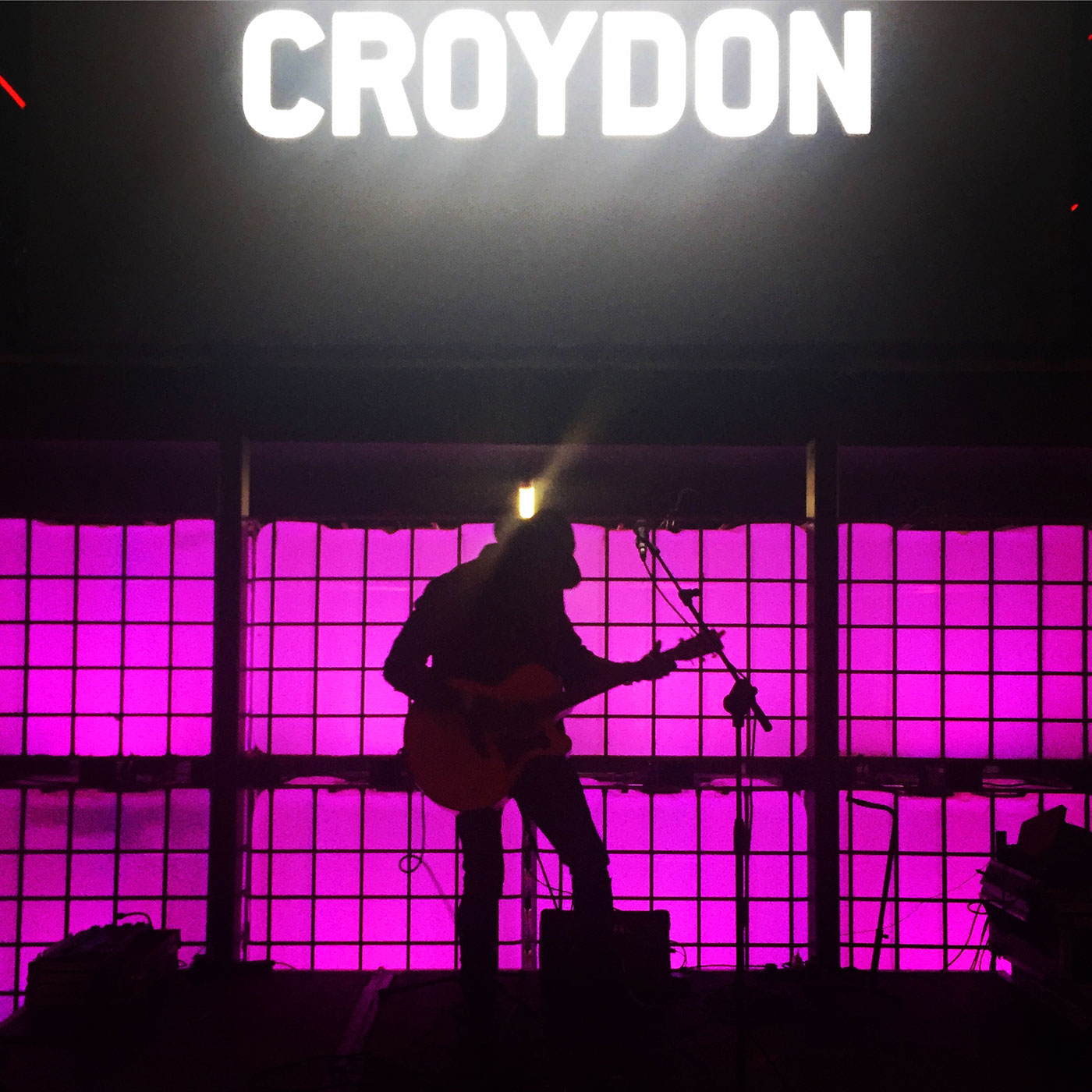 It was about this time that I needed a food break, for fear of recreating a tudor banquet by over eating… My slight breather meant that I skipped a few dishes but was back in action just in time for Bread Tree who served up bruschetta topped with parma ham, rocket and mozzarella. Julia also tried the veggie version. Collectively we sum these dishes up as fantastic, smashing, summer's day lovely. The pesto was not too greasy and not to thick (I sound like Goldilocks here) or overpowering. The balance was just right, so if you're an Italian food fan, you really can't go wrong here.
Chilango stopped by with smoked beef rib tostadas – the perfect cure for a hangover and also a nice winter warmer that wraps you in a comfort blanket of loveliness.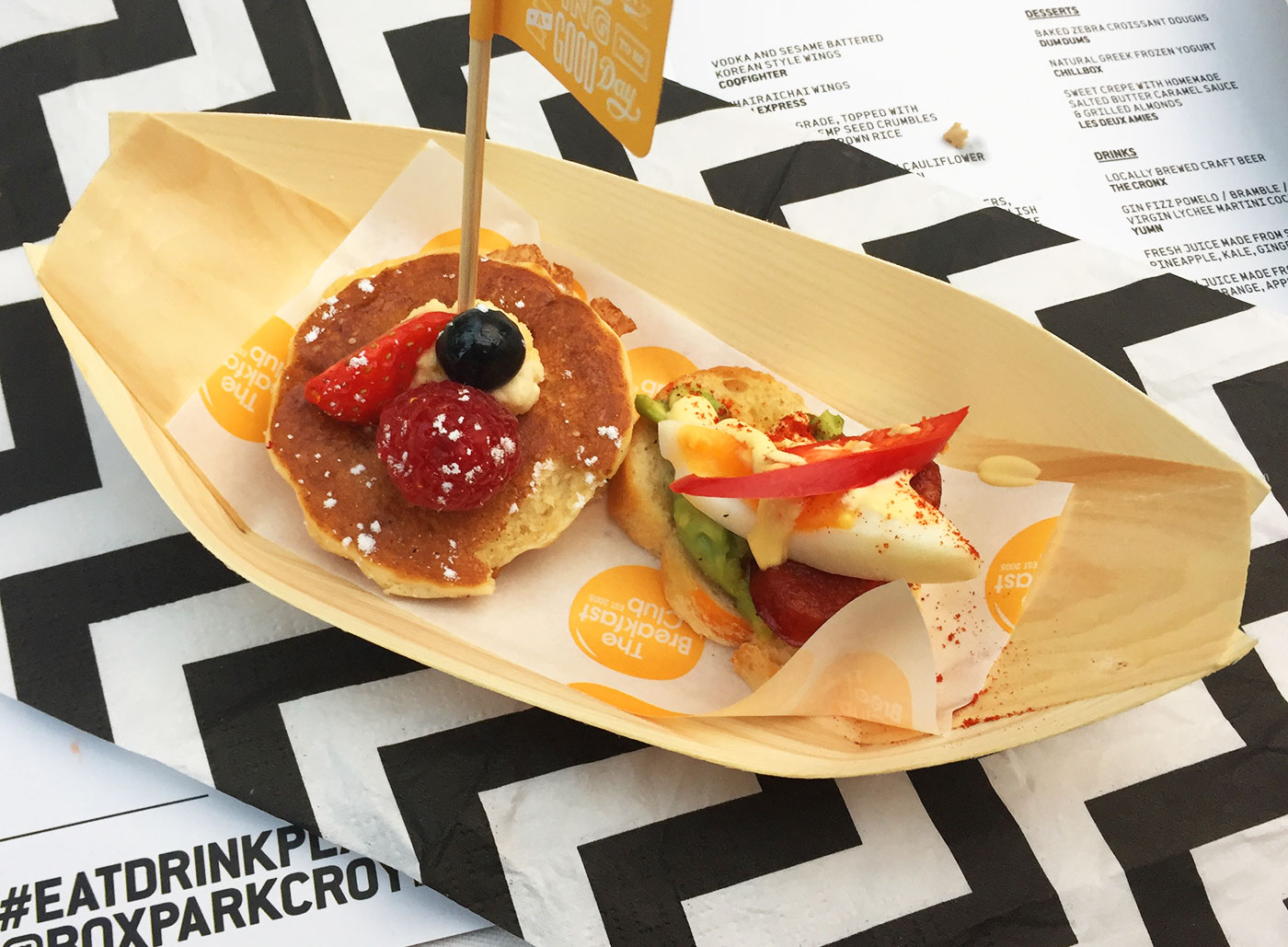 On to Breakfast Club. Now I must admit, I am already quite the fan of this place so you can imagine how excited I was to hear that they would be taking up residence in Boxpark Croydon. No more having to trek into the centre of London for my BC fix. It will of course not replace my beloved Tram Stop or Matthews Yard for yummy breakfasts, but it does mean I have it all right on my doorstep now to rotate. Here's what they served: smashed avocado, roasted peppers, chorizo and poached egg on an English muffin topped with spicy hollandaise sauce. Love it, love it, love it. Julia pinched the divine looking mini pancake accompanying it, fastforwarding to dessert, so I didn't I get a look in. Note to self, to try this dish when I next return.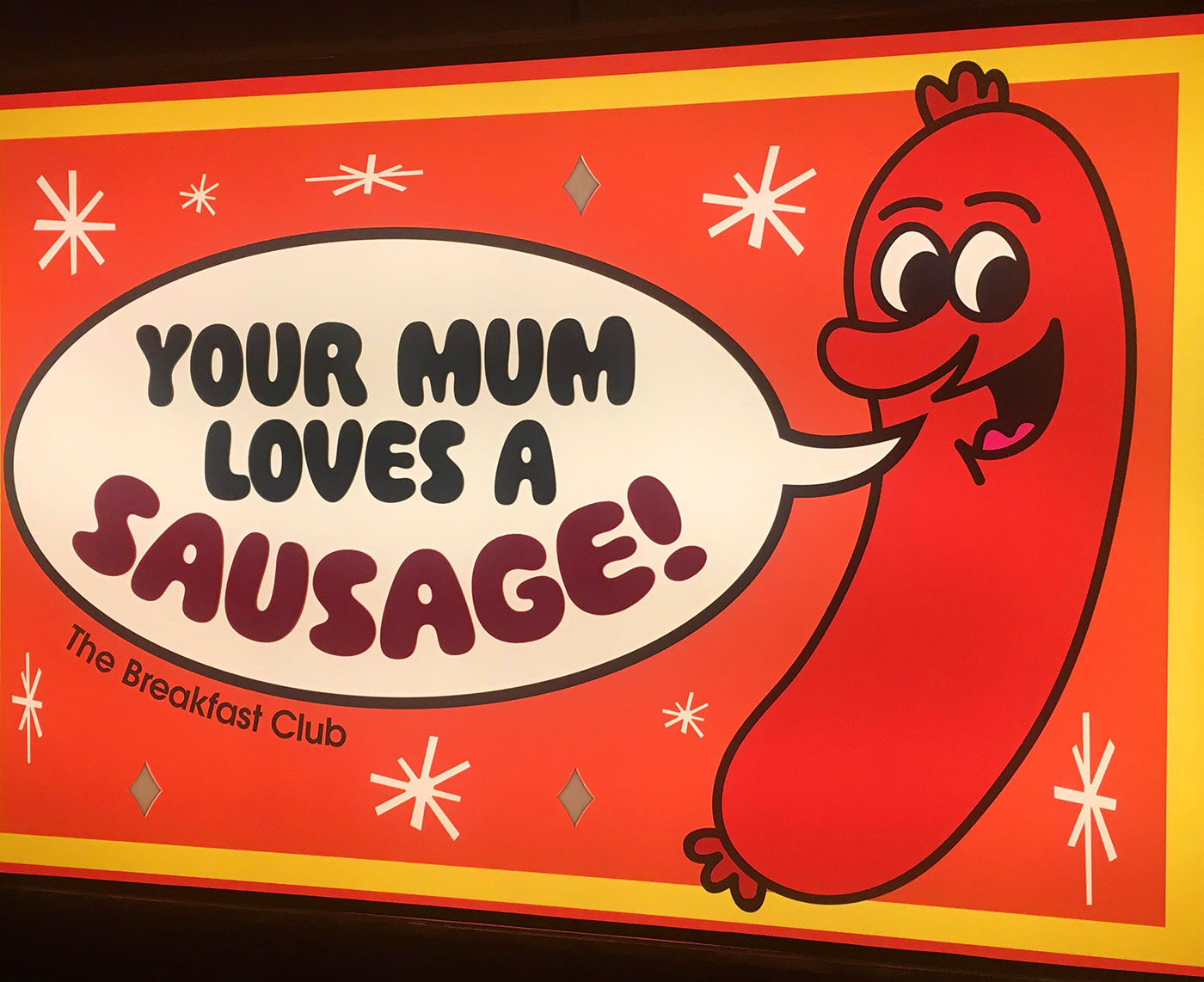 Thai Express delivered a green curry pot with spiced chicken and mango salad. Inventive and hits all the right spots. I think I'm going to be a regular here.
If you like your steak, make sure you check out FIXED. I tried their 28 day aged beef on a bed of lentils – delicate and so very tasty. Flat Iron Steak at it's best.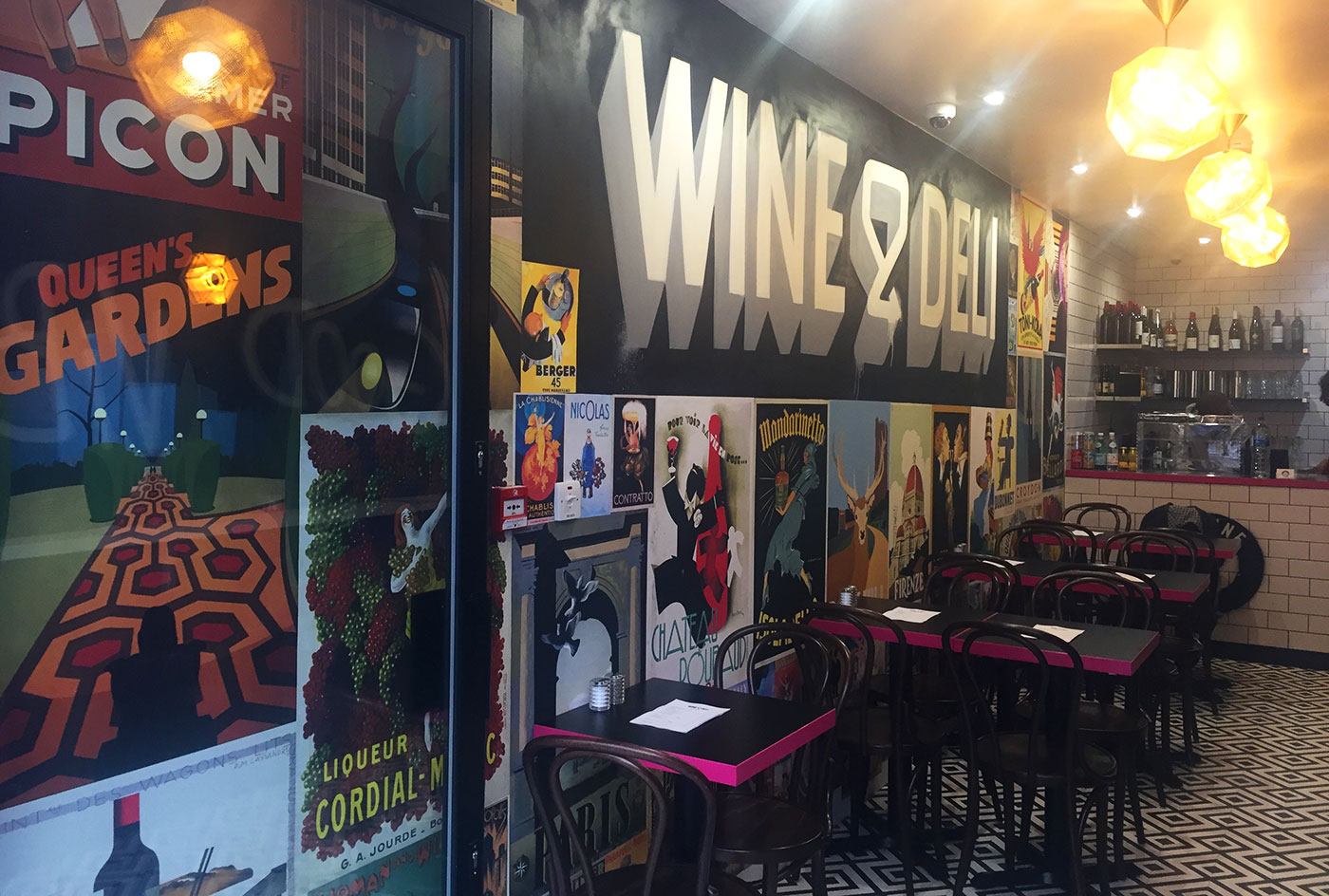 Wine&Deli – what can I say? They smashed it at Matthews Yard with BRG&BEER and signs are there that they'll do the same with Wine&Deli. They let me sample bavette steak with chimichurri. The beef was so tender and the pesto rich in flavour I felt transported to a heavenly meaty plain. Classy to the max without being wanky.
My last dish of the evening, as I really couldn't eat anymore, was a burger with hippy sauce from MeatLiquor. This can only be described as creamy, dreamy, melt in your mouth goodness. A pleasant surprise for Julia – it's not all meat here. They also cater for veggies, bringing her a halloumi and mushroom burger and a happy ending to our evening.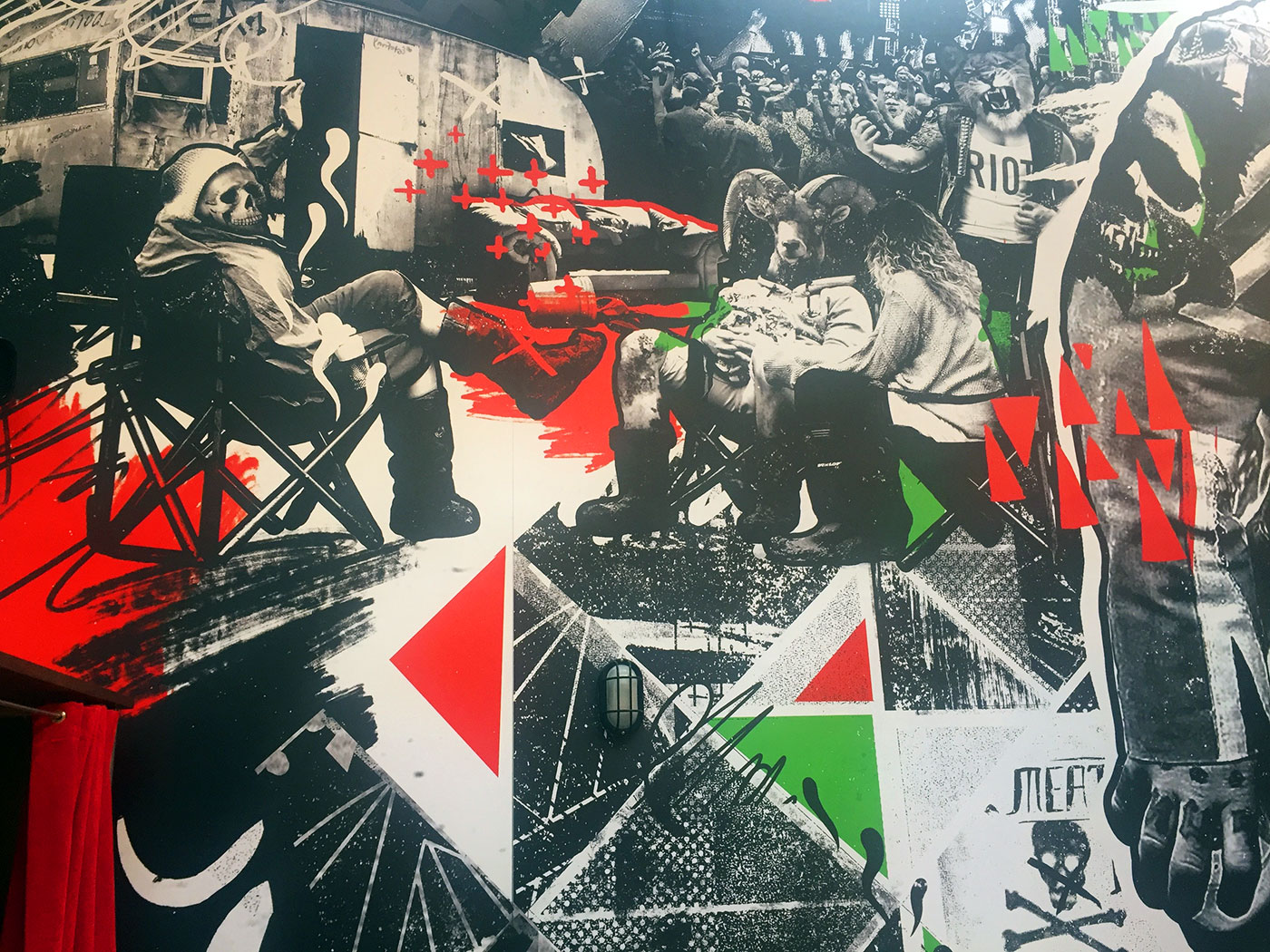 With so many fantastic food options at Boxpark, it is bound to be a regular in my social calendar. We only experienced a snippet of what the food vendors had to offer and I left with a very satisfied belly indeed.
Looking forward to more foodie fun and frolics in the coming weeks.
Posted by Angela