I've been a fan of Bridget Riley since I discovered op art at art school in my late teens. Her geometric patterns tricked my eyes like nothing I'd seen before in a static piece of art.
Imagine my pleasure when I found out recently that Riley was once a Croydonian herself. Born in 1931, locally in Norwood, she taught at Croydon School of Art in the early 60s. In fact it was in this period that she first gained critical recognition for her now famous black and white optical paintings. You can even see one in our town centre, as her print from 1962, based on her acclaimed Movement in Squares, hangs on the wall in the Museum of Croydon (shown below).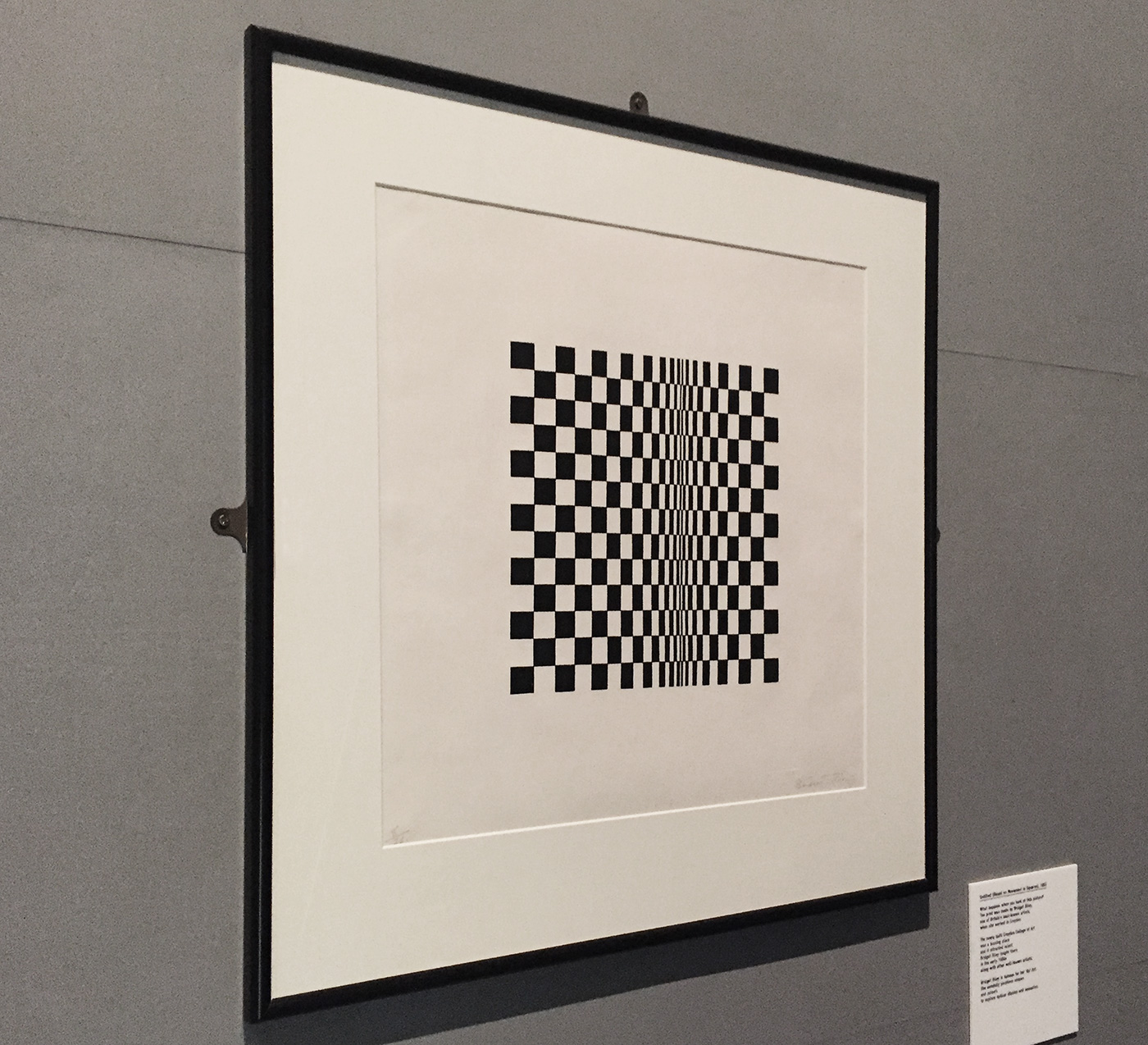 Riley's career has now spanned more than fifty years, and she has an exciting new body of work on show in London. This week we popped along to her recently opened exhibition in David Zwirner's London gallery, on Grafton Street, near Green Park.
The exhibition, arranged over three floors shows 14 pieces created between 2014 and 2017, with an interlude of a couple of works from the 60s to show Riley's initial exploration of a theme.
If you're expecting Riley's pulsating moving patterns you won't be disappointed. The new paintings are related to those she is celebrated for, but they feel like a natural progression as well as a fresh direction.
I entered the space on the ground floor and was met by a huge wall piece called Quiver 3 (detail below left). Black and white warped and waving triangles play with your eyes, and on first glance it looked to me like abstract tangram creatures were dancing (or perhaps quivering) across the wall.
The triangle theme continues across the ground floor  – unifying into solid tessellating patterns undulating across the walls in the second room (above right).
Heading up the staircase you enter the first floor gallery to a sea of dots (or discs as they are described by the artist). You are initially treated to those 60s paintings called Black to White Discs (the greyscale gradients bringing the diamonds to life – rippling in the breeze). These I think help the visitor transition from the black and white triangles of downstairs to the coloured (yes coloured!) dots of the rest of the exhibition.
The subtle colours of the dot arrangements on the first and second levels remind me of a game – perhaps the documented moves of a complex other-worldly chess game I have yet to master. I also couldn't help wanting to gather all the formations together to make an animated version – although I guess your eyes do that for you.
Not ever having being that fond of muted shades of green, lilac or maroon, in this instance I actually found them calming and a pleasant contrast to the black and white triangles of the ground floor. I know Riley has been influenced by the post-impressionist painter Seurat in the past, and the colours here are reminiscent of Seurat's famous Sunday Afternoon pointillism painting of the 1880s. You could view Cosmos 2 (below) in particular as a 21st century version of Sunday Afternoon in geometric simplified form.
In the show's final piece on the top floor, the dots seem to be escaping from the wall – geometric bubbles floating up out of water perhaps, or circular pixels vanishing out of an 80s computer arcade game. The beauty of abstract art for me is that you can see what you want to see.
Relaxing on a white bench in a white space flooded with natural white light whilst gazing at the coloured paintings gave me a sense of tranquility – not one I've found in a gallery since sitting in the centre of a series of Monet's vast water lilies paintings at Musée de l'Orangerie in Paris. Like the gentle bobbing water sensation you get from the lilies, Riley's coloured shapes here ripple daintily before your eyes.
Bridget Riley: Recent Paintings 2014–2017 runs until 10 March 2018 at David Zwirner, 24 Grafton Street, London. You can visit for free, tuesdays to saturdays 10am – 6pm.
All captioned photography and header image: © Bridget Riley 2017; All rights reserved. Courtesy David Zwirner, New York/London. Header image is also an installation shot of Bridget Riley: Recent Paintings 2014-2017 at David Zwirner.
Posted by Julia