Bugeye, made up of two-thirds Croydon residents, is an indie-disco band, of which the singer and lead guitarist is the Croydonist's very own Angela Martin.
Currently being played on BBC 6 Music, they release their new EP, 'Never Let You Go' today, alongside their first music video of the same name. We caught up with the front lady herself, as well as the band's bass player Paula Snow, to chat about their ambitious 12-month project, their film and photo shoots around Croydon, as well as their favourite places in the borough.
Croydonist: We hear your year's goal is to release a single a month. Tell us more.
Paula: We decided to set ourselves a tight deadline for songwriting, working up to the release of our EP.  We already had an undercurrent of what we call secret lives (or the story of lives led behind closed doors) as a core theme, so wanted to focus on the narrative.
Angela: Almost like writing a soundtrack if you think about it. Starting with the story and creating the soundtrack to accompany it. This is probably why our music has been used in a few films this year. It fits rather well with storytelling.
Paula: We are happy with the results and hope it strikes a good balance!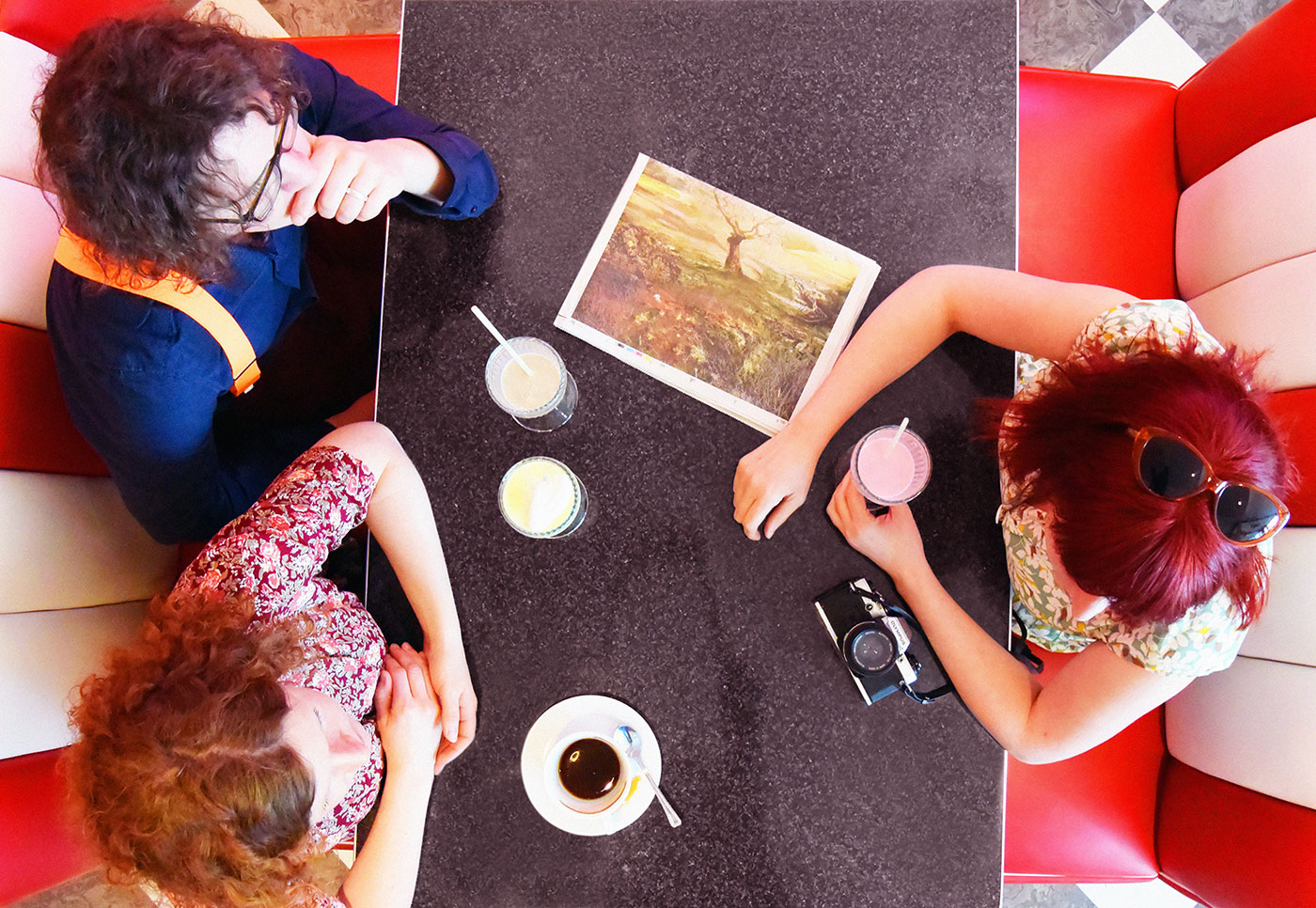 Croydonist: You had your launch photo shoot in Shirley's Cadillac diner. Of all the diners in all the towns, why did you pick this location?
Angela: We're a band pretty obsessed with vintage, especially the 50s, so the diner was just so perfect. Cool neon, and in my beloved Croydon too.
Paula: As fans of Twin Peaks we really wanted to do a diner shoot, and the guys at Cadillac were obligingly helpful. We loved the retro theme, and even more the flooring! Aside from the decor the milkshakes are to die for and the coffee is pretty damn fine.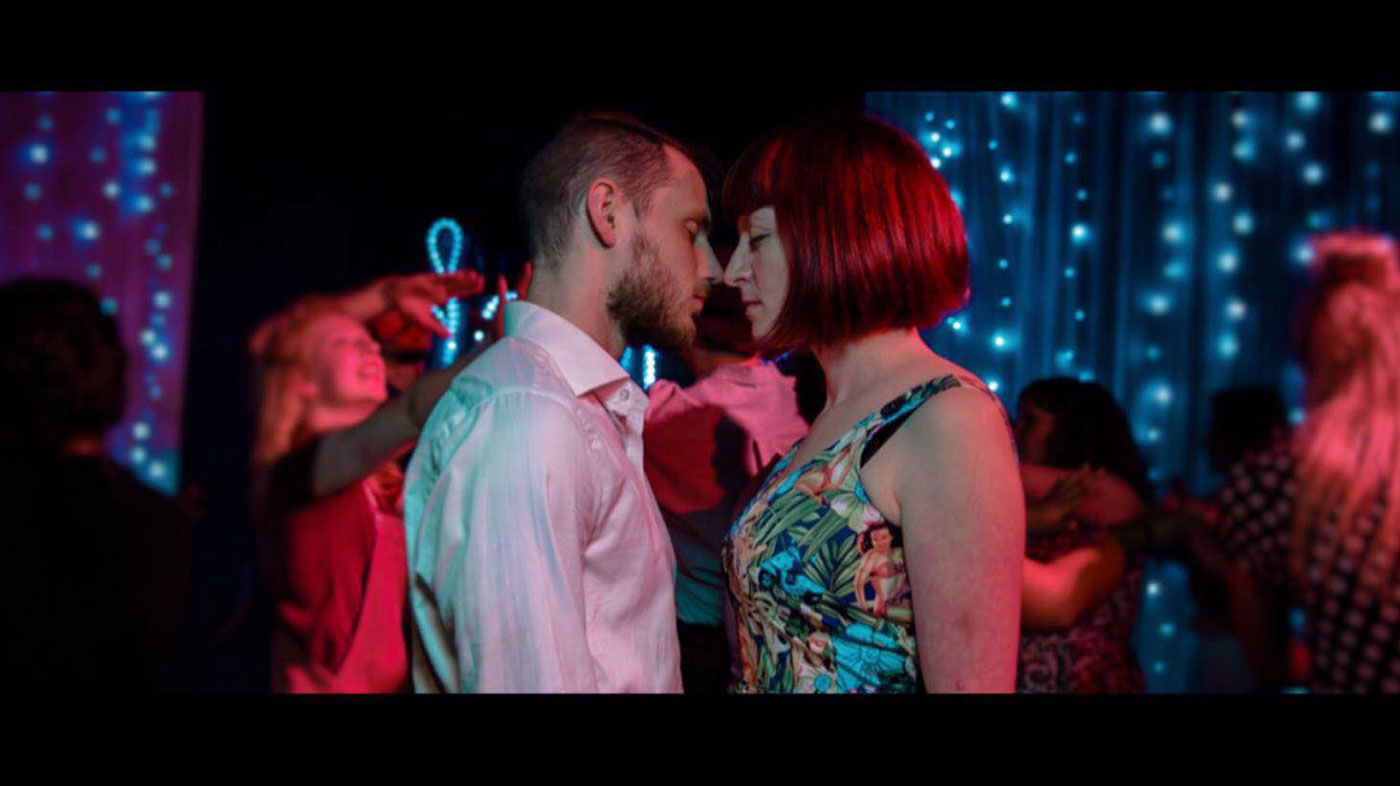 Croydonist: Your music video was filmed by director Emma Nathan in various locations around Croydon. Tell us more about the process and why you chose the locations?
Paula: The video to 'Never Let You Go' tells quite a dark tale of an obsessive/abusive relationship, and as such we needed a wide range of sets… Where else on earth would we find a park, a theatre (thanks Theatre Utopia), a space to create a 50s inspired dressing room and a living room to borrow for a film shoot! People of Croydon we salute your generosity, your helpfulness, and your resourcefulness – you were (and are) fantastic.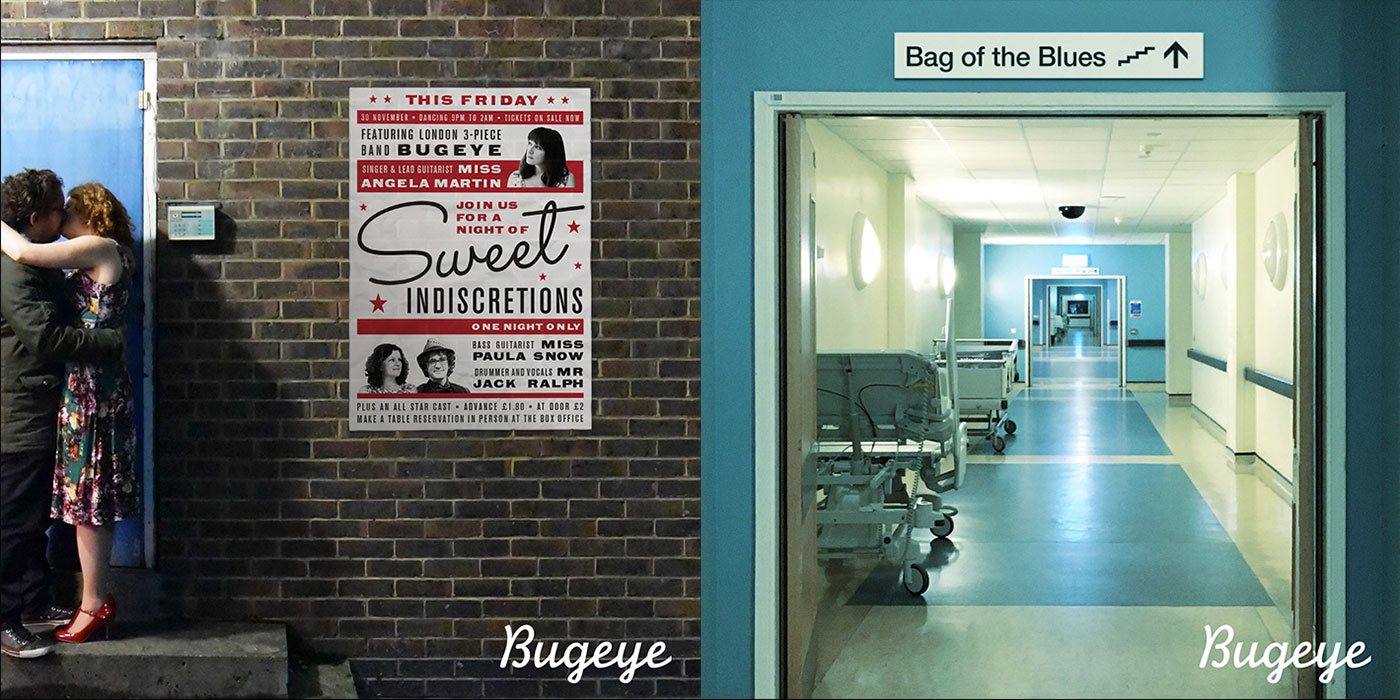 Croydonist: You've already released four singles on iTunes. From these single covers, which was the most bizarre Croydon photo shoot?
Paula: On a personal level, standing in a sleeveless dress with no tights, outside, in the square by Matthews Yard, for 'Sweet Indiscretions'… Only made better by the huge piece of blank A1 paper beside my head as people passed by in hats and scarves on their way home as the snow fell.
Angela: I guess for me it would be the photo shoot for 'Bag of the Blues'. Earlier this year I had a pretty lengthy stay in a certain hospital – something pretty routine went very wrong and almost wiped me off the planet. A scary time to say the least – anyway towards the end of my stay, it was decided that we would shoot the cover there. So in a rather attractive gown, I was shipped around to different locations – thankfully the photo we ended up using does not include me!
Croydonist: Where do you get your inspiration for your lyrics? Is Croydon ever a source?
Paula: Maybe not Croydon specifically but a lot of what we write about is set in the domestic lives of everyday (and imagined) narratives of people's lives.
Angela: Every day we see the world of Facebook with people presenting their lives how they want to be seen. We like to get beneath that and look at what happens behind closed doors.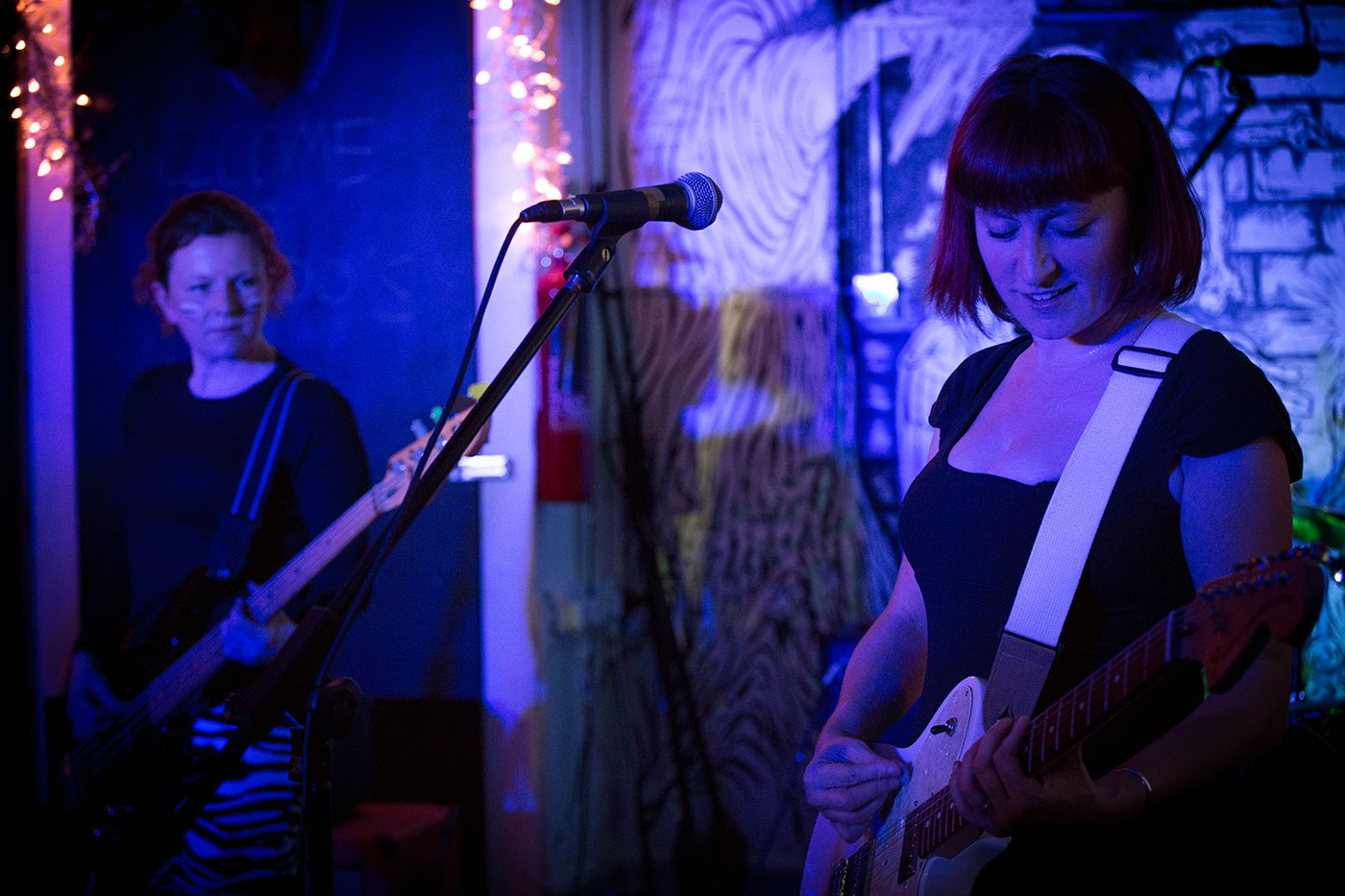 Croydonist: Have you gigged in Croydon before and will you be playing here soon?
Paula: Yes! We were fortunate enough to play at the International Black and White Stripes Day event at Hoodoos, part of the excellent Matthews Yard collective, and are planning to arrange a showcase with some of our favourite bands in a Croydon venue soon. Keep an eye on our Facebook page for details.
Croydonist: What's next for Bugeye?
Paula: We're super excited about our release 'Never Let You Go'. So far we've played a couple of awesome festivals including one in a beach hut, and are heading up to Scotland for Pandorafest, with a very busy gig schedule there after. Otherwise we're looking forward to working with like-minded people such as the awesome Zine and Caffy St Luce – the quest to create a music revolution for new bands has begun.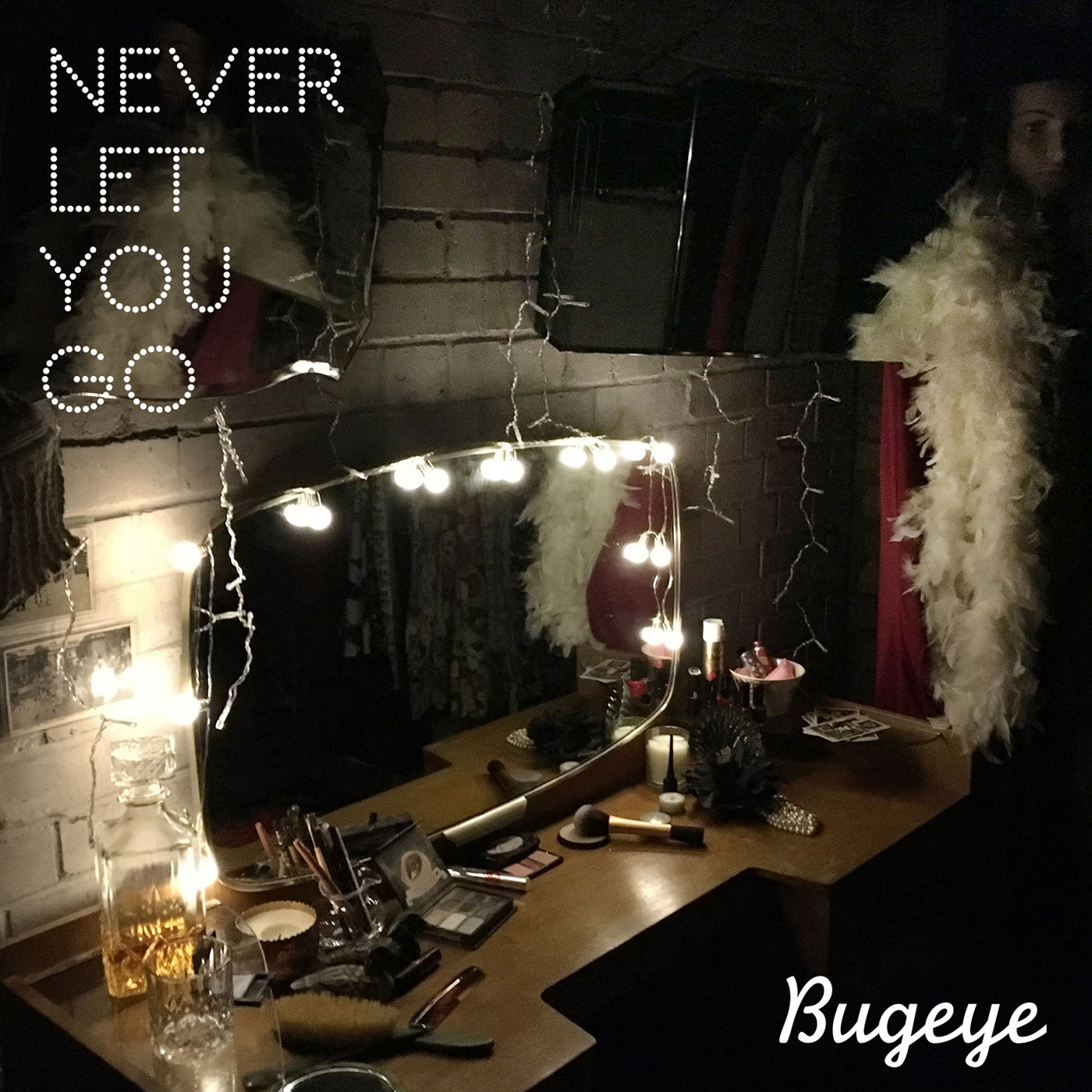 Finally we quizzed Bugeye on their favourite places in Croydon…
Croydonist: A drink in Matthews Yard, the Oval or the Dog and Bull?
Paula: Hmmm, Oval for mates catch up, Matthews for random adventures.
Angela: As much as I love Matthews Yard, I have to pick The Oval.
Croydonist: Shopping – Whitgift Centre, Centrale or the Purley Way?
Paula: Can I say none? The best shopping in Croydon is at Wing Tai Supermarket on Church Street.
Angela: Paula that wasn't an option. Imagine there are only three places left in the world in which to shop! OK blank stare, I'll answer this one. Whitgift as my dad worked on the glazing… I think.
Croydonist: A film at David Lean, Grants, Fairfield Halls, or Lost Format Society?
Angela: Summertime, it has to be Lost Format Society unless it's a bit nippy and then you'll find me in the David Lean.
Croydonist: Travel by train, tram or bus?
Paula: Tram! Absolutely tram, although I'd love it if they were painted in gold and red – circa 1950s space age would be fab.
Angela: Snap!
Hmmm, perhaps this should have been called 'Riding a tram to Utopia'…
'Never Let You Go' is released today, 8 July.
All images courtesy of Bugeye. Photographers: Emma Nathan and Julia Woollams
Posted by Julia