After the excesses of the Christmas and New Year break, I often find myself with a hankering for the clean, fresh and warming flavours of Vietnamese food. Vietnamese cuisine is wide and varied in style but running through all of the rice, noodle, soup, fish and meat dishes is a balance of aromatics, heat, sweetness, sourness, and pungency perfect for warming the body and the soul. So one chilly Friday evening earlier this month we made our way to Cat Ba Island in the South End restaurant quarter of Croydon for a birthday celebration.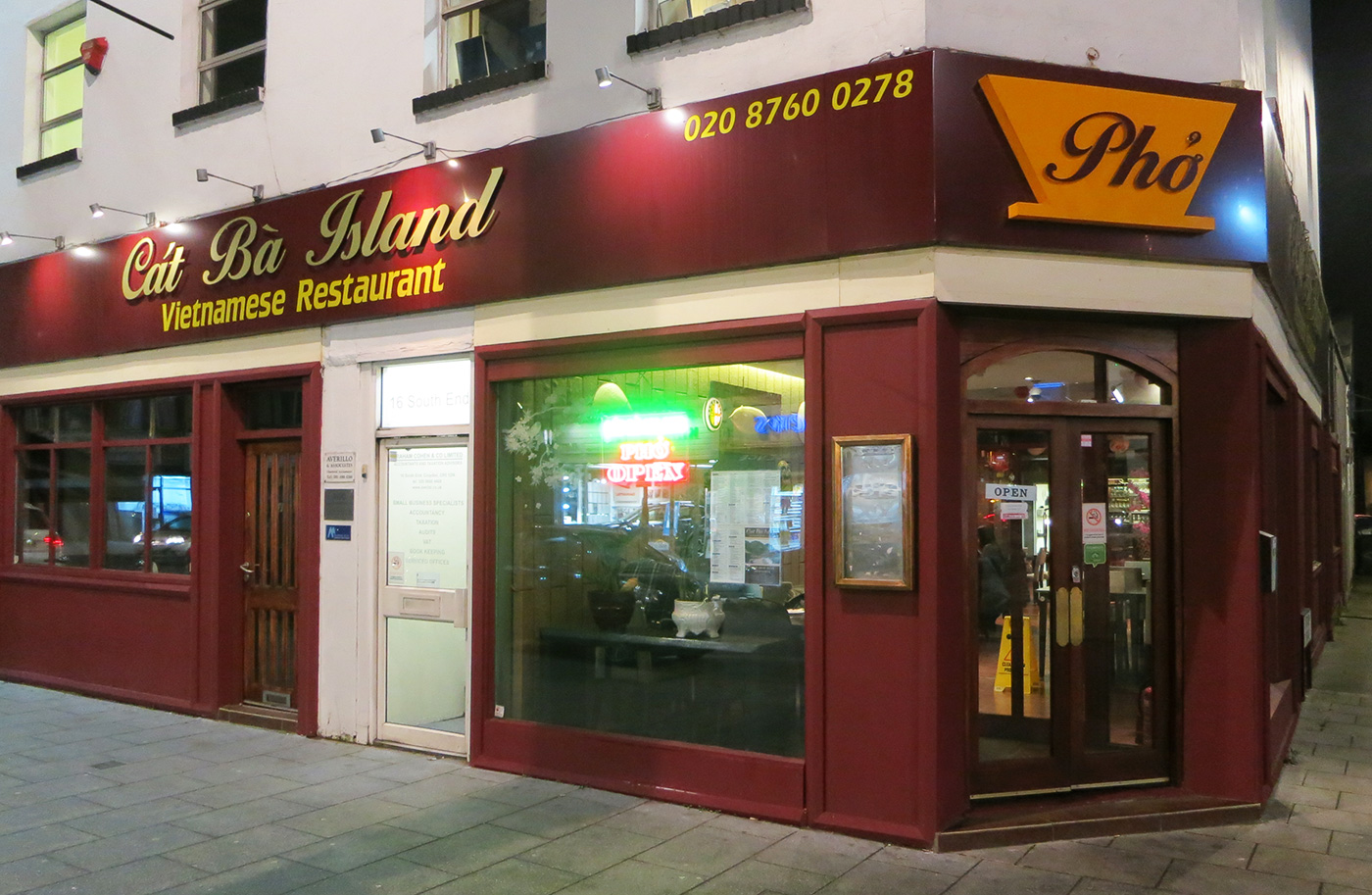 Named after the largest island in the beautiful archipelago in Ha Long Bay in north east Vietnam, Croydon's Cat Ba has been serving up authentic Vietnamese cuisine for just over a year. There is a large welcoming main dining room, decorated with a huge aerial picture of Ha Long Bay and a Buddhist shrine in the corner displaying offerings of a fresh mango and a bottle of beer. A side room offers even more space for larger parties on busy nights.
Flicking through the multi-page menu at Cat Ba gives the impression that they make a good stab at covering the whole gamut that Vietnam offers. To the uninitiated this massive choice can be a little daunting. For starters there are over twenty appetisers to choose from. The best option for the indecisive is to choose one (or two) of the house platters to share. The platters come in house special, seafood or veggie offerings. Highlights of these selections were deep-fried crispy tofu with garlic and chilli, minced pork on lemongrass skewers and soft summer rolls with roast duck.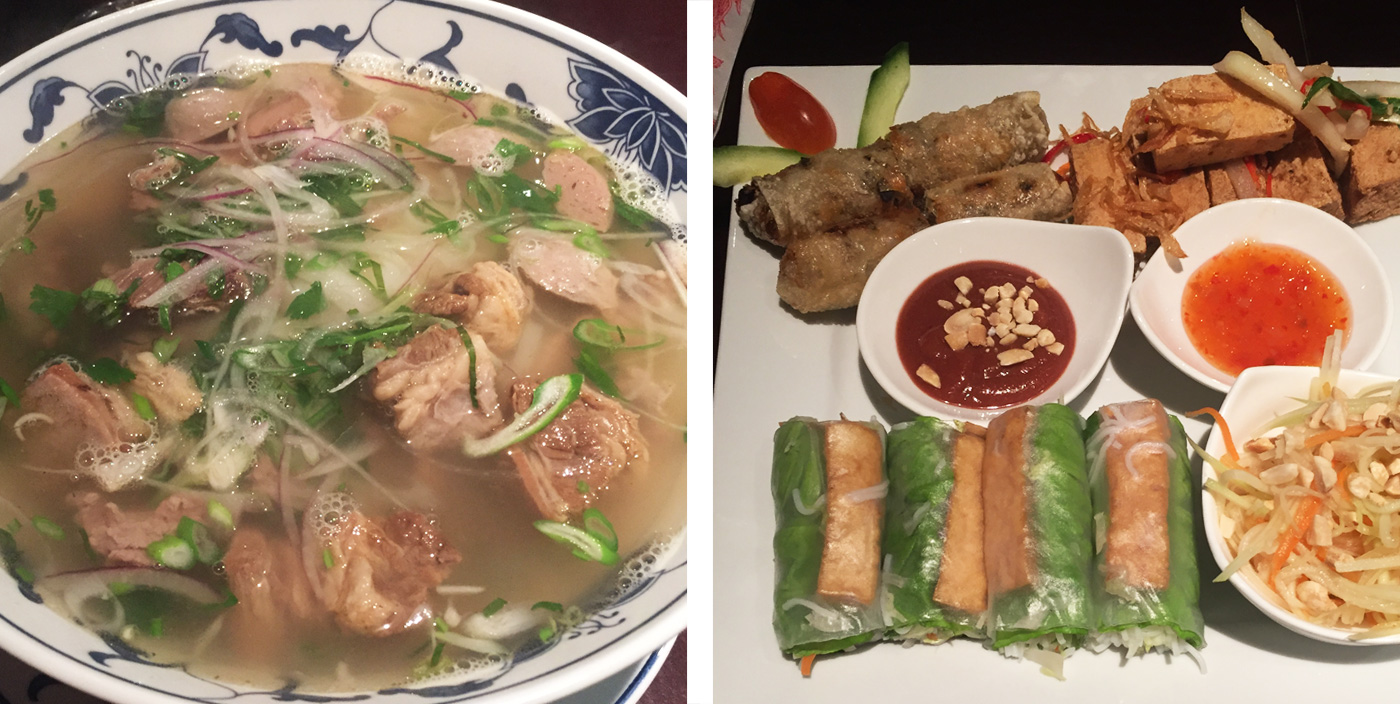 Pho is the noodle soup that every self-respecting Vietnamese restaurant should have on the menu. Cat Ba Island proudly declares its pho on a bright sign above the front door and has a number of options to choose from. The key to good pho is in the quality of the broth, it should be rich, meaty and fragrant with spices, a meal in itself. The pho at Cat Ba ticks all the boxes and is made all the better by the full range of adornments provided. I went for the triple beef option with sliced rare steak, slow cooked brisket and beef mince balls all bobbing around. Top off the soup with the crunchy bean sprouts and fresh herbs, then perhaps dip a little of that barely cooked steak in the racy chilli sauce on the side and you are in sensory nirvana.
One could easily live off this soup alone, but we dance on through the menu. Grilled lamb marinated in spices and lemon grass continues with the fresh and vibrant theme. It's dished up separately to the accompanying rice noodles, fresh salad and the standard sweet, spicy and sour dipping sauce, nuoc cham. Every self-assembled mouthful is a riot of flavour but the star is the chewy, crispy spicy lamb.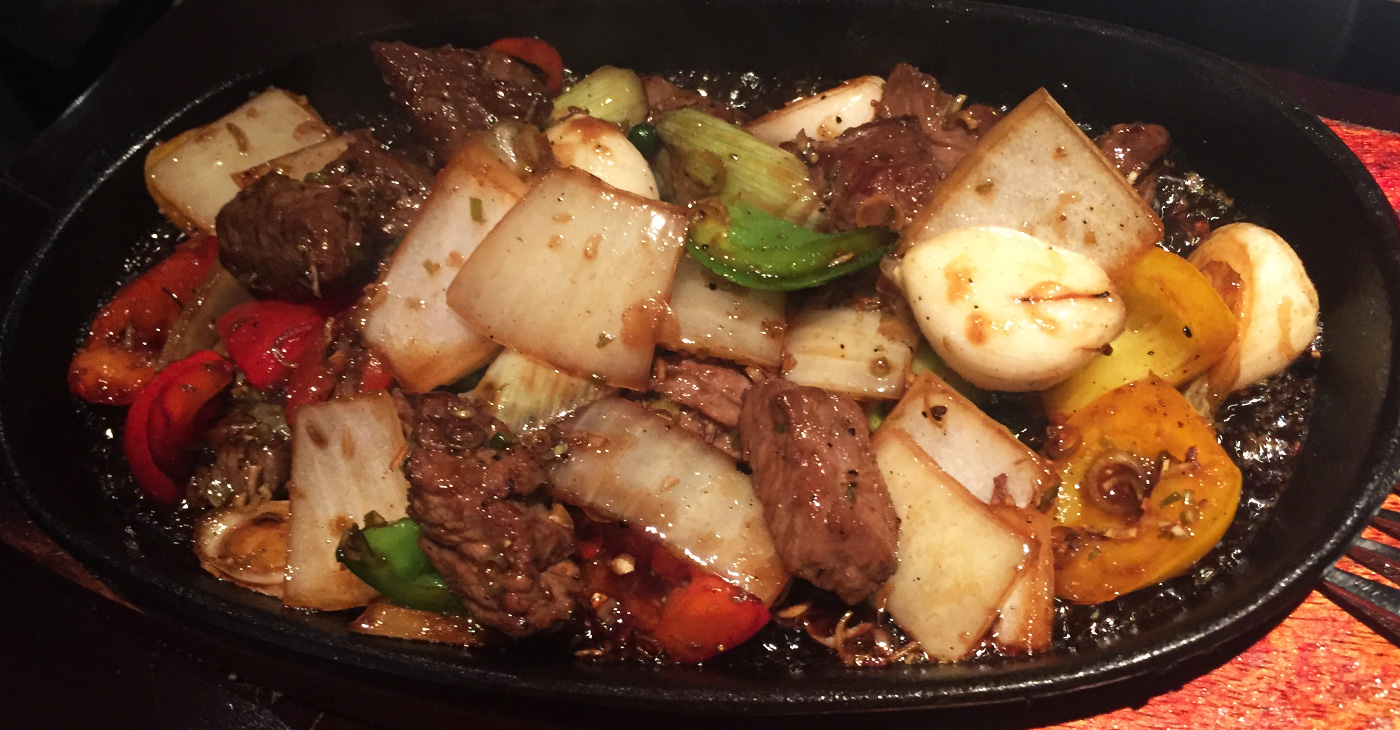 A sizzling beef dish is rich and delicious and packed with juicy beef, pepper and whole cloves of garlic brought to the table on a searingly hot platter still crackling and sputtering.  Another beef dish, a seared steak with steamed greens and a soy and black pepper sauce is simple but still packs a huge flavour hit.
Cat Ba Island caters for fish lovers and vegetarians very well with plenty of options to choose from. I spied a whole deep fried sea bream carried to a neighbouring table and it looked and smelt fantastic. The wine list is compact but varied and reasonably priced. We drank a celebratory Prosecco and a solid Malbec.
Each time we've eaten at Cat Ba Island it has been busy but the service has been friendly and attentive. I will certainly be back and I am making it my 2017 mission to get through the rest of that vast menu.
Header photo of Cat Ba Island, Vietnam, by Johannes Donderer – modified by the Croydonist. All other photos by Sam Hill.
Posted by Sam