Cherilyn Yeates is a Croydon based artist who works in resin and mixed media. You might spot her in and around Croydon Arts Store as her studio is at Turf Projects. We wanted to find out more about the rich visual landscapes she creates so we caught up for a chat.
Croydonist: First of all, how did you come to work in Croydon?
Cherilyn: I was working with an independent film production company in Central London, but I decided I wanted to find work that was more community focussed but also arts based. I wanted out of the tube commuter club!
Croydonist: Do you live in our borough?
Cherilyn: I do! I moved to Croydon with my partner in April last year, after starting work in 2016 and falling in love with it. We live in Old Town on the outskirts of Waddon, so super central.
Croydonist: Your art is beautiful – almost as if nature has created it. How did you start working with resin, and why do you find it your preferred medium?
Cherilyn: Thank you! I love to use resin because I am able to control certain aspects of it and I can influence different outcomes, but using such a fluid material you have an element of surprise as it dries. I like to think of it like this – I manipulate my medium and colours to embody my vision, and then I leave it overnight and the paintings really settle into themselves and figure out who they want to be and then I can add the next layer. This mixture of control really gives each one their own personality.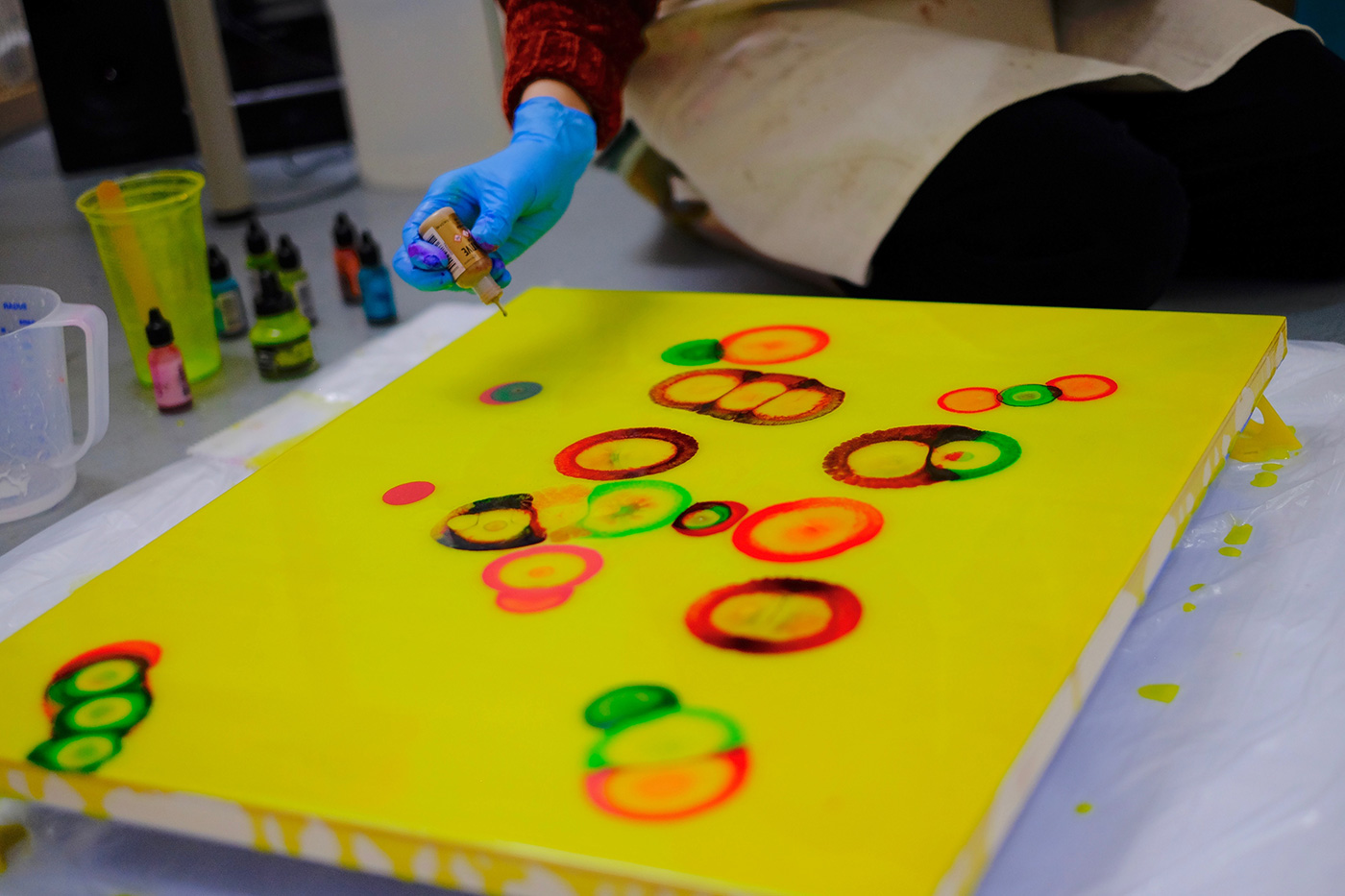 Croydonist: We're big fans of your concept of worlds within worlds, and the similarities between things in nature, hinting at a universal blueprint. There are so many connections – for example, I've always thought the pattern of a petrol splash on concrete looks like the shapes on peacock feathers, and pondered the coincidence. When did you first start exploring these relationships?
Cherilyn: I think that's it. Like you, I have always pondered it but am only just starting to figure out how to translate it in my art. I have always been very curious and constantly find myself questioning the world around me. I remember being in the woods as a teenager and noticing these strange markings on a tree and they absolutely blew my mind because these carvings were patterns you see in nature, replicated just at different scales – they were veins, they were rivers, they were worm trails. That discovery spiralled into this train of thought, that I still struggle to comprehend today – that there are microscopic universes within universes within universes all around us. You look at your hand and you see the markings, the closer you get the more they start to resemble whole other worlds. What if our world is just a world inside someone's hand. Trippy stuff man.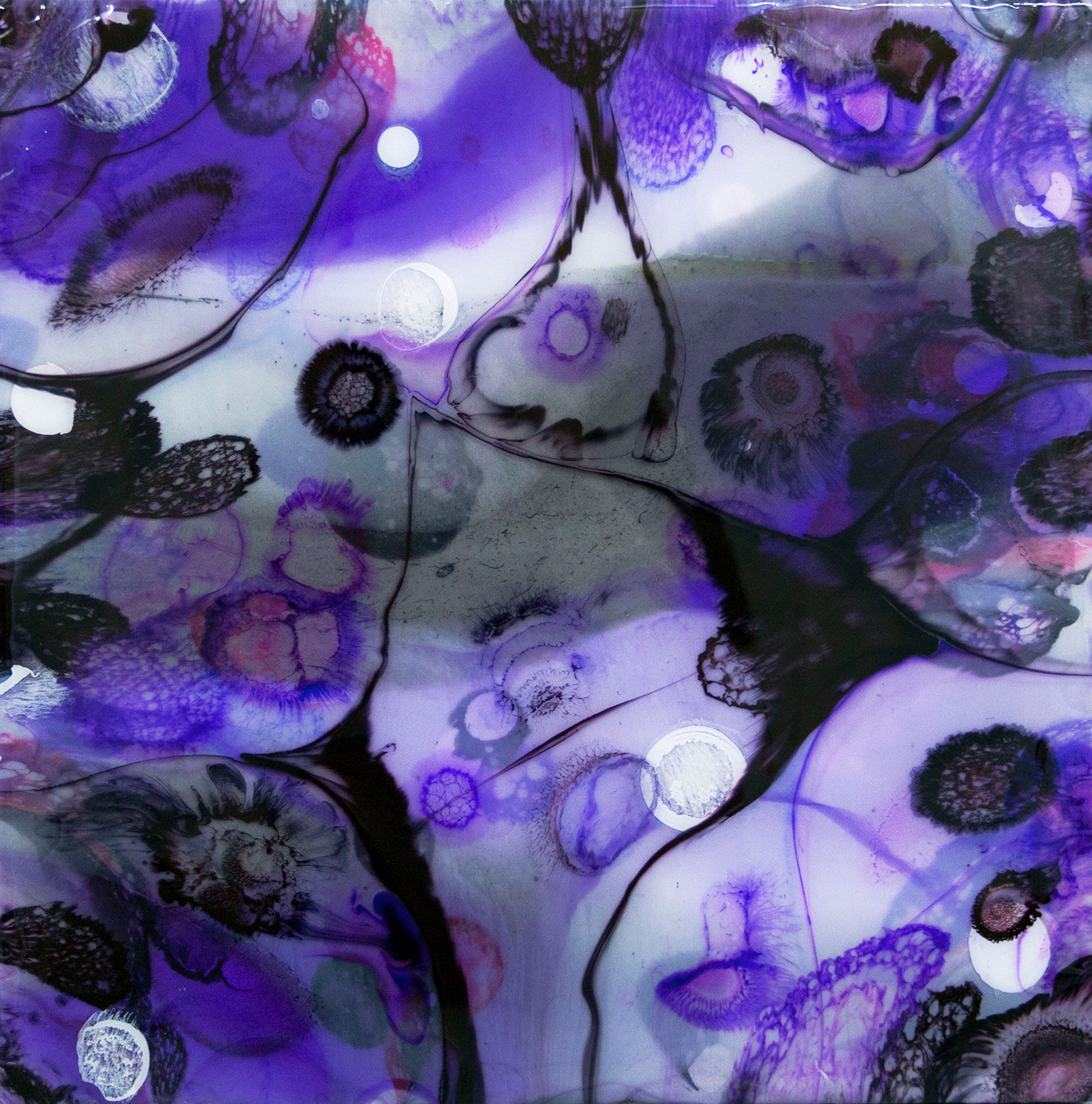 Croydonist: How do you create a piece in resin, and how long does it take?
Cherilyn: To create the depth that gives the pieces the essence of other worlds, I work on them a layer at a time and they are usually made up of around 4-6 layers. They take around two weeks to complete and then I give them a final clear coat for good luck.
Croydonist: Using resin sounds scientific – did you need specific training?
Cherilyn: It does and maybe that's part of why I like it (haha). I wasn't so great at science at school but now I can put on my mask and apron and I'm basically an A* student. You don't need any training but it definitely takes some getting used to.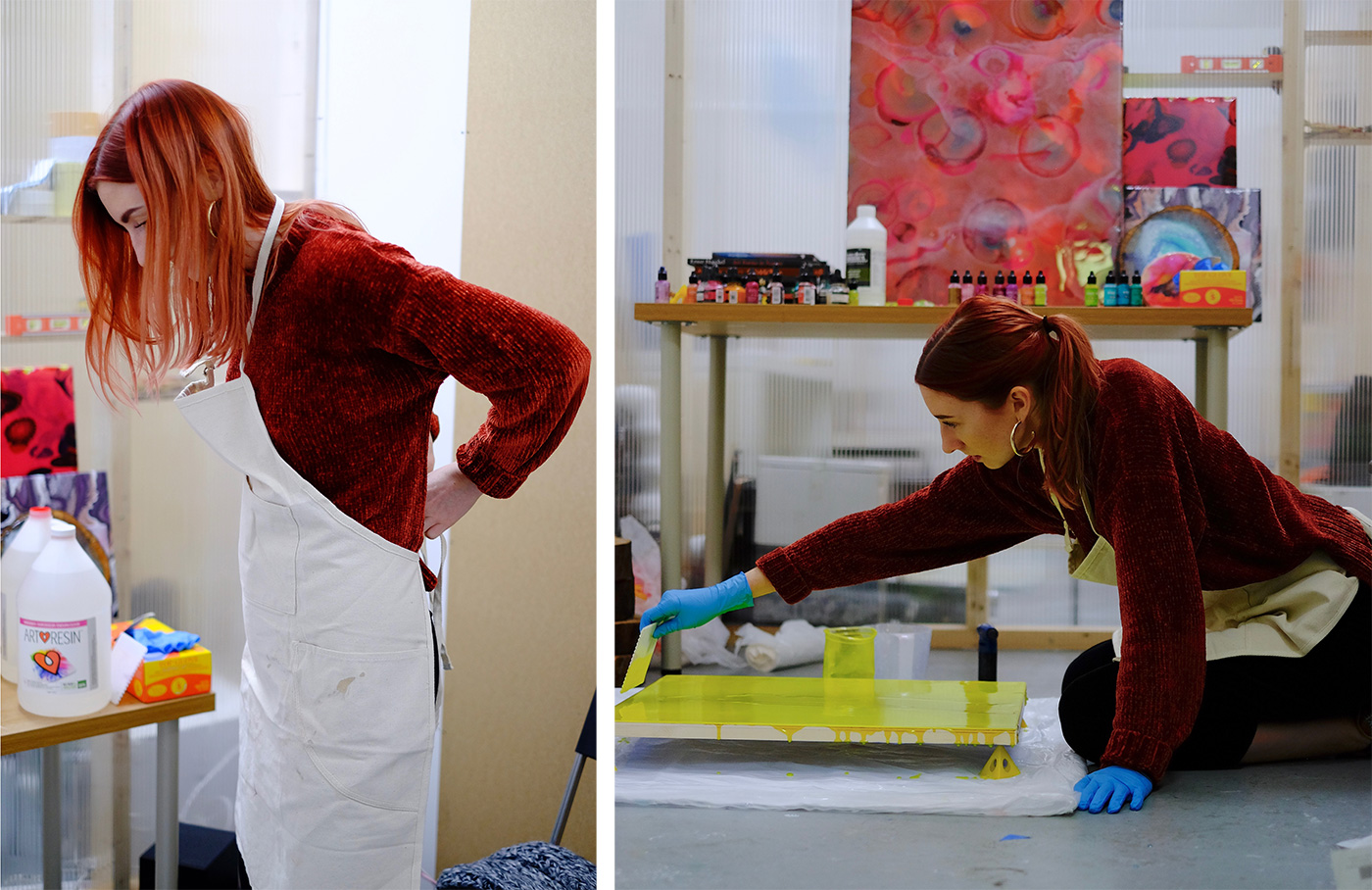 Croydonist: How do you plan for a new piece of work?
Cherilyn: I don't necessarily plan. I have a stack of gorgeous art, nature and science books to get inspiration from colours and to search for comparisons. I take a lot of pictures of things that inspire me when I am out and about, either in nature or colour combinations. Most of the time I come across something by accident and it sparks inspiration, so I guess I am always planning.
Croydonist: Do you go anywhere else for inspiration?
Cherilyn: Listening to music is a big one, I really love films, I read books, take pictures, look at art, and I decorate my flat! I find painting and designing in my home inspires me in my work when I have a creative blockage. My boyfriend also inspires me by helping me flesh out ideas that I have. I shoot very unrehearsed ideas at him and we talk gibberish back and forth for a while, but that's where my best ideas come from. I rope my scientist friends into this process as well, props to you Daniel and Luke who are always happy (I think) to explain and help me fully understand my own thoughts.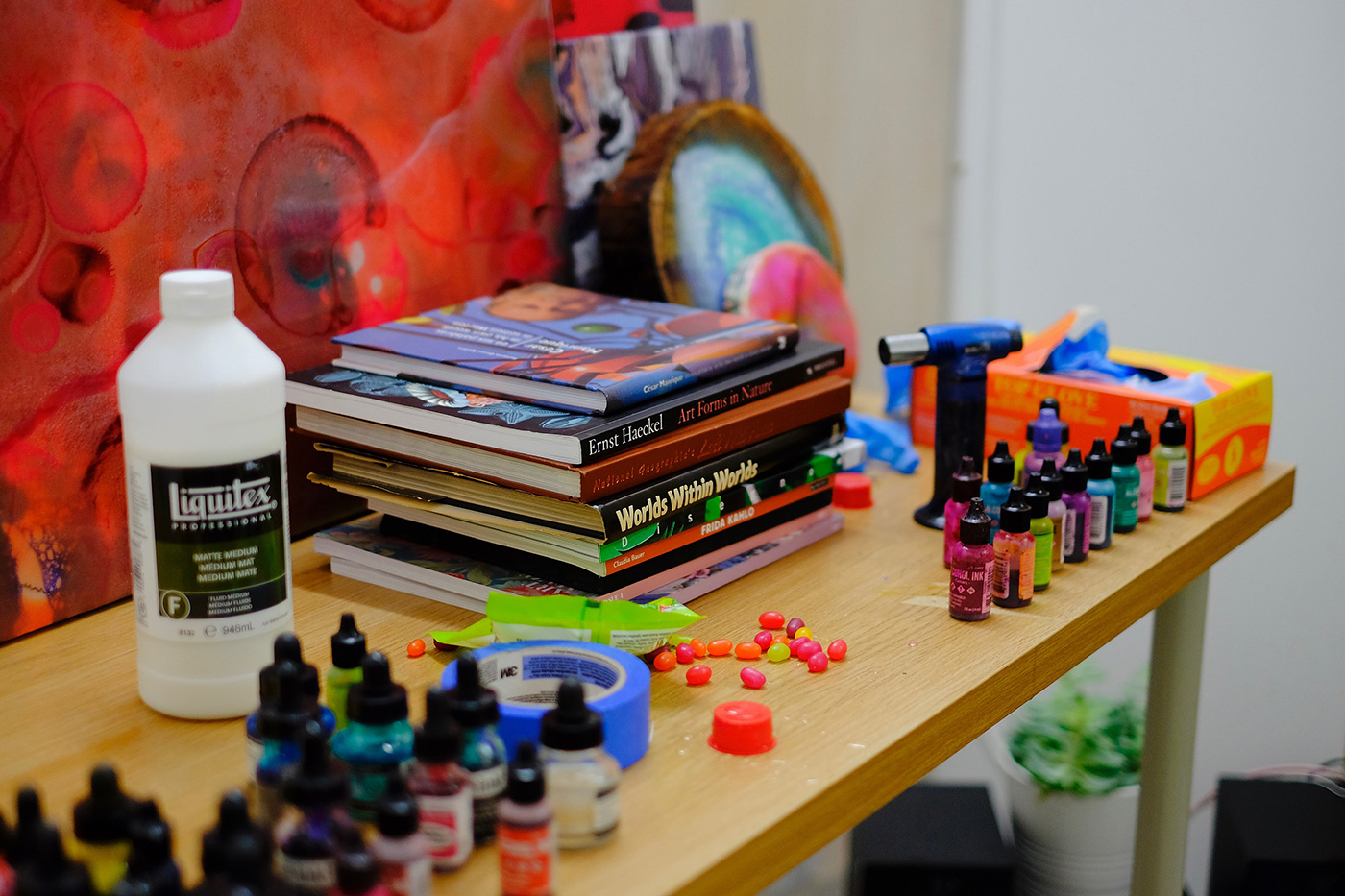 Croydonist: You also work for a youth arts organisation – can you tell us more about that?
Cherilyn: I work as a Development Officer for Croydon Music and Arts, a wonderful organisation that provides music and arts services to young people in Croydon. I have had a whirlwind of a year here and have been able to develop the role into areas I want to focus on which is a dream. It's also amazing to see Croydon's provision and focus on arts and culture growing at a remarkable rate and I am happy to be a part of it.
Croydonist: Dream dinner party time – if you had to invite three artists to dinner (dead or alive) who would they be and why?
Cherilyn: This is so hard. Okay let's start with Frida Kahlo for the passion, the fire and the feminism. Dali for the dreams and the conversation. Yayoi Kusama for the colour and the pain.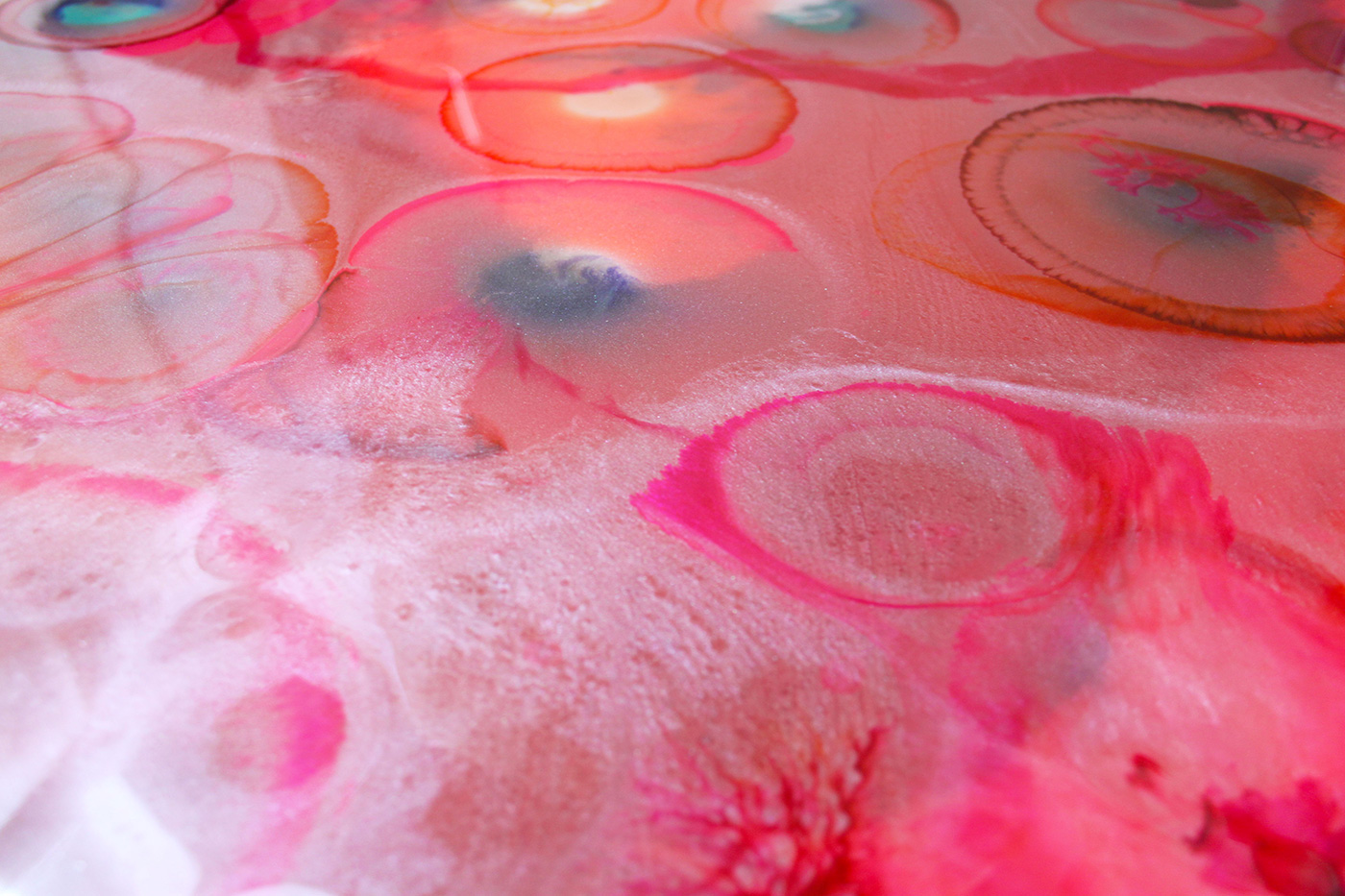 Croydonist: That sounds like one hell of a dinner party. So what does 2018 hold for you? Any exhibitions lined up?
Cherilyn: I am going to India, a trip I have been planning on taking for about 5 years so that will be a ridiculous source of inspiration for new work! More development and experimentation within my work, more integration within the arts community in Croydon I hope, more work in my amazing studio at Turf, and lots of exciting things I don't even know about yet. I do yes, I am going to be part of a group exhibition called 'Synergy' at The Elizabeth James Gallery in South Norwood in March.
Croydonist: That's a date for your diary, readers.
Finally your favourite Croydon haunts…
Croydonist: Favourite spot for a coffee or a glass of wine?
Cherilyn: I don't like coffee, but I love hot chocolate and I love a Matthews Yard Baileys hot chocolate even more. The vibe is so chilled and I admire the emphasis on community arts within the space.
Croydonist: Favourite gallery for inspiration?
Cherilyn: Turf! There is always something interesting on, and the girls at Turf do incredible work for the local arts scene and to involve the communities in Croydon.
Croydonist: Favourite cinema to get lost in a movie?
Cherilyn: Lost Format Society's Rooftop Cinema, when it's warm obviously. What a great spot up there, with incredible views of Croydon. Plus its only a 5 minute walk from home – on a summer evening what could be better?
Croydonist: Favourite place for an evening's entertainment?
Cherilyn: I will put my hands up and say I am a sucker for Boxpark – they put on such varied nights and the vegan doners are the bees knees. However, I love The Oval Tavern for the mac and cheese, live music, the intimacy and the fact it feels like an old locals pub but it's oh so cool.
Croydonist: Favourite greenspace for a wander?
Cherilyn: I have to stay faithful to Wandle Park as I am technically a Waddonian. It is so gorgeous in the summertime with icelolly in hand from the off licence beneath our flat (20p per lolly and they are dreamy!)
Croydonist: Favourite spot in Croydon to daydream?
Cherilyn: My front room. We have worked very hard to make our home a space where we feel inspired and comfortable and excited all the time, I love it and there is no where else better to daydream!
Thanks to Cherilyn for chatting to the Croydonist. Find out more about her work here and check out her instagram here.
All images courtesy of Cherilyn Yeates
Posted by Julia