Croydon is jam packed with creative talent and it's a pool that is ever expanding. On a recent trip to the Clock Tower Market in South Norwood I was pleasantly surprised by how many stallholders were makers in the non-food sense. Nothing wrong with a food market of course, but it's nice to be able to pick up a gift, or indeed a personal treat, that's a keeper! Browsing in the not so warm weather, I was drawn to a stall full of lush bright, vibrant and retro lampshades. The stall was none other than Ciaran Dance Designs showcasing a range of impressive lampshades that made me instantly want to replace all of ours at home.
I caught up with Ciaran for a chat about her work, how it all began and the creative industry.
Croydonist: Firstly, are you a Croydon native or convert, and where do you call home?
Ciaran: I'm originally from South Wales, but studied Architecture in the north-east (Newcastle-upon-Tyne) and came to London for work in 1999. I've been living in South Norwood since early 2015 and most definitely consider it home.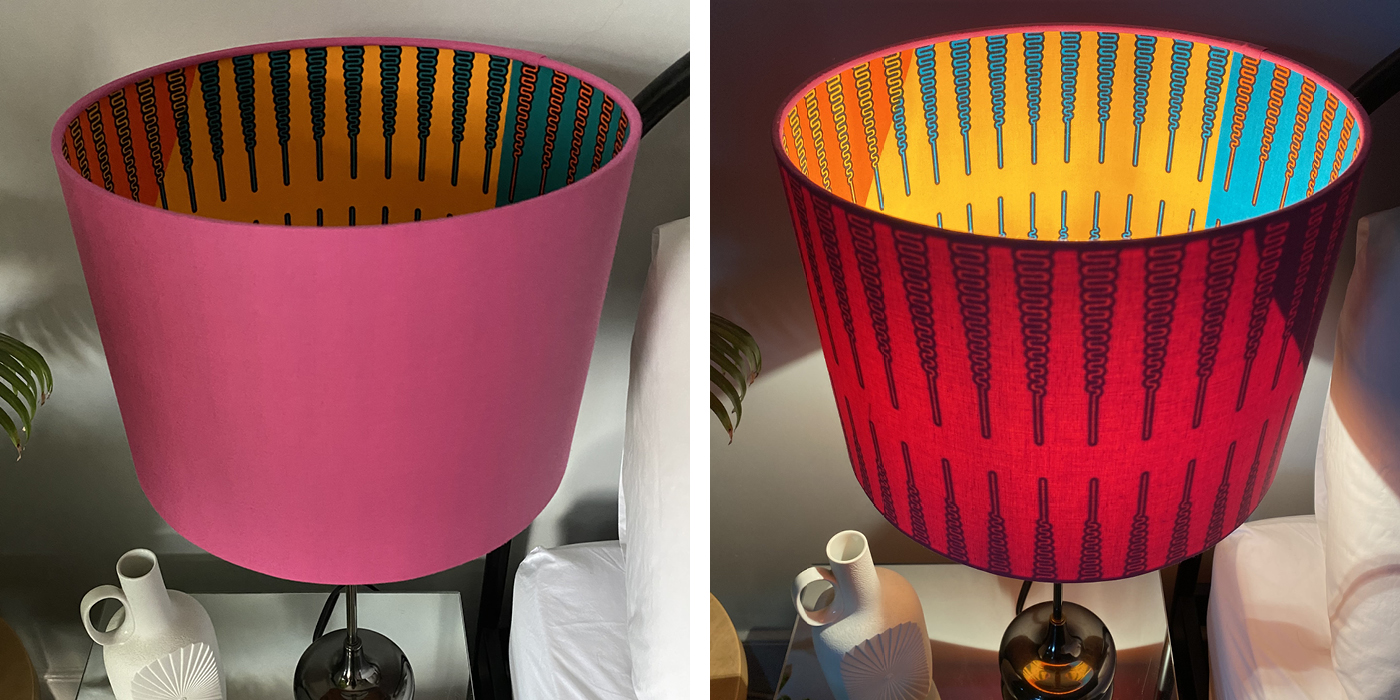 Croydonist: Your previous career, although you still consult in these areas, was as an architect which also involved interior design. Was this your first love or was making/creating always there from the start? 
Ciaran: I've always been creative. It stems from when I was a little girl – most kids were out on their bikes or playing football but I wasn't good at sports at all. Whilst I did play out like most kids, I was always more happy with a drawing pad and colouring pens or pencils. My favourite TV programmes were Take Hart and Blue Peter… anything where they were making things.
At school I studied Art A Level which included print-making and pottery modules as well as drawing and painting and as an architecture student I continued this with model-making as well as drawing. I also studied colour theory and lighting design as a part of my training.
Once I started work I was responsible for all the elements involved in the realisation of building projects from design inception to management of the build on site and client aftercare but I was always more inspired by the interiors side of the projects I worked on than the construction side.
Croydonist: What drew you to lampshade design – how did it all begin? 
Ciaran: I did a taster session at a WI (Womens' Institute) meeting in East Dulwich (where I lived before South Norwood). I loved it and was instantly hooked. I went on to make all the shades for my flat and later my home in South Norwood and always joked with friends that I'd love to give up Architecture and make lampshades for a living. I never really believed it could be a viable option until I took voluntary redundancy in early 2020 and a good friend – Sarah (of Red Kite Plants) – who was also setting up her own business encouraged me to give it a go.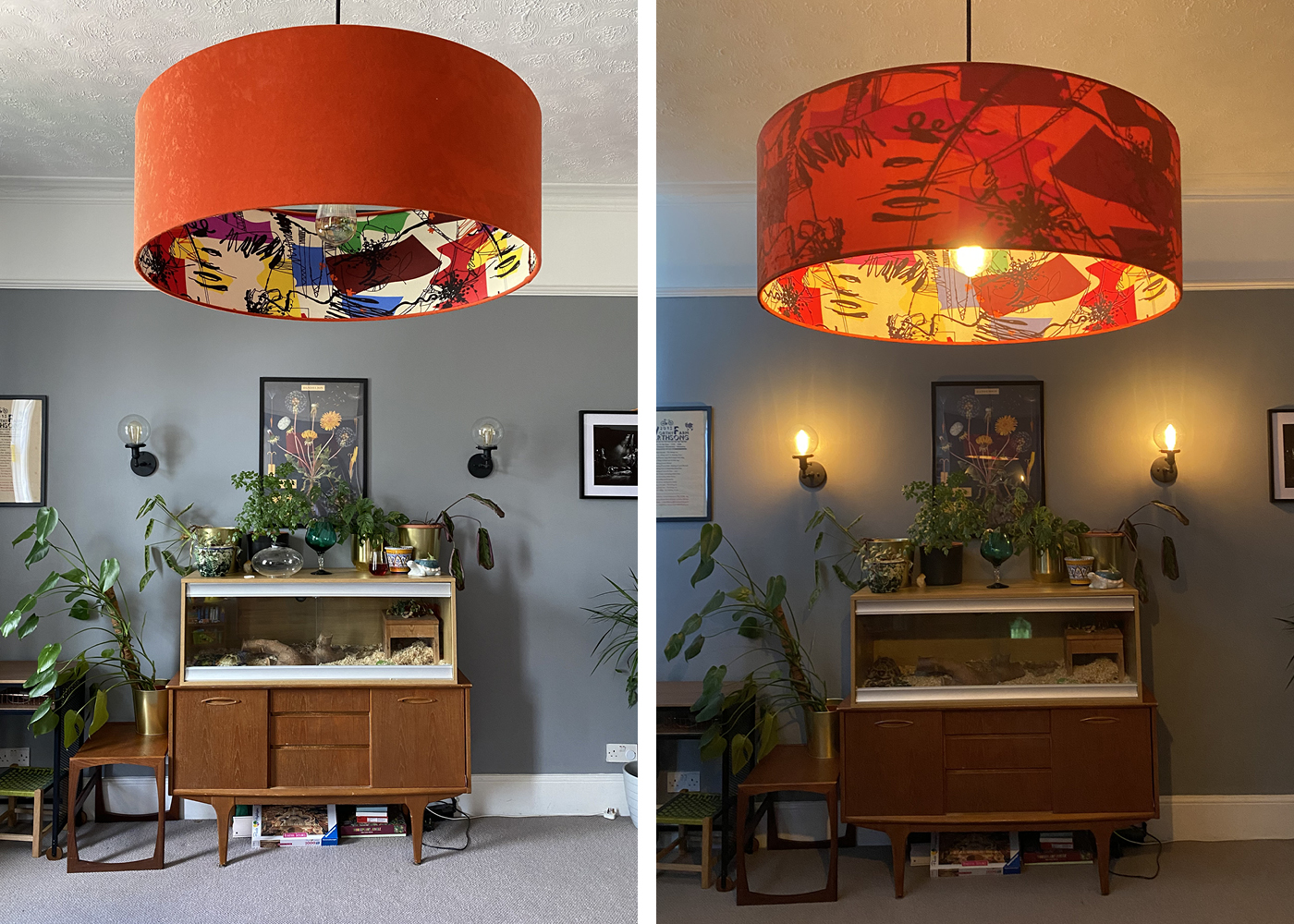 Croydonist: What was the first lampshade you ever made like? Do you still have it or was the intention to always sell all your creations?  
Ciaran: My first was a 20cm diameter single-sided drum shade using a piece of Ankara fabric I had bought in Peckham on my way to the WI meeting. That's also where my love of these fabrics started. I still have it, on a table lamp next to my bed, and I went on to make a matching one for the other side of the bed. I've used that fabric quite a few times for commissions since and it can be seen on a couple of my website items. I still have a little bit left!
Croydonist: You seem inspired by several things; from the local area and green pastures to Bridget Riley and Pop Art, making your work feel organic, modern but also with a retro vibe. Was this your intention from the get-go or have you naturally/subconsciously seen this come through in your work?
Ciaran:  I think it's a subconscious thing really but I have studied both Bridget Riley (for the interior design on one of my most recent Architecture projects) and Pop Art (as part of my A Level Art). I love Art and Sculpture and also I'm very keen on graphic design. The Ankara fabrics I use appeal to me for these very reasons – they're graphic, bold and colourful and I'm a huge fan of colour in my interiors. I also like the natural motifs they use which may come from the fact I'm also a keen (but novice) gardener – when I have the time and the weather is good! I look for Ankara patterns I feel best match my passions.
As well as my passions, the main driving force behind my designs is a fundamental need to use the colour theory and lighting knowledge I learned at College to create lampshades, that through the combinations of fabrics and colours (and how they react with one another and with light) can create a particular ambience. That could be for relaxing, working, entertaining etc – depending on the brief provided to me by the client. In this way the lampshade becomes more than a purely aesthetic item and actually has a role to play affecting the type of light in a room – warm to cold, bright to subdued.
Croydonist: What is inspiring you at the moment?
Ciaran: Autumn and winter are an inspiration at the moment as we are particularly dependent on our artificial lighting and it's also a transitional period as we start to spend more time at home than in the summer. I'm looking at colours and fabrics that provide warm lighting effects. I'm also keen to get up to the Fashion & Textile Museum to see their current exhibition – Beautiful people: The Boutique in 1960s Counterculture – which I'm sure will affect the designs coming though in early 2022.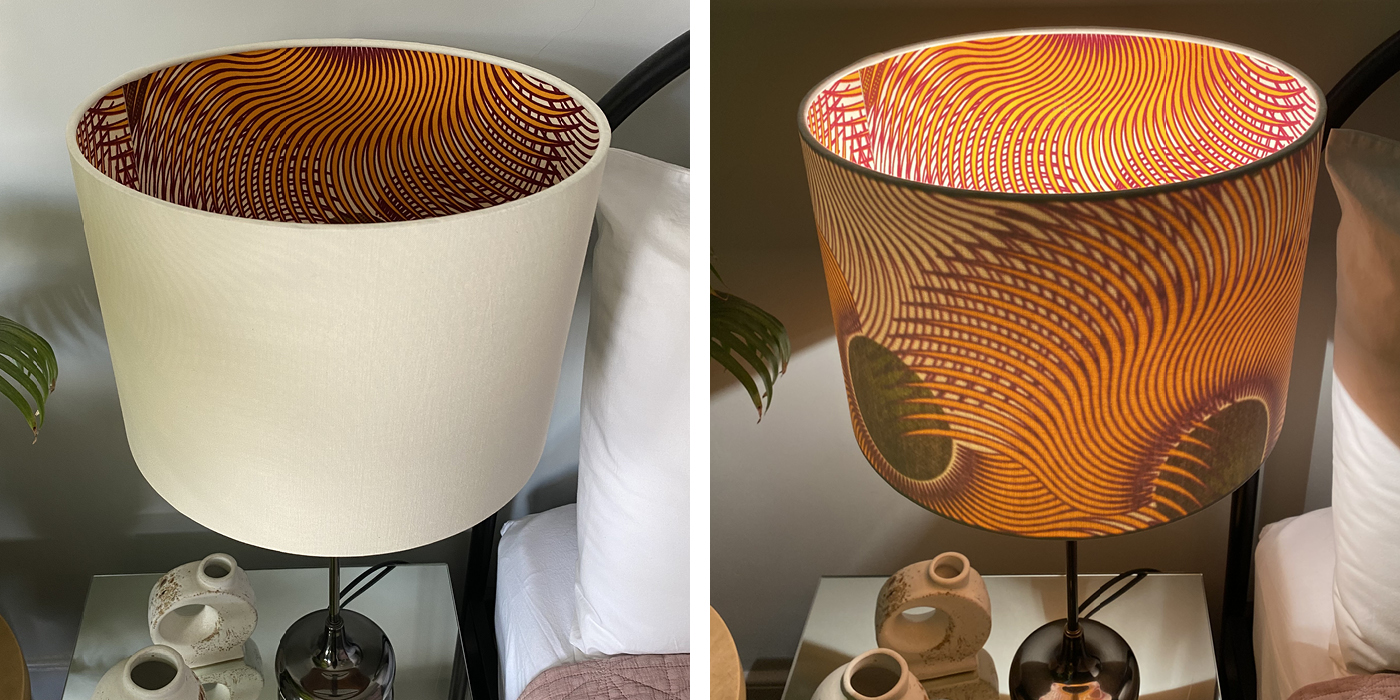 Croydonist: Do you have a favourite piece you've created? 
Ciaran: Ooh there are a few… My favourite range is the 'Hidden' Series because people are always so surprised by their transition when lit. They are a range consisting of plain fabrics on the outside with a pattern on the inside. Because I don't use a blocker, when turned on, the pattern shows through to the outside. The extent of pattern transference depends on the depth of colour on the outside face and strength of colours in the pattern.  'Circus' is a great example because of how bright it is when turned on but my ultimate favourite has to be 'The Fire Inside'  because that's when the range really found its feet. This was a pure accident, created as an experiment for an Instagram post, it was made from some plain cream fabric left over from a bigger commission. I was astounded by the level of transformation when lit and it's become one of my best sellers. Because I only buy one six yard piece of each fabric – to ensure all my designs are limited editions – there's only a few of these left and then no more sadly!
Croydonist: What would be your advice to anyone starting out in the creative industry? 
Ciaran: Wow, the main thing is to not undervalue your work and to not feel apologetic for being a creative.
I've just finished the Building Business Horizons course at StartUp Croydon and it has been immensely valuable in many ways but particularly in that sense. I'm currently going through a marketing and pricing restructure exercise which will come into effect in January 2022.
Also for anyone setting out on their own business path generally, be prepared to work hard and make the most of resources available to you – like StartUp Croydon and Online Business Forums & Groups – as there is a lot more to running your business than just producing your product or service: marketing, accounting, legal requirements etc.
Croydonist: Where can we find your work and make a purchase? 
Ciaran: My main point of sale for my limited edition pieces is my website and you can also purchase through my instagram account. I have an Etsy shop too.
For bespoke, one-off pieces people can also email me (details here). I ask clients to send me photos of their lamp base or their pendant fitting in their room and a couple of sentences on their interior colour scheme and what ambience they want to create. From this I produce sketches, fabric swatch options and costs.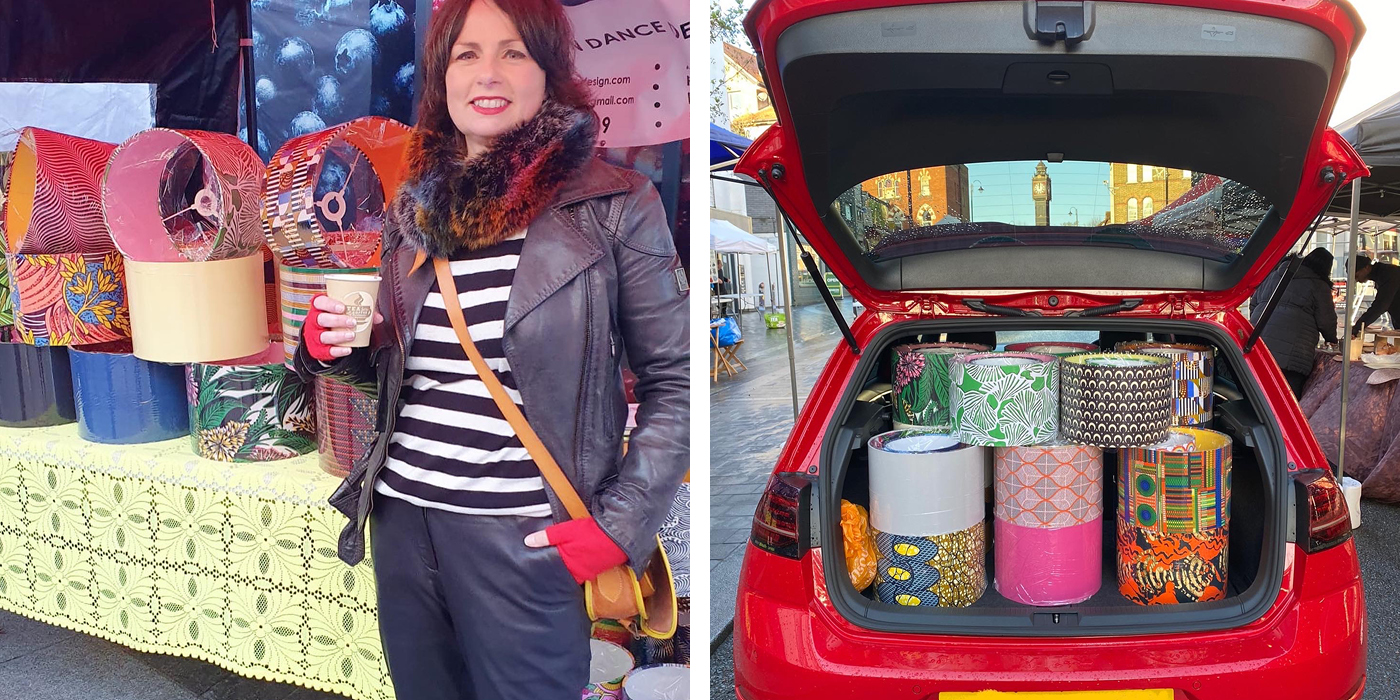 Croydonist: Lastly, we like to ask people what their favourite local haunts are. 
Friday night drinks? 
Ciaran: Because I work from home I tend to go local and that means The Portland Arms in South Norwood. They do a great 'dirty' burger and another favourite is their Chicken kebabs. Craft Beer Cabin on Selhurst Road is also awesome.
Croydonist: Café fix?  
Ciaran: I'm not a coffee or tea drinker and have a more savoury tooth than sweet but I like Smooth in East Croydon. They do a nice glass of red and tapas options.  Also Little Mouse in South Norwood have also just opened their cheese shop and with it a cafe serving cheese! That's right up my street.
Croydonist: Dinner and/or naughty nibbles?
Ciaran: I'm a fan of Basil & Grape Italian restaurant in Croydon – are you sensing a theme here. Anywhere with a good selection of red wines works for me!
Thanks so much Ciaran. If you'd like to see Ciaran's work and visit her online shop, please click here, and follow her on Instagram here. 
Photos courtesy of Ciaran Dance Design.
Posted by Angela