This week guest writer and Croydon-based foodie enthusiast Helena reviews local institution (and anomaly) Cockneys of Croydon.
---
I love pie and mash so I feel compelled to try every place that serves it because it seems to be going out of fashion – especially jellied eels.
Pie and mash is a Cockney comfort food found in East London and most pie and mash shops are based there so it was a surprise to discover Cockneys of Croydon right here in the Cronx serving it all with jellied eels as well.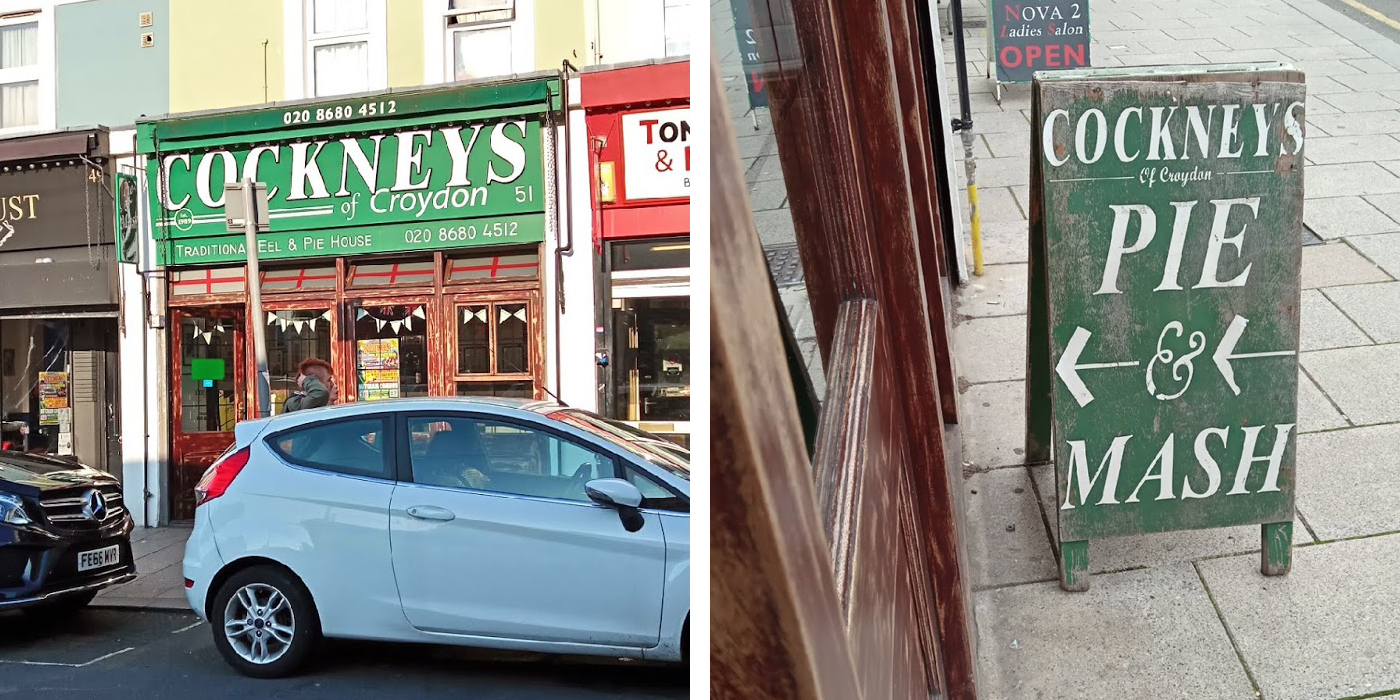 For those who know will know but for those who don't, think of pies with mash and green gravy. Pie and mash was the fast food of the old days (by old days I mean back in the 1860s). Plates and plates of pie and mash with lashings of liquor were served to hungry diners.
The name liquor causes confusion to most people because you would think it is alcoholic but it is actually parsley sauce and contains no alcohol at all. The liquor name has always been a mystery but traditional liquor had eel stock which is no longer used. According to wiki: This is commonly called liquor sauce or simply liquor (the term liquor does not imply alcohol content in its original meaning), traditionally made using the water kept from the preparation of the stewed eels. However, many shops no longer use stewed eel water in their parsley liquor. The sauce traditionally has a green color, from the parsley.
Back in the Victorian days, these pie mash meals were for the working-class crowd. In those days air pollution was bad hence the pastry casing protected it from dirt and they were filled with cheap mutton. Fast-forward to the present, air quality has improved and pie and mash has become an iconic food of East London.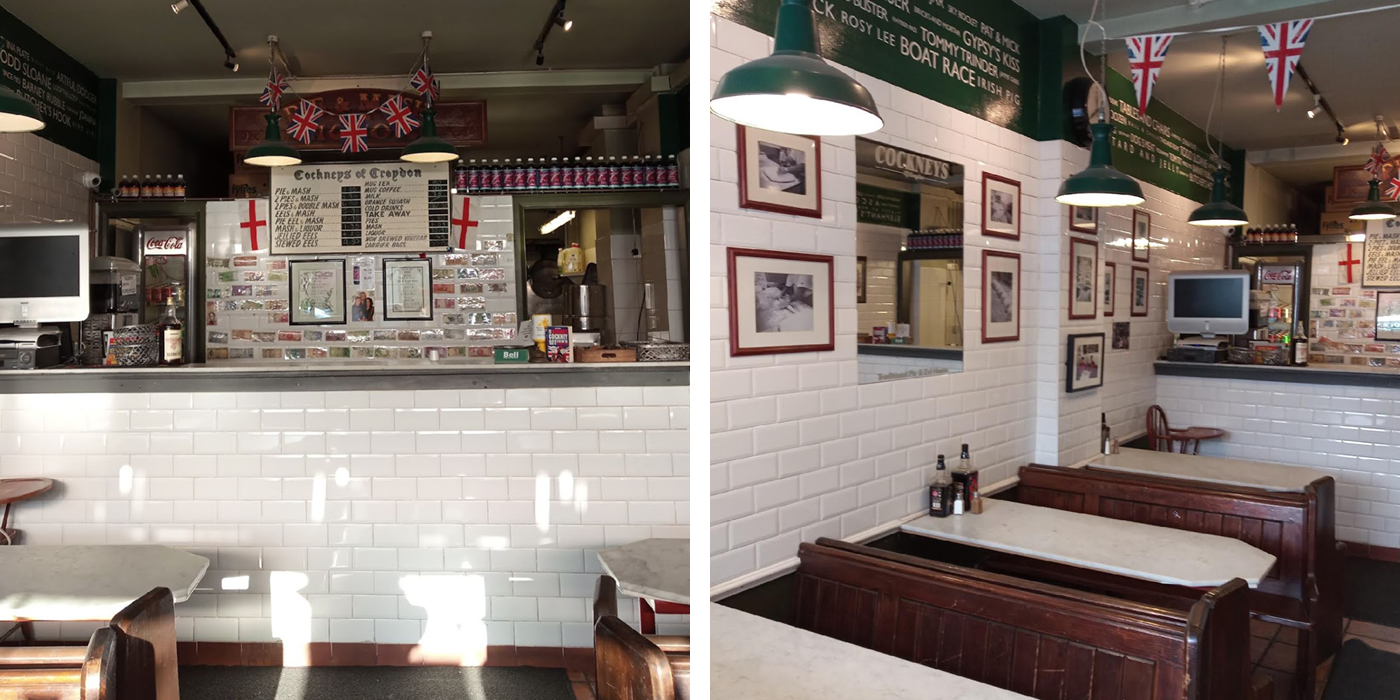 The impressive thing is that Cockneys of Croydon has been serving for a good 30 years and is still going strong with deliveries as well. When you dine there, you are greeted with white tiled walls, church benches, flags and their own re-labelled Jack Daniel whisky bottles which contain chilli vinegar. The only thing that you will not find at Cockneys is saw dust on the floor because in the old days, people would discard the eel bones on the floor and the saw dust would prevent people from slipping.
Every pie and mash shop has their own special chilli vinegar which makes them memorable. Chilli vinegar is an essential part of pie and mash which also dates back to the 18th century where the chilli kick is really important and makes the experience moreish. Different shops will use different chillis so the taste will be unique at different shops. Once you've dined at Cockneys you will never forget their chilli vinegars because of the Jack Daniels bottles.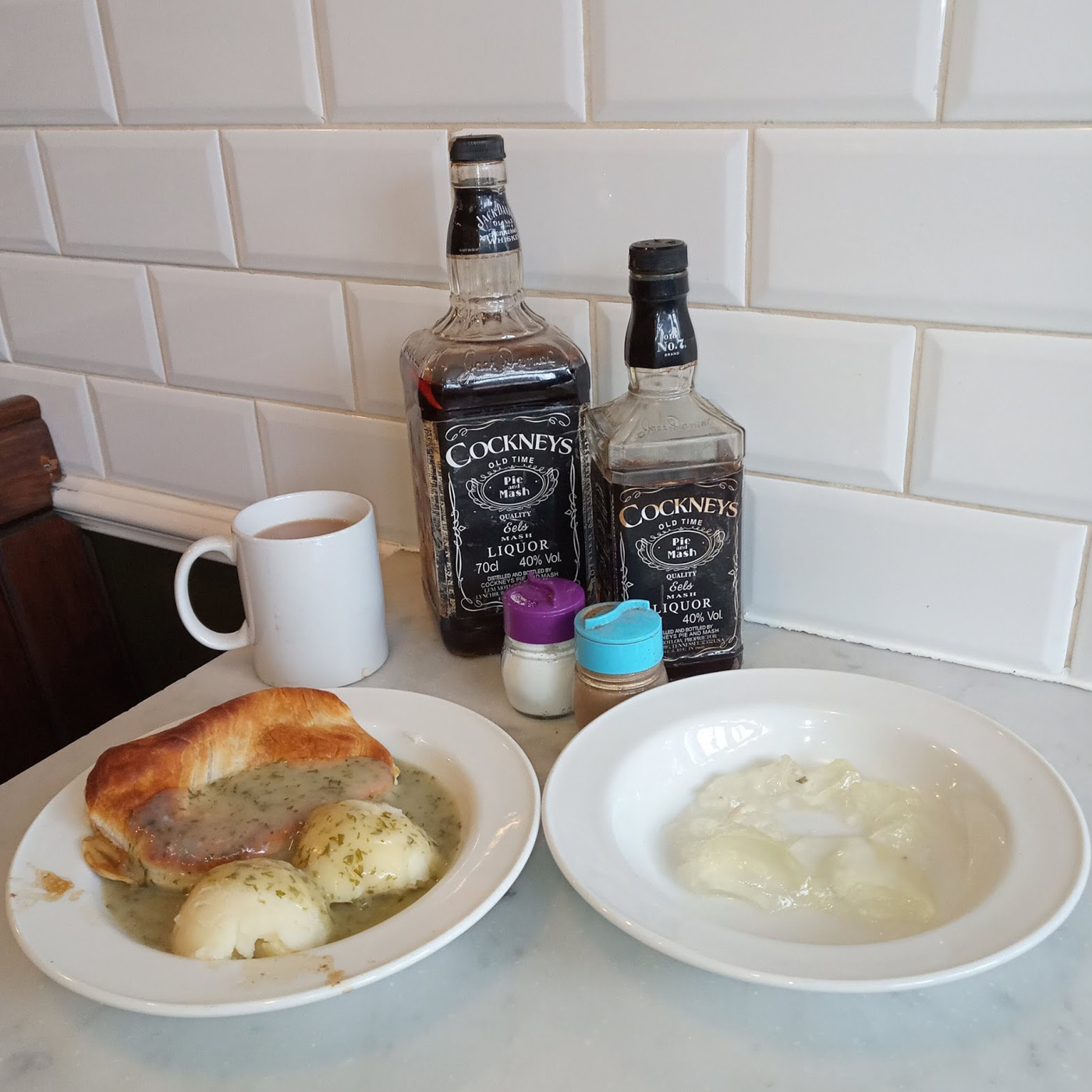 Moving on to the menu, you will only find a few items and that is pie, mash, eels and stewed eels. It's a matter of pie with mash or eels with mash or both with mash and then whether you want single or double mash. Although to cater for modern diets, they also have vegan pies.
Without further ado, I ordered the pie and mash with a mug of tea. They were really nice to give me a side of jelly without eels to try. Before digging in, the pie and mash etiquette is to eat with a spoon and a fork, because there is a rumour that no one trusts a Cockney with a knife – so if someone eats with a knife it could start with a debate. Also on the checklist is white pepper and chilli vinegar just like salt and vinegar on your fish and chips.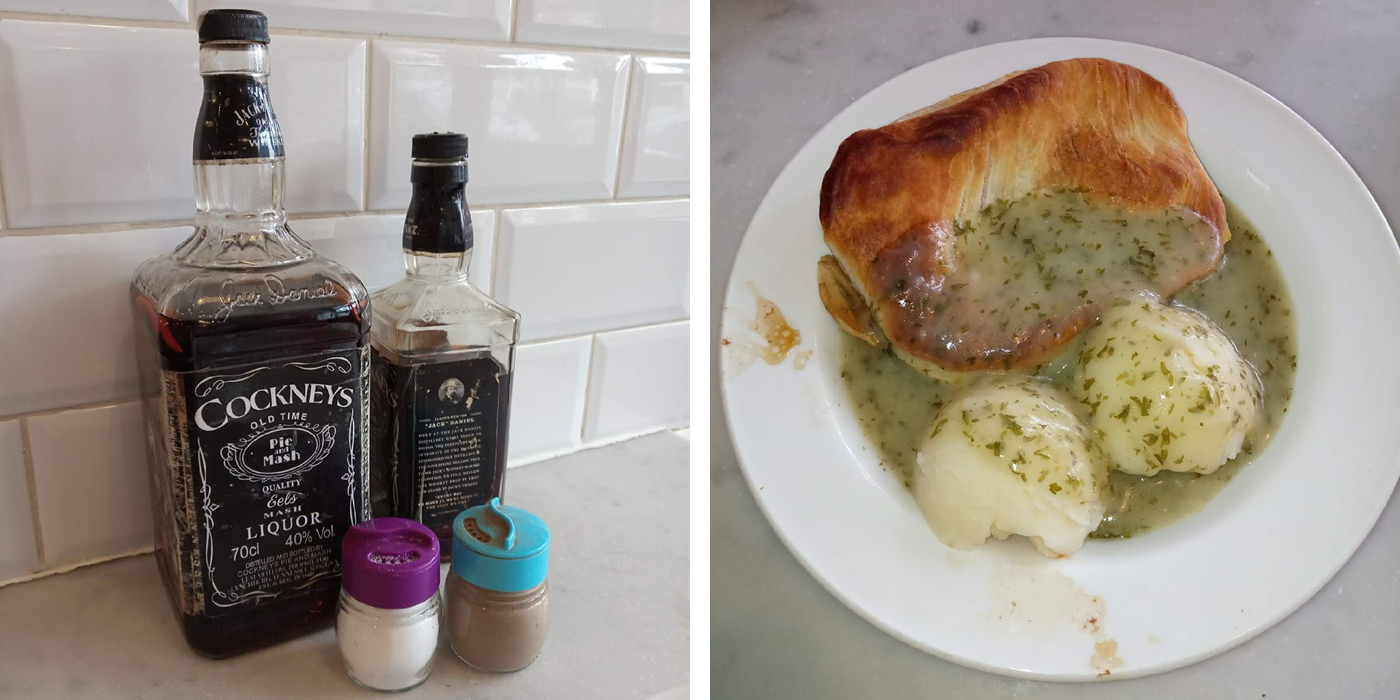 The pie was crispy with minced beef in the middle complimented nicely by the liquor.
Adding the essential chilli vinegar to it made it moreish. The eel jelly was as good as expected because it is savoury and again vinegar made it delicious. I washed it all down with the satisfying mug of hot tea.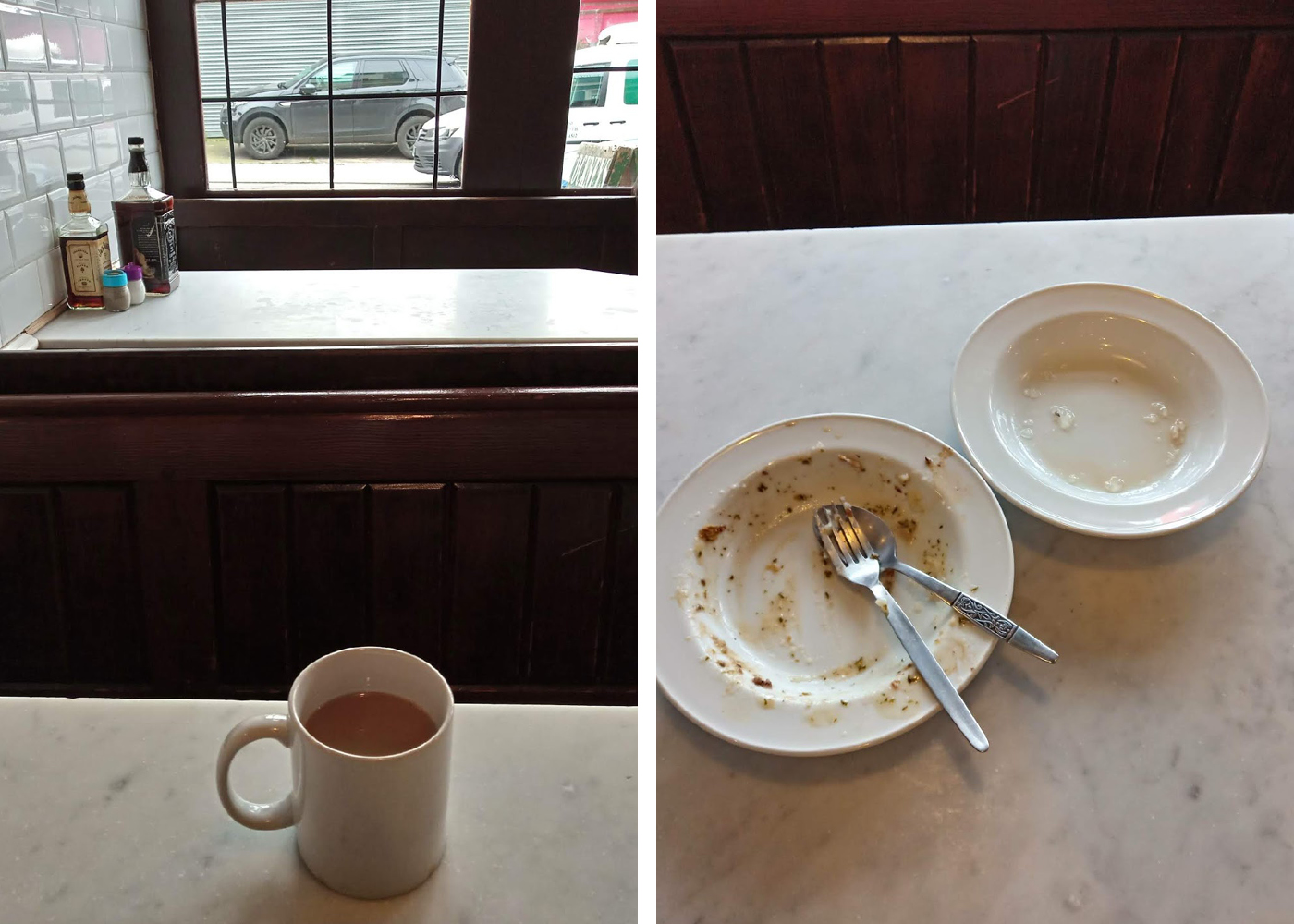 Cockneys of Croydon is definitely a gem for pie and mash and we are so lucky to have one south of the river, right in the heart of our town centre. It's worth noting that they close quite early (at 3.30pm) so it's best to dine before 2pm.
Cockneys is at 51 Frith Rd, Croydon CR0 1TB
Posted by guest writer Helena (all photos courtesy of Helena).
Croydonist guest writer Helena is a foodie enthusiast who loves eating out as well trying the latest snacks and supermarket finds. She has been documenting her food journey since 2010 on her blog.