Last week I was excited to take a look around Croydon's latest pop-up, the Croydon Reuse Organisation (or CRO as it's more commonly known). Run by locals, Eunice and Andrew Dickinson, the not-for-profit enterprise has its home in the striking new wooden slatted structure* near Reeves Corner. Complete with super graphics on the exterior, this is what intrigued me long before I knew what great things were happening inside.
Andrew was kind enough to give me a CRO tour. Inside the wooden gates you encounter a courtyard with tables and chairs, between a cluster of shipping containers (nothing to do with the Boxpark containers I may add).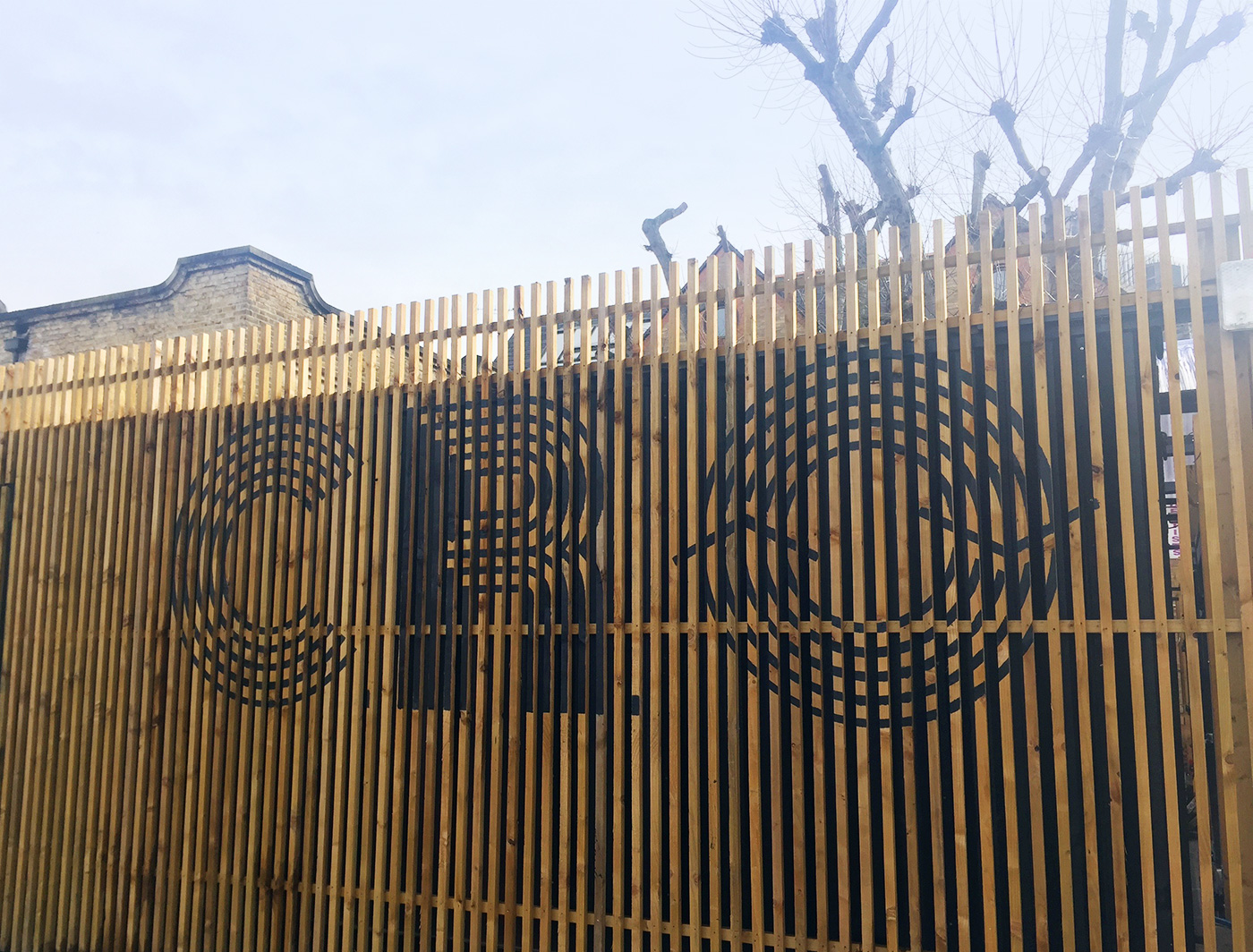 The surrounding shipping containers house two different offers: mushrooms and upcycled furniture. I know what you're thinking, two things you'd never have placed side by side, but it all begins to make sense when you realise that growing mushrooms and making upcycled furniture both involve recycling…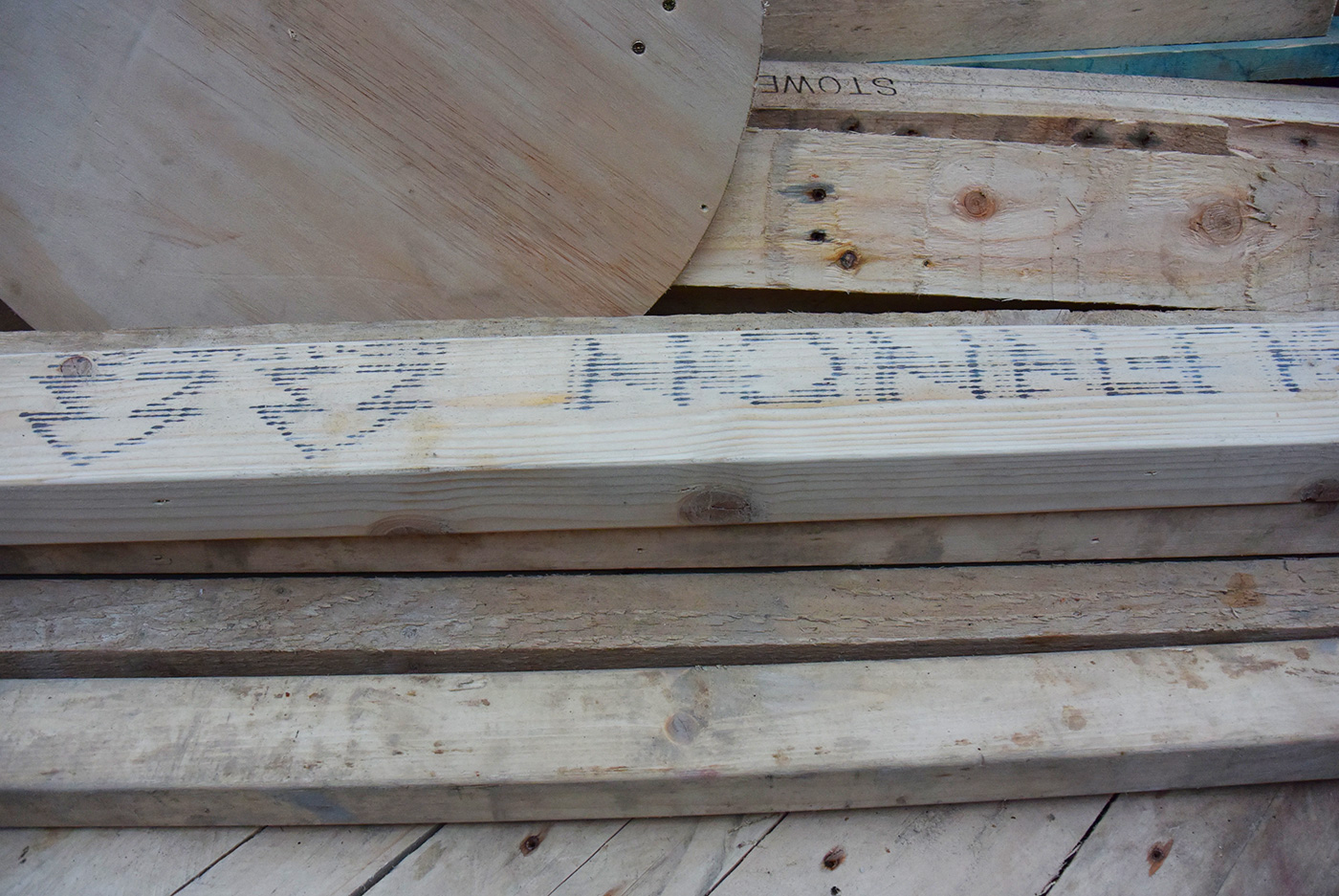 The urban mushroom farm is Andrew's baby, whereas the furniture side of things is Eunice's domain.
Andrew first showed me how the mushrooms grow – that's Cr'Oyster mushrooms to be precise (I'm always a fan of a good Croydon pun). The Cr'Oyster shipping container is divided into two – the bigger incubation room on one side and the smaller fruiting room on the other.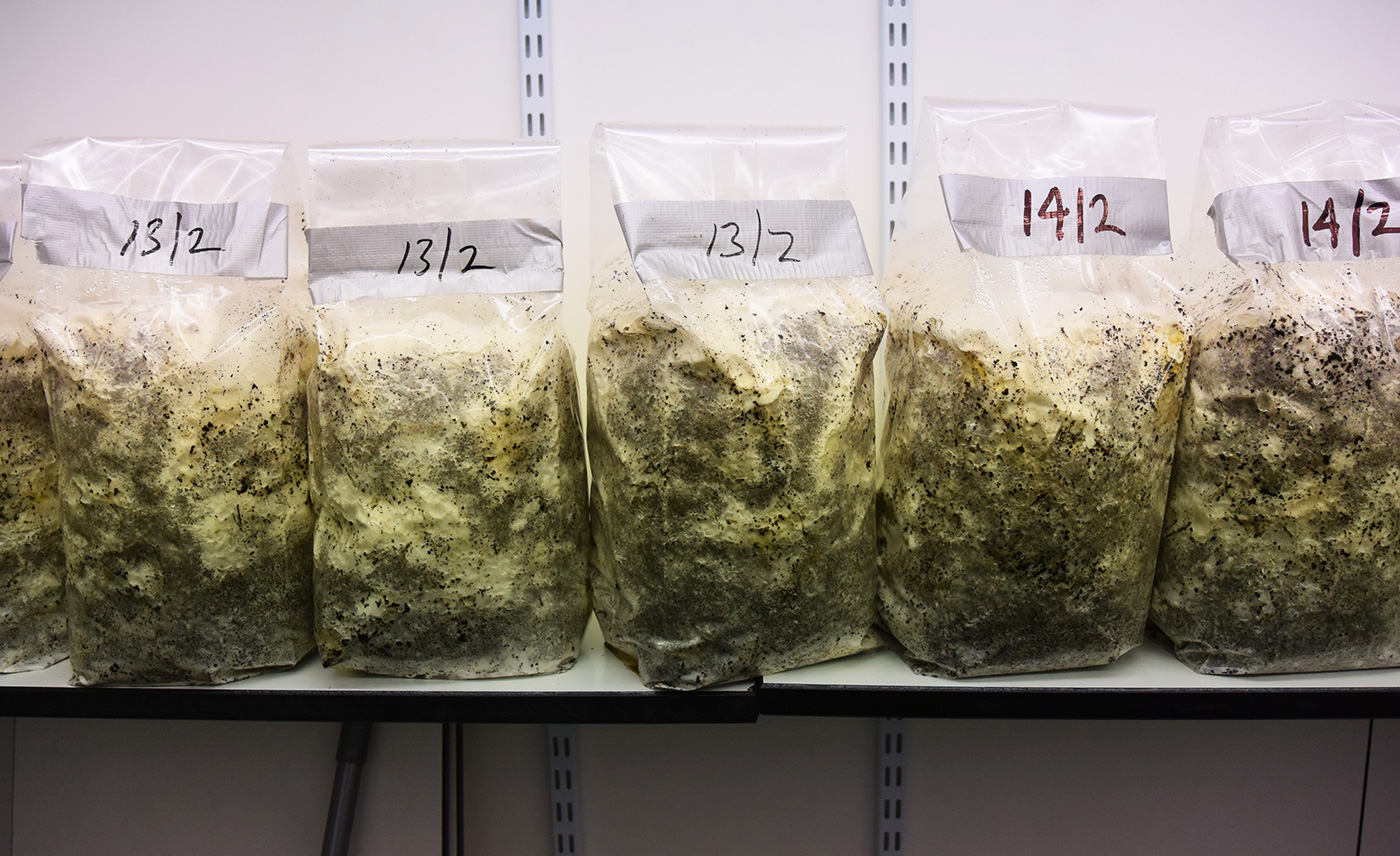 The recycling element comes in with waste coffee grounds, which Andrew collects from local cafés. It turns out that the coffee makes the perfect substrate to mix with oyster mushroom spawn and grain to grow the mushrooms. The incubation room is lined with bags and bags of the mix carefully labelled by date. When the bags are fully incubated, they are moved to the fruiting room. Now this room was my favourite area, as I got to see – up close and personal – all the weird and wonderful shapes the mushrooms make on their journey to being harvested.
Here each bag has now become a solid block from which the mushrooms sprout (if mushrooms can sprout that is). For me the fungi seem to take on an otherworldly quality and I couldn't help but feel I was looking on at lots of micro planets covered in alien forests (although maybe that's just me and that I read too much science fiction!) Nevertheless they are a photographer's dream, and I hear are mighty tasty too.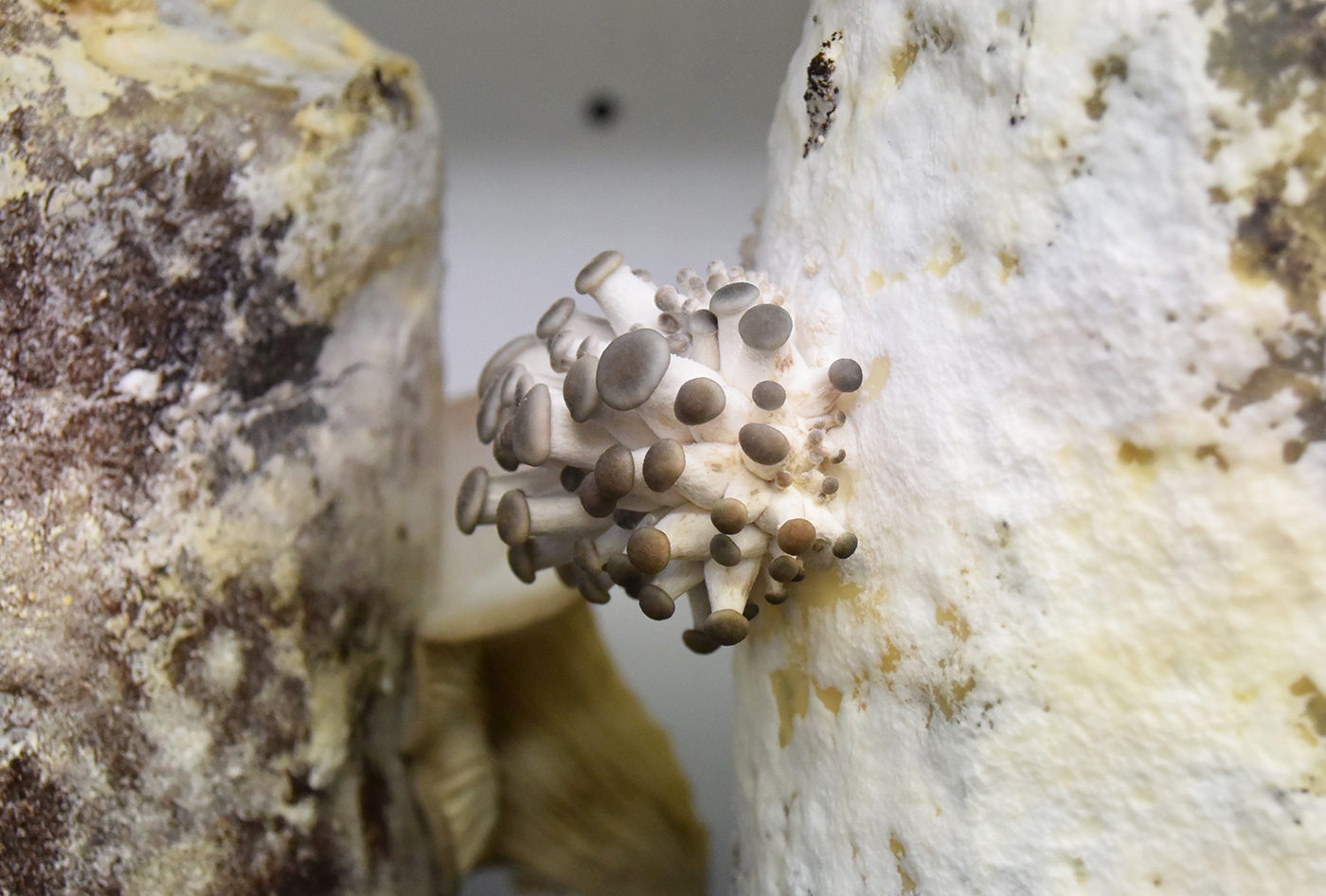 At the moment you can sample the Cr'Oyster mushrooms in a variety of dishes at the lovely Parklife café in Lloyd Park. And that brings me onto the furniture side of things, as Parklife café was also one of CRO's first commissions. They kitted out the café in upcycled wooden tables and benches made from pallets, as well as quirky stools created from tyres.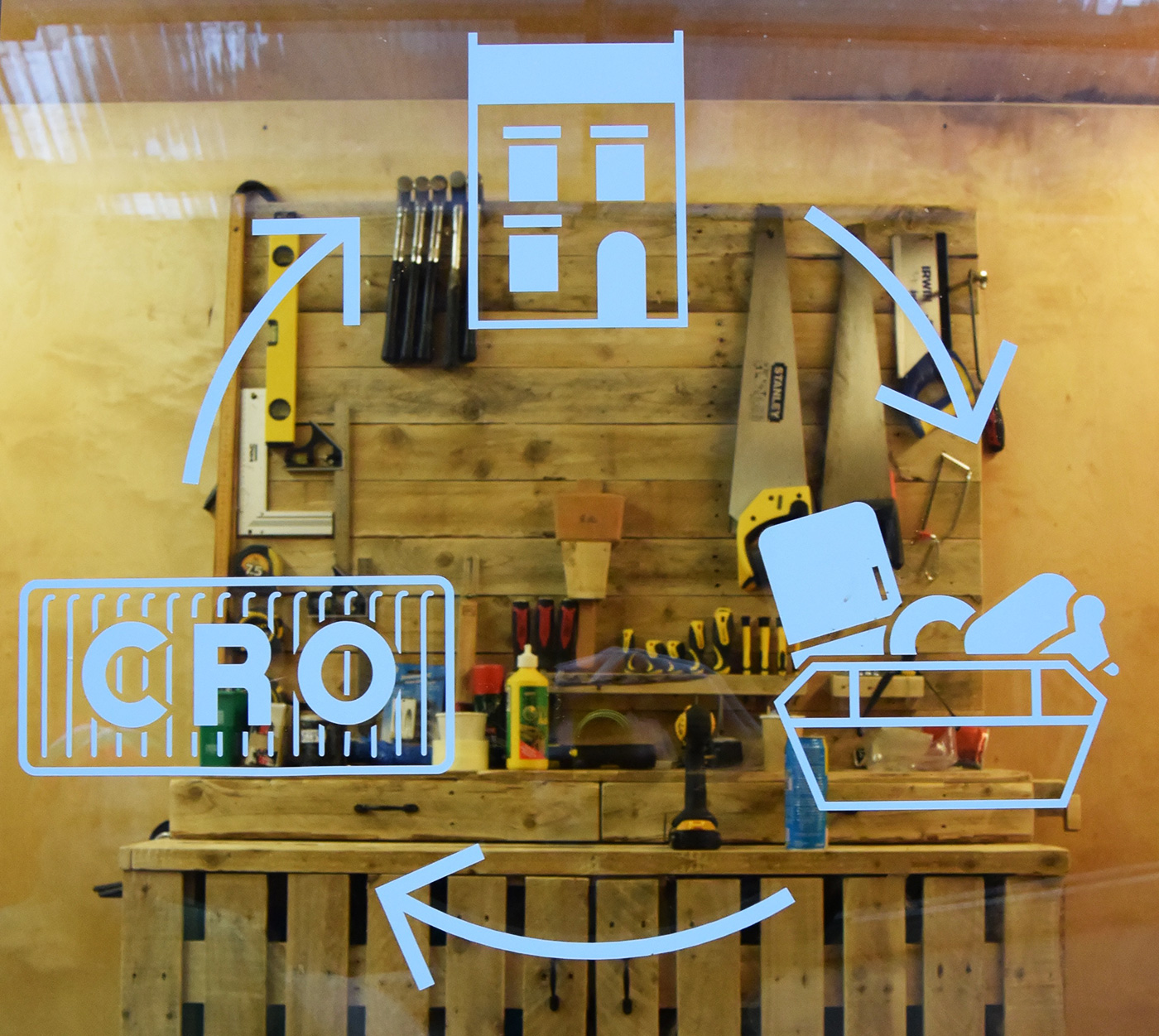 Andrew took me into the furniture area to meet Eunice, and have a look around the facilities. This is where a variety of workshops have already taken place with young people on a readiness to work programme, helping with the furniture commissions as well as constructing the building itself. I hear a selection of different workshops are planned for 2017 so keep an eye on their facebook page for more information. I spotted a couple more tyre stalls in progress around the workshop too. Hmmm, I'm coveting that yellow covered one…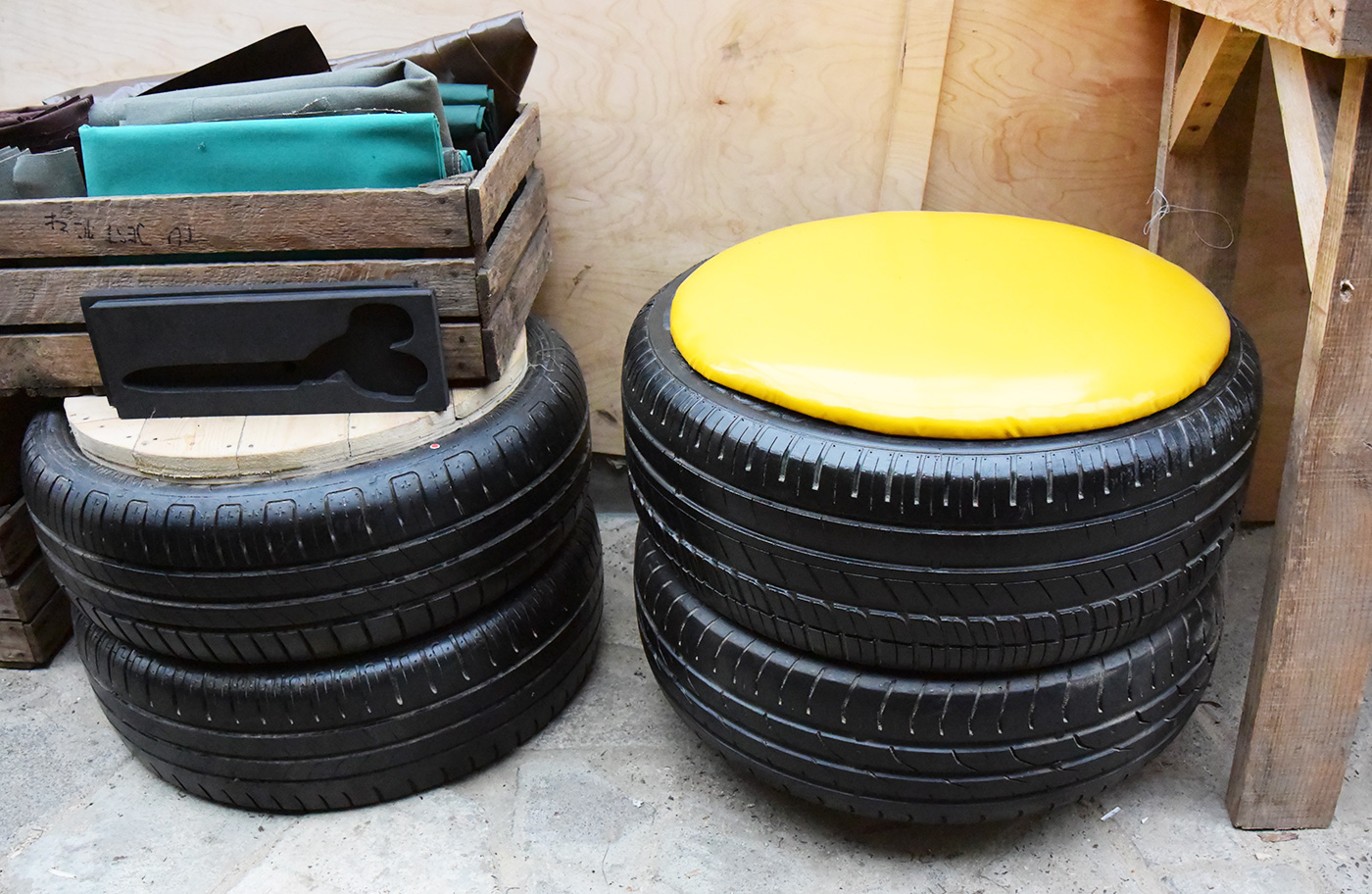 You can find out more about their furniture here and growing mushrooms here.
*We have MUF architecture/art to thank for this great addition to the borough's architecture.
A big thanks to Andrew for the tour.
Posted by Julia