You may remember back in February us talking about giraffes covered in art roaming our streets. No? Well if not see here. Since then Croydon BID and Wild in Art (who are the organisations behind the giraffes), have held a competition to select thirty artists and those thirty artists have now all each put their unique stamp on one of thirty giraffe sculptures. These will form part of a trail that hits the streets of the town centre from next Monday, 21 August.
The free art trail, called Croydon Stands Tall, is part of the This Is Croydon programme and runs for 10 weeks until 27 October, when there will be a special farewell weekend, where all the giraffe sculptures will be displayed together in one final giraffe spectacular.
Following the farewell event, the giraffes will be auctioned off in aid of national charity Crisis, to raise funds for the charity's Croydon Skylight which combats homelessness in our borough.
Artists to look out for include: street art collective MurWalls; architect and illustrator Rachel Hunt; live scribe artist Becky James; and globally recognised artist Becky Smith, as well as Croydon-linked creatives Rich Simmons, Aaron Bevan, Frankie Curtis, Alec Saunders, Morgan Davy, and Nicole Lane.
Read more about all of the artists here.
Joining the trail of thirty giant giraffe sculptures are another thirty baby giraffe sculptures which have been decorated by schools and community groups from across Croydon.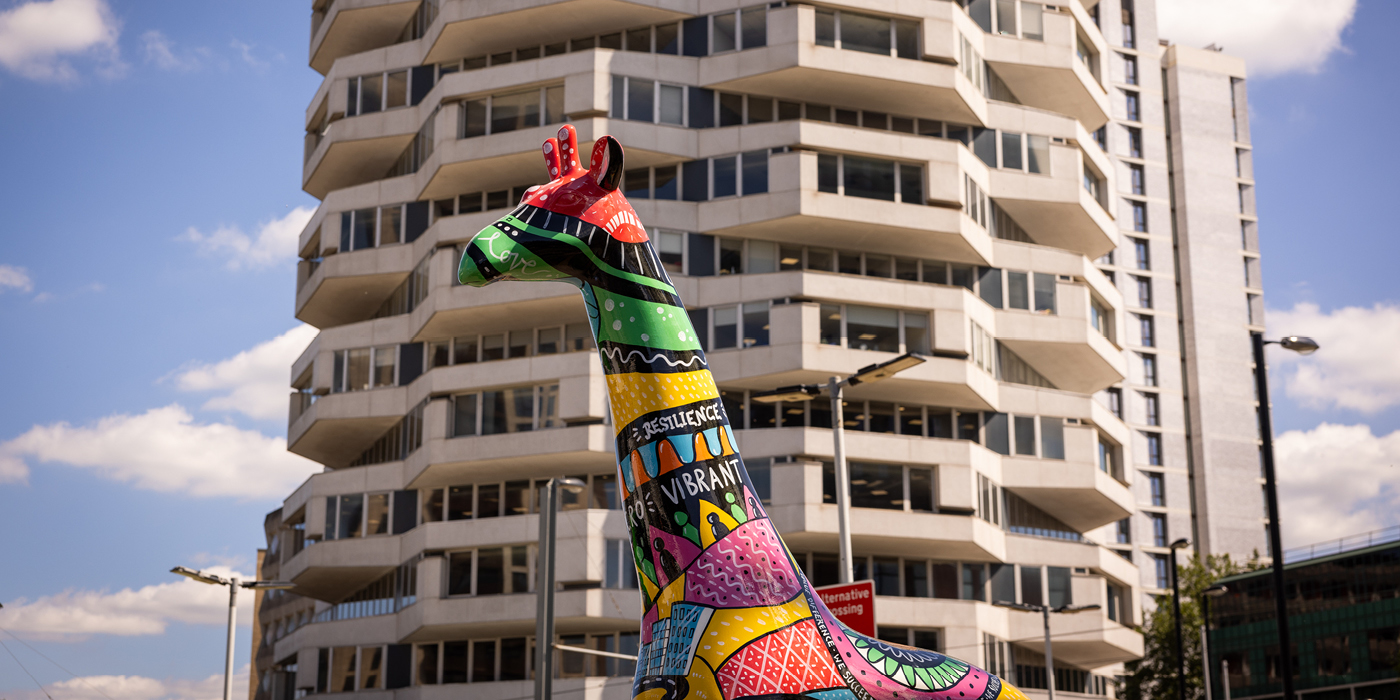 From Monday you'll be able to pick up a map from the following locations:
Croydon Library, Katharine Street, Croydon CR9 1ET
East Croydon Station, Croydon CR0 1LF
Fairfield Halls, Park Lane, Croydon CR9 1DG
Leonardo Hotels, Wellesley Rd, Croydon CR0 9XY
Tramlink Shop, Suffolk House, George Street, East, Croydon CR0 1PE
West Croydon Station, London Rd, Croydon CR0 2TA
Whitgift Information Desk, Whitgift Shopping Centre,  North End, Croydon CR0 1LP
Or you can download a map here, or the trail app here. Enjoy your Croydon safari and be sure to tag your photos #croydonstandstall on Instagram.
Images courtesy of Croydon BID – giraffes in various Croydon locations photographed by Glenn Foster (from top: MurWalls, Rachel Hunt, Becky James, and Becky Smith). 
Posted by Julia