New author and local resident Danielle Clarke has been very productive in the last 6 months – she has created a series of children's books called 'What Makes Our Family Special' to celebrate different cultures, because of the noticeable gap in her children's storybooks.
With the first published last December and the next out this March the series is about two sisters learning about the diverse cultures of their beautifully blended family through adventure, based on her own daughters Evie and Isla.
We catch up with Danielle to find out how she came up with the concept and developed the series with the help of illustrator Lily Carver. Oh and we have a special Croydonist reader discount if you'd like a copy of the first book for your shelves…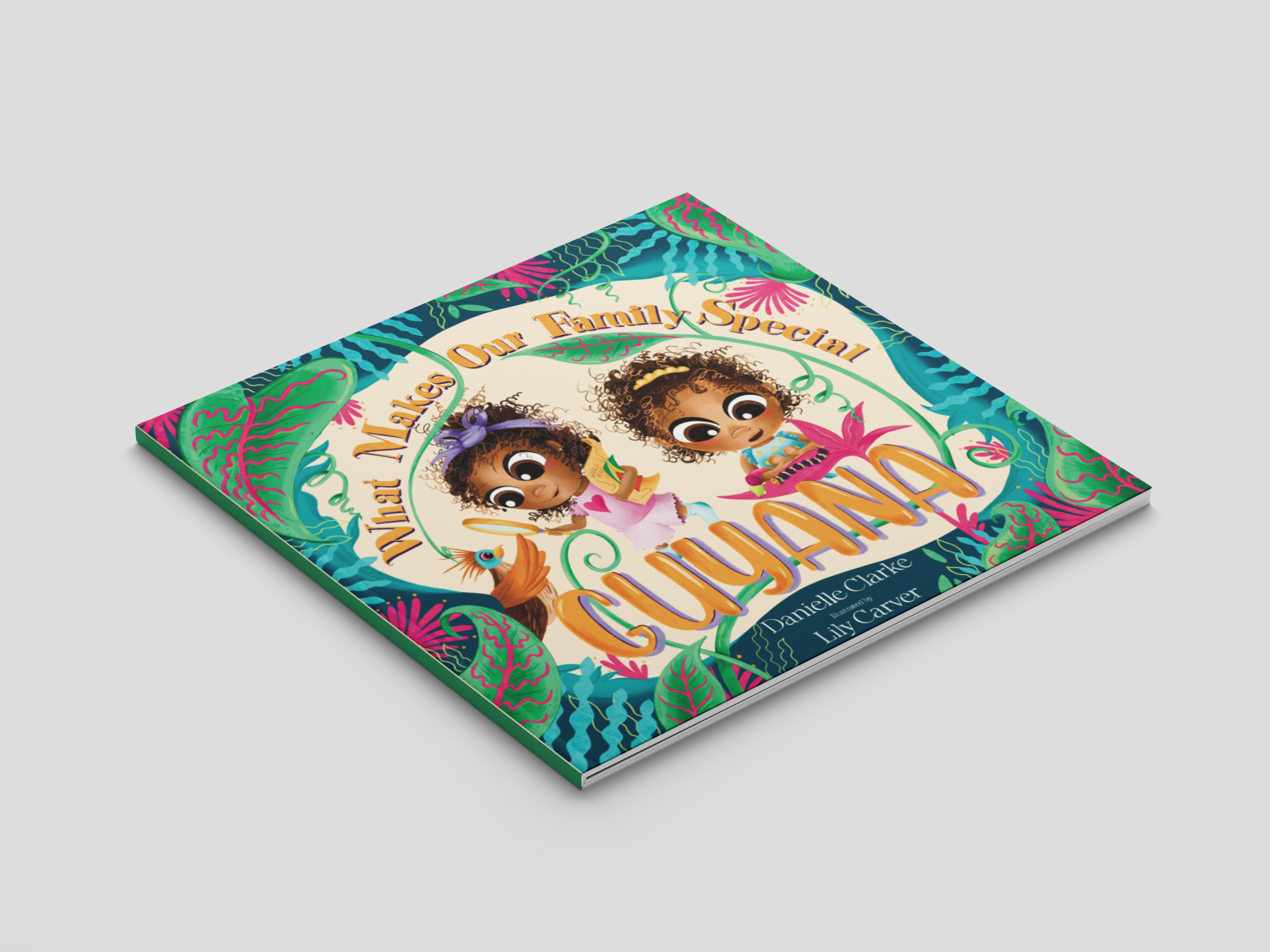 Croydonist: First of all, Croydon native or convert, and what area do you call home?
Danielle: I'm almost native! I was born in Manchester and moved to London when I was 4 – when I go back to Manchester it does always feel like home, there's just something about it! But in London, Croydon is my home, I've lived in the borough of Croydon since I was in my early teens, and was lucky enough to experience Croydon when it was booming – 'The Orchid days'!
Croydonist: Do you have a background as a writer?
Danielle: Not really! I work with a creative team and have to write quotes for them about hair and products as well as about themselves as a team, but that's it. And that is for a completely different audience!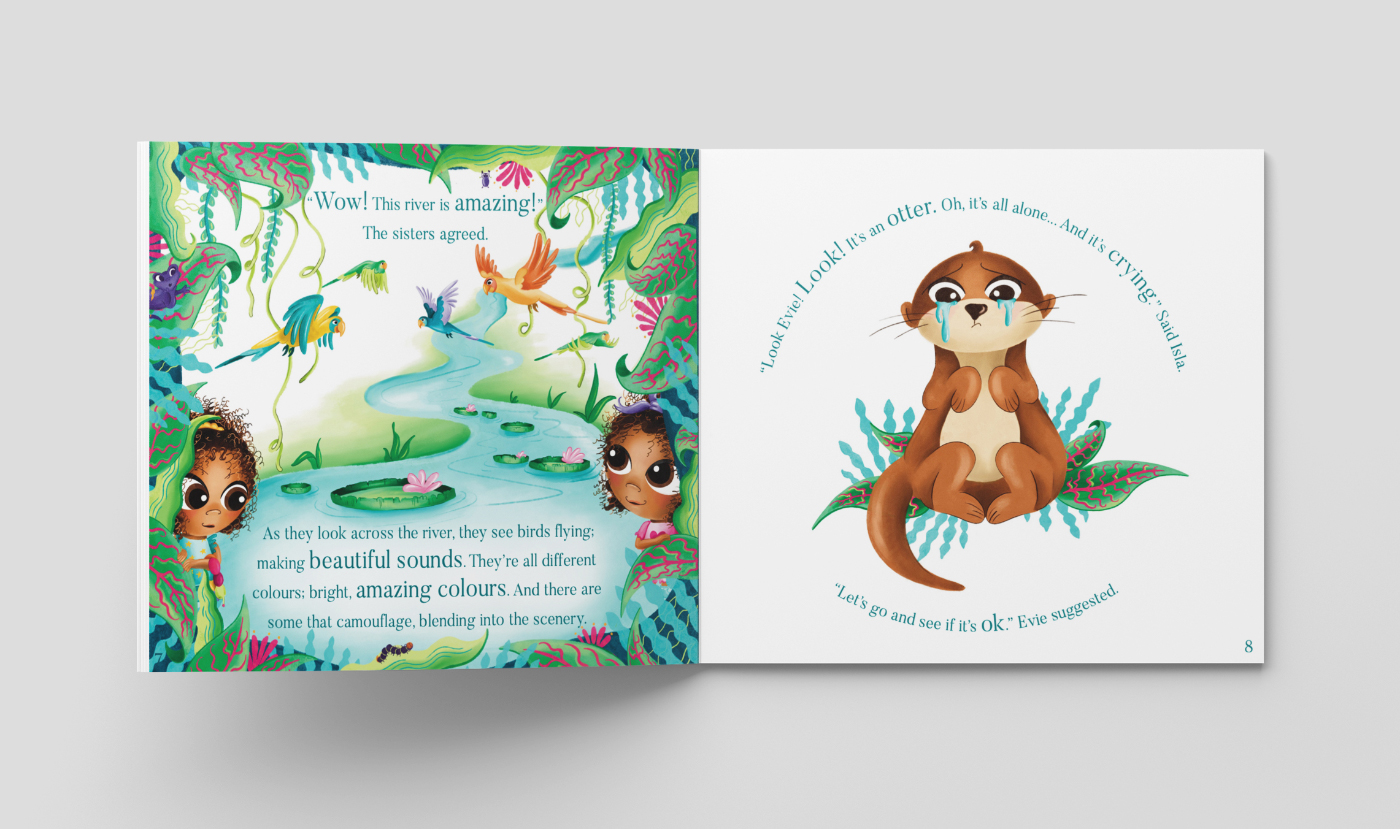 Croydonist: What made you decide to write a series of children's books?
Danielle: Although I wouldn't class myself as a writer, I did always want to write a book/s.
During this whole pandemic, and with what happened to George Floyd, I think people slowed down and had deeper conversations about life, the world and their stories and it became more apparent to me that my daughters may face struggles growing up because they are female and because they are of a mixed-raced background, and it angered me.
I am not totally ignorant to the fact that sexism and racism, and other isms are still about, and it's not ok by any means, but I guess when it's your own children, it puts a very different spin on things. I was also made aware of how other mixed-raced people felt, some said they didn't feel they had a place, or they leant towards one side of the family more or they related to that side more. This made me feel sad; as their mother, I want them to always feel comfortable, and relatable to our family as a whole. My siblings are half-siblings and step-siblings, they are Greek/Italian and English. More of our family members are from different heritages, but we are family and it always felt to us that we were family. Evie and Isla's dad also has half-siblings of different heritages.
So, one day I was ironing, listening to a podcast (Happy Mum, Happy Baby ft. Dawn O'Porter) and the idea just came to me. What if I wrote books about the different places our family are from, for Evie and Isla to learn every part of their heritage and every part of our blended family so that they felt proud of our family and understood that regardless of what culture we are from, regardless of our sex, regardless of us not being a typical 2.4 family, and regardless of any 'disability' within our family, we are family, we are all equal, and we love each other.
Our children are the generation, I believe, that will be the change, and it's up to what we do that will help them be the change.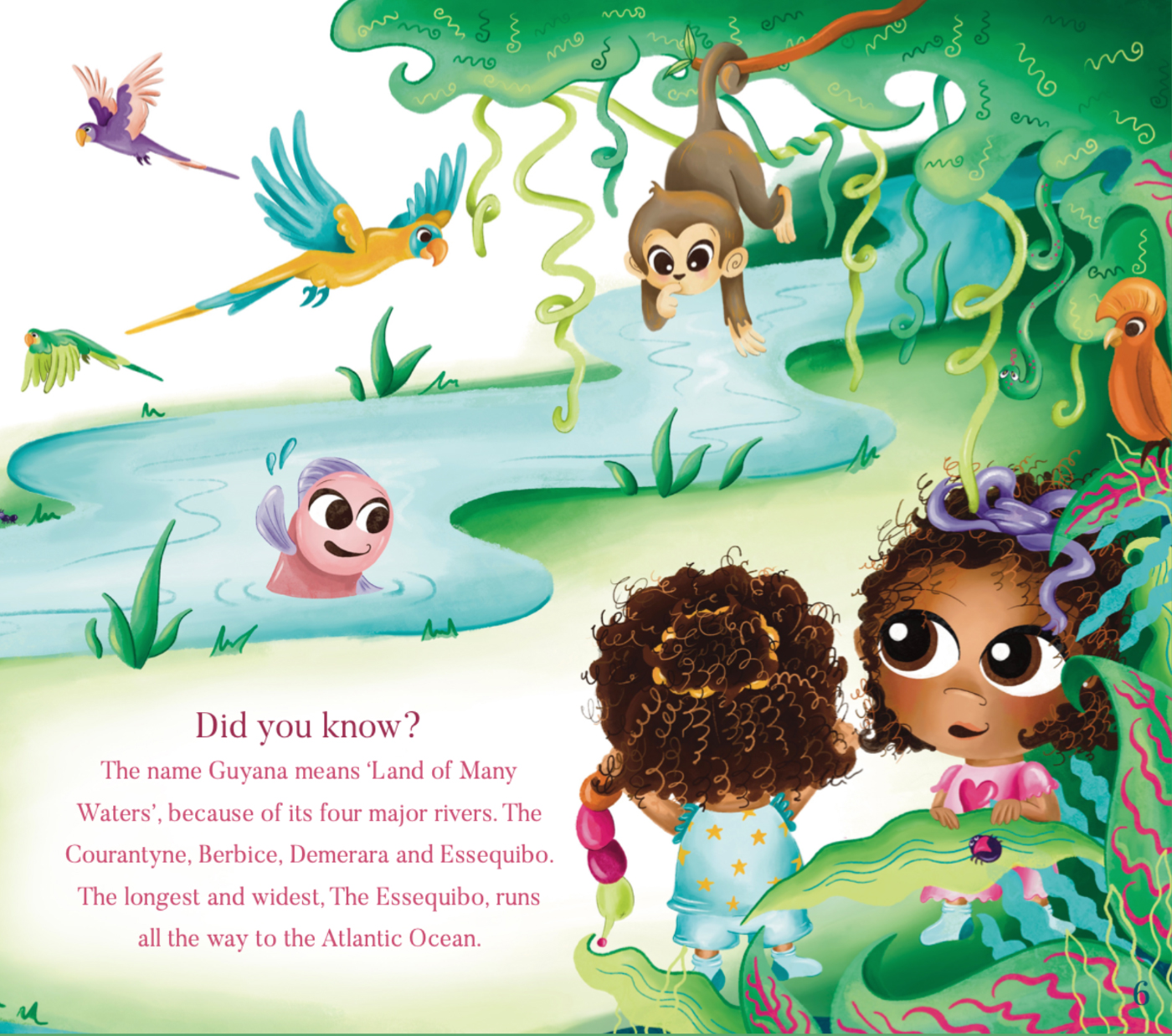 Croydonist: The first book in the series is about Guyana. What parts of the world will the other books in the series focus on?
Danielle: The second book is 'What Makes Our Family Special – Ireland', due out mid-March 2021, and the third book will be out mid-year 2021, which I'm still deciding on whether it will be based on Barbados.
I also have an idea of a further 9 books, which leads into stories about our blended family and where they are from, friends that we consider as family, as well as family members with disabilities.
Croydonist: Do your girls help you develop your stories?
Danielle: The stories so far, I wrote, but I implemented things that I hear them say through play. I wanted the characters in the books to be replicas of Evie and Isla, their characters, their comfort toys, their favourite colours, their temperaments, even down to a birthmark Isla has on her jaw. But whenever I receive proofs of the books I always show the girls to get their reactions and ask them whether they like it and what they like about it.
Croydonist: How do you come up with the ideas for your stories?
Danielle: It must have just been an idea forming without me realising, I had the idea and just wrote! I researched key points and wanted it to be fun, educational and show some of the amazing parts of said country. I also noticed with the books I had for the kids, that not many mention about blended families, and only a few were about diversity.
Croydonist: Can you tell us more about Blue Stella – will you be publishing other authors' work celebrating diversity?
Danielle: Blue Stella, the name just came to me randomly, it all happened very fast and very organically. This is just the start for Blue Stella, I'm excited to see where this journey takes us, and in the future if I'm able to publish other books under Blue Stella, then that would just be amazing! I would love to see more diverse books out in the shops and if we can be a part of that change then that would be amazing.
Croydonist: How did you come to collaborate with Lily Carver?
Danielle: Lily is the cousin of a good friend of mine. I met her years before at work randomly and then she did a few illustrations for my work a while after.
When it came to looking for illustrators, I asked my friend if Lily still illustrated and if I could have her contact details. I messaged Lily and explained the project briefly and she came back saying she would love to be a part of it. This is her first children's book too. I sent her a picture of Evie and Isla and what she sent back was brilliant – I just said…when can we start?
Croydonist: How long did it take to produce your first book, from concept to publication?
Danielle: The idea came to me mid-August 2020. I researched prices, illustrators, how to self-publish. I was struggling to find the right illustrator; I had a certain look I was going for. I contacted Lily at the end of September and then she started work on the book at the end of October and because of the pandemic, Lily had more time to work on the book. I was keen to get the books out quickly, and Lily is just amazing, so when she sent illustrations over, there was very little, if any changes. The book was officially released on 12 December 2020. So it was all very quick.
Croydonist: Any tips for budding children's authors?
Danielle: If you have a great idea, go with it, don't wait! Obviously there will be obstacles but there is always a solution. And if you have a vision, and know how you want it to be/look/feel, don't let anyone tell you that you can't do it that way, you can, you just need to find the way!
We are lucky we have the internet, any information you need is online.
Croydonist: Favourite spot in Croydon for inspiration?
Danielle: Croydon has quite a few little gems… but my favourite spot would have to be Coombe Woods, we love it there and it has such a cute little cafe there, and just next to Coombe Lodge – I love anywhere outdoors that does food and drinks.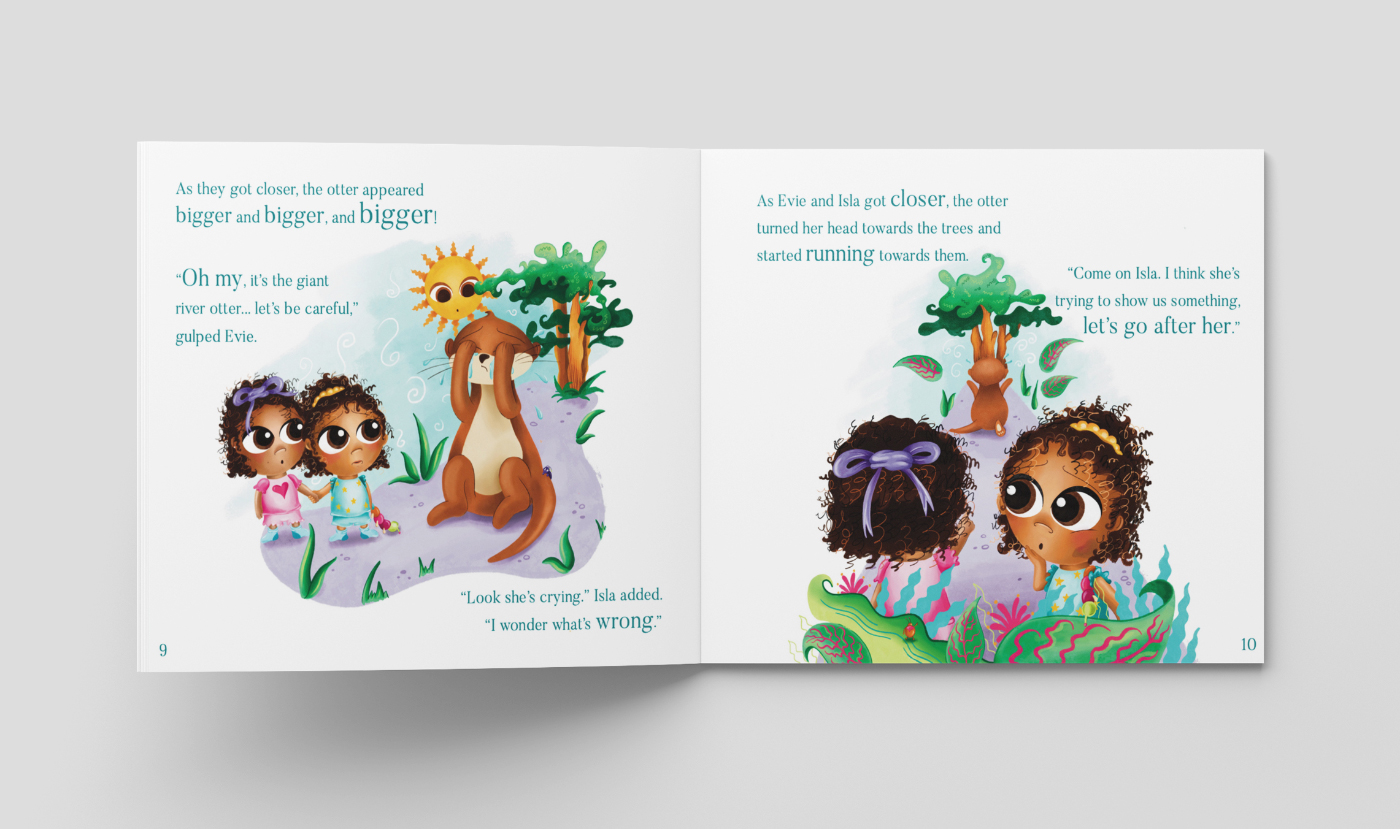 Croydonist: Classic interview question – if you had to invite 3 children's authors over for a cup of tea (obviously in non-lockdown times) who would they be and why?
Danielle: Rochelle Humes, because she is just amazing – how she manages kids, being a wife, working, and doing her own products and books is just mind blowing.
David Walliams would be hilarious, I reckon he would also have the best stories to tell – I am super nosy!
Enid Blyton – I used to borrow The Secret Seven books from my school library on a Friday, and read until the book was finished on the Saturday. I would just like to hear her life stories too, where her ideas and inspirations come from.
Croydonist: What's next for you this year?
What Makes Our Family Special – Ireland will be out Mid-March 2021, and then the third in the series will be out mid-year 2021.
The rest all depends on what the Coronavirus has planned for us!
A big thank you to Danielle for chatting with us – keep up to date with Blue Stella books on the website or follow on Instagram, Facebook and Twitter.
To receive 20% off a copy of the book 'What Makes Our Family Special – Guyana' use code BOOK20 here. 
Terms and conditions – 20% Off your first book order, valid from Thursday 21st January 2021 ending on Thursday 4th February 2021 at midnight. 20% Off book cost only. Use BOOK20 at checkout to redeem your offer. This offer is only valid to use once per person, per order. 20% will be deducted from the total order. 20% cannot be used against postage and packaging. You must be over 18 to order. 20% Off is only valid on the www.bluestella.co.uk website. Only valid in the UK. 
Images courtesy of the author
Posted by Julia