This may sound like an oxymoron, but we bought the sexiest chopping board we'd ever seen at the Made In Croydon Makers Market at Boxpark in December. Crafted by local woodworking company Ernest & Cooper, we literally couldn't take our eyes off of the wood and resin wonders that made up their stall. From beautiful dovetailed walnut tables to mahogany anglepoise lamps with filament bulbs and vibrant coloured fabric cables, we WANT all their homeware and furniture – we may need to start a home makeover to accommodate them. With that in mind, you can imagine my eagerness to chat to the man behind Ernest & Cooper, Cameron Jow…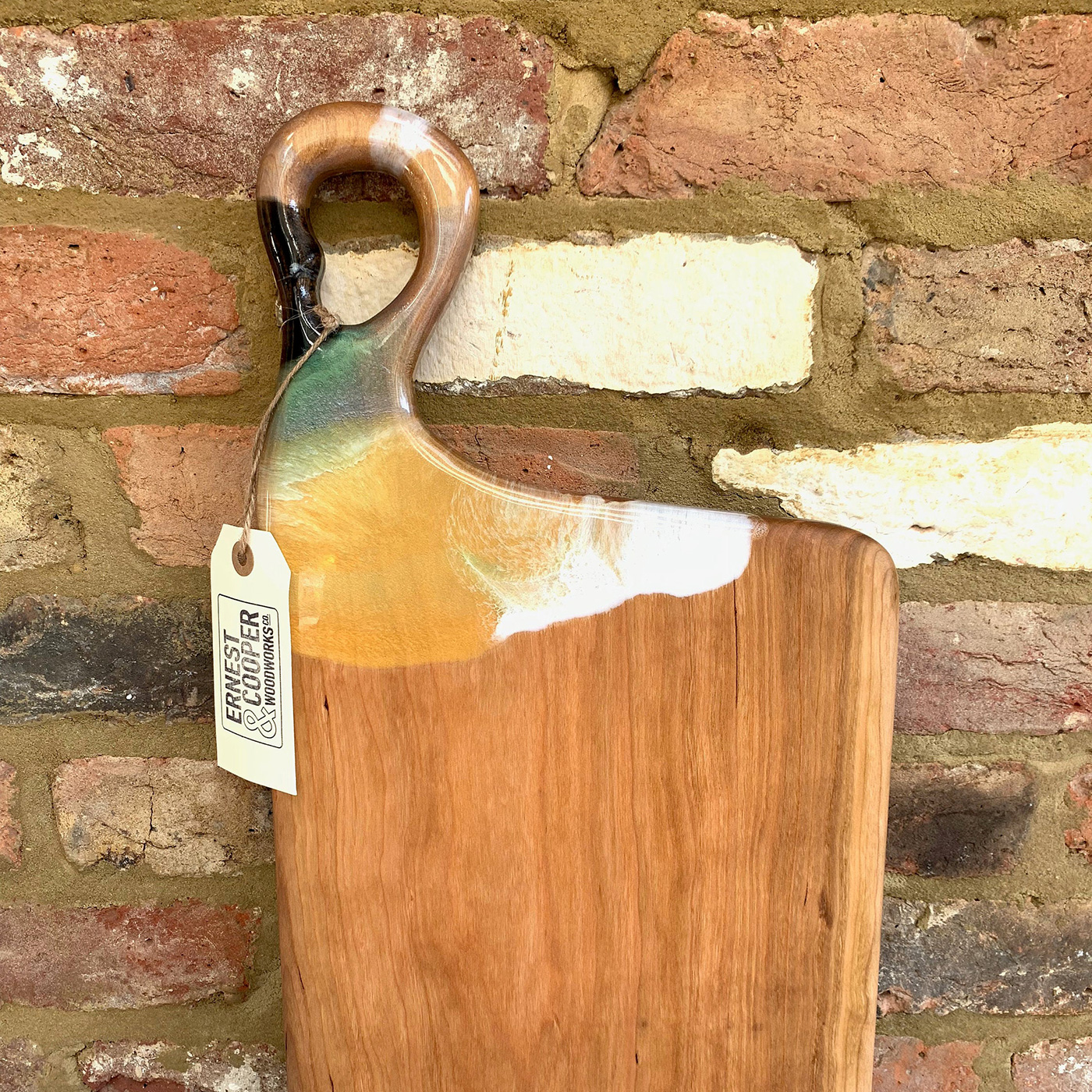 Croydonist: First of all, are you a Croydon native or convert, and whereabouts in the borough do you call home?
Cameron: I'm a full-on Croydon convert! Originally, I'm from Canada but have lived in the borough for over ten years now and currently reside in Addiscombe, East Croydon.
Croydonist: We hear the name of your company has a rather lovely story behind it – could you tell our readers?
Cameron: Certainly, as I said I grew up in a small town just outside of Vancouver BC, Canada.  My Grandfather (Ernest) was a carpenter and ship builder and would build beautiful custom furniture pieces in his tiny garden shed. Growing up I would always play in his workshop. We spent hours creating fun woodworking projects together as he would teach me different woodworking techniques. This is where my love for woodworking started. Fast forward a few decades later, after years in the building and carpentry industry, I've built a shed of my own – albeit a slightly bigger one than my Grampas! I too hope to inspire my son Cooper and daughter Freya like my Grampa did for me all those years ago. Hence the name Ernest & Cooper Woodworks Co. (Freya unfortunately wasn't born yet when we named the company!)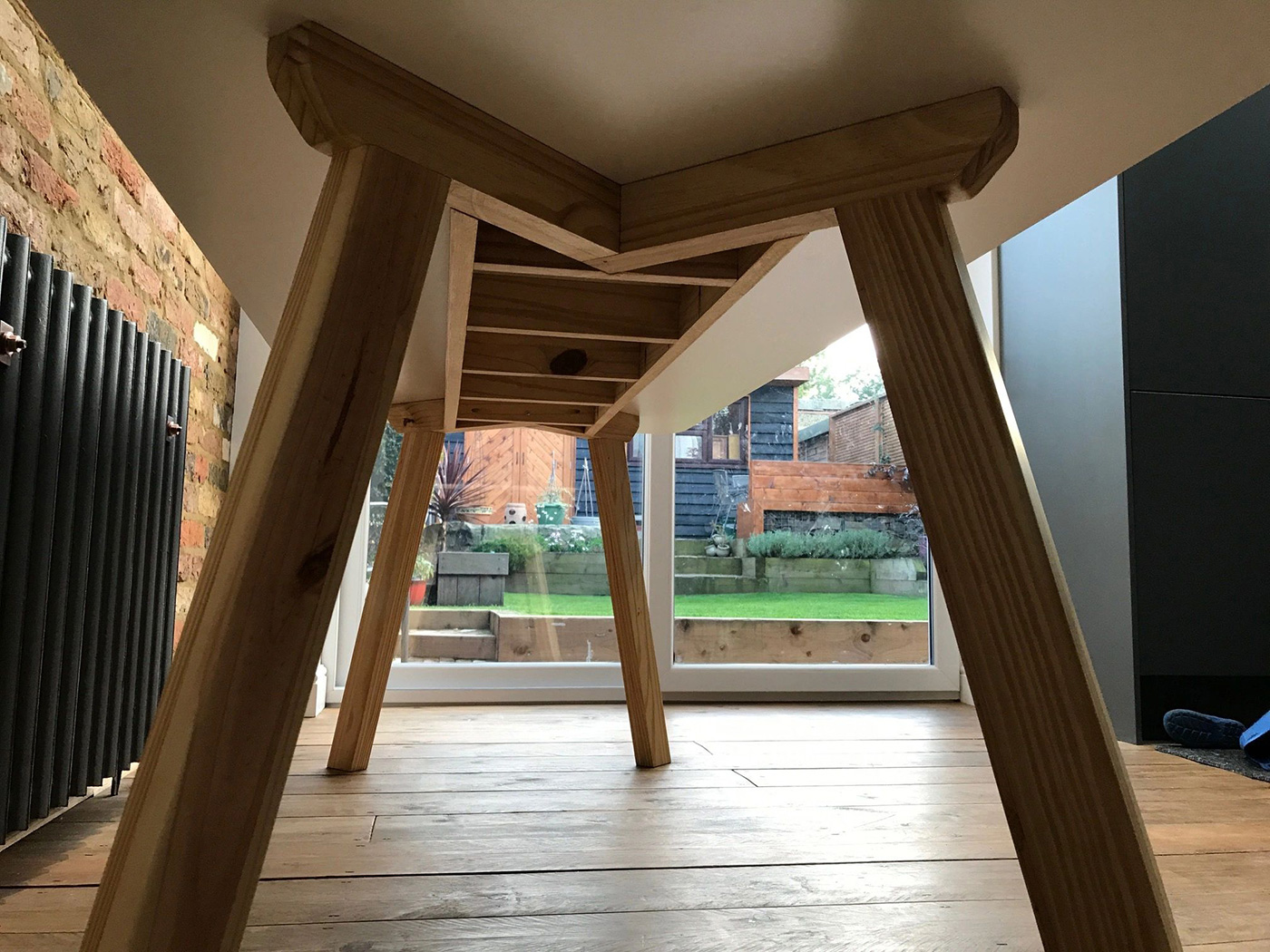 Croydonist: What made you decide to set up Ernest and Cooper and who makes up your team?
Cameron: I think just the love for creating and crafting. I love building unique pieces of furniture and homeware items that you can't find anywhere else. There is something special in having a piece for your home that's been handcrafted with a bit of individuality that stands out from the rest of the High Street crowd. That and also the flexibility to be able to work from home and be able to be around my family and children more often.
As far as a team it's just me on my own building each piece that comes from Ernest & Cooper. That being said my wife is a big part of the company who helps with all the other aspects that come with running a business. I can't forget my sister who created the brand identity for E & C and my good friend Sean who helps with all the heavy lifting at the markets.
Croydonist: My dad was a carpenter so I love all things wood-crafted (I have a unique walnut chair he designed and made, that converts to a table at home). Did you start as a carpenter by trade or did you take a different route to get to where you are now?
Cameron: Nice, I really like the sound of your Dad's multi-purpose chair. One thing I love is furniture that can adapt! As far as my background I definitely didn't take a traditional route to get to where I am now. Out of secondary school in Canada I started working on building and construction sites which furthered my carpentry skills. Most houses in Canada are timber framed so you quickly become accustomed to using and building with timber. From there I would always build furniture and homeware pieces for myself and family so naturally progressed into doing it on a more regular basis honing my techniques with each piece I made.
Croydonist: We first happened upon your beautiful pieces of furniture and homeware at the Makers Market at Boxpark in December – how long has Ernest and Cooper been handcrafting in Croydon?
Cameron: I officially started trading online Christmas 2018. Made In Croydon at Boxpark was actually my first venture into the world of maker market trading. I had such an amazing first experience meeting all the other talented makers as well as Michael, Josi and everyone else on the team at MIC. They put on such great events for all the local makers in the borough. It was very humbling and gratifying to get such positive feedback on all my products from the public as well. I'm definitely looking forward to getting on the market stall trail this year in 2020 throughout Croydon and beyond.
Croydonist: Where do you get your inspiration for the pieces?
Cameron: Inspiration comes in many forms for me. From all the amazing makers and creatives on social media who are constantly pushing the boundaries, to retro furniture designs from the 60's and even modern and simplistic Scandinavian styles that are popular today. Currently I love working with wood and epoxy casting resin and even art resin. With the combination of raw timber and epoxy resin the possibilities can be endless.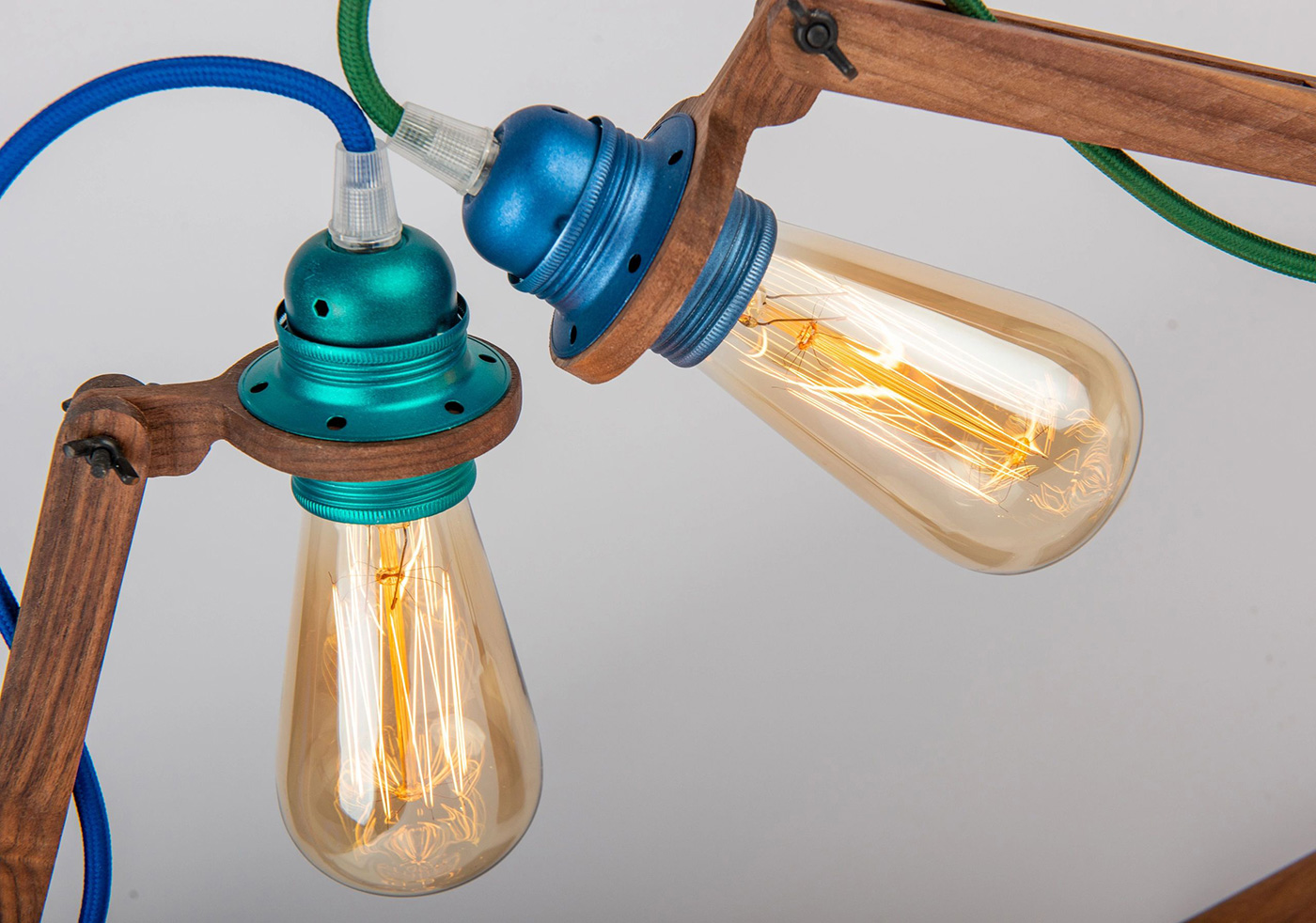 Croydonist: How long does a piece typically take you?
Cameron: That totally depends on the individual piece. A single piece such as a lamp or charcuterie board would maybe take half a day or a day to create but they are usually built in bulk as it makes more sense from a production standpoint. Furniture pieces again can vary depending on the joinery needed for each individual piece.  Another factor is when working with epoxy resin you need at least 24-48 hours curing time before you can work on it. A standard epoxy side table would maybe only take 2-3 days of actual building but would take a week factoring in the curing time for the resin.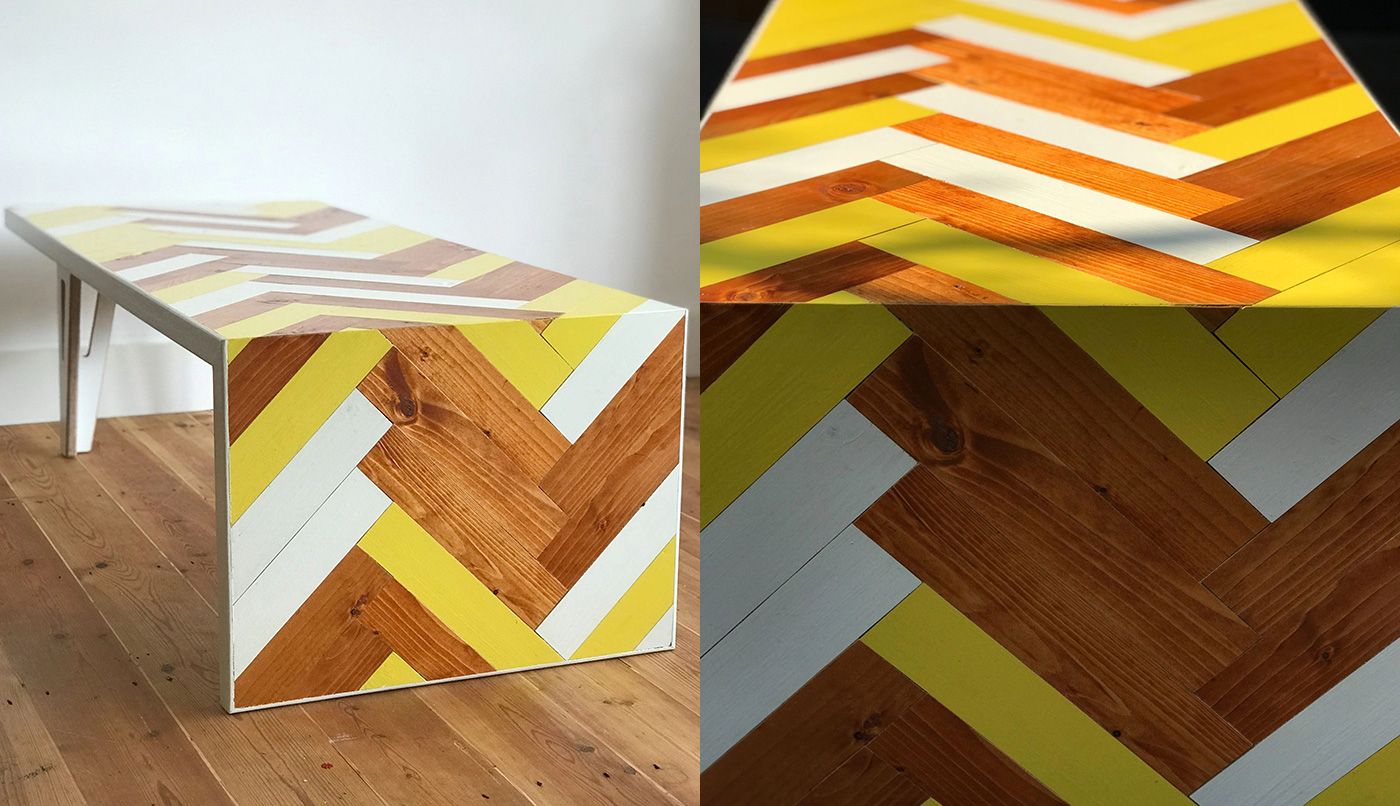 Croydonist: We are massive fans of your collection – especially your gorgeous table lamps and your herringbone Waterfall coffee table [above]. If you had to choose your favourite piece to date, which would it be and why?
Cameron: That's a tough one. That's like asking me to choose between my children! I would have to say my English yew, nesting river side tables [below and header]. This was my first larger piece using epoxy casting resin and pigment dyes. I love how the traditional woodworking of the dovetail joined legs mixes with the modern epoxy resin all set off with the natural live-edge Yew.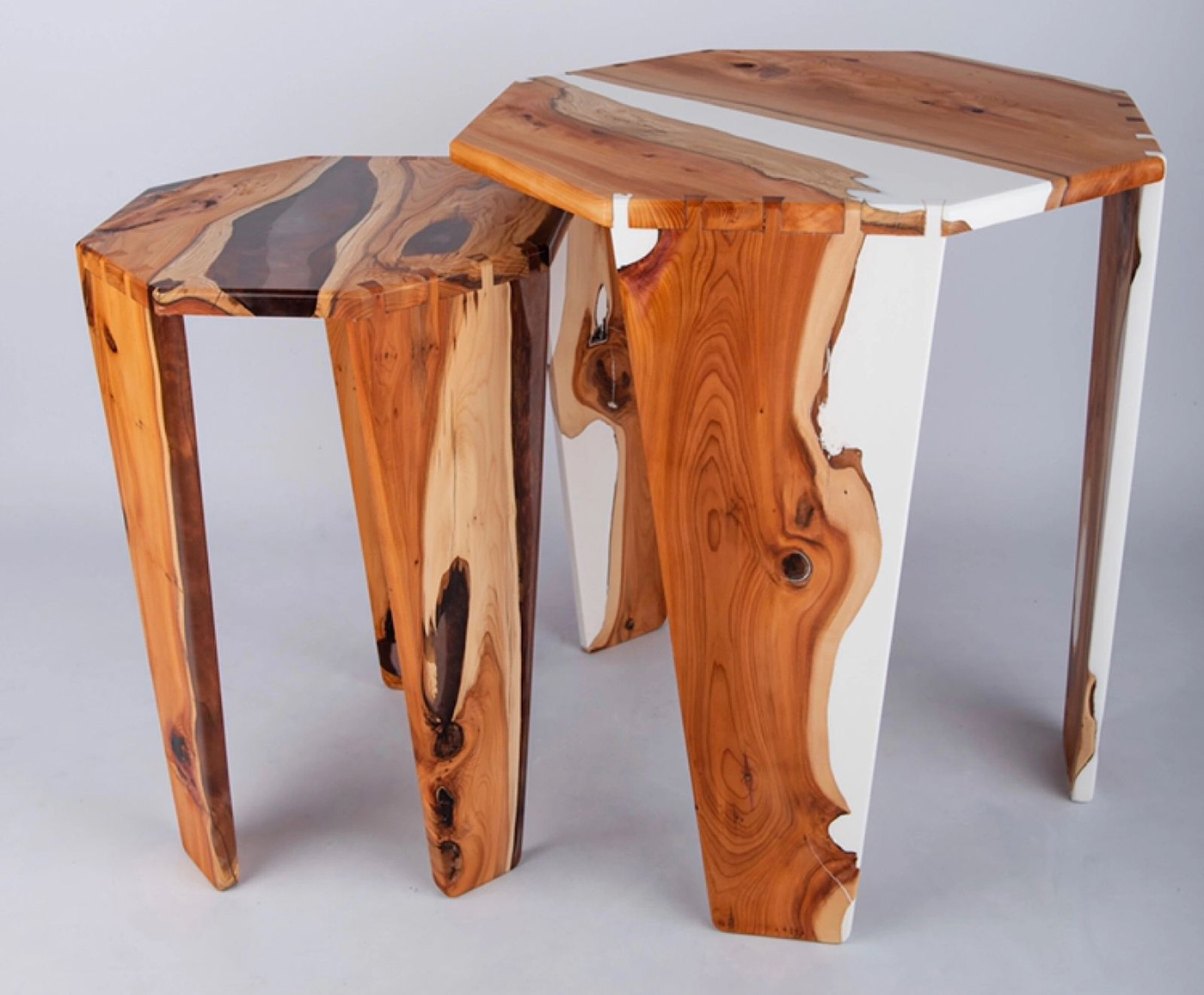 Croydonist: Do you take commissions and if so what's been your most memorable to date?
Cameron: Yes, I do – my most memorable commission would have to be a piece I was actually commissioned (summoned) to do by my wife! It was an octagon shaped side table with dovetail waterfall legs. She wanted a piece that had a light and dark contrasting wooden top. I loved how it turned out and especially loved how the dark walnut contrasted so well with the pale tulipwood on the top as well as on the joints of the dovetailed legs [below].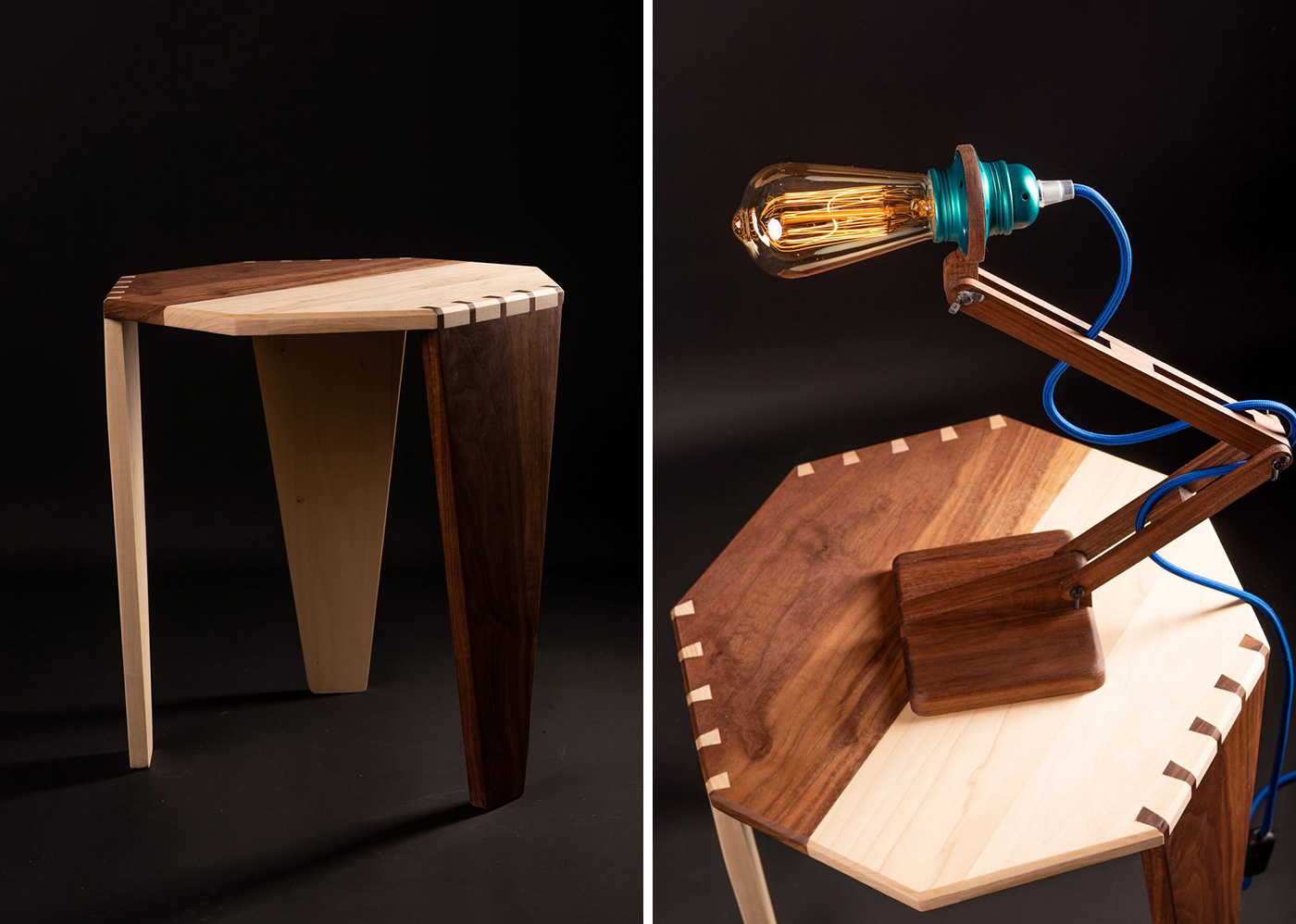 Croydonist: You have had some impressive press, having been featured in Vogue. How long will we keep you in Croydon for, or will you be moving into more sumptuous premises this decade?
Cameron: Firstly, thanks as that's very kind of you to suggest! I think every woodworker is always striving for a larger shop. More space = more tools! That being said I don't think I could ever leave Croydon as I love my workshop and the flexibility of it being at home.
Croydonist: What's your favourite location in Croydon?
Cameron: Addiscombe! No seriously I love so many different areas of Croydon. From the vibrant Surrey Street Market to all the funky pubs and restaurants in the south. Obviously I have to shout out East Croydon with the addition of Boxpark. It transformed the area and on top of that it's within walking distance of my house!
Croydonist: Plans for 2020?
Cameron: To get my name out there and just build my brand and product range further. I'm definitely hoping to get involved in more markets this spring, summer and beyond. Keep your eye out and give me a follow on social media. All my products are available on my online shop as well as Etsy. I hope to see you all at a venue in and around the borough in the near future!
Big thanks to Cameron for chatting with us. Keep up to date with Ernest and Cooper on their Instagram and Facebook pages.
All photos courtesy of Ernest and Cooper, by Fergus Ford and Cameron Jow.
Posted by Julia