Boxpark Croydon has seen quite a few comings and goings in its shipping containers over the past three years, but if the food formula is right, then the good eateries tend to stay. August saw the opening of Goat by Chef James Cochran. As the name boldly states, Goat's main goal is to bring the delights of goat meat to Boxpark.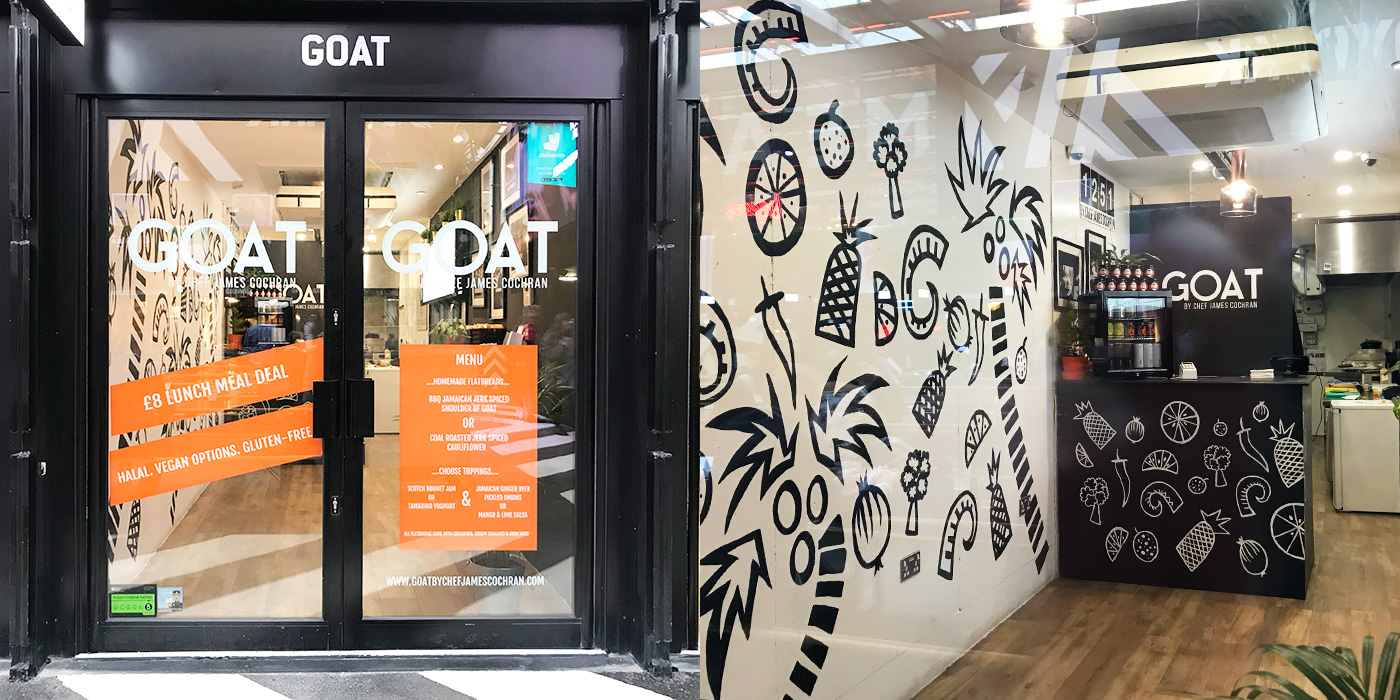 Like the best Boxpark offerings, the menu is concise with a choice of two flatbread mains and two sides it. The star of the show here is the flatbread with jerk goat shoulder. Pulled shreds of spicy goat meat are piled up on a grilled pillowy flatbread. The meat is tender and slightly crispy at the same time and tastes phenomenal – like a souped up lamb. Cochran, a previous Great British Menu winner, is right to highlight this often overlooked meat, which here is supplied by Cabrito, another champion of the goat meat cause. On top of the goat are fried crispy corn kernels, which add another layer of texture to this pile of delight. The vegetarian alternative is made with the ever versatile cauliflower. Here it is chargrilled and that texture and flavour is perfect in its own right as the body of this kebab.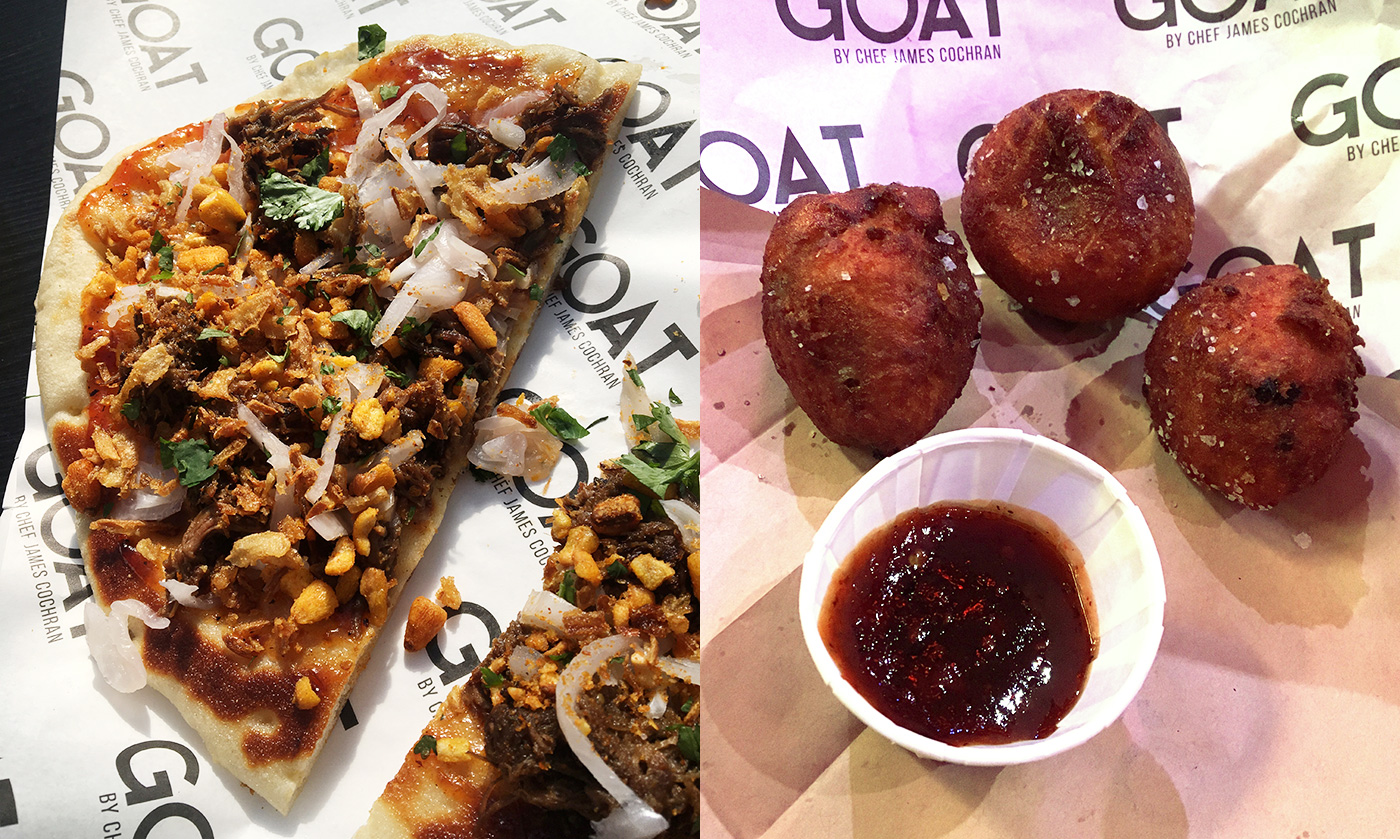 Even though the menu is brief, both versions of the flatbread come with choices of toppings. You can choose from either scotch bonnet jam, for a spicy sweet kick, or tamarind yoghurt for a tangier option. And if that wasn't enough, you also get to pick from ginger beer pickled onions or mango lime salsa. After testing the different combinations, we decided that the chilli jam and pickled onions was the winner.
These flatbreads are hefty and one will easily be enough for a hungry lunch. If you need to add a little extra, the sides are also up scratch. Deep fried smashed potatoes with curry sauce is a winner and if I was lunching somewhere else at Boxpark, I would get a tray of these as a side. Baked spuds are cut in half, smashed up a little and deep-fried until crispy. The curry sauce adds spicy flavour to keep them interesting. If you haven't had enough goat, the giant goat nuggets will see you right. These fried balls are jammed full of meat and when dipped in the little pot of chilli jam, they sing.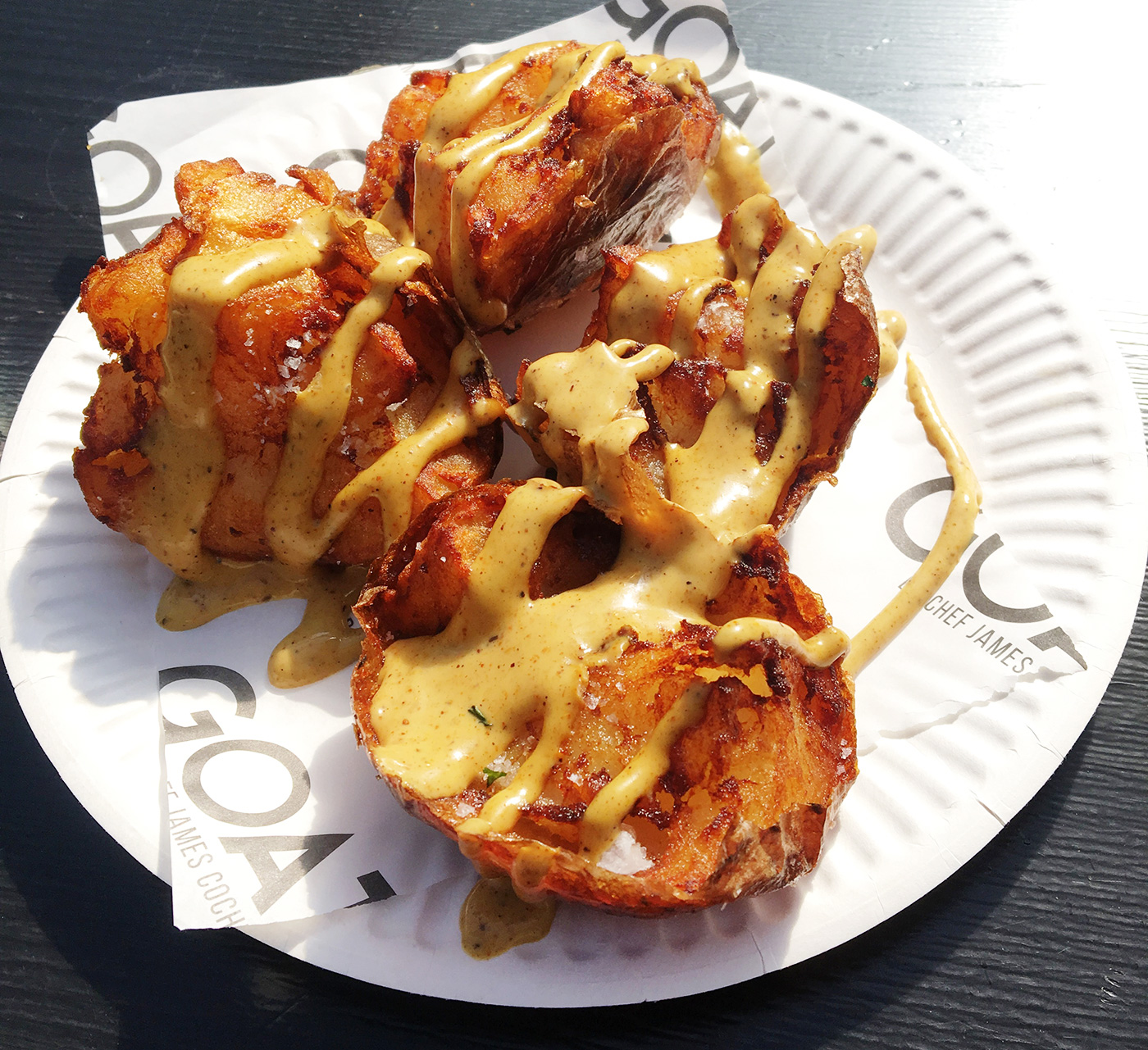 Goat is a very good option for lunch or dinner at Boxpark, and if you are feeling a bit capricious and like to mix it up by picking the best bits from around the hall, anything from this menu will be a worthy addition. Eating goat might not be everyone's first choice but if you try the food here, you will be back for more.
If you fancy cooking some goat for yourself, Cabrito have an online store and an excellent cookbook, which I can highly recommend.
Posted by guest writer Sam Hill. Food photos courtesy of Sam.
Sam is a food, beer and wine obsessive who enjoys experiencing and writing about all the culinary delights that Croydon has to offer.