One sunny friday last month I headed down to Surrey Street to look for the theatre tent nestled amongst the stall holders. Yes you read correctly – theatre on the market. The Human Zoo Theatre Company, Croydon's resident theatre organisation, spent six days there performing a series of interactive theatre events, and you'll be pleased to hear that they are back for more this autumn. After enjoying their 'Day at the Races' which involved carrots, hobby horses and actual audience racing, we wanted to find out more about them. I caught up with Rosalind Hoy, the company's creative producer and one of the principal artists for a chat.
Croydonist: For our readers who haven't yet seen any of your performances on Surrey Street, who are the Human Zoo Theatre Company?
Rosalind: The Human Zoo Theatre Company are a Croydon-based Arts Organisation who have been making theatre for over 4 years. In that time we have toured across the UK and internationally, sold out at the Edinburgh Fringe Festival and provided workshops for over 1500 children, young people and adults. As a company we aim to shake up what theatre is by putting it in unusual places (like a tent on Surrey Street Market) and making sure it is accessible to anyone and everyone.
Croydonist: How and when did you form?
Rosalind: Funnily enough we all went to school together, just down the road from Croydon, so have been performing together since the age of 11. We went to a very large state school in Oxted where we were fortunate enough to have a great drama department, so after we left school and went and did a bit of training elsewhere, it felt really natural to come back together to try and make something of our own. That was in 2013 and we've never really looked back (unless one of us brings up an embarrassing tale of when we were 13 in the middle of a meeting or something…!)
Croydonist: Please explain your name – we hope you don't cage your audiences!
Rosalind: Absolutely not – half of us are vegans so caging anything doesn't tend to be in our ethos! The name came because we are drawn to the idea that we can study people in the same way that we study animals, and believe each artist, participant and audience member brings with them something new and diverse.
Croydonist: We came to see your Day at the Races on Surrey Street. What was your highlight of your time on the market?
Rosalind: We had such an incredible time during 'Theatre on the Market' and managed to meet nearly 1000 Croydonites! We were so welcomed by punters and stall holders alike, but I'd have to say the highlight was getting to know so many local people. Some people came to every event and would spend a few hours with us each time. Now when we go down to the market we're greeted by so many people and feel right at home!
Croydonist: What's your connection to Croydon?
Rosalind: For us, growing up, Croydon was always the cool place to come. It's very accessible from our home town so it was one of the first places we would come to meet friends, visit the shops or go to the cinema. Most of our families are also Croydon born and bred so there's a real pride from us all in calling Croydon our town.
Croydonist: Have you seen any theatre which has stood out for you recently?
Rosalind: That is a tough one! We're really lucky as each year we perform at Edinburgh Fringe Festival so are surrounded by the best theatre, comedy and dance you could wish for. However, this year we went to Croydonites Festival, an incredible theatre festival curated by Anna Arthur and saw 'Letters to Windsor House' by Sh!t Theatre in Croydon Town Hall's Council Chambers. It was a brilliant piece of work and so fantastic to see it performed in such a different environment – plus the chairs were like thrones and very comfortable!
Croydonist: Do you prefer performing indoors or outdoors?
Rosalind: Again, very tricky! We love the challenge that performing outdoors presents. As you are often in very open spaces you have to consider that your audience might not be able to hear you so you have to find different ways to communicate. We use movement and clowning, loud soundtracks and bold design to draw people's eyes. For one of our outdoor shows, Monotone Man, some days we had an audience of 200 and the next day we'd be performing to 2500! With outdoor work you have to be prepared for every eventuality (especially when torrential rain starts pouring through the centre of your tent and a river of rain water begins flowing under your electrical equipment…that was the only time the weather ever stopped us during Theatre on the Market!) We love putting our work in places that people don't expect, so whether that be outdoors on a high street or inside The National (one day we hope!!!) you'll find us trying to get as many people involved in the arts as possible!
Croydonist: I'm a cautious fan of audience participation. (I say cautious as I don't like to be too scared by performers!) Do you prefer to have a static or an interactive audience?
Rosalind: As audience members we too tend to err on the side of caution when it comes to audience participation and we definitely feed that feeling into our work. Having said that, there's nothing we love more than an end of show dance where we get as many people who are willing to get up and dance on stage with us as possible (usually it's just the kids!) Our work is also very reactionary. Whereas we don't ask too much of our audience, we are more than willing to react to anything they throw at us! We run all our performances as relaxed performances.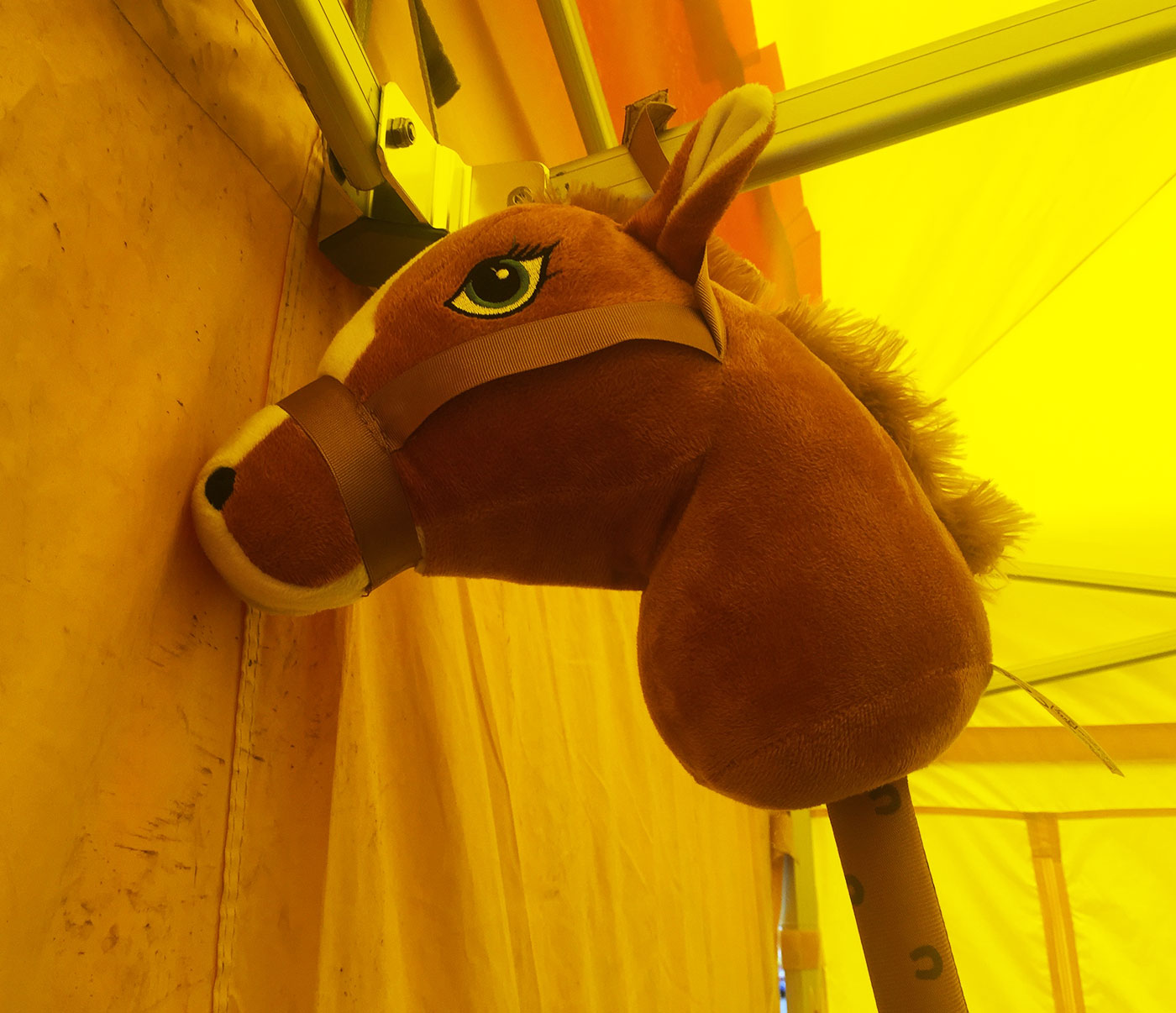 Croydonist: What's up next for you and when can we see you perform in Croydon again?
Rosalind: We are heading back to Surrey Street! We are so happy to have been invited back, this time joining the Sunday market. We'll be there Sunday 1st October, 5th November, 23rd November and 3rd December with different theatre events, including Croydon Bicycle Theatre and a brand new Human Zoo commission. All events are free so be sure to come down! We're also running workshops with TURF Projects. These workshops will directly respond to the exhibition happening at the time – the first one is on 19th October. We're also delighted to say we are helping Croydon turn on the Festive Lights this year! From mid November you'll be able to see us projected onto Marks and Spencers in the town centre. It's sure to be a spectacle!
Thank you to Rosalind for chatting with us. If you want to see more about the Human Zoo Theatre Company's time on the market check out their video below.
Posted by Julia