It's International Women's Day, and there are various fantastic celebrations taking place in and around Croydon today, this weekend, and beyond.
One such celebration is a new photography exhibition called Ladies First. Which gallery, I hear you cry? Well what makes this project extra special is that it's an outdoor exhibition, accessible to everyone, which is on from now until the summer, right in the centre of Croydon opposite the library, stretching along a large part of Katharine Street.
Ladies First exhibits 25 portraits of women and transgender persons from all walks of life, who live and work in Croydon. The theme this year is empowerment and taking charge.
The exhibition is the brainchild of the Undercroydon duo, Susan Beresford and Jeanne-Marie Eayrs.
If you haven't heard of Undercroydon before, the pair have been busy working behind the scenes of Croydon for 16 years to beautify our borough with over 120 public projects from murals, mosaics and exhibitions to public events and books – working with local communities to bring the arts to a wider audience. We're rather sad we don't see these dedicated ladies photographed as part of the exhibition, but we understand that's intentional on their part.
Ladies First is an annual event, initially developed for International Women's Day in 2016 – the aim for Susan and Jeanne-Marie is to broaden the definition of women and showcase the dramatically changing faces of the non-conforming identities of women. I'm sure you'll spot more than a few familiar faces.
Undercroydon created the exhibition with renowned photographer Jackie King. They describe their partnership as a collaboration of minds, where they work very closely photographing and interviewing each woman.
Jackie is herself a local lady, with a work space in Crystal Palace. When she's not shooting portraits, fine art and lifestyle photography across the globe, Jackie is a speaker, mentor and workshop host as well as a trustee for Croydon-based charity Lives Not Knives.
Although she didn't officially capture herself as part of Ladies First, we came across Jackie's group selfie on her shoot day with the Croydon Cycle Theatre duo, Vanessa and Amy (below, Jackie right).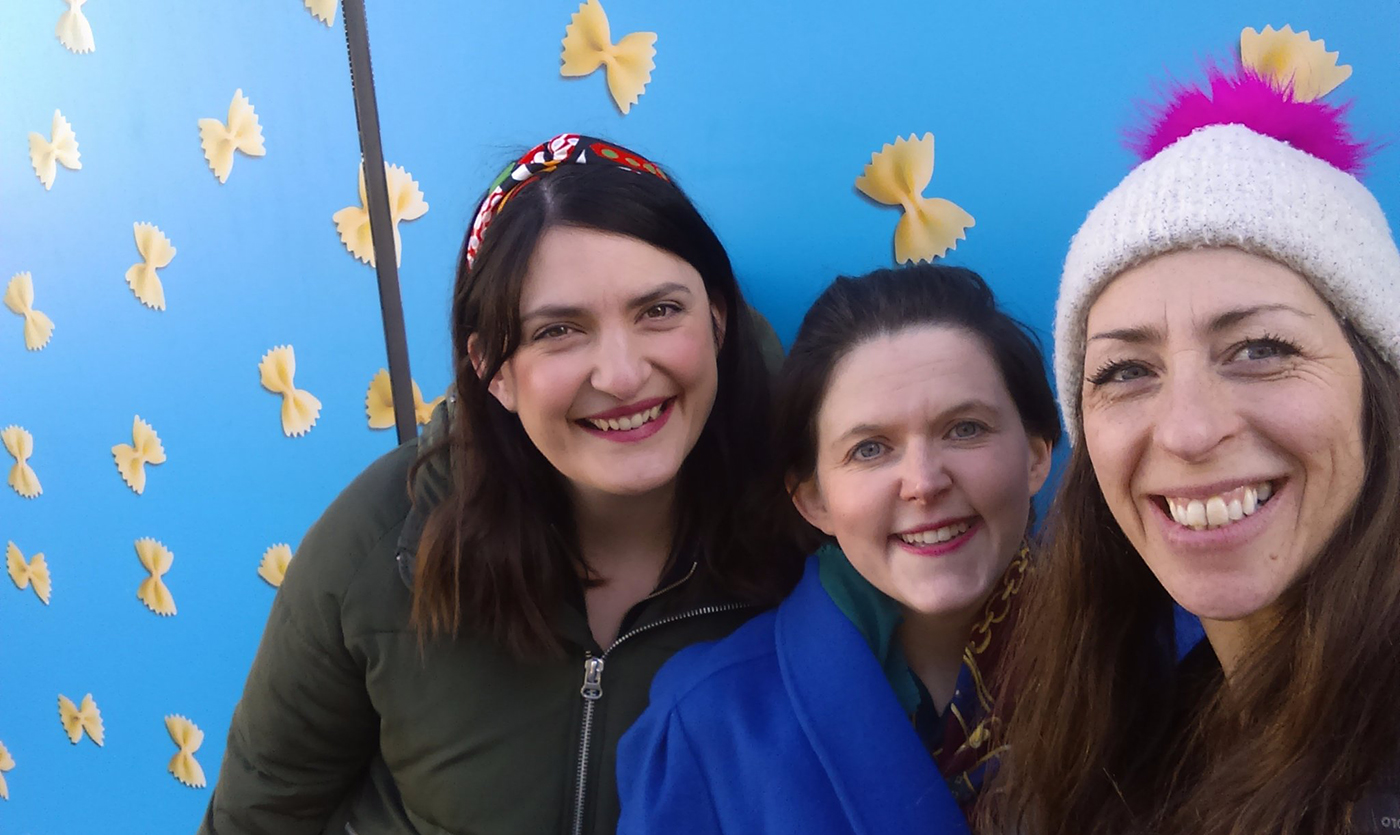 You can see Jackie's striking black and white portraits of Aneisha, Suzanne, Anita, Angela & Julia, Eliza, Paula, Sam, Saffron, Kaenat & Seema, Nicole, Alina, Jess, Shakera, Tina, Nisha, Kara, Rhianne, Vanessa & Amy, Pratima, Nicola, Sharmaine, and Esther below. But make sure you also visit Katharine Street over the coming weeks. The exhibition will be there for the public to enjoy until mid May.
Yes, you might spot Angela and I amongst wonderful company – I'm sure a double-selfie is coming soon…
Ladies First is supported and funded by Croydon Council and the space is provided by the generosity of  R & F Properties and John F Hunt.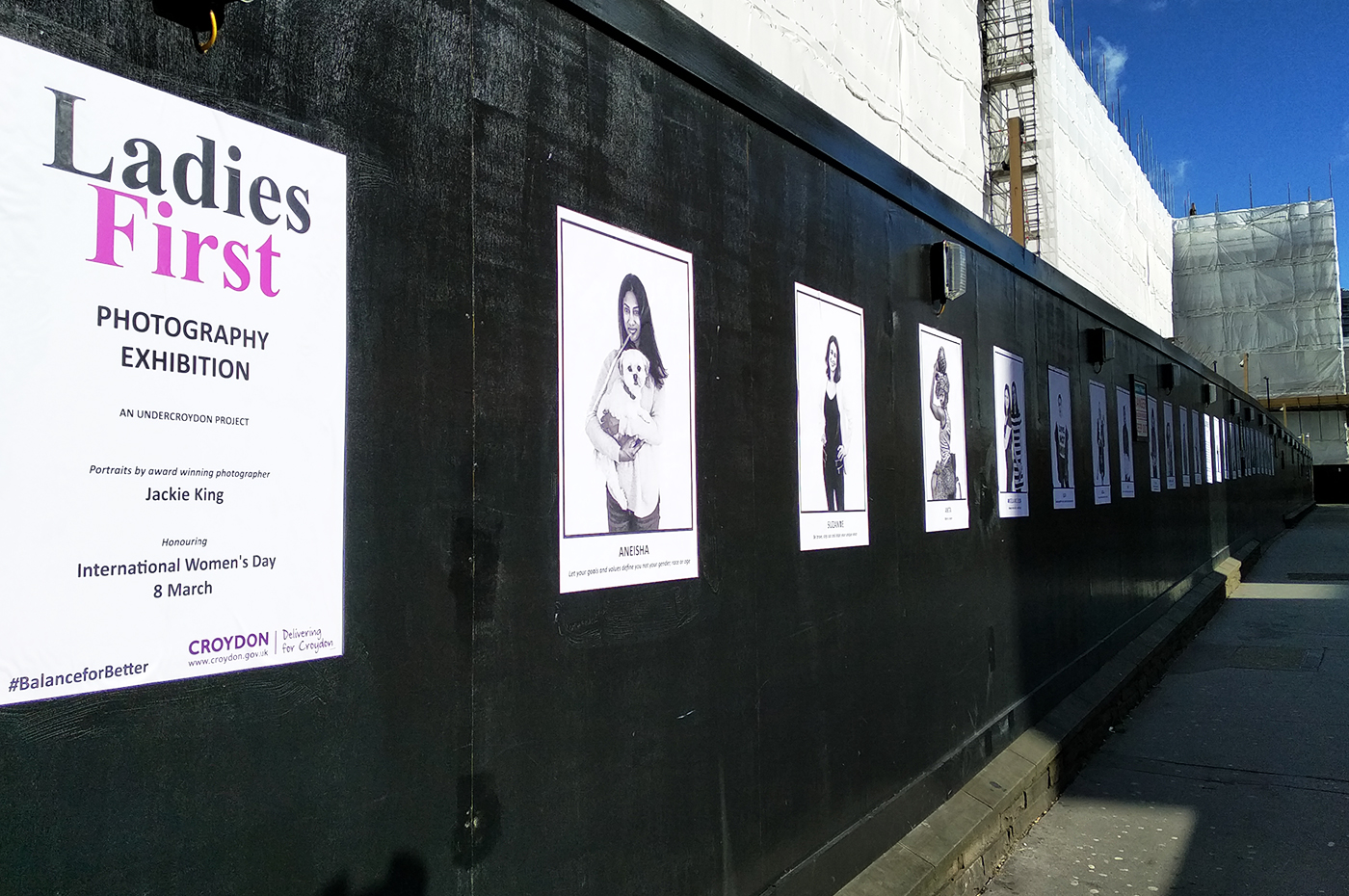 Images courtesy of Undercroydon and Jackie King. Header by the Croydonist adapted from exhibition content.
Posted by Julia