We've been huge fans of Kate Marsden's vibrant illustrations and fabric designs for some time now. Her work has a distinct mid-century vibe and often features modernist architecture, and sometimes (luckily for us) buildings from Croydon. Her Made by Mrs M shop on Etsy is a dream for people who love this style of design, especially if you're looking for a Croydon-specific gift. We last had a proper chat with Kate here on the Croydonist over three years ago, and hearing that she'd just published a new book, called 'The Beginner's Guide to Croydon,' we thought it was a perfect time to have another catch-up about her work.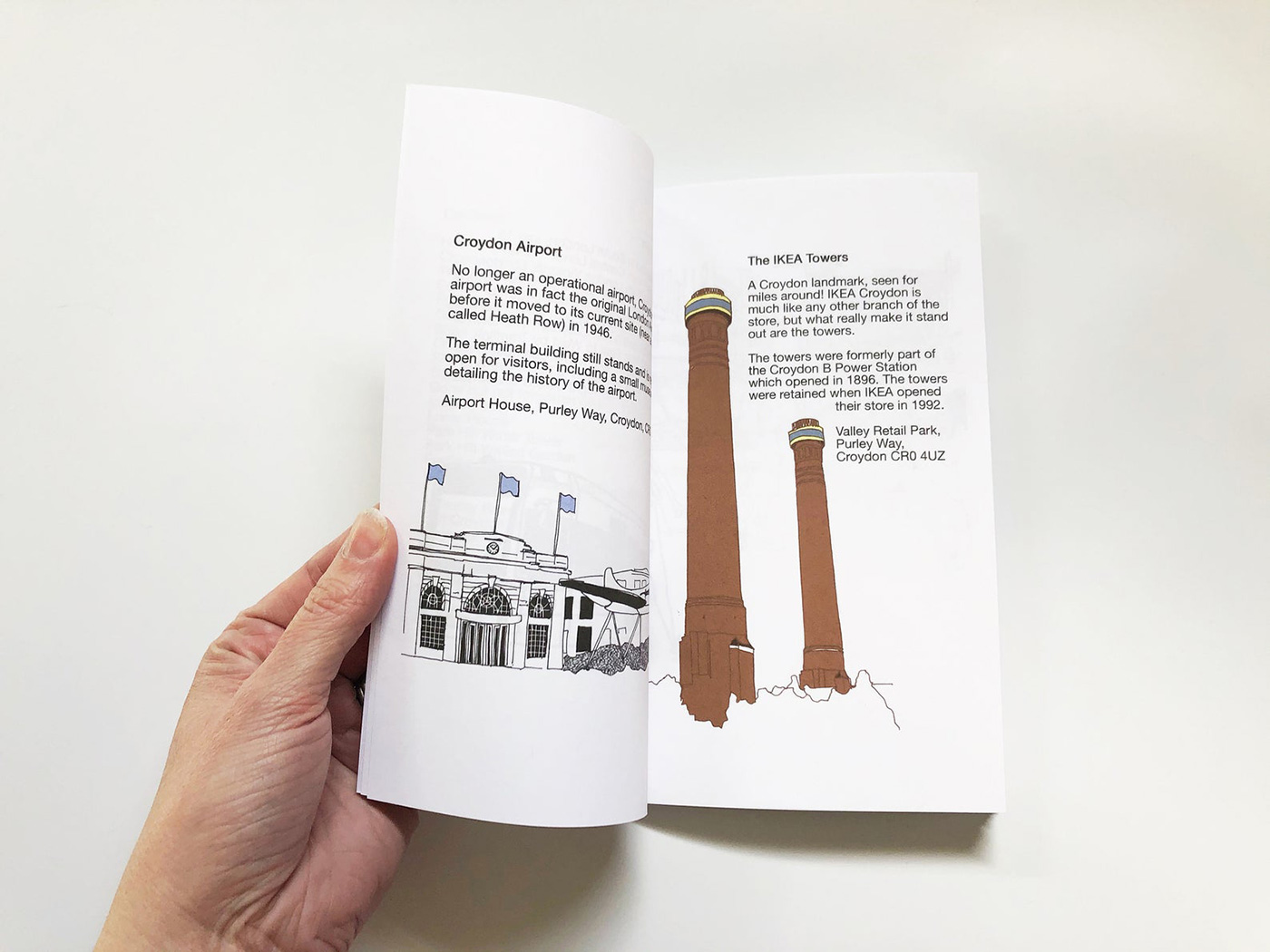 Croydonist: Since we last chatted, how do you think your work has developed?
Kate: I think my work is evolving all the time, and I tend to view each new piece of work or design as a more considered version of what came before. This doesn't always work though as I do still get the odd flop! Over the past year I've been experimenting more with printmaking and different styles of drawing. This doesn't mean I have any plans to radically alter my work, but doing new things definitely influences my designs and gives me fresh ideas.
Croydonist: We know you're not actually a Croydon resident (and live just over the border in Wallington). What is it about Croydon that holds your fascination? We assume you don't have the equivalent amount of work focussed on Sutton?
Kate: I don't! I think there are several reasons why I'm drawn to Croydon. Before moving to Wallington we lived in Tooting and Clapham – Wallington is very suburban in comparison, and I'm drawn to the hustle and bustle of central Croydon. In addition, my Grandad was from Addiscombe so I have a family connection (and Croydon always makes me think of him), oh and I can see the Croydon skyline from the back of my house, so it's constantly there inspiring me!
When I first started designing fabric I was drawn to the places people either didn't like, didn't appreciate or didn't notice at all. My first design featured the Park Hill flats in Sheffield which were once quite notorious – but I love a bit of concrete and clever architectural design and fell in love with them. I think my original Croydon work came out of this same idea – making people look at the place differently.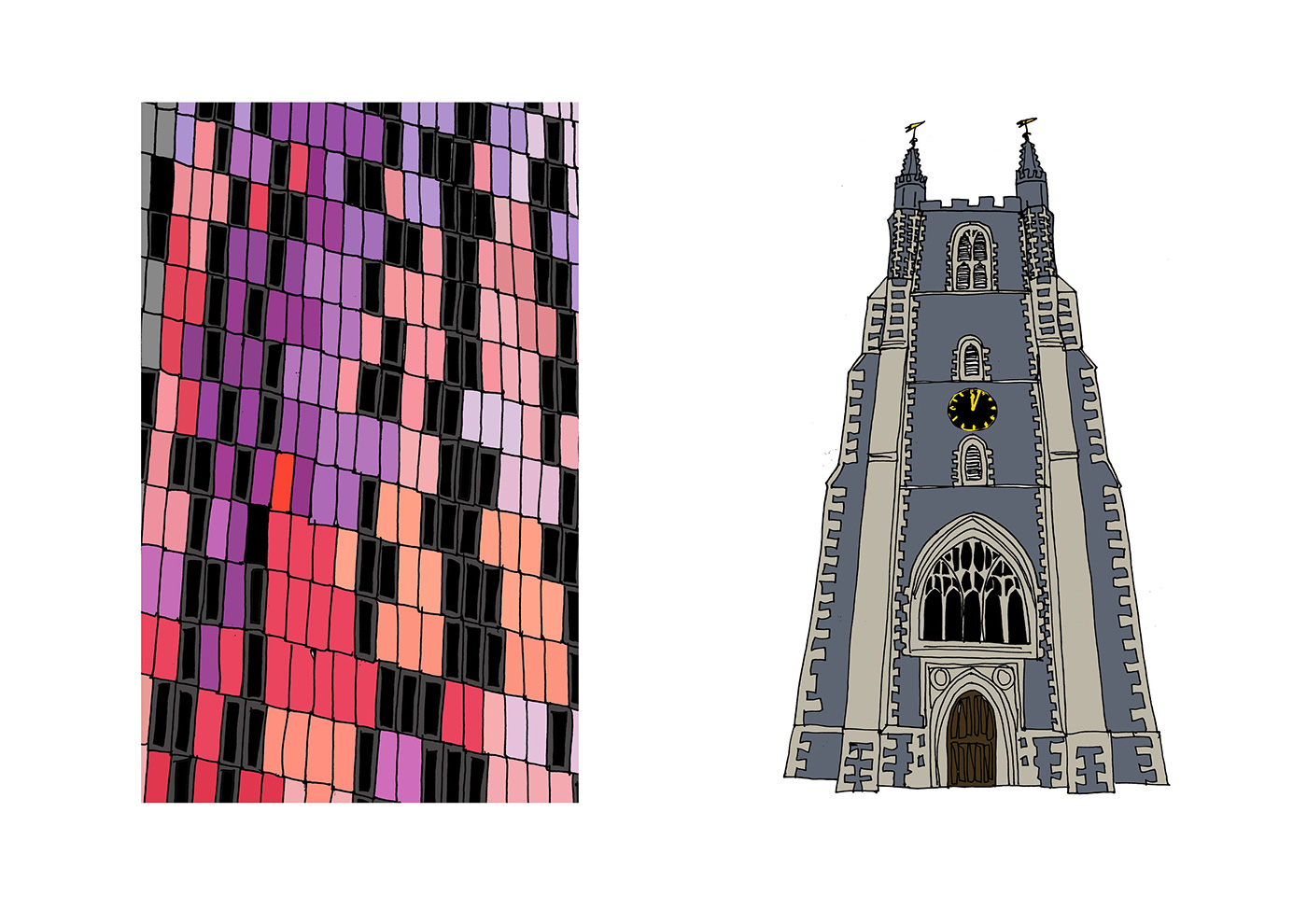 Croydonist: In the foreword to your new book you mention your low-fi 1980's style Croydon zine you created back in 2018 which is already sitting in pride of place on our bookshelf. The new book, which you describe as a 'sort of' tourist information guide, builds on this original zine. Do you think how you perceive any of the landmarks that are included in both, have changed since the zine? 
Kate: I obviously haven't left Wallington for a while (other than to go to the parcel post box!) but as time has gone by I've spent more and more time in Croydon, and getting to know and appreciate the place. So I think I'm looking at the landmarks from more of a position of fondness and familiarity than I used to. My love affair with Number One Croydon is constantly growing – it makes me smile broadly every time I see it!
I'm also a lot more familiar with Fairfield Halls now since having my wallpaper installed there during the refurbishment.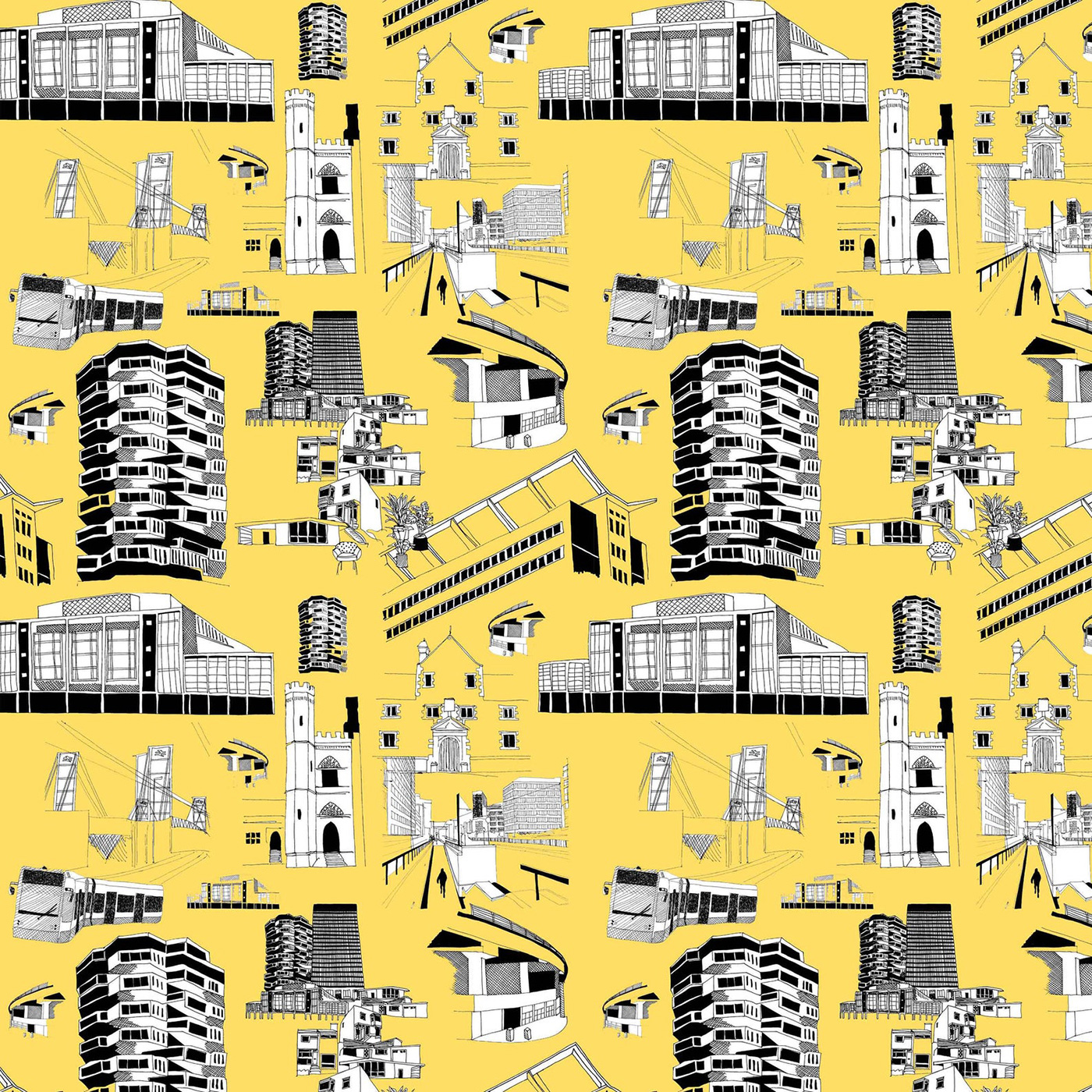 Croydonist: As you were creating a Croydon guide for newbies, did you feel like you were viewing the town with fresh eyes – did you notice anything new?
Kate: My aim with the guide was really to make people who are unfamiliar with Croydon look at it as a place that's worth a visit. Croydon gets a lot of bad press but it really does deserve the effort of a day out.
The fresh eyes I used were actually those of my Twitter followers! About a year ago I put out a call for the places and things people think of when someone mentions Croydon – and this call was aimed specifically at current and ex-Croydon residents. I wanted it to be positive and I got an overwhelming response.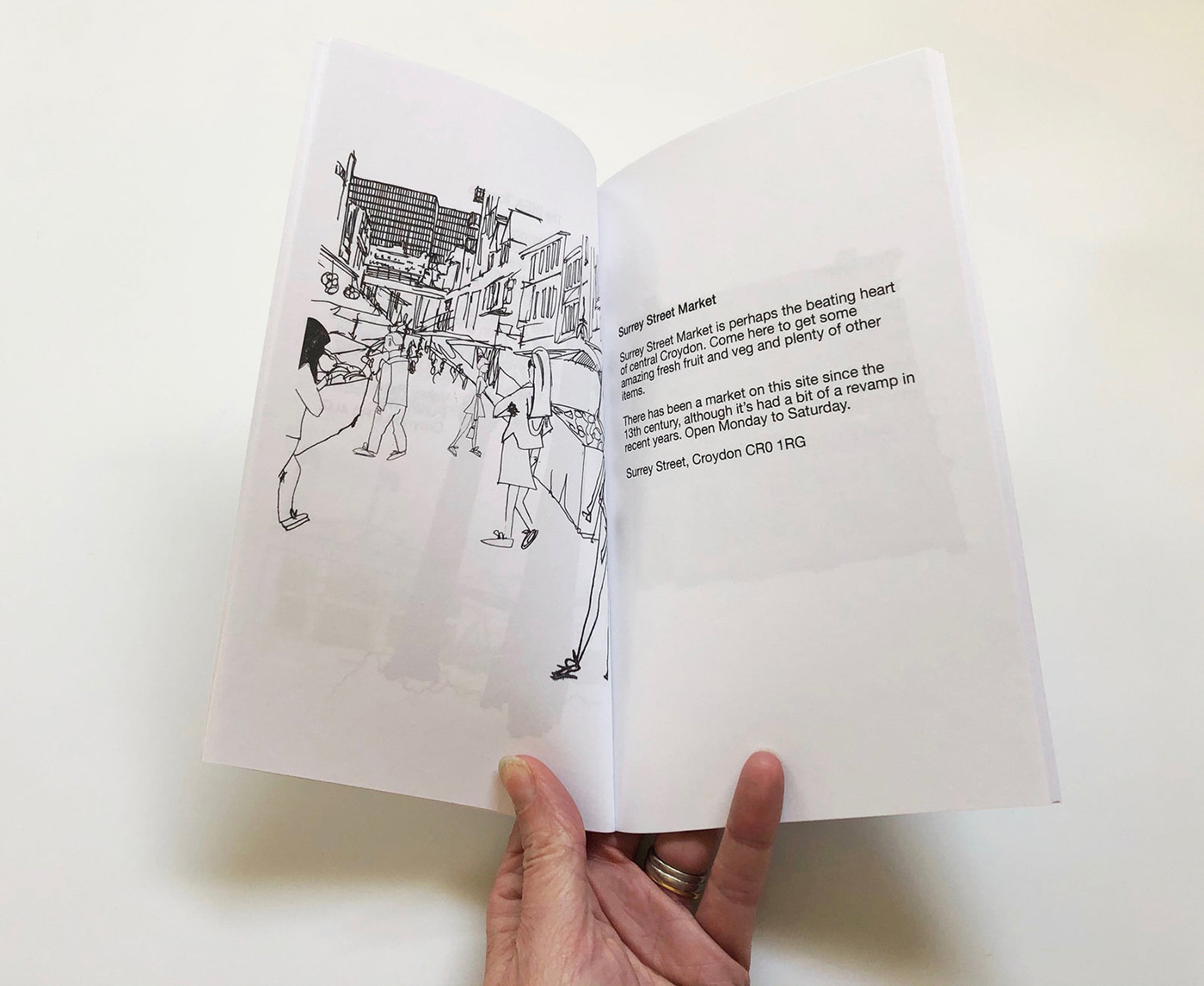 Croydonist: Do you have a favourite page in the book?
Kate: I'm really pleased with my illustration of Surrey Street Market – I'm trying to draw more people and I'm happy with how they turned out! I also love the Number One Croydon page but then I would…
Croydonist: How did you decide on the order of the places of interest in the book?
Kate: I didn't want to suggest that any one place was more important than any other, so it was fairly random (other than the how to get here page of course as that had to be at the start in true guide book style), otherwise it was dictated by layout and what worked well together.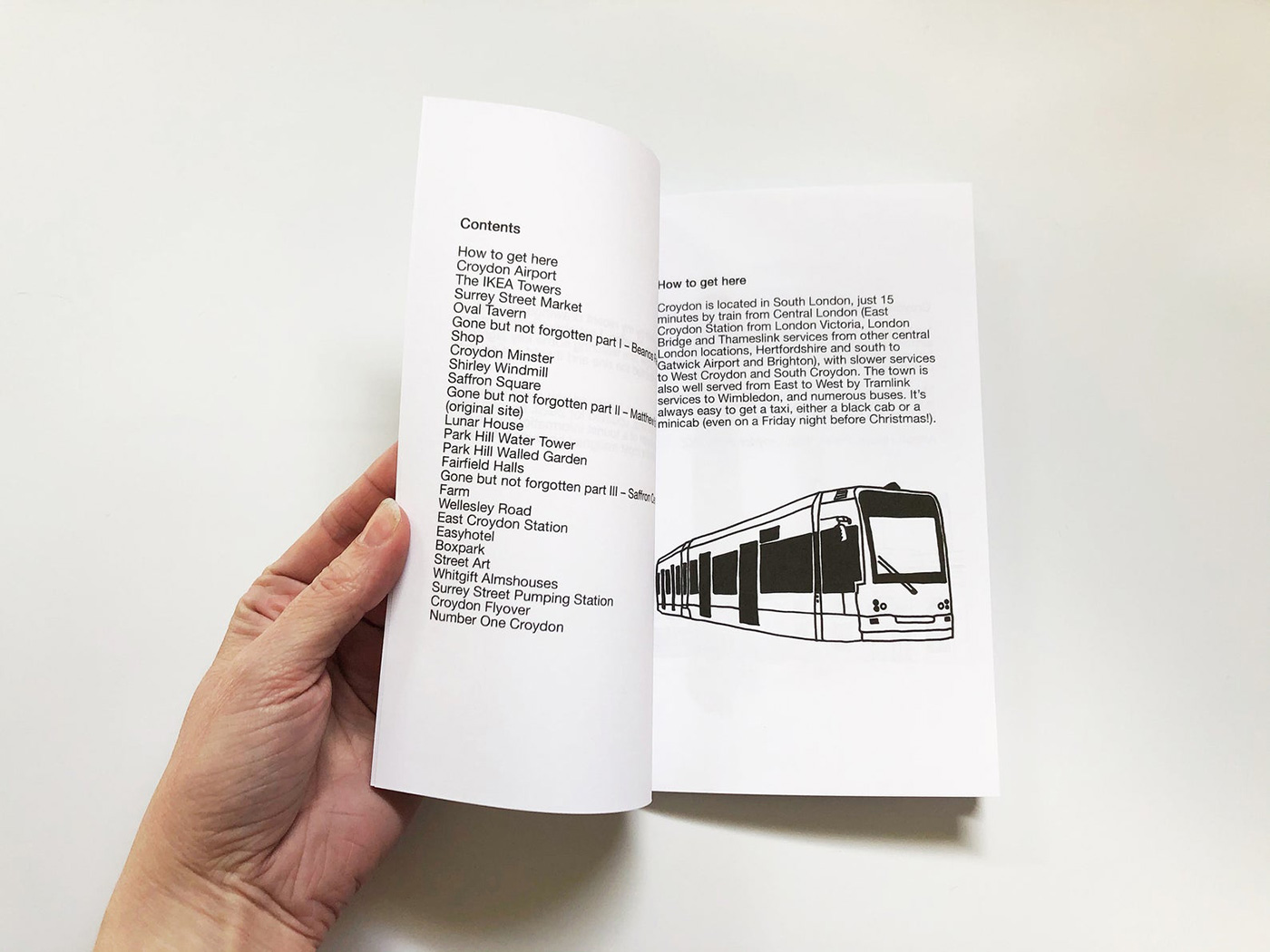 Croydonist: Was it difficult to decide what went into the book? Are there any places you'd be itching to add in a second edition? 
Kate: I tried to keep the pages down to a manageable number! If I make a future updated edition I'd like to feature more parks and open spaces, and maybe go into more detail with regard to places to eat, drink and stay, along with a brief history of the borough.
Croydonist: It's rather lovely that you have some places included that are no longer part of the current Croydon landscape. Why was it important to you to include the 'gone but not forgotten' places?
Kate: I think this helps to paint an overall picture of the town. These places also kept cropping up when people made suggestions for the book, so I really felt that they had to be included. It's sad when somewhere becomes an institution, or is partly responsible for positive changes in a place, and is then written out of the history when it's no longer there.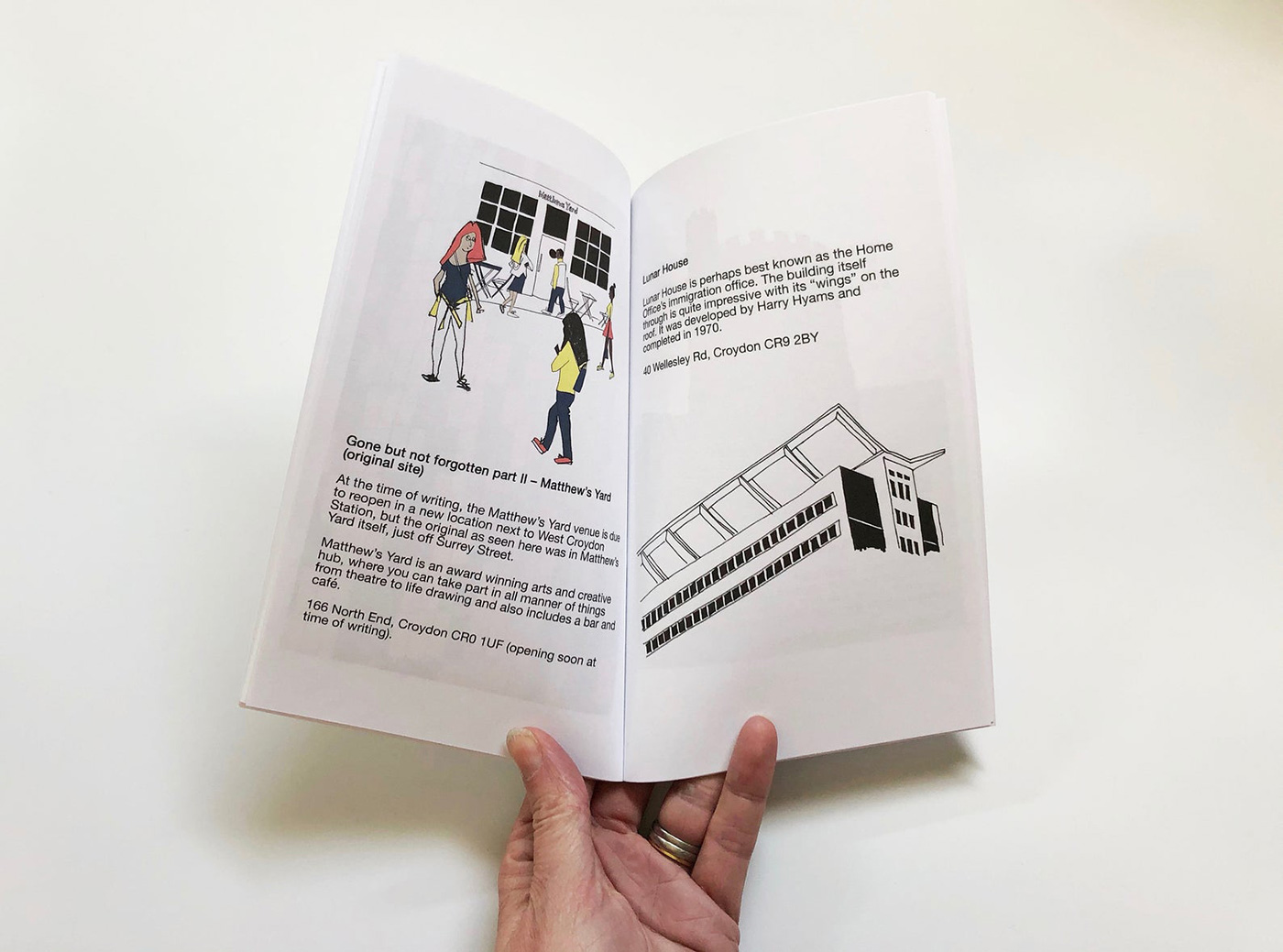 Croydonist: We loved your 'A-Z of British Buildings' that you published last year. Do you have a favourite building in the UK?
Kate: Yes, it's Number One Croydon again! My absolute favourite building is actually the Chrysler in New York.
In the A-Z I set myself the challenge of drawing a building for every letter of the alphabet based upon UK location, and it was actually a really interesting experience (and I discovered some wonderful buildings which I didn't know about previously).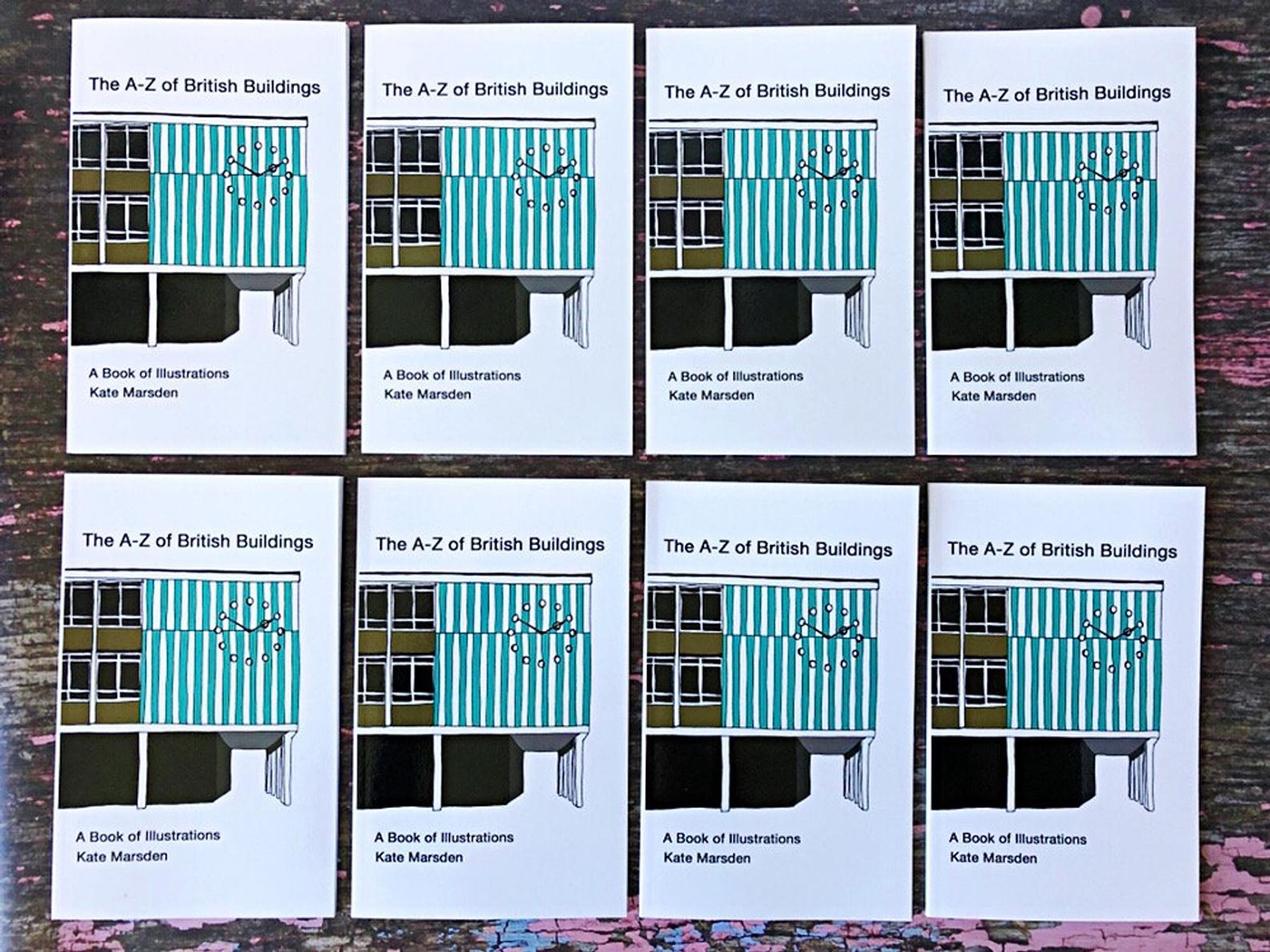 Croydonist: Do you think lockdown has affected you as an illustrator?
Kate: I think it's made me experiment more. I've almost filled a sketchbook since the middle of March, which is unheard of for me. I've also been working on self-portraits, life drawings and a 100 day project creating patterns with Posca pens, and of course attempting to teach my 10 year old son! Our art lessons have been going really well at least…
I suppose the only way to really see how this affects me ultimately is to take a look at my work in a year from now, and see what direction I've ended up heading in.
Croydonist: What Croydon spot do you usually go to for inspiration?
Kate: George Street looking towards Number One Croydon, the foyer at Fairfield Halls (not just to check up on my wallpaper, honest!) or Park Hill Park.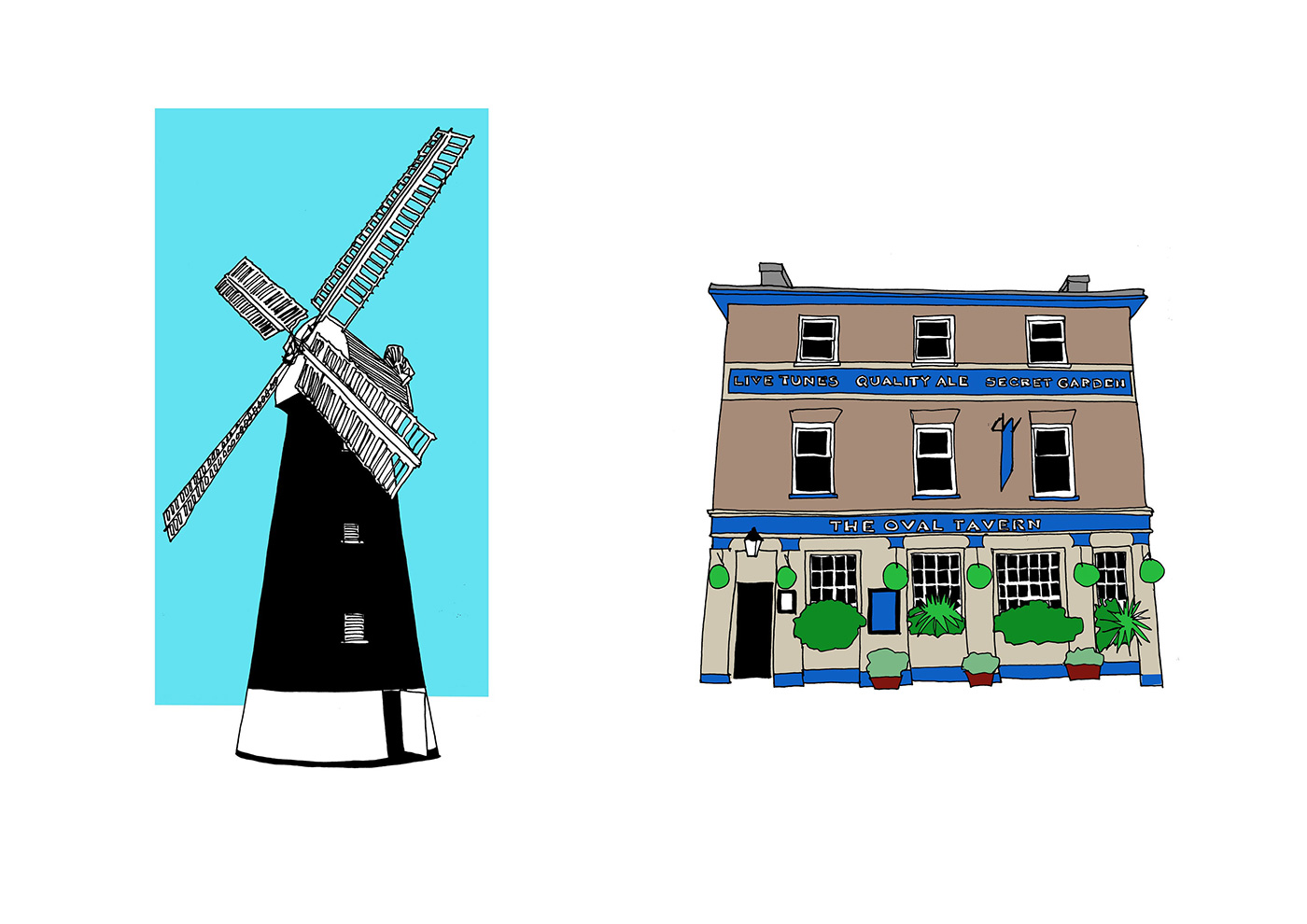 Croydonist: Where in Croydon are you most looking forward to visiting when we are allowed to again?
Kate: I've had a really strong craving for a Spanish empanada for weeks now, so I can't wait to go and eat as much of it as possible at Galicia. Mmmm empanada…
Croydonist: What have you got planned next?
Kate: Right at the moment I'm working hard to promote Carshalton Artists Open Studios which we initially cancelled but is now back as an online event. I'm on the organising team, and I need to start planning what I'm going to do myself as well. I'm aiming to run an online workshop, studio tour and more. Check out carshaltonartists.com to see what we're getting up to and join us from your sofa from 27 June to 5 July.
After that I think I might need a rest!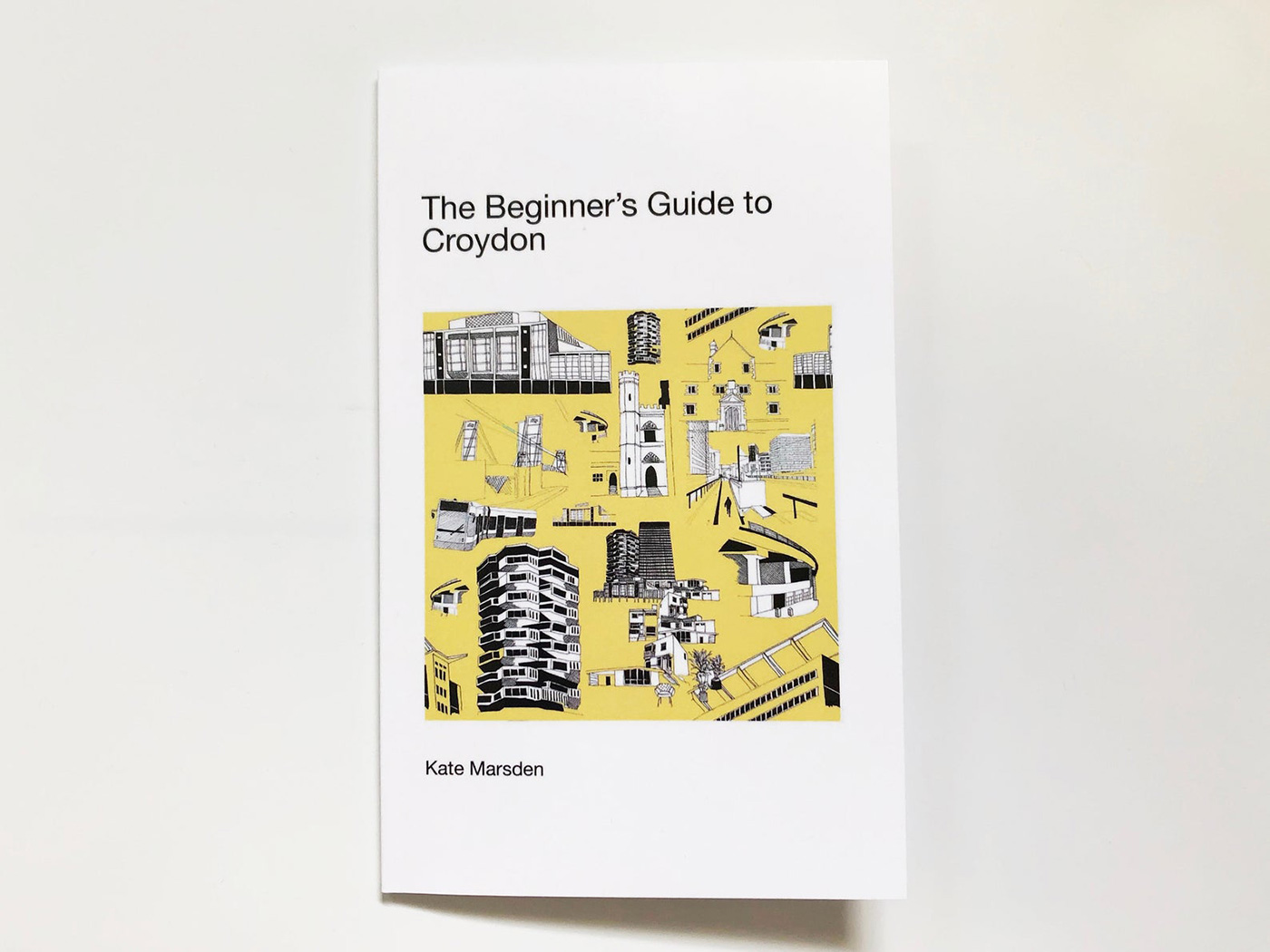 A big thank you to Kate for chatting with us. You can buy The Beginner's Guide to Croydon here, or browse the rest of Kate's shop here. Keep up-to-date with her work on Instagram, Twitter and Facebook.
All images courtesy of Kate Marsden.
Posted by Julia