Croydon has a rich history of musical talent, from the likes of The Damned and St Etienne to more recent names such as Stormzy and Grime duo Krept and Konan. There's something about our borough that is just so darn good at producing creativity. Maybe it's the melting pot of cultures or the continuous regeneration and political climate sparking both excitement and anger that fuels so many to produce art and music?  One thing's for sure is that the creative talent just keeps coming, and I wonder who will be the next big name to enter into Croydon's entertainment history? One such person hoping to make their mark is ex X Factor contestant (almost a tongue teaser there!), Leah Mckenzie. For those who don't know, Leah Mckenzie is a Croydon local, musician and presenter well on her way to fame and fortune.
Croydonist: Leah, tell us a bit about where you're from in Croydon and how you came into the world of music?
Leah: Born and bred in Croydon, we moved around quite a bit, we lived in Selhurst majority of the time, but have also lived in South Norwood, Mitcham Road and Crystal Palace. I'm currently based in New Addington, which I absolutely love. It's really quiet and it's got an amazing community spirit. As for how I came to the world of music, I've always been into it since I was a young kid. I was never really a child to sit down and watch TV, I would always get up in the morning, put my music on and just dance and sing in the mirror all day with my karaoke set. I always knew that part of my destiny was to be a singer – my mum and dad are very much into their music too.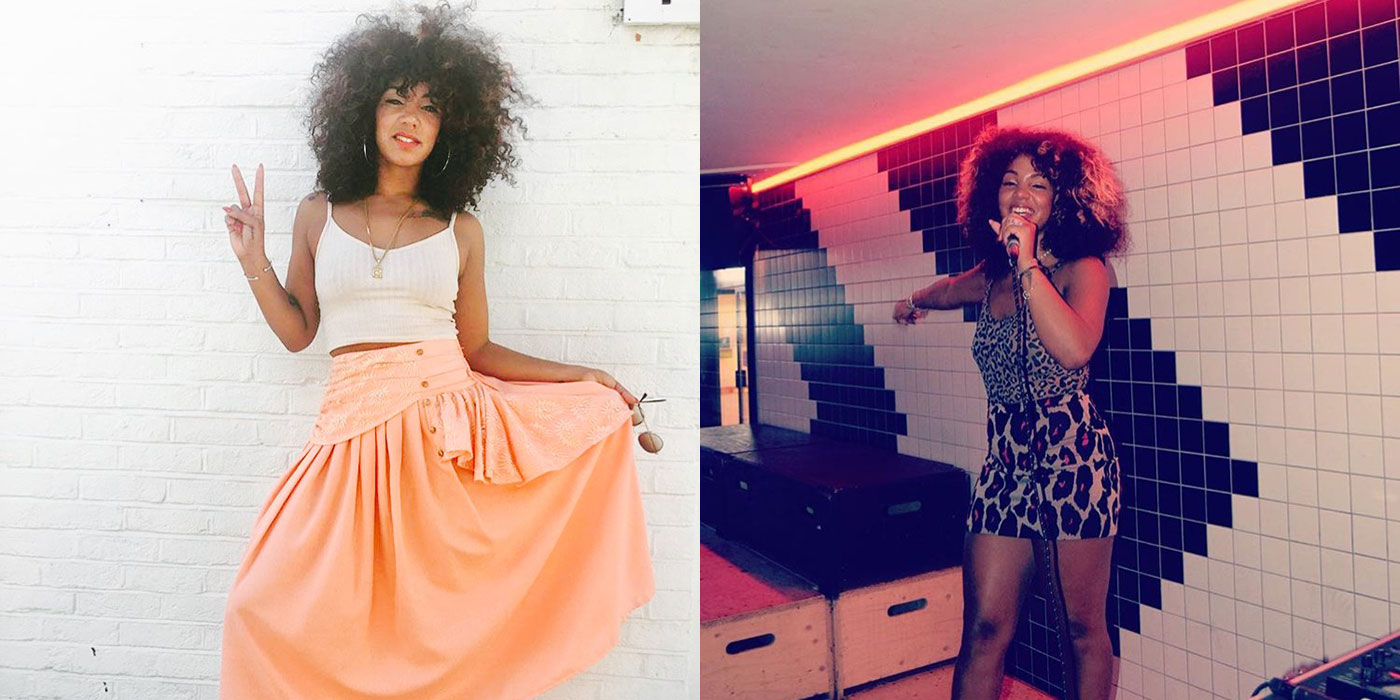 Croydonist: You were a presenter on Croydon Radio before its sad closure. Do you have any plans to return to the world of radio?
Leah: Yes, I was lucky enough to have a show on Croydon online radio, it was called 'Leah Mckenzie's Talk Time'. It was really cool and it was a nice way to start my journey so I would definitely like to get back on the airways.
Croydonist: You made it through to the X Factor boot camp in 2016 – can you tell us a bit about your time with the programme?
Leah: Going on X Factor back in 2016 was an absolutely awesome experience and a great opportunity. I think that Simon Cowell has given people like myself a platform to use and some of us are lucky enough to get that great exposure. I loved every part of it; meeting other singers and artists, waiting around for hours and the choreography. It was lovely to meet Simon in person and also all the other judges – I got some great feedback from them all. One thing that Simon did say to me was that 'you've got a great professional attitude, to keep it up' which really inspired me.
Croydonist: Since X Factor, what have you been working on and what are your up and coming plans?
Leah: I've had quite a lot of shows. As you know I did Croydon Pride which was great, plus a few gigs here and there. I have also been working on myself as an artist because I feel that who I portrayed on the X-Factor was not really who I am as an artist – I think I came across a little bit too well behaved. Realistically that is only one part of me. I think I'm a little more wild and a little bit more in your face. I felt shy showing that as I didn't want to come across too strong. Since then I have become a lot more comfortable in my own skin as an artist, I've started going out there doing hosting, presenting and modelling which made me realise it's not just singing I want to get into, it's the whole showbiz industry. I would love to have my own online talk show by the end of this year.
Croydonist: Where can we hear you perform next?
Leah: For the rest of the year I'm going to be focused on my EP and getting my talk show up and running. I'm doing gigs here and there so people should check out my social media for the latest news on what I'm up to. My next gig is going to be at The Canalside in Birmingham on 21 October which I'm really excited about.
Croydonist: Ok, Desert Island Discs type moment. You're about to be stranded on an island, what are the three albums you would take with you and why?
Leah: Michael Jackson – All hits. Rhianna – All hits. And a meditation CD that is just endless sounds of waterfalls, rain, wind blowing, just anything natural.
Croydonist: And here's another random question… dinner party time, you can invite any 5 people, who would they be and why?
Leah: Mine is perhaps a cliche choice, but it would have to be Michael Jackson, Princess Diana, Elvis Presley, George Michael and Muhammad Ali. Actually, I want to have a few laughs so I'll put Eddie Murphy in and I'll let George Michael go.
Croydonist: Back to the music industry! What would your advice be to anyone about to start out in the world of music?
Leah: Try to get to know yourself as an artist and know the reason why you're doing music. What drives you, what message are you trying to bring, how are you trying to affect people's lives? Because every single artist, no matter what type of genre they're interested in, is going to affect somebody's life, whether it's positive or negative. I would say get as much training as possible because at the end of the day you have got an instrument and it's great to be able to train it up to the best it can be. I definitely need to take a leaf out of my own book when it comes to that. Also try to write your own material, I think that true artistry comes from within – you can't teach it or copy it. It's about practice, rehearsal and confidence.
Finally a few Croydon specific questions…
Croydonist: A drink in the Dog & Bull, Matthews Yard, The Spread Eagle or Boxpark?
Leah: You can't make me choose between those great spots! They are four of the best spots in town, depending what vibe you're wanting. I find the Dog & Bull is always a great place for lunch if you're at work or fancy a quick cheeky pint on a Saturday afternoon. Plus it's got a beautiful beer garden. Then Matthew's Yard which is really quirky, is so chilled, laid back and down to earth. Then you've got the amazing Boxpark, come on, it's absolutely buzzing, you can have a few drinks and next thing you know you've got Boxpark bar open till 1am Thursday, Friday and Saturday so you can have a little boogie. They are all amazing. The Spread Eagle is a beautiful traditional Croydon pub, so I'm sorry but I'm not going to choose any of them, I think you should check them all out.
Croydonist: A walk around Lloyd Park, Park Hill, Addington Hills or Croham Hurst Woods?
Leah: I must say I do have a soft spot for Addington Hills, the view from up there is absolutely beautiful, I recommend you check out the Chinese which is sort of hidden on your way to where the view point is, I suggest a nice little drink after dinner and then take a little stroll 2 minutes down the path and the view of Croydon and the big city is wonderful. It also has a forest area which I find very enchanting.
Croydonist: Shopping on Surrey Street, Purley Way, Whitgift or Crystal Palace Triangle?
Leah: I like to go to Surrey Street Market for my exotic fruit and veg. It's also got a cute little vintage retro stall that I like to check out. I get my nails done down there at Touch and Beauty. It's an amazing salon and really inexpensive, the owner Rose is absolutely sweet and entertaining and also Nam and his colleagues who are all great at what they do. Everyone should definitely check that place out.
Thanks to Leah for chatting to the Croydonist. You can keep up to date with Leah's music here, here and here.
Photos courtesy of Leah Mckenzie – Croydon Pride images by Olivia Connolly, Thornton Heath Festival images by Cllr. Carlton Young and Fluid4sight.
Posted by Angela