Lis Watkins describes herself as drawing her way through life – she is an illustrator who lives just over the Croydon border in sunny SE20, but you can regularly spot her out and about in our lovely borough, sketching. We caught up with Lis to chat about mark-making in the Cronx and beyond.
Croydonist: I'm going to jump right in with the most obvious question – how did you become an illustrator?
Lis: I always loved art at school, having some really inspiring teachers who encouraged me to go and study on an Art Foundation Course at Brighton. I followed that with a degree in Graphic Design at Kingston, specialising in Illustration.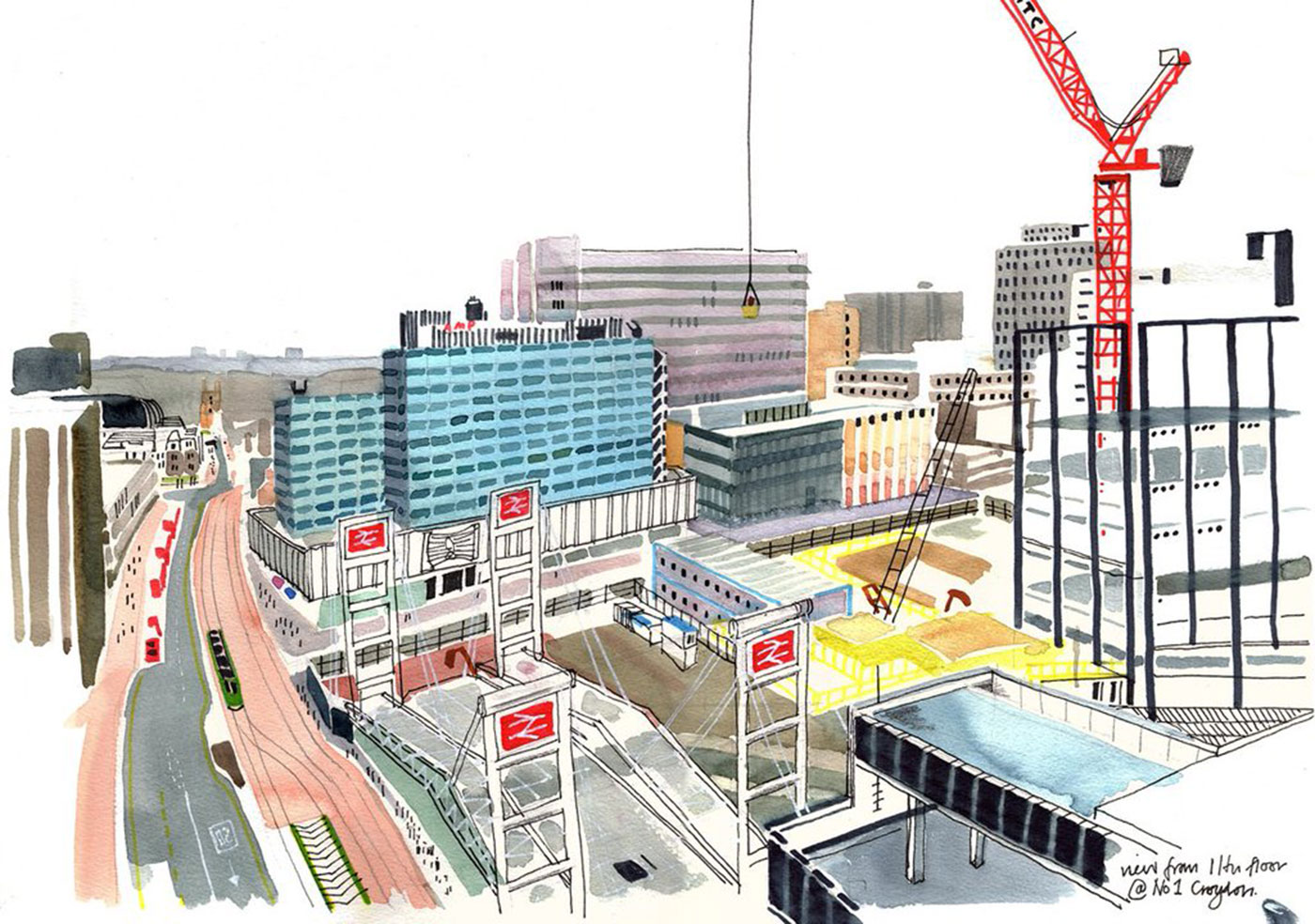 Croydonist: You describe yourself as creating 'Watercolour illustration and reportage drawing' on your website. You're very versatile – you draw people, pets, food, cars, buildings… I am a bit of a fan of Croydon architecture so obviously love your urban illustrations – do you have a preferred subject?
Lis: I love drawing and I'm also nosy, so I'd happily draw anything, anywhere.  Buildings are great because they don't move!
Croydonist: What does your typical work day look like?
Lis: Probably not as organised as it should be!  I tend to start the day emailing roughs or artwork to clients, answering emails and checking my 'to do' list. If I have an illustration job, I'll work on that – I tend to work quite quickly so often get jobs in that have tight deadlines, which run into evenings and weekends. If I haven't got specific illustration work to do, I might plan a new piece for my portfolio, work on the marketing side of things or go out sketching.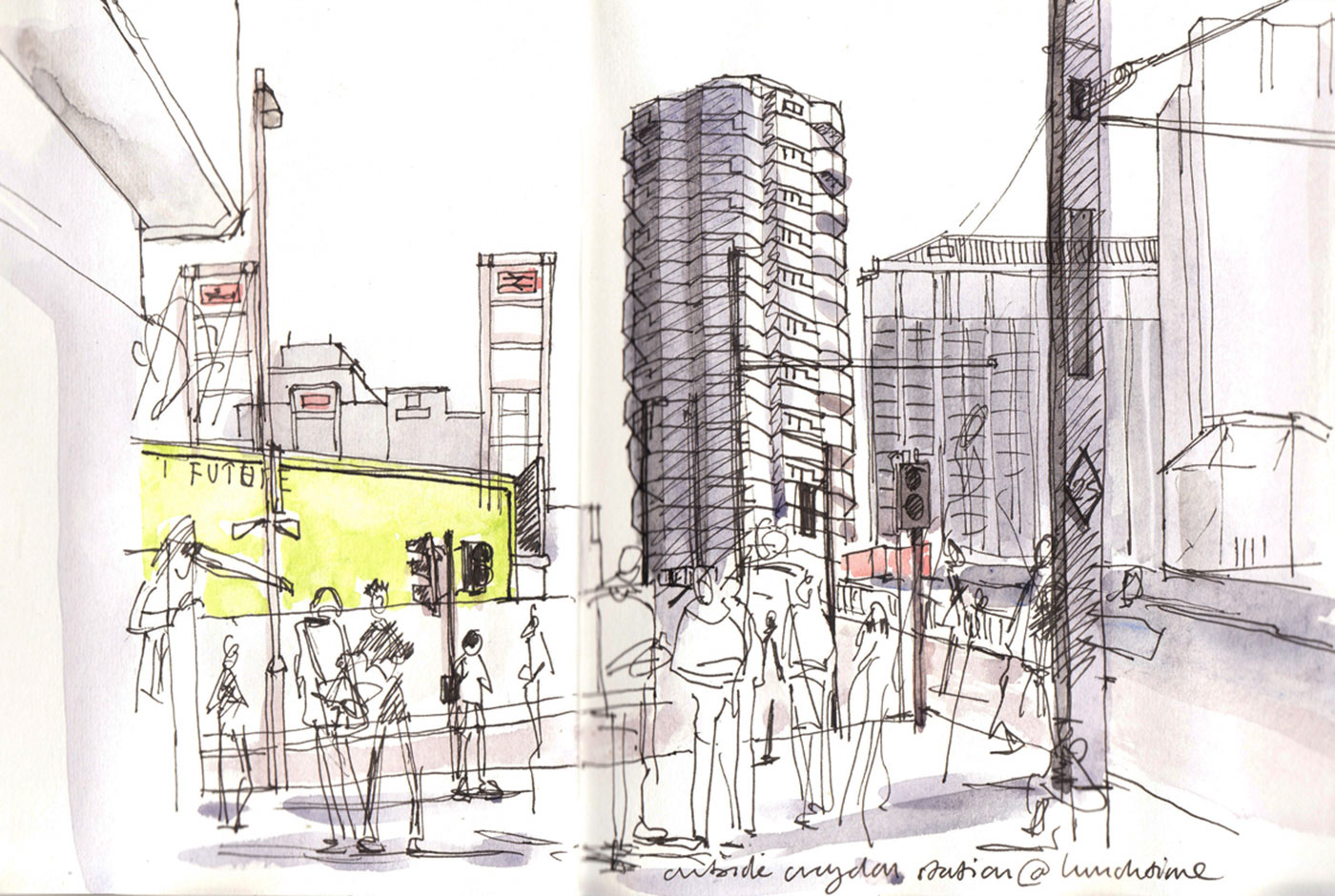 Croydonist: How long does a drawing take on average?
Lis: It depends. My sketchbook drawings usually take anything from 10 minutes to an hour/an hour and a half. Illustrations can take a lot longer. I've illustrated a few maps and then the majority of the time is spent putting the whole thing together in Photoshop.
Croydonist: If you had to pick your favourite piece of work what would it be?
Lis: This is a tricky one. I always hope that the next piece I do will be my favourite. At the moment if I had to pick one, it would be a drawing of a bus stop at night, which I did at college.  It probably sums up the urban landscape that I like drawing.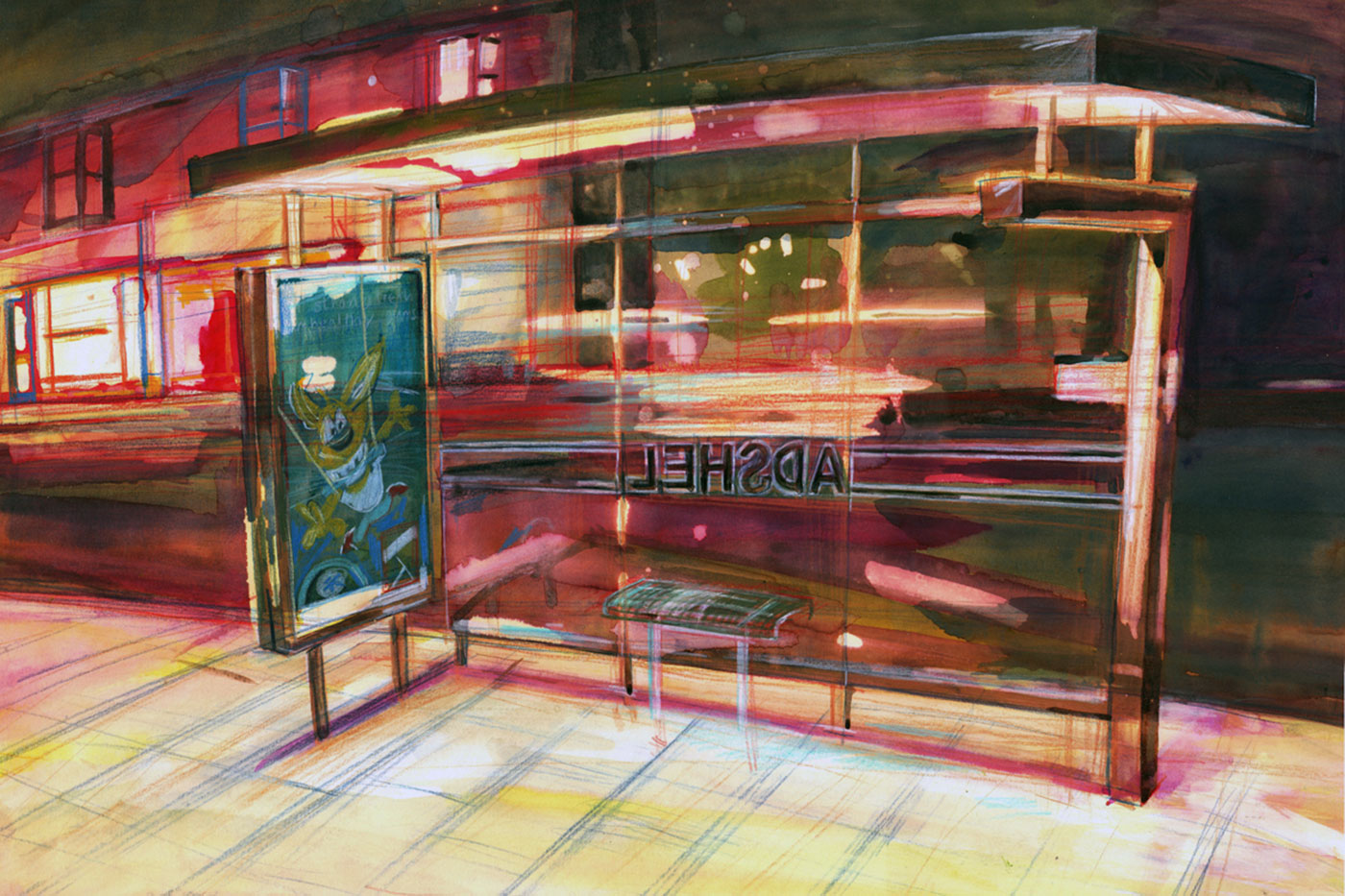 Croydonist: Am I right in thinking you are part of the Urban Sketchers community – what does that involve? Can anyone join, or do you need to have certain credentials?
Lis: Yes, it was a big moment for me when I discovered the Urban Sketchers community! I'd always enjoyed drawing on location so discovering that there were people all over the world doing the same thing was great. Anyone can be a part of the community, you just need to follow a few guidelines which are essentially that all the drawing must be truthful and made solely on location. Full details at Urbansketchers.org
I'm part of the London chapter and we meet up once a month at a 'Sketchcrawl' where we visit an interesting part of London, sketch and then meet up at the end to share our work. There isn't any tuition but it can be interesting to see what techniques and materials other people use. The next one is at Covent Garden on 10th December.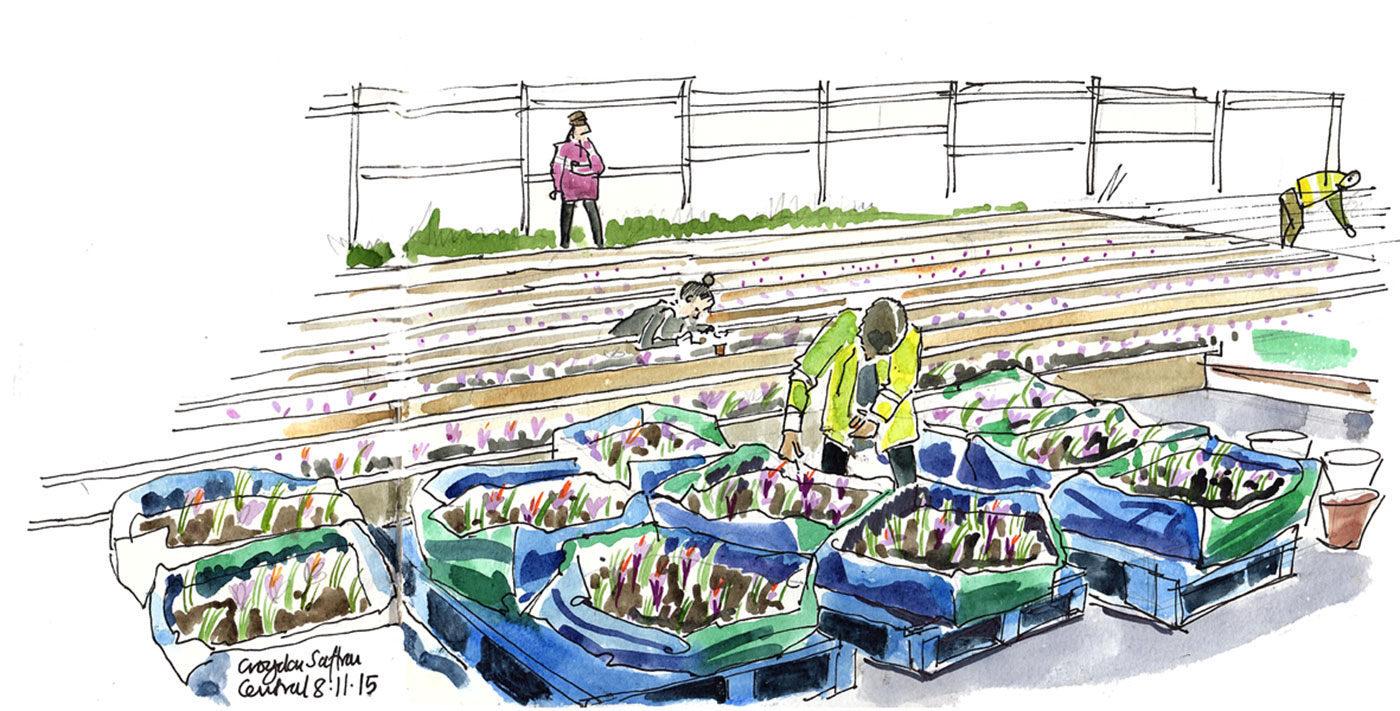 Croydonist: What has your most quirky commission been to date?
Lis: I drew in a cellar last year, when someone wanted a drawing of their wine store which was interesting but not particularly enjoyable. I decorated one of the bus sculptures which were around in Croydon at the end of 2014 which was the biggest piece of work I've ever done and quite a challenge. This year I had a very last minute booking for an online commercial for Windsor and Newton. I spent a day in a freezing film studio in East London with about a dozen people focussing entirely on my hands. It was completely nerve wracking but amazingly the finished film looks great.
Croydonist: You've recently celebrated your 5 year anniversary of your online sketch book Line and Wash – what gave you the idea to start one?
Lis: I went to a reunion with old art college friends in September 2011 and realised how much I missed being really creative.  Lots of my friends had started blogs so I thought, why not?  I set myself a target of doing a drawing a day for a year and then just carried on. Nowadays I post photographs and ideas too but I still try to do something everyday.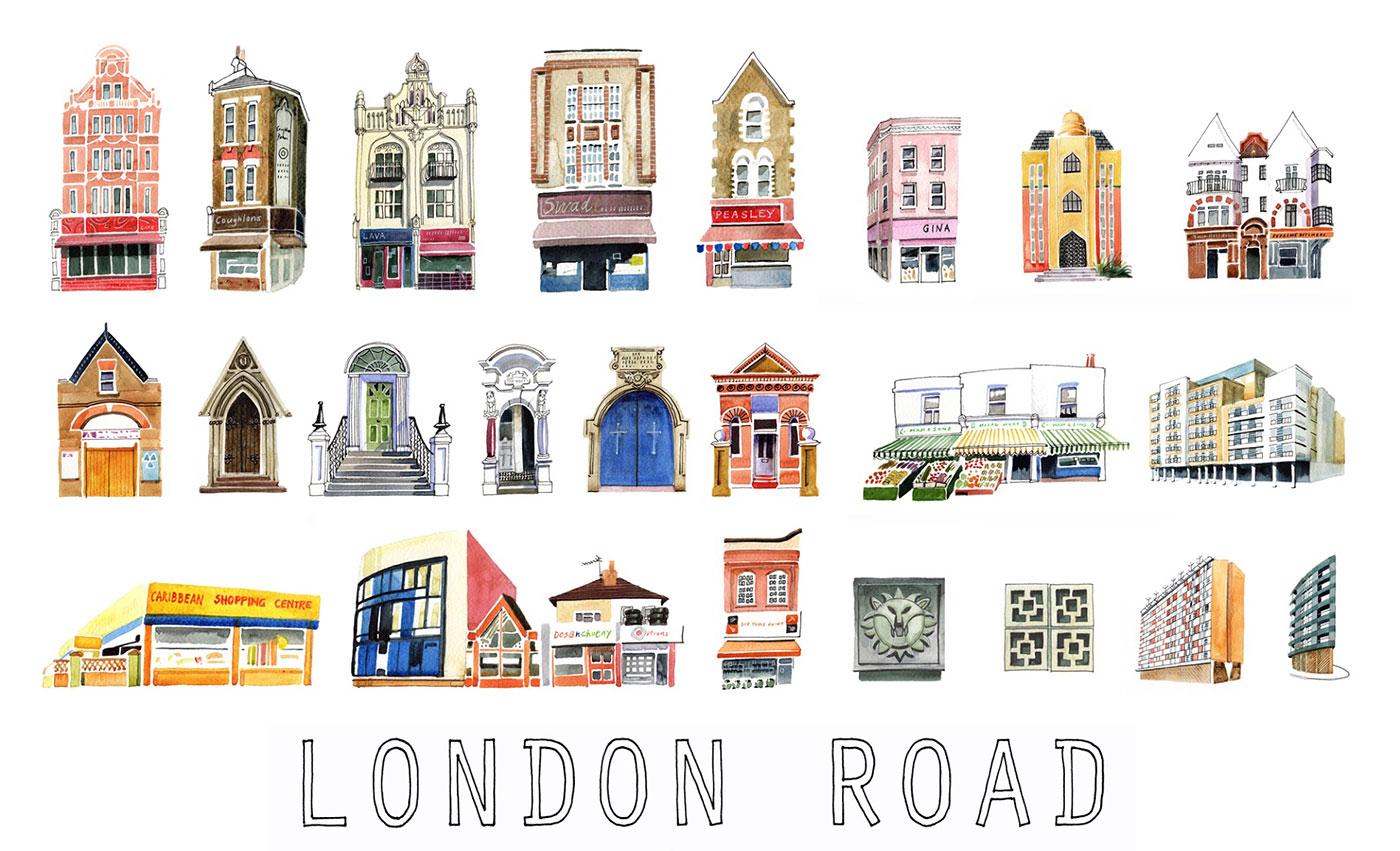 Croydonist: I very much like your illustrated compilation of buildings along the London Road – do you have a favourite Croydon building?
Lis: There's such a variety of architecture in Croydon that I'm not sure that I have a favourite. I do think that the Saffron Tower is very elegant and I love the shape of the Easy Hotel which is tucked behind the NLA Tower. There are some lovely facades on the buildings around George Street and near the main Post Office.  The London Road piece was inspired by Kake Pugh who is compiling an epic social history of London Road. I don't know if you have read any of it? http://london-road-croydon.org/history/
Croydonist: We hadn't seen this, but we have now subscribed – a fascinating project.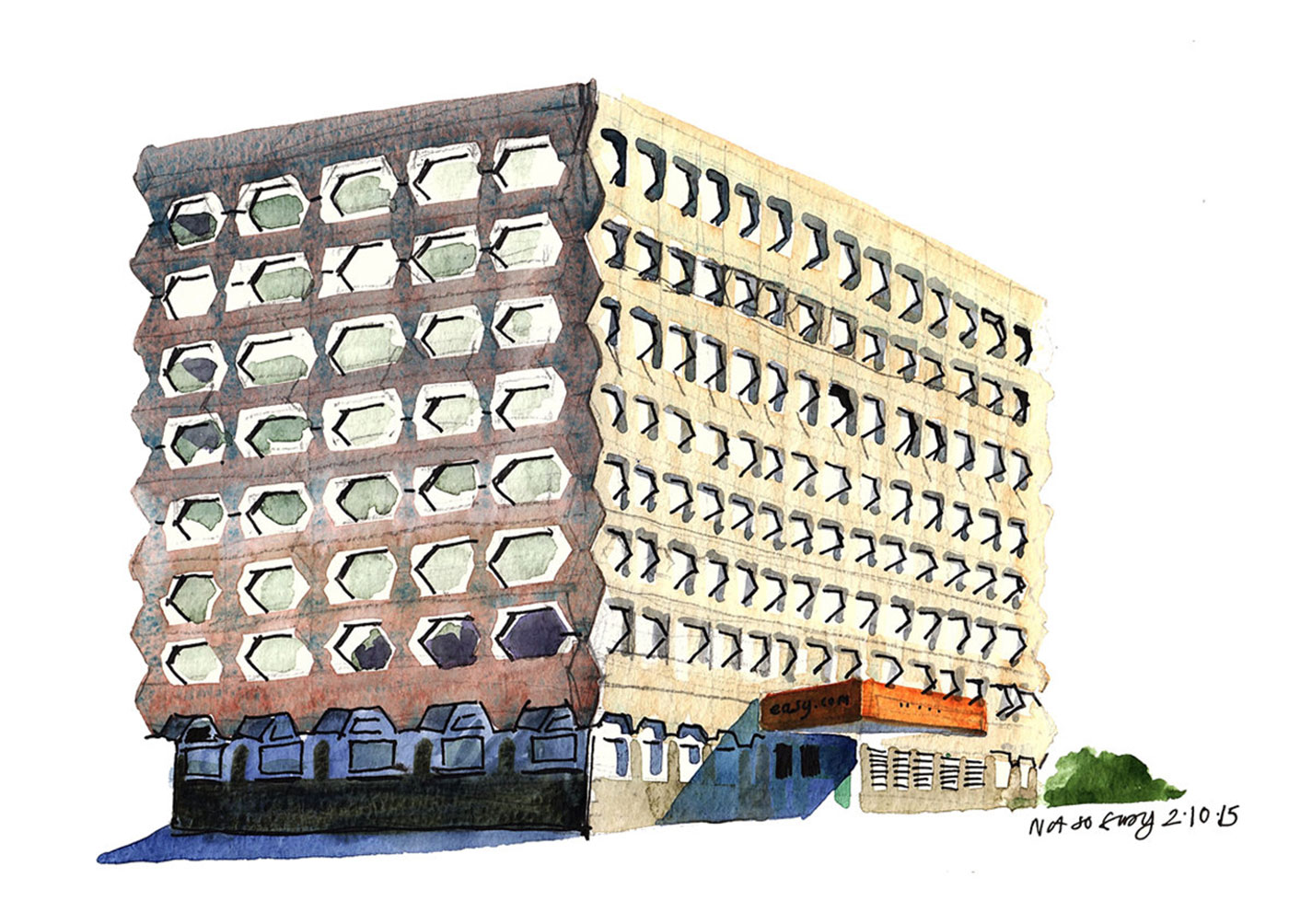 Croydonist: We're getting to be quite the gallery borough, not just with the likes of RISE, Turf and Descart.es in the centre but Art Rebellion in Coulsdon, Café Adagio in Addiscombe and Elizabeth James Gallery opening in South Norwood this week, to name a few. Do you have a favourite Croydon gallery?
Lis: It's lovely to have so many galleries to visit now and I've been lucky enough to be invited to show work at quite a few of them. If I had to pick a favourite, it would be Turf. I looked through the window the other day and they have an installation that looks like something you would see in the Saatchi Gallery. I don't claim to understand a lot of the art they show but I always find it intriguing and thought provoking. A contemporary art gallery in Croydon was always going to be a challenging project and I really admire Alice and the team for involving the local community and making it a success.
Croydonist: You currently have a show at Studio Upstairs in the centre of Croydon. What's next for you?
Lis: I have a few drawings and prints on display at Studio Upstairs until Christmas, and also some prints at Art Rebellion in Coulsdon. I'm involved with the 'Made in Croydon' project and am hoping to develop some products using my drawings. I'm currently making the world's most expensive tea towel.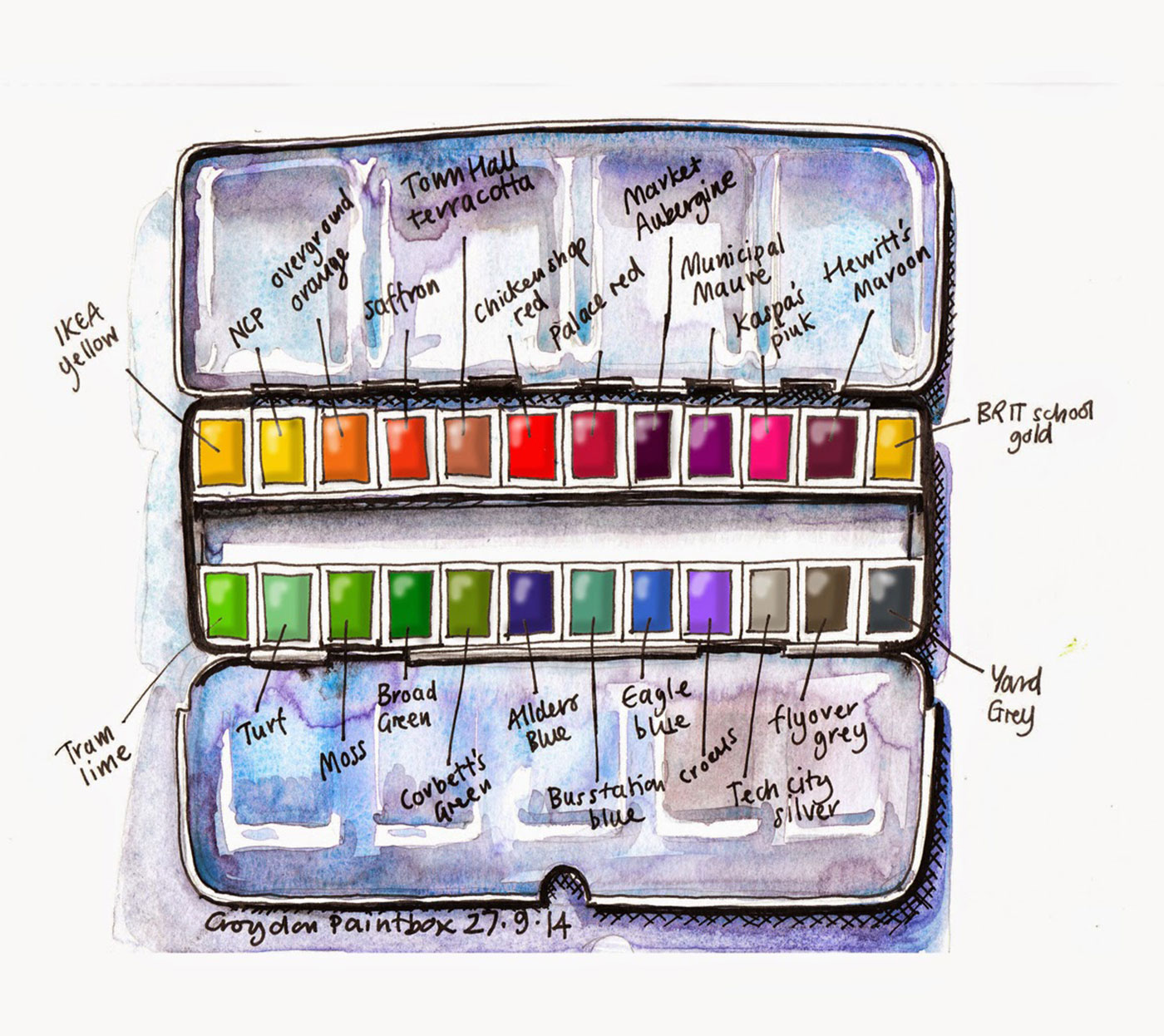 Finally some Croydon specific questions…
Croydonist: A coffee in Smoothbean!, Matthew's Yard, Byte Café or Boxpark?
Lis: All of the above, especially Matthew's Yard, which has been a great place to meet local creative people and see really interesting artwork.
Croydonist: Shopping – Whitgift Centre, Centrale, the Purley Way or Crystal Palace Triangle?
Lis: Whitgift Centre.
Croydonist: A film at David Lean, Grants, or Stanley Halls?
Lis: Last film I saw was "Twenty feet from stardom" at David Lean.
Croydonist: A walk in Lloyd Park, Wandle Park, Park Hill or Addington Hills?
Lis: Park Hill is lovely with a beautiful walled garden and the amazing water tower.  I've drawn there a few times now and Wandle Park too, since the redesign.  Haven't explored Lloyd Park or Addington Hills yet.

Thank you to Lis for chatting to the Croydonist. You can see more of her work here and here.
All images courtesy of Lis Watkins.
Posted by Julia