This week Croydon-based photographer Michael Shilling joins us as guest writer to talk about his 360 London street photography project, and how his interest in Victorian photography in Croydon led him to start a new photographic genre. After formally training as a photographer over two decades ago, Michael's career took him all around the world as a cruise ship photographer before he settled back in London to set up his own portrait business Memory Gate Photography with Marcin Mieczkowski. In the course of his career he's taken portraits of over half a million people.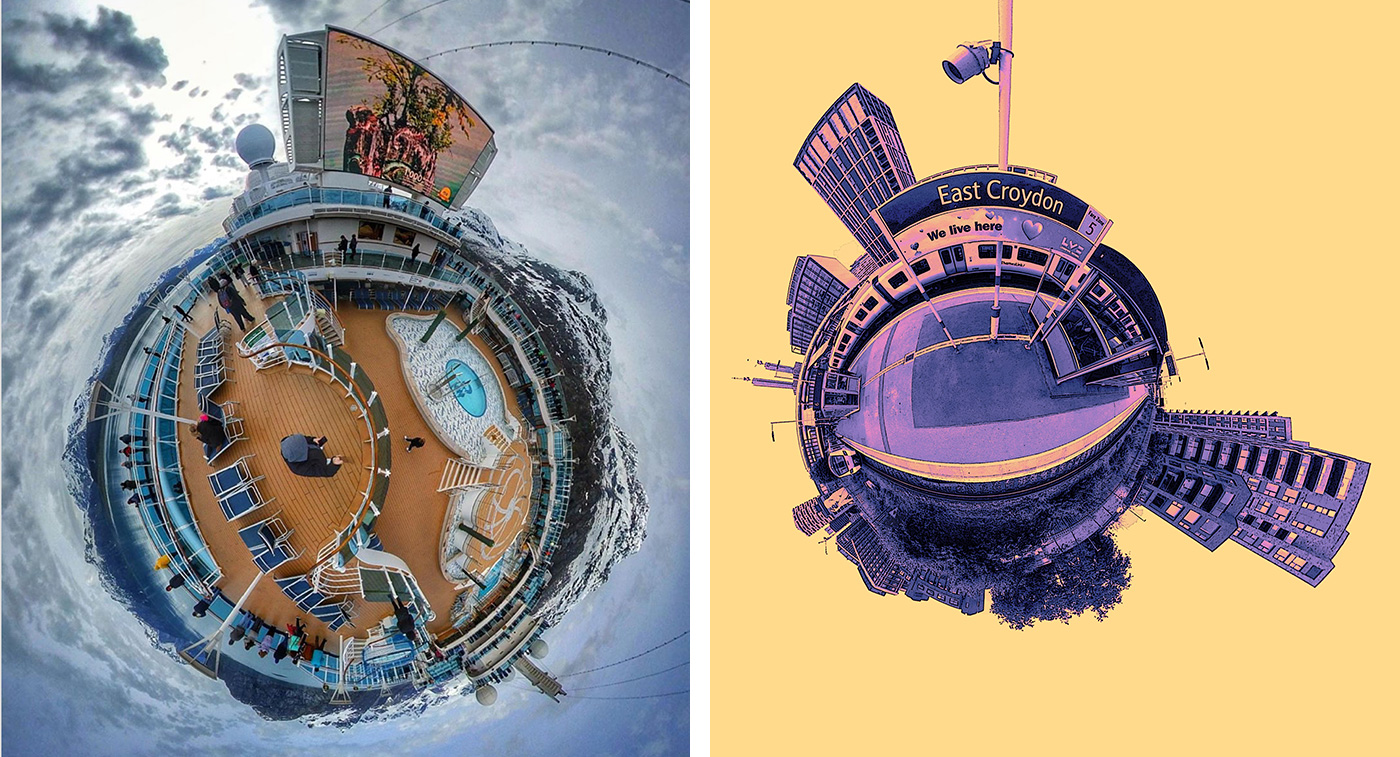 In 2017 we moved our family portrait business Memory Gate Photography, from Wimbledon to Croydon, this was one of the best decisions both financially and emotionally I have ever made in my twenty years as a professional photographer.
This is a short story about community, rediscovering a passion for photography and the creation of a genre.
In 2017 my business partner, Marcin Mieczkowski and I made the decision to move our portrait studio from Wimbledon to Croydon. The studio is inside a business centre close to Thornton Heath. Once we moved in the opportunity to take over the centre's cafe arose. Three months later The Photo Cafe was born. I'm often asked "what makes this a photo cafe?" and I knew my reply needed to be better than it's just a cafe owned by photographers.
I wanted to create something Croydoncentric and photographic for the cafe. This began my research into old Croydon photos and carte-de-visites from the 1800s. Curiosity got the better of me and I began looking into how many Victorian Croydon studios there actually were. You might be surprised to know that there were around 70 photography studios in business between 1860 and 1900. A popular site that still stands is opposite West Croydon Station on Station road. This was the beginning of my collection of old Croydon photos and carte-de-visites (or CDVs). My goal is to have a CDV from every Croydon studio that existed before 1900.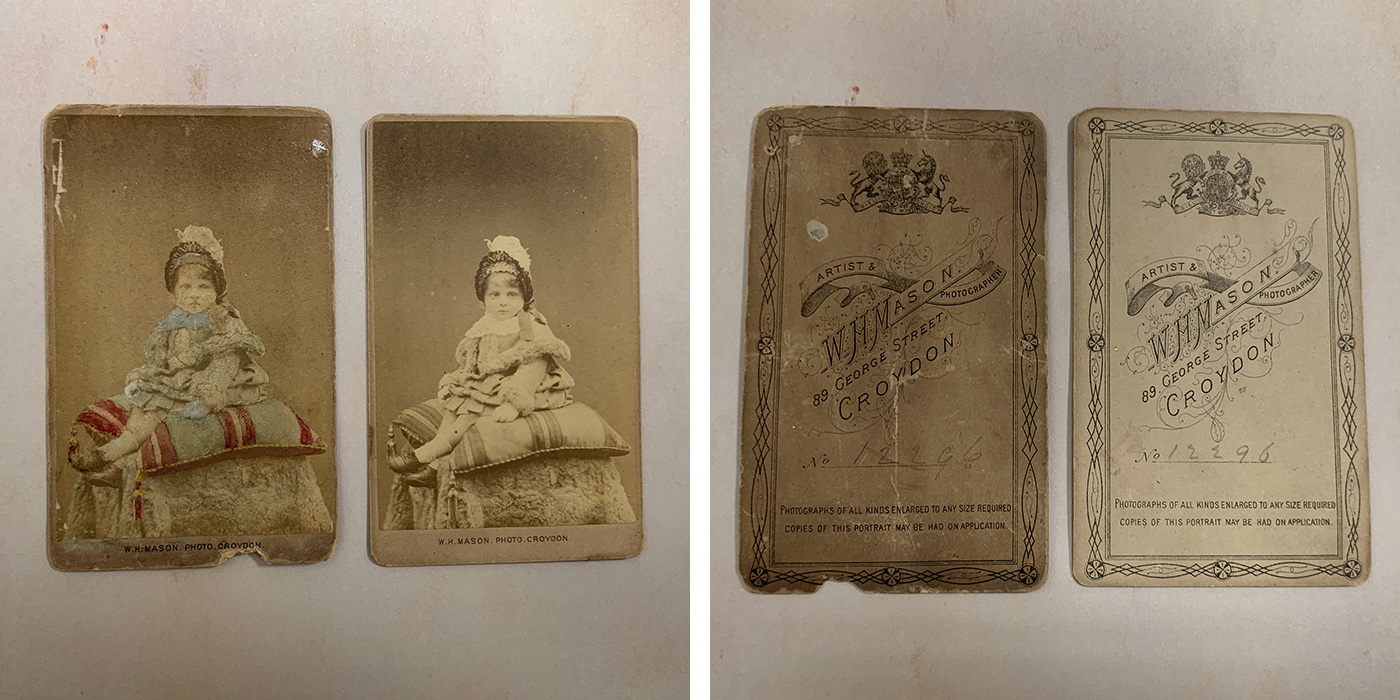 During this time I made a conscious effort to embrace the Croydon photography community. I started attending Lenses of Croydon events like the monthly Croydon photography forum. It was this community that reignited my passion for photography and inspired me to pursue more creative ideas. I attended a talk by Heather Agyepong on her project Too Many Blackamoors at the Thornton Heath Arts week in 2018. She encouraged me to pursue my research into Victorian photographers and to seek funding for my project. Whilst my project still remains self funded it was the catalyst I needed to move forward. My interest in CDVs led me to discover stereotypes at a talk by The London Stereoscopic Company owned by Brian May (yes THE Brian May).
I became fascinated in stereo imagery and bought a 1960s stereographic camera to play with. I wanted a digital version to capture a forthcoming trip to Alaska but couldn't find anything suitable. Then I came across the Insta360 Evo. It's an unusual camera that takes both 360 images and stereo 3D photos. I spent about a year playing with this camera and experimenting with different subjects. In 2019 Lenses of Croydon partnered with the Kiwanis club Croydon and La Zaris gallery to organise a charity fundraising print exhibition. This was my first chance to exhibit and sell some 360 prints I had taken in Croydon. The images were really well received and this spurred me on further to start creating more street 360 images and tiny planets.
In December 2019 I began posting daily 360 images to the Memory Gate Instagram account. The feedback was fantastic and this along with my growing reputation for being "the 360 guy" in my pool of Croydon photography friends, sowed the seed that I should begin a 365 project. It took me a week into January to post the first image to my new Instagram account London In 360. It was a self portrait of myself sitting at Mitcham Junction Station making my way back home from the studio.
London In 360
London In 360 is creative photographic time for myself. I have a day off each week to go out and explore London. Despite living in the city for most of my life I've come to realise that I know very little of it. I probably have a better local knowledge of Juneau Alaska. My mission for the year is to post daily, take 360 pictures from every London Borough.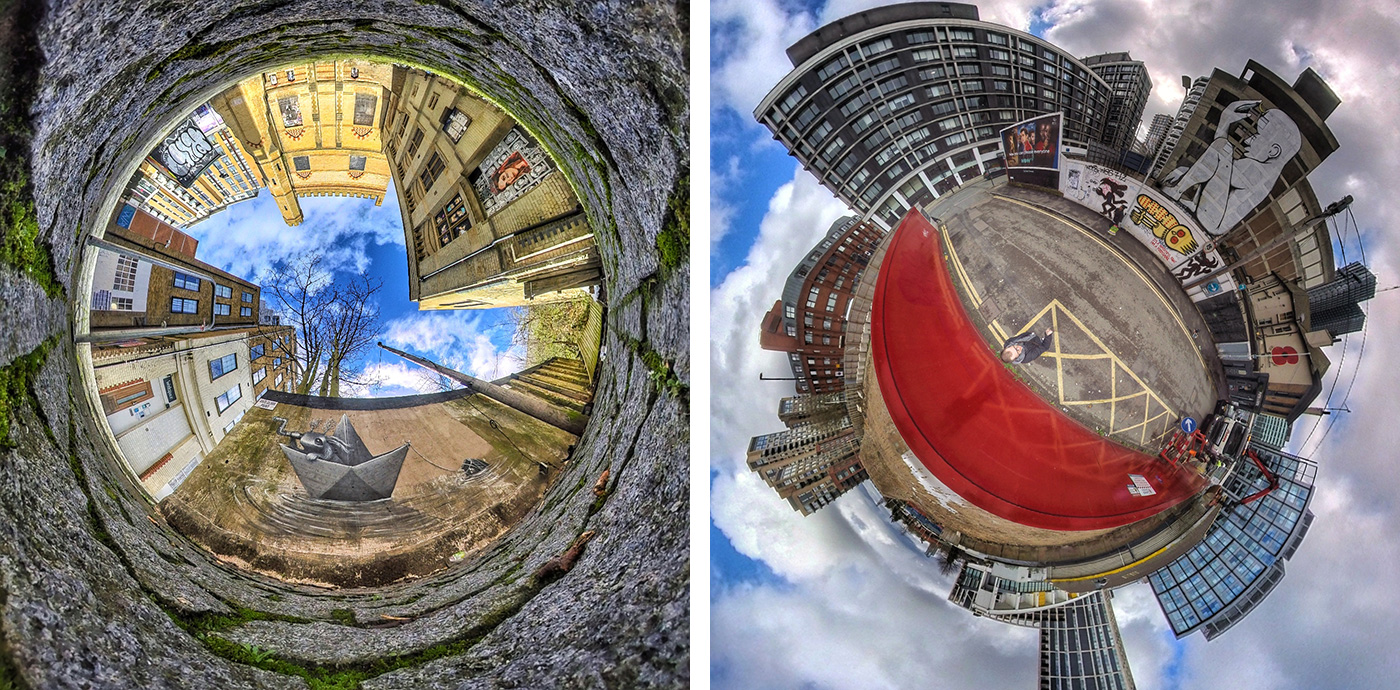 I've enjoyed learning more about where I live and work. The 2018 Rise Festive introduced me to Croydon's Street art. This has become a focus for a lot of my images of Croydon. I've really enjoyed engaging with the street artists who contributed to the RISE festival and creating images of their work that are unique.
Despite the focus of the project to create images of London there was always going to be a Croydon bias. There's too much going on in Croydon that I want to capture in this unusual style I've begun to develop.
My Lenses of Croydon friend Piotr has hosted two Croydon photo walks which were part of the Scott Kelby World Wide Photo Walks. During the latest walk I had the chance to capture Banksy's Gross Domestic Product in 360 along with images of the newly refurbished Fairfield Halls.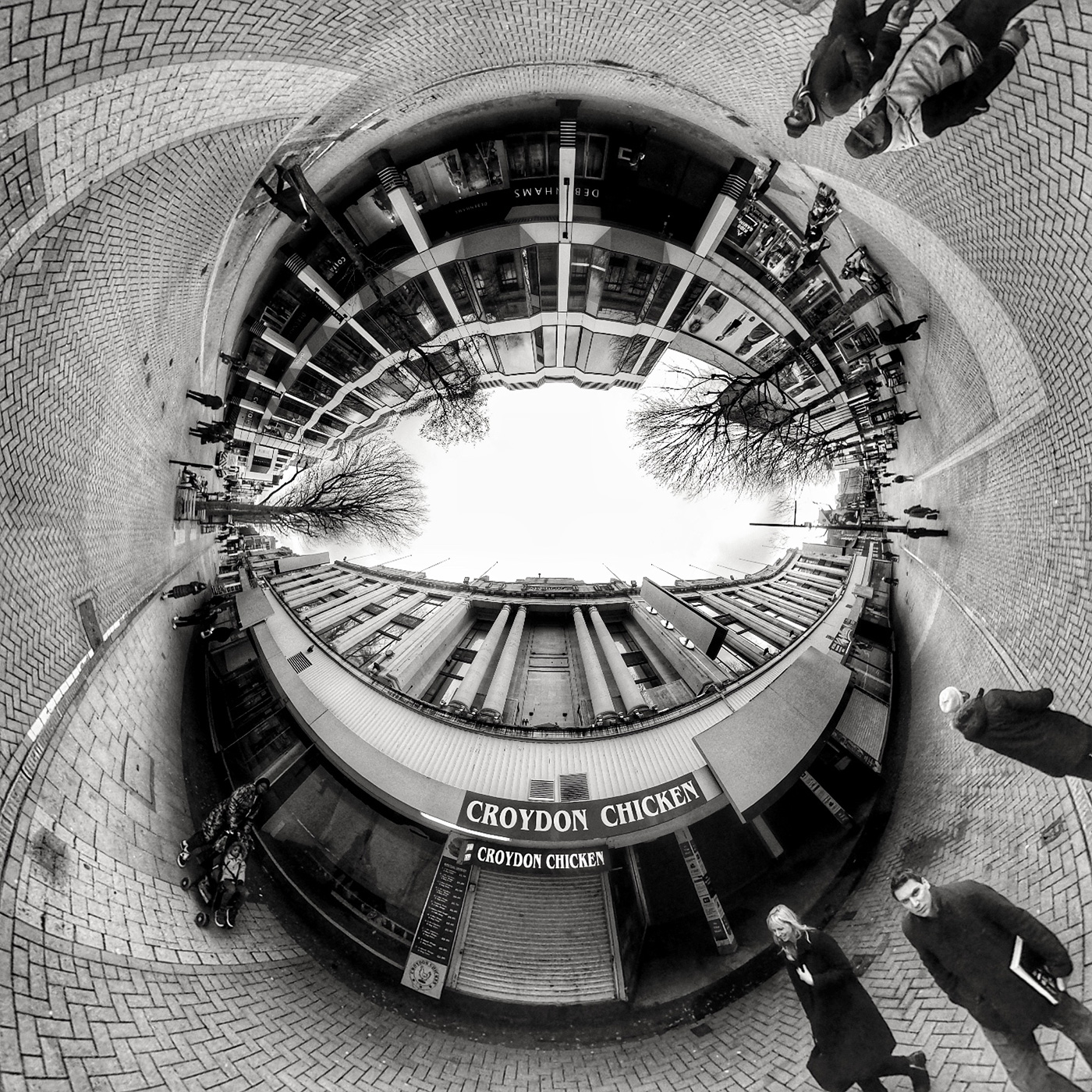 At some point at the end of February I started creating black and white 360 images. Whilst this is a popular choice for street photographers it isn't something many 360 photographers choose to do.
This is when I started getting more comfortable in my style, an even mix of black and white inverted tiny planets and over saturated high contrast colour images. Croydon's street art really suits this style of colour images whereas its famous architecture fits nicely into the genre I labelled 360 Street photography.
360 in lockdown 
March 19th was my last trip out with my 360 camera before lockdown. Whilst I wasn't able to venture out to take new images I had already taken enough to continue to post daily images. The one new image I did create during lockdown was taken during a trip into the studio. Although I haven't been able to photograph people in the studio I still have had the opportunity to photograph some work for artists. Fellow Croydon House residents The Print Foundry has printed a giant poster of Peter Blake's London Stands Together and hung it opposite our building.
As lockdown has begun to ease I've begun to venture out again with my camera. I'm hoping to develop my style and develop the new genre of 360 street photography. I'm halfway through photographing every London Borough but my interest in street art and architecture will keep bringing me back to Croydon.
Posted by guest writer Michael Shilling. All images courtesy of the photographer.
You can keep up-to-date with his London In 360 project here.