This week we catch up with the award-winning founder, choreographer, and artistic director of Orleta Polish Dance Company, Basia Klimas-Sawyer, to find out about the company's upcoming 50th anniversary concert. On Saturday 1 July, Orleta will take to the stage at the Fairfield Halls with over 100 dancers to celebrate half a century of entertaining audiences in London, the UK and beyond, with the music, song and dance of Poland.
Croydonist: First of all, Croydon native or convert, and what area do you call home?
Basia: Croydon convert. I'm a true native to Poland, although I was actually born in Italy in 1946, but that's a long story. I moved to London when I was 3 months old, lived all over. But when my husband and I were looking to settle down with our 2 young girls we moved to Croydon. We moved to a lovely quiet street in Waddon with the river Wandle flowing past.
Croydonist: Why did you set up Orleta dance company?
Basia: I had not long studied Polish folk dancing and ethnography in Poland, when I bumped into a childhood friend who told me his older scouts who were attending dances, but couldn't put one foot in front of the other! Could I come and teach them? They were natural performers and fell in love with dance and I fell in love with their enthusiasm. I had been wanting to set up my own dance group for some time as I wanted to do things a little bit differently from everyone else…
Croydonist: What does the name mean?
Basia: The name literally means Eaglets. The eagle is Poland's national emblem, and as we were rehearsing in the Polish White Eagle club it made sense for us to be children of the Eagle. But not only that, but Orleta is a name used fondly for the child soldiers of the city of Lwow (now Lviv in the Ukraine) who fought to defend their city. My mother was from Lwow, so it all made sense. I think my (English) husband credits himself with coming up with the idea!
Croydonist: How are the rest of your family involved?
Basia: My husband is the man behind the woman. Always championing me and boasting about me to anyone that will listen. He also repairs all our boots, makes props for our performances and is an all round star. My youngest daughter now teaches and leads the group with me. We have collaborated on the artistic direction of this concert and I'm so proud of how she is influencing the development and the future of the group. My oldest daughter gets involved in the practical side of the group. She has masterminded creating a production house for Orleta that gets the members involved in organising the admin of the group, everything from social media to risk assessments! Both my daughters are wonderfully talented and will be performing on the stage at the concert. Oh I'm so lucky to have such a close and supportive family!
Croydonist: What's been the biggest challenge of running Orleta over the last half century?
Basia: As with any endeavour as it continues to grow and succeed we have to be flexible and adapt. If I'm completely honest, my biggest personal challenge has come now. I'm 77, although I still feel 33 in my heart, but my body has other ideas. I can't dance anymore which breaks my heart as it always gave me so much joy, and I was a lovely dancer! Now I work to find my joy in watching how others dance and seeing how the group that I created all that time ago has evolved.
Croydonist: What's been the biggest pleasure in running Orleta over the last half century?
Basia: When I founded Orleta, I never dreamed that it would still be running 50 years later. It has been the greatest privilege of my life to share the passion I have for my Polish culture with so many generations of students. They continue to inspire me every day and we have put together an incredible show for everyone to enjoy.
Croydonist: Where does your company rehearse? 
Basia: We rehearse in the Wandsworth borough at the Polish White Eagle Club. There's a big Polish community there.
Croydonist: How long has it taken to put together the anniversary concert and what was the process?
Basia: This concert has been in the planning since before the pandemic! We were so worried when we went into lockdown. We dance not only as a group but in pairs in a group, and suddenly we had to keep 2 metres apart! We weren't allowed to touch each other anymore!? I know we weren't the only art or sport to struggle, it was heartbreaking. But we perservered and rehearsed as much as we could online. But the majority of the work has been happening over the past year. We've been scheduling extra rehearsals with our performers, coordinating dancers to come back after decades away, fundraising, learning, tweaking, teaching choreography, it's been non stop!
Croydonist: For our readers who haven't attended a Polish Dance concert before, what can they expect?
Basia: You can expect to see a party on stage, there will be dancing, tricks, singing, acting and a lot of fun. This is where Orleta has always differed from other Polish dance groups. I wanted to show a story on stage, for our dances and songs to have a narrative thread, a sense of continuity. If you peaked through the window of an old Polish barn and happened upon a folk-dance party, you'd see spontaneity, improvisation, flirting, boasting, play fighting. That's what I wanted to bring to life. I want the audience to feel the fun and the joy, come out with big smiles on their faces, feeling they'd witnessed something exciting, powerful – and I want them to bring their children to class!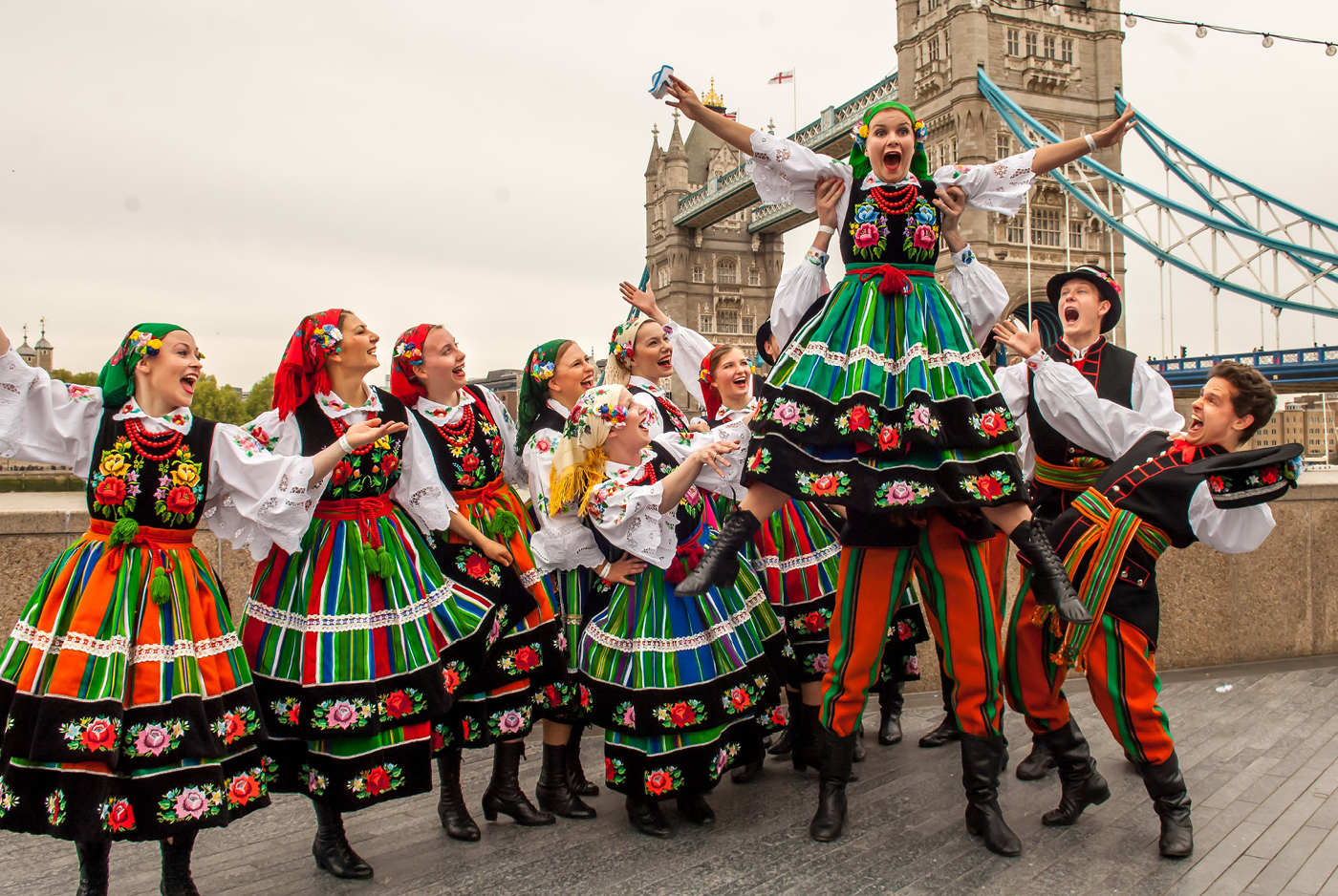 Croydonist: Why did you choose the Fairfield Halls for the concert?
Basia: The Ashcroft theatre is a wonderful theatre, we chose it for our 40th anniversary also. Its location is perfect, so well connected transport wise. But it's not just about transport links when it comes to Croydon. It's my and my family's home! We love how multicultural it is, how vibrant it is. And of course this year Croydon is London's Borough of Culture! And we love being a part of that culture.
Croydonist: What's next for Orleta? 
Basia: This year we still have some performances in the summer, at Happy Street festival in Wandsworth, at Ognisko's summer party in London, we're flying a small group of dancers out to a wedding for a young couple who met in our dance group and then on 16th September we're throwing a traditional Zabawa, which is a dance party, at Mamushka restaurant in Waterloo. Although we are still celebrating our 50th anniversary throughout the year, we are going to relax and take it easy. Our members have been working extremely hard, giving up a lot of their own time to attend rehearsals, they are all amateurs with jobs and responsibilities outside of the group. They will be treated to some fun and games, before next year's projects start lining up…
Croydonist: Finally, favourite spot in Croydon for creative inspiration?
Basia: My absolutely favourite spot is the river wandle. I love to walk around Waddon ponds and see if I can't find a Kingfisher darting around. The calm and the colours help me see the new dance choreographies forming in my head…
Thank you to Basia for chatting with us. Find out more about Orleta on their website, and follow them on Facebook, Instagram, Tiktok, Twitter and YouTube. You can get tickets for Orleta's anniversary concert on Saturday 1 July 2023 at the Fairfield Halls box office here.
Images courtesy of Orleta.
Posted by Julia