This year is the 100th anniversary of the Battle of the Somme, a battle that lasted 5 months, with a death toll of over 1 million French, German and British soldiers. The first day alone is known as the bloodiest day in British army history where 19,240 British soldiers lost their lives.
In remembrance of the many men, women and children who were killed, Whitgift School have created an exhibition called 'Remembering 1916 – Life on the Western Front', dedicated to their 251 former students and staff who never made it home.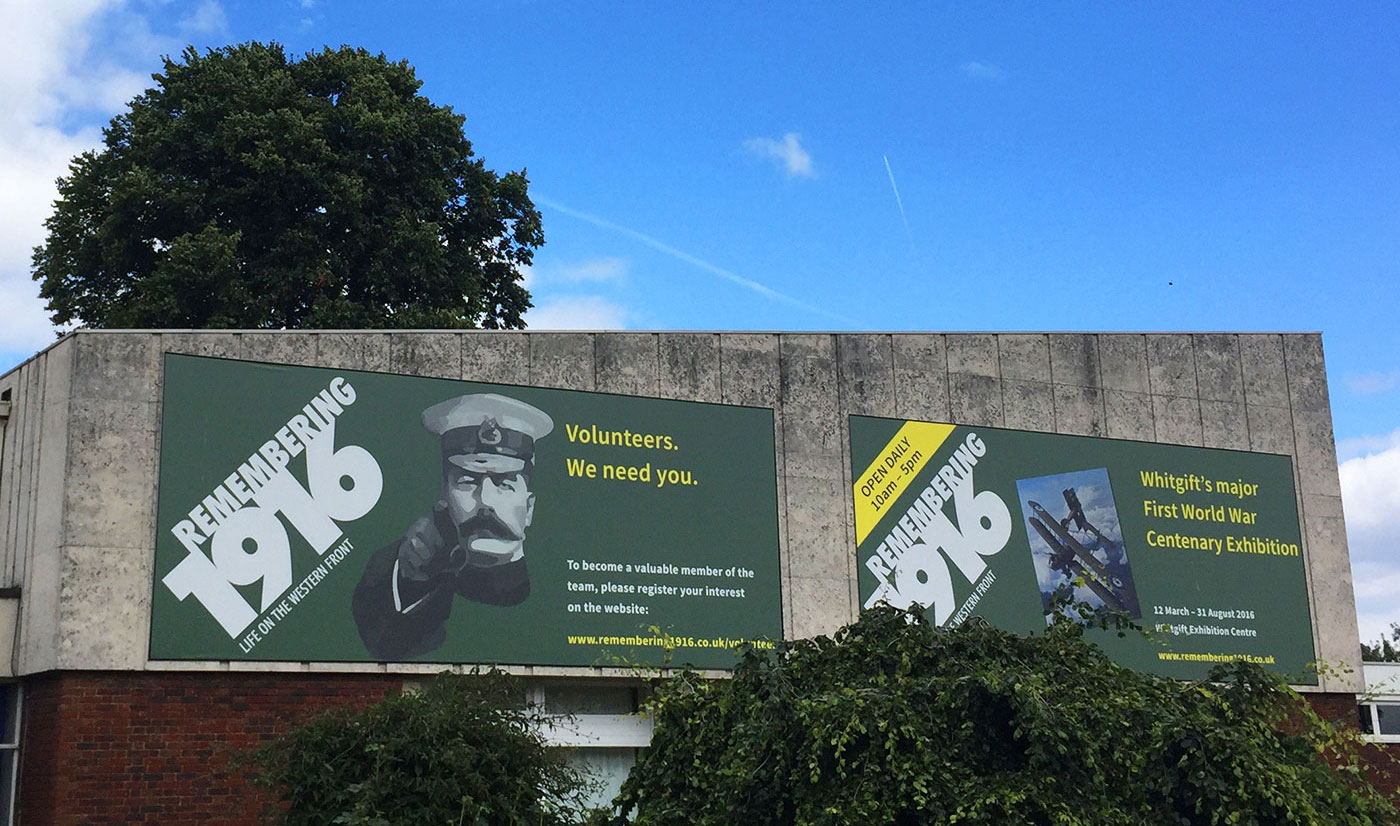 We visited it recently and were instantly overwhelmed by the size and detail of the exhibition. It stands up to the efforts of any other museum but carries something a little more personal and unique in its delivery.
From the entry point before the main exhibition begins, you are presented with many of the propaganda posters of the time, that worked on multiple levels to enlist a fresh inventory of troops to the battlefield. Pulling on the heartstrings of fathers wanting to be heroes to their children, to young men in search of adventure and glory. From guilt trips to the excitement of exploration, you really do gain an understanding as to why so many faked their way into enlisting. My great grandfather (World War 1), and later my grandad (World War 2) would be such people to do this.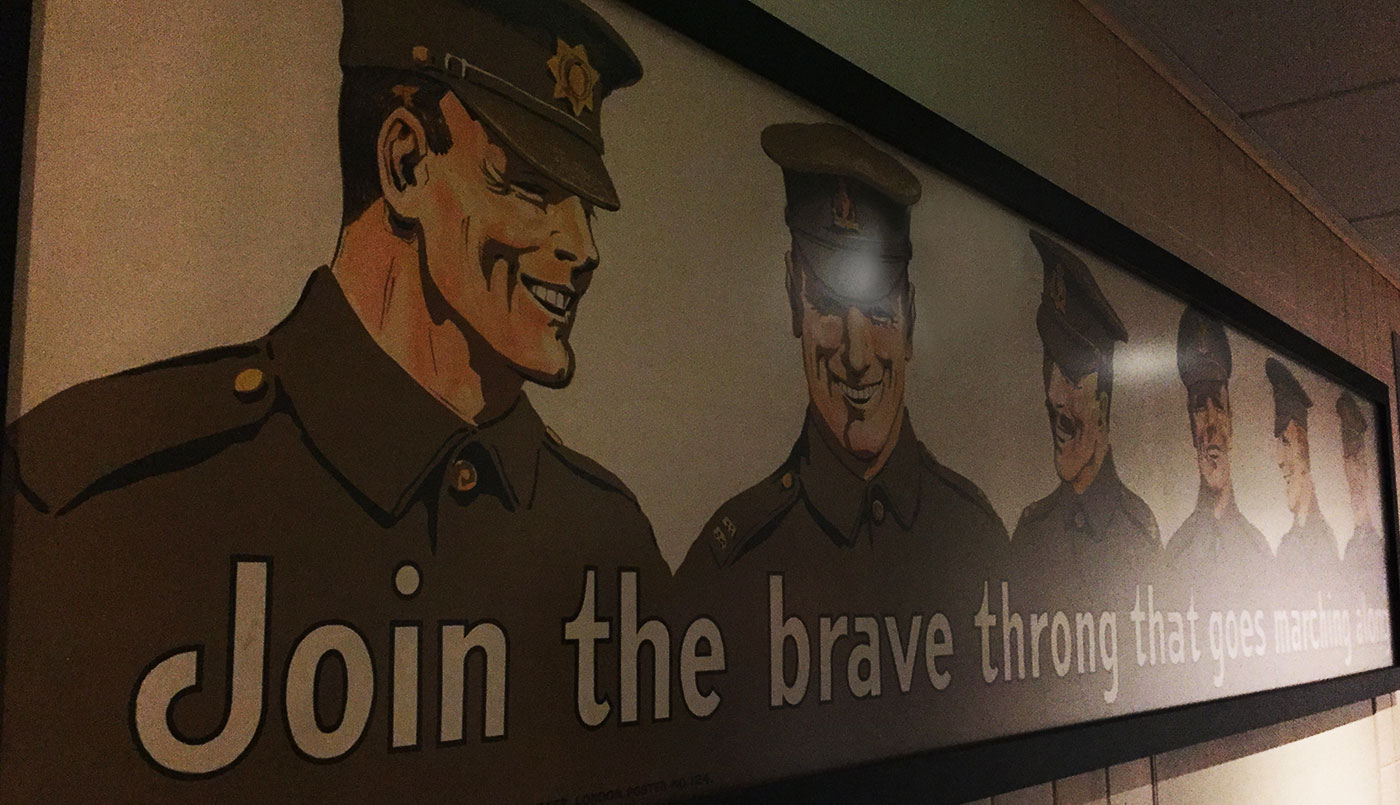 There are so many things to cover in the exhibition, but here are a few that really stood out for me in no particular order.
Weapons of War
I found this section incredibly powerful in a very disturbing way. During World War 1 many new weapons were invented or used for the very first time: the most famous being Big Bertha (a 48 ton gun that could fire over 9 miles). It was also the first time that tanks and the devastating deployment of gas were used (the latter being one of the most feared weapons due to its near invisibility and delayed impact, causing an agonising and frightening death).  There is a display of hand weapons that become increasing more brutal and terrifying in their use. It's really quite horrific to think that we create such things to inflict as much pain and suffering as possible on each other.
Just to give you a view, World War 1 began in July 1914 and lasted until Nov 1918 and the cause of the war was the assassination of Austria's Archduke Ferdinand. It resulted in the deaths of over 17 million people and wounded some 20 million more.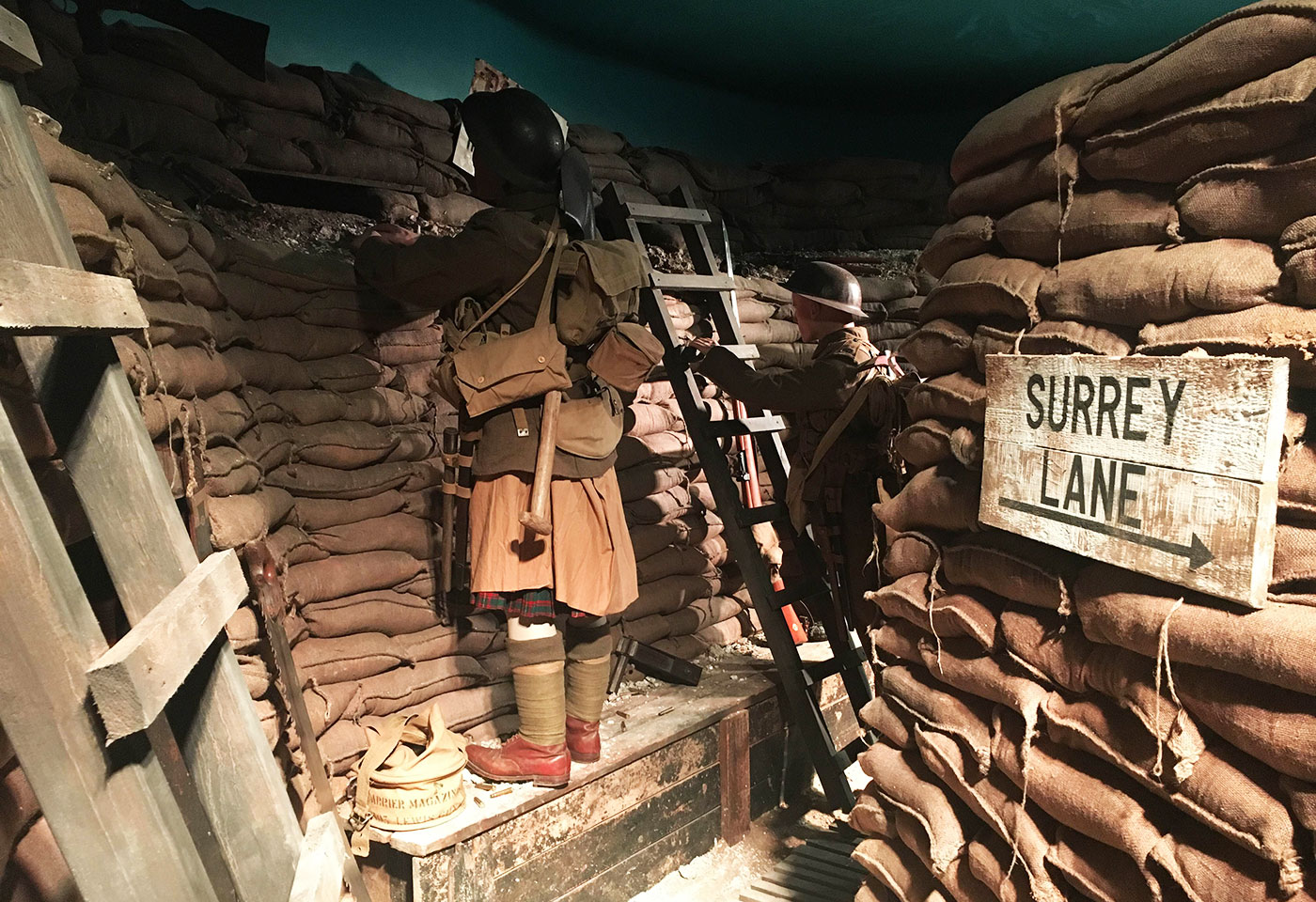 The Red Baron
Manfred von Richthofen, part of the Imperial German Air Force and known as the Red Baron, scored a total of 80 kills before he finally met an end at the ripe old age of 25 after being shot down in Northern France. The Red Baron commemorated each kill by commissioning a silver schnapps-style cup. They were numbered and engraved with the date and 'Vickers 2′ (relating to the plane). The first of these cups was in celebration of his first kill, Croydonian and former Whitgift Student, Lionel Morris. It's a detailed installation that is deserving of some attention as it draws upon the characters, creating connections and insight into the people in the war itself. I found it upsetting to see such celebration in death from individuals, such as The Red Baron, but perhaps that is the power of war, to twist and shape the minds of soldiers into something almost sub-human.
The whole exhibition does an incredible job in bringing the people both at home and in the trenches to life. Being quite a nostalgic person, I thought that the letters that feature throughout the exhibition between loved ones, an important touch. These convey the tragic story of the war, the bravery, the beauty of tenderness between human beings that can still exist even when the world is falling apart. They made me feel a mixture of warmth and sadness and so very lucky to have not lived at that time.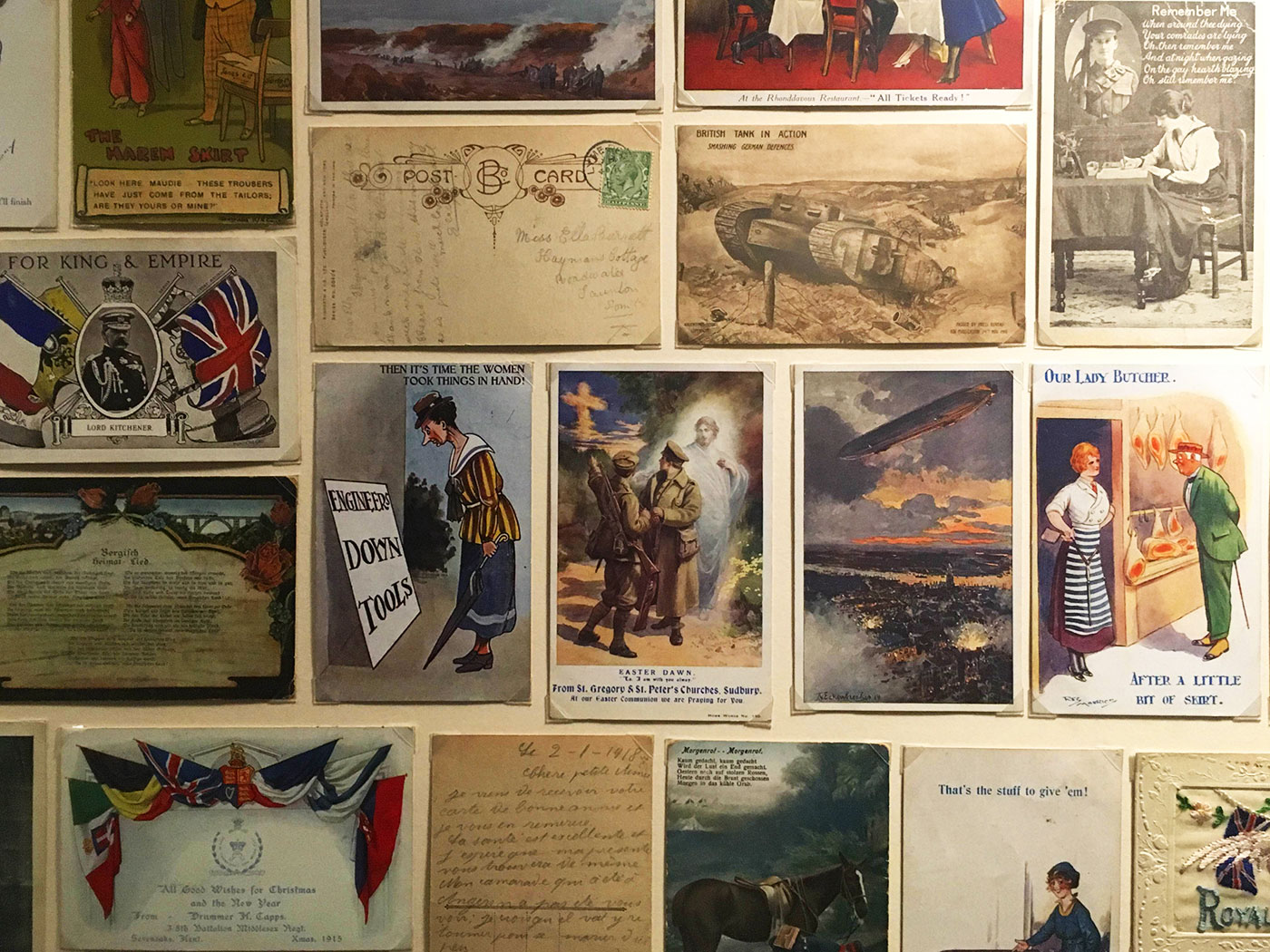 The final thing that stood out so prominently was the installation of poppies at the end of the exhibition. One for each 251 students and members of staff of Whitgift School who died in conflict. There is a memorial stone and the list of all 251 names. Take a moment to read those names, and think of so many others who didn't make it home, and of those who came back and were never quite the same again. Be thankful and also hopeful that our names will never feature on such a list.
'Remembering 1916 – Life on the Western Front' has been extended through popular demand until April 2017 – for opening times and further information, visit www.remembering1916.co.uk
Also be sure to check out the on-site Edwardian themed café and shop, where you can have a coffee and slice of cake to catch your breath and reflect on the exhibition.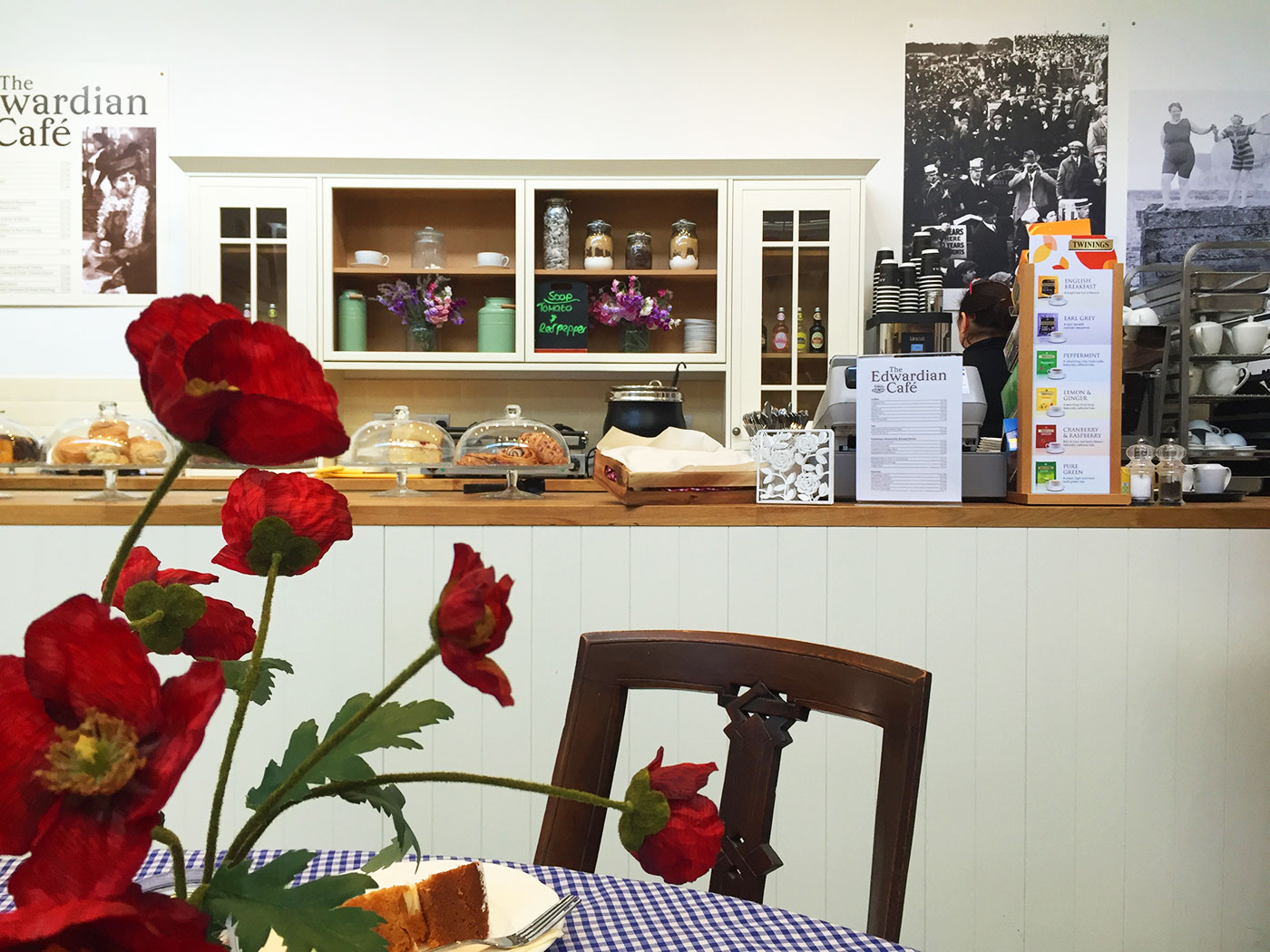 Posted by Angela
Header photo shows a close-up of some of the 251 poppies, which were created from recycled metals by Damien Moy, and painted by Jo Bryant