It's currently harvest time at Croydon Saffron Central. If you have no idea what I'm talking about, this is the world's largest urban pop-up saffron farm. And thousands of crocus corms are beginning to flower right here in the centre of Croydon.
What, saffron the spice? In Croydon, you ask? How? When? Where?
Well, it's an exciting and anxious couple of weeks for Ally McKinlay, the man behind it all, as he waits to see how this year's harvest compares to the 2015 crop. Last year saw 11,000 flowers, 33,000 stigmas (the parts you harvest), and 58 grams of dried saffron. We caught up with Ally for a chat to talk about the project, crocuses, art and his neighbours…
Croydonist: What gave you the idea to start a pop-up saffron farm?
Ally: I was standing in The Queens Gardens at the Ambition Festival in July 2015 and it dawned on me that the Taberner House site was expected to be empty until the following year. Having grown Crocus Sativus in my garden over the previous 2 years I knew we could pot up in September and have blooms by October/November and then share the plants afterwards.
Croydonist: It's one thing imagining that you could start a pop-up saffron farm on the former Taberner House site, but it's quite another actually making it happen – how did you go about it?
Ally: I shared the idea with a couple of friends, was advised to put it to a couple of councillors who responded very positively and linked me up with the council officers who were managing the space. All seemed happy to allow the project to happen as long as we ensured anyone entering the site was safe.
Croydonist: And what a great site it is – not just a haven for crocuses, but bees, wild flowers, vegetables and art as well. All are welcome to visit, volunteer and contribute.
We have heard a rumour though that saffron is more expensive in weight than gold – did you sell last year's saffron harvest and what did you do with the proceeds?
Ally: I'd say that depends who you're buying your gold off and what its carat type is!! We've sold our Saffron at £20 a gram with all money going back into the project. Not all of it has been sold but we've had some interesting propositions and it's good for another year so we're not worried about its sale. So far we've only needed to buy an extra 3 tonnes of soil.
Croydonist: Now I like to think I have green fingers (well occasionally anyway), but I have to ask you some gardening questions – could we harvest saffron from the crocus' in our back garden or do they need to be a special type?
Ally: It is a special type and this has thrown virtually every person I've discussed the project with. The Saffron crocus is called 'Crocus Sativus' and it flowers in the autumn (October/November). They should be planted in August/September and will be in bloom within 40 days. As long as you have the right type you can grow them anywhere, although I'd recommend south facing with 5 hours direct sunlight and really well drained soil.
Croydonist: Ah, I'd always thought crocuses bloomed in the spring?
Ally: As far as I'm aware, all other crocuses bloom in the spring but they do not present a stigma and that is the saffron. It's completely usual to have the harvest in the autumn but doesn't seem to be very well known, the project is certainly helping to bring the Crocus Valley up to speed on knowing their crocuses!!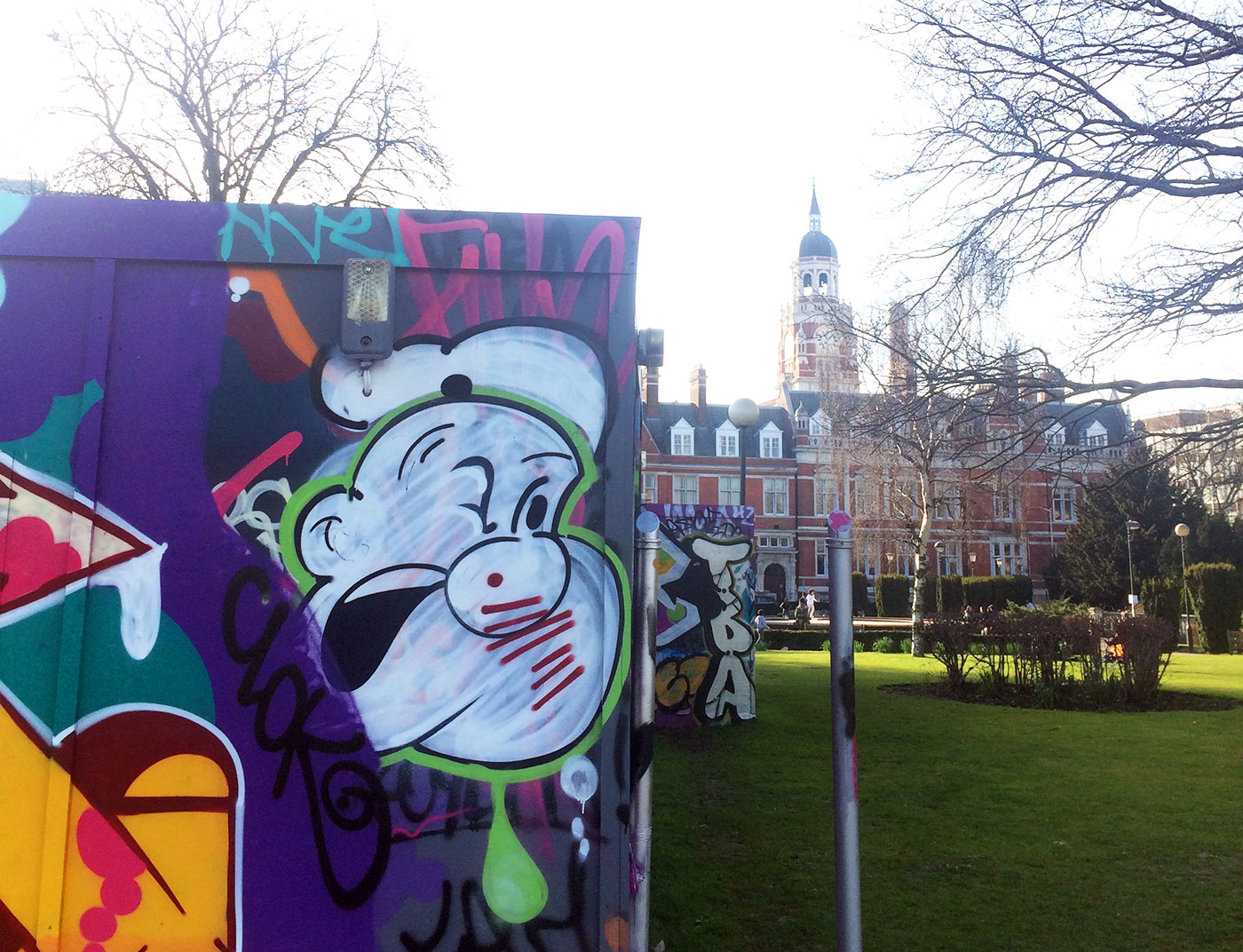 Croydonist: I love that your site is walled by Croydon's legal graffiti wall (shown above). Do you get on with your neighbours?
Ally: We get on very well thanks. There's this kind of coexisting graffiti-garden situation where all are happy to live and let live. Loads of the graffiti artists have come in to have a look and are very positive and respectful. I think the feeling is mutual from Saffron Central folk as there have been some very impressive and vibrant efforts out there!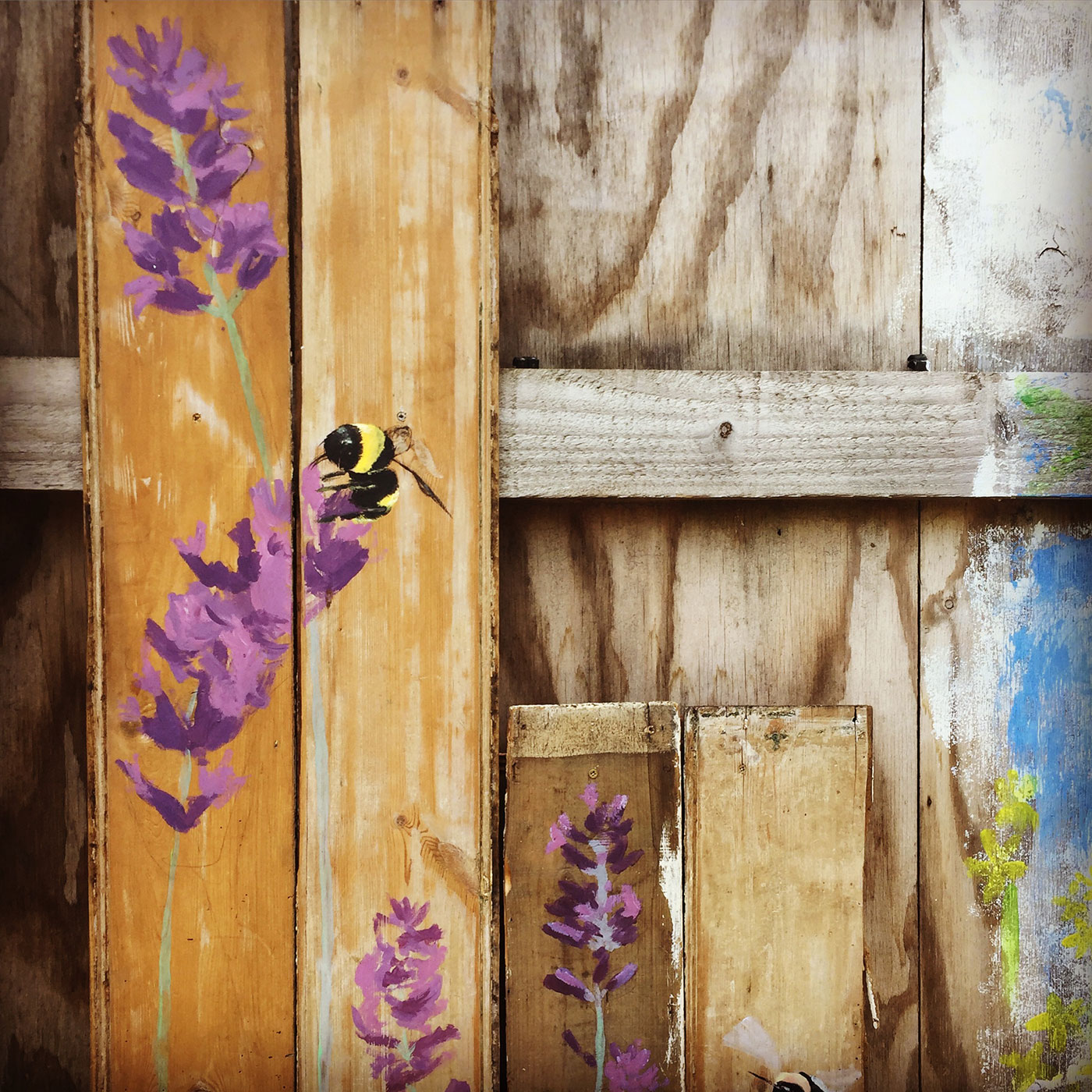 Croydonist: And as for your inner walls, these are now also covered with art. Do you have a favourite piece?
Ally: I'm not big on favourites and think I hold everyone's efforts in equal measure. If people are willing to give their time to create something beautiful I'm in complete awe of their generosity. If I really had to choose I'd say that the people who didn't think they could paint or create but gave it a go and discovered something about themselves are really special. We're all creatives, we're all artists, we just need platforms to allow expressions to come out and not be judged. Croydon Saffron Central allows everyone to be creative.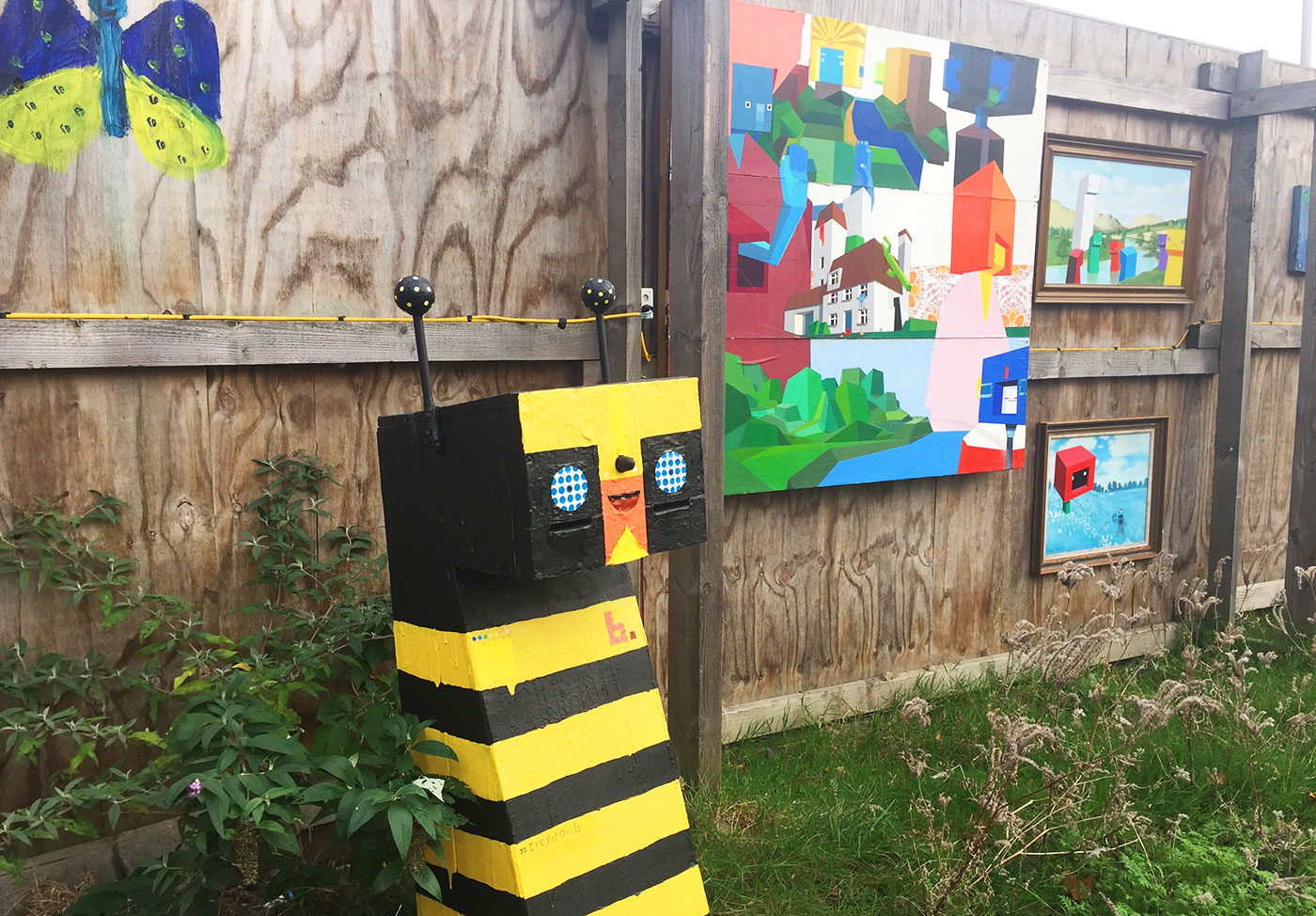 Croydonist: I suppose this will be the final harvest for Croydon Saffron Central on this site – do you have any plans for a new location, or indeed an idea for another pop-up?
Ally: We'd truly love to stay in the immediate area. The Queens Gardens is to be redeveloped and why shouldn't it have a community garden that draws upon heritage and creativity for everyone living here? We have a great opportunity to help shape the content of our town's most central green space. We have a great opportunity to let the world know that they can only be in Croydon when they stand in that green space. If enough people support Croydon Saffron Central having a presence in The Queens Gardens I'd like to think our Saffron farm will live on and continue with its philosophy of recreating the Crocus Valley. After all, that's what 'Croydon' means…
And a few Croydon specific questions…
Croydonist: A drink in Matthews Yard, the Oval, Boxpark, or the Dog and Bull?
Ally: It's got to be The Oval. Esther is a living Croydon legend! The staff and grub is great, there are decent ales, a big garden and lots of entertainment.
Croydonist: Shopping – Whitgift Centre, Centrale or the Purley Way?
Ally: I'm not really into shopping but it would be the Whitgift Centre if needs must.
Croydonist: A film at David Lean, Grants, or Stanley Halls?
Ally: Mmm. I'm more interested in real life than films so not really sure. I think it's great that David Lean and Stanley Halls are operating but it's really rare for me to want to go and watch a film.
Thank you to Ally for chatting to the Croydonist.
Croydon Saffron Central is open to visitors this sunday from 1-4pm. Keep up-to-date with their events on twitter or on the website.
Posted by Julia