In recent years, craft beer has really kicked off in a big way. Once dominated by overseas super brands, we're now seeing the likes of Brew Dog and Camden Lager holding their own and widely stocked across the UK. Ok, so this isn't news to you. You already knew that craft beer was a thing, and a popular thing at that, BUT did you know that on our very own doorstep we have future heavy weights paving their way to beerdom success? Let us introduce you to the blooming marvellous Signal Brewery. We asked MD Charlie Luckin some of the questions you were afraid to ask, and get the lowdown on the their brew.
Croydonist: First off, Croydon native or convert?
Charlie: Convert. I was new to Croydon but am now formally confirmed/(ordained?!)
Croydonist: Tucked around the corner from Therapia Lane Tram Stop, a stone's throw from Ikea, how long has Signal Brewery called Croydon home?
Charlie: We are now in our 4th year in Croydon. If you add Asda to that mix, we're right in The Golden Triangle.
Croydonist: How did you become MD of a brewery?
Charlie: My friend Murray (chemical engineer/recipe writer) started brewing in his garden shed after an internship at a major brewery in South Africa. His kids usurped that sacred space so his wife said it was his signal to find some premises. I have studied wine, so felt as though I had a palate and joined him in the business in 2016.
Croydonist: How much beer do you brew at Signal a month?
Charlie: 11,000 Litres, c19,500 pints per month, 7 big tanks and increasing. We also put the beers into can on site and bottle on the Kent coast.
Croydonist: What's unique about your beer?
Charlie: It's really cleanly brewed using very high quality barleys and hops. All beers are made pure & fresh. We also carbonate less so you won't feel bloated.
Croydonist: How many different types to do have? And do you have a personal favourite?
Charlie: 3 cask beers, 6 kegged beers and new beers en route. I am currently supping 'Sprinkler Time', a new Summer Ale at 3.7%. Did someone say Summer is on the way soon?
Croydonist: For someone getting into craft beer, what would your top tips be on beers to check out?
Charlie: There are loads of interesting beers in the market and we are friends with lots of other upcoming breweries. Drinkfresh and drink local. You will be flabbergasted at the quality and diversity available.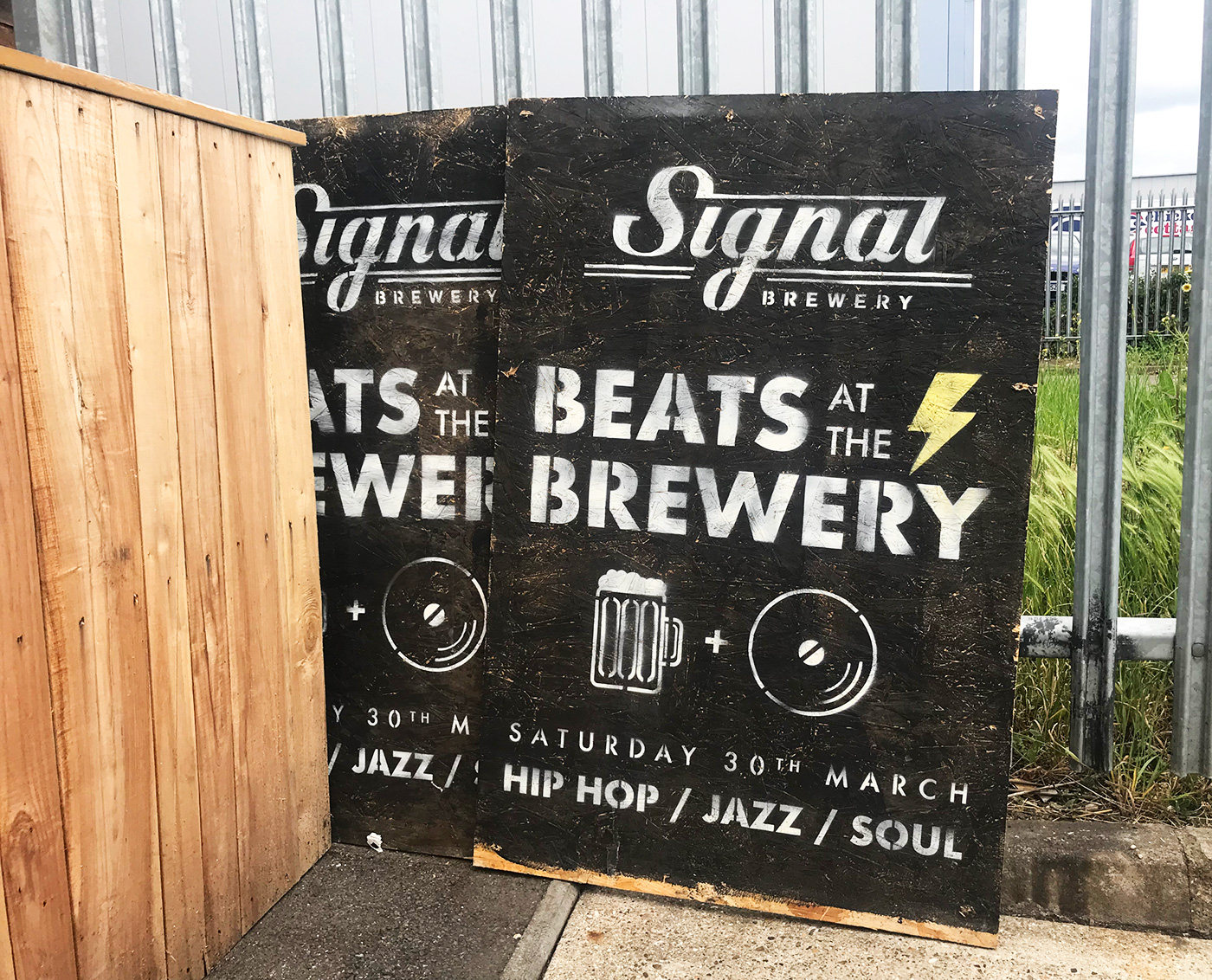 Croydonist: So, the big question, why is some beer meant to be served warm (room temp) and some beer cold? Also what's all this stuff about low and high gravity?
Charlie: Most cask (uncarbonated) beers are served at 10 degrees as they still have live yeast in them and this allows you to enjoy their flavour in all its glory. Fizzier (keg) beer should be served colder at 5 degrees. Gravity is the measure we use to define what volume of alcohol we can write on the pump clip.
Croydonist: A silly question, but one we're going to ask anyway, what is the difference between IPA and Pale Ale?
Charlie: IPA is an India Pale Ale made using a pale malt, infamous in the 1830's when it was exported to India – heavily hopped and high gravity. Nowadays, a Pale Ale tends to be the term used to make a more Americanisedbeer. We make both. And a new fruity IPA called Turbo Joost.
Croydonist: Does the type of glass a beer is served in really matter? We're fans of the traditional pint glass but should we be going for something a bit more fancy?
Charlie: You choose – lots of breweries have innovative glasses now but in reality what's in the glass must be more important.
Croydonist: We were blown away by the space you have at your location, and we hope to collaborate on an awesome party sometime soon, but tell us about some of the events you've already hosted and what you've got coming up.
Charlie: Let's do it! We have hosted several private parties and most recently the precursor to 'Kenfest' (a mega creative festival in Oxted).
Croydonist: Apart from ordering online of course, where can our readers sample Signal locally?
Charlie: Green Dragon/Nanny Outars/Matthews Yard/Art & Craft/Ludoquist/Limitless-VR/Cronx Bar/Greene King/Wetherspoons.
Croydonist: Can anyone swing by your brewery for a pint, or is it appointment only?
Charlie: Appointment only – sounds like the dentist; we trust it will be less daunting at ours! Keep an eye on our opening times: www.signalbeerco.com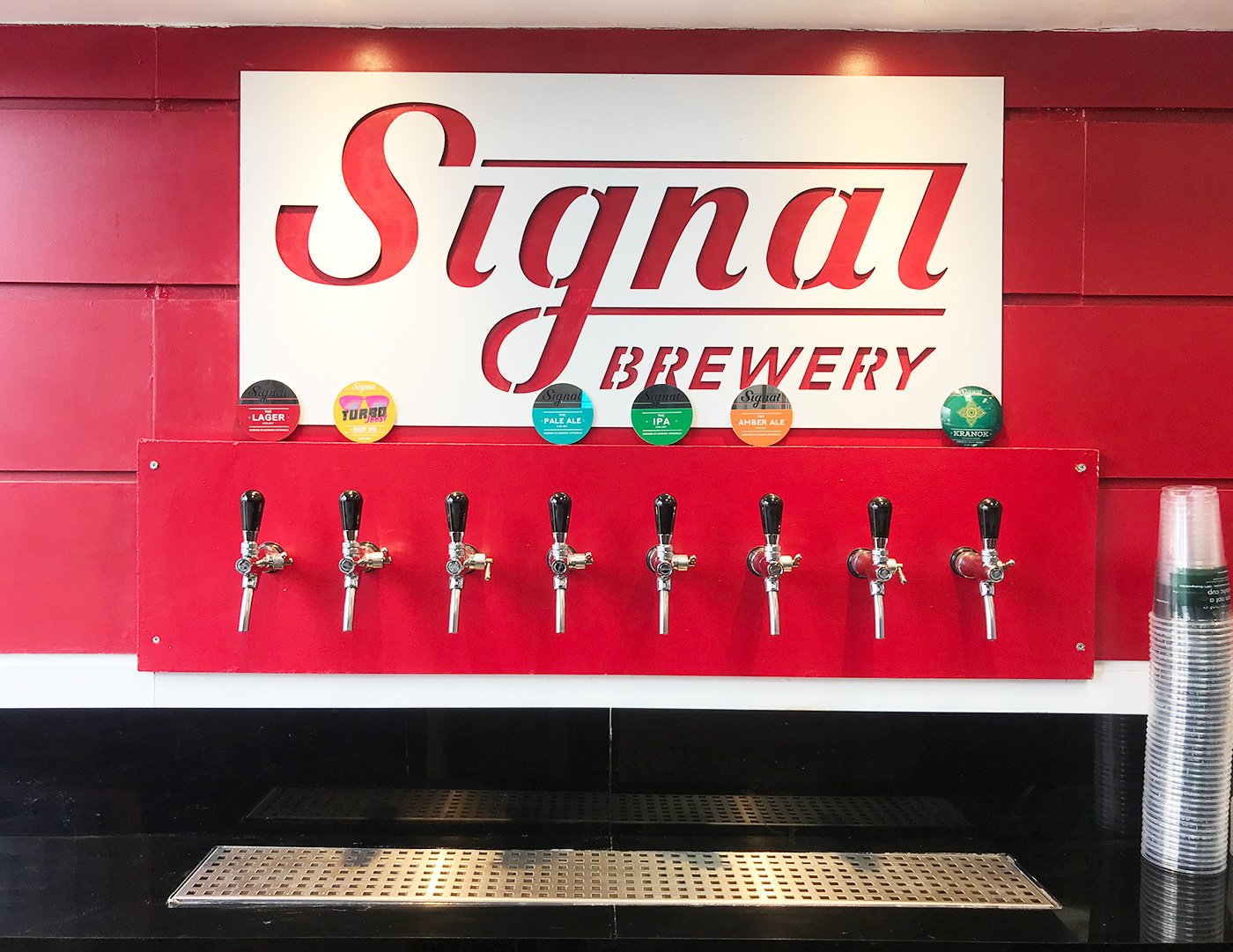 Cheers Charlie – thank you for chatting to the Croydonist.
Posted by Angela