SimOne is an artist in demand – recently exhibiting in a collective show in New Cross and working on pop-ups all over London, from Peckham to Google's HQ. You'll probably recognise her vibrant work from our social media headers, but you'll be able to see her work in person very soon, as she opens her first solo show, right in the heart of Croydon this September. SimOne describes herself as an abstract and portrait artist who expresses through colour and the female form, but we've been eager to find out more about the talented woman behind the brush.
Croydonist: First of all, Croydon native or convert, and what area do you call home?
SimOne: A bit of both. I've lived here for almost 10 years, which feels like a lifetime. I'm based in East Croydon.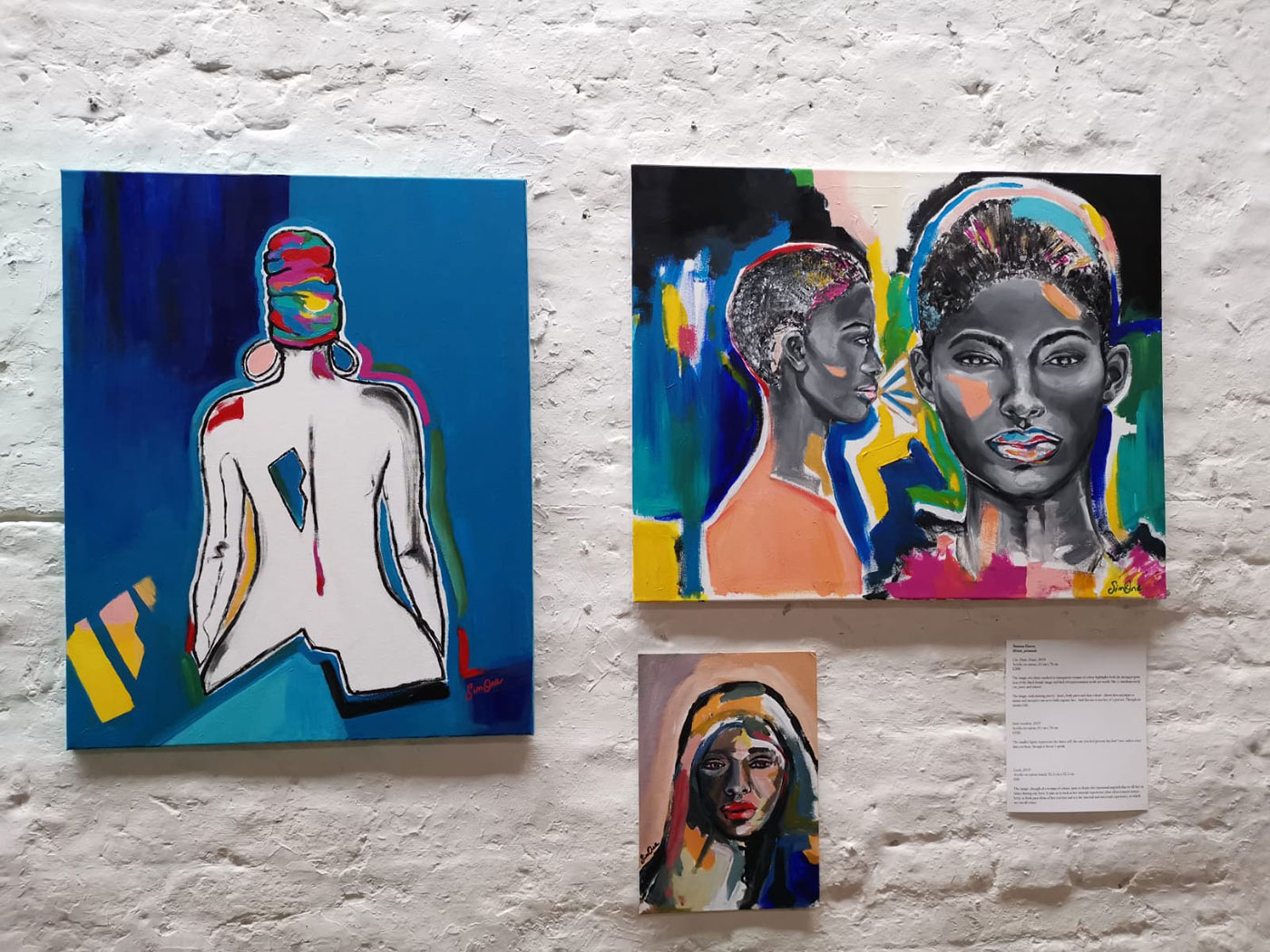 Croydonist: How did you become the artist you are today?
SimOne: I've always been an artist. My first piece was in the CBBC broom cupboard back in the day and on the wall on a show called Hartbeat (showing my age…). My mum recognised my love for art and sent them in.  I studied art up to A level and then stopped for several years apart from the odd bit of drawing.
Strangely I didn't think I could paint. But it was when I got a tablet with a stylus that I started experimenting with colour and really wanted to be able to create something tangible. I did a short painting course and after some initial stumbles I started to get into it. What really cemented my love of colour was a trip to Rio Carnival. All those colours and the energy of the place. I came back obsessed with colour and I painted (mainly abstracts) for 40 days straight! Over time I blended my love of abstracts with my fascination with portraiture and landed on a style that incorporates both. It was then a process of continuing to create and following my passion. As cliché as it sounds, it's a lifestyle choice to follow the things that bring you joy and I'm a big believer in prioritising that. It's not always easy, but it's brought me so much self fulfilment and confidence.
Croydonist: What's the meaning behind your artist name?
SimOne: My Instagram handle @sim_artnsoul, reflects my passion for art and interest in self development and spirituality. I sign my artworks 'SimOne' as variation on my name (Simone). I wanted something distinctive that still felt like 'me'.
Croydonist: Where may our readers have seen your work? 
SimOne: I'm part of a women's art collective called RiotSoup and recently exhibited with them at the Hartlane gallery in New Cross. I've also done a number of pop-ups across London including the Palms in Peckham, White City House for the art therapy group, Our Naked Truths and most recently one at Google UK's head office for their Pride celebrations. Oh and on the Croydonist's Twitter and Facebook channels. 🙂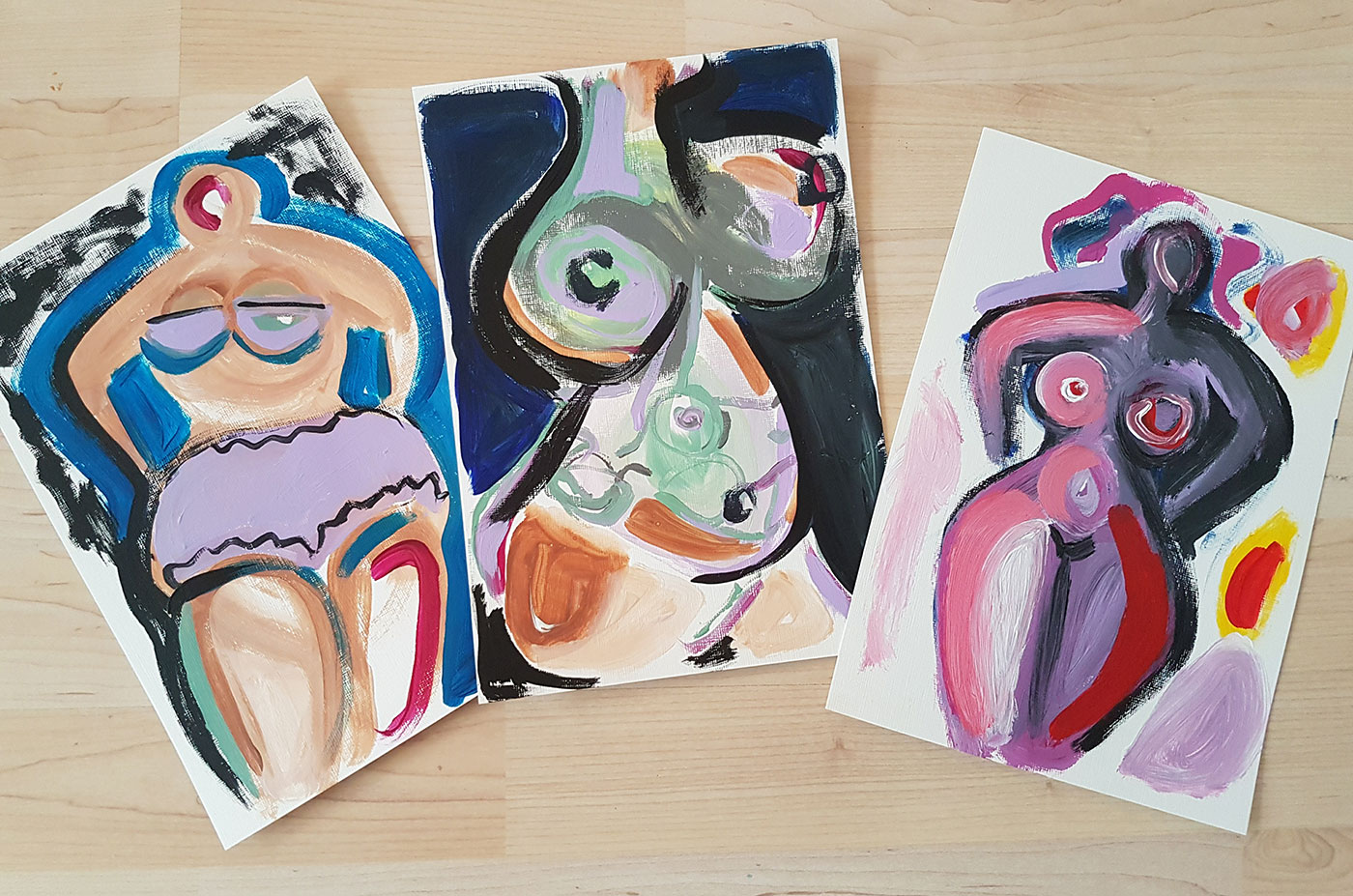 Croydonist: You have a show in the centre of Croydon next month, which is excellent news, as we'll be able to enjoy your work, right on our doorstep. Can you tell us a bit more about it?
SimOne: Yes, I'm so excited! The exhibition is called 'Woman Enough' – it's my first solo show and it will be at the Loft, upstairs at the Croydon Arts Store in the Whitgift Centre from 19-21 September. It's such a great exhibition space! It's free to attend, you just need to get tickets from Eventbrite here.
My vision for the exhibition is to inspire self-love and empowerment. Though the message is relevant for everyone, Woman Enough hones in on the female experience, with a play on the phrase 'Are you man enough?' reframed as a statement of "enoughness" with no question, for anyone who identifies as a woman. It started with a series of really simple but dominant and vibrant portraits that I fell in love with, but I wondered if they were 'enough' for an exhibition. They became the inspiration behind the Woman Enough concept – rejecting the need to complicate or do more to be enough. The idea being that we're always enough as we are and it's ok, in fact, it's essential that we show up, as we are.
There'll also be an interactive mirror mural installation that visitors can co-create by writing empowering 'notes to self'. The aim is to promote positive self-image and internal dialogue through the power of words.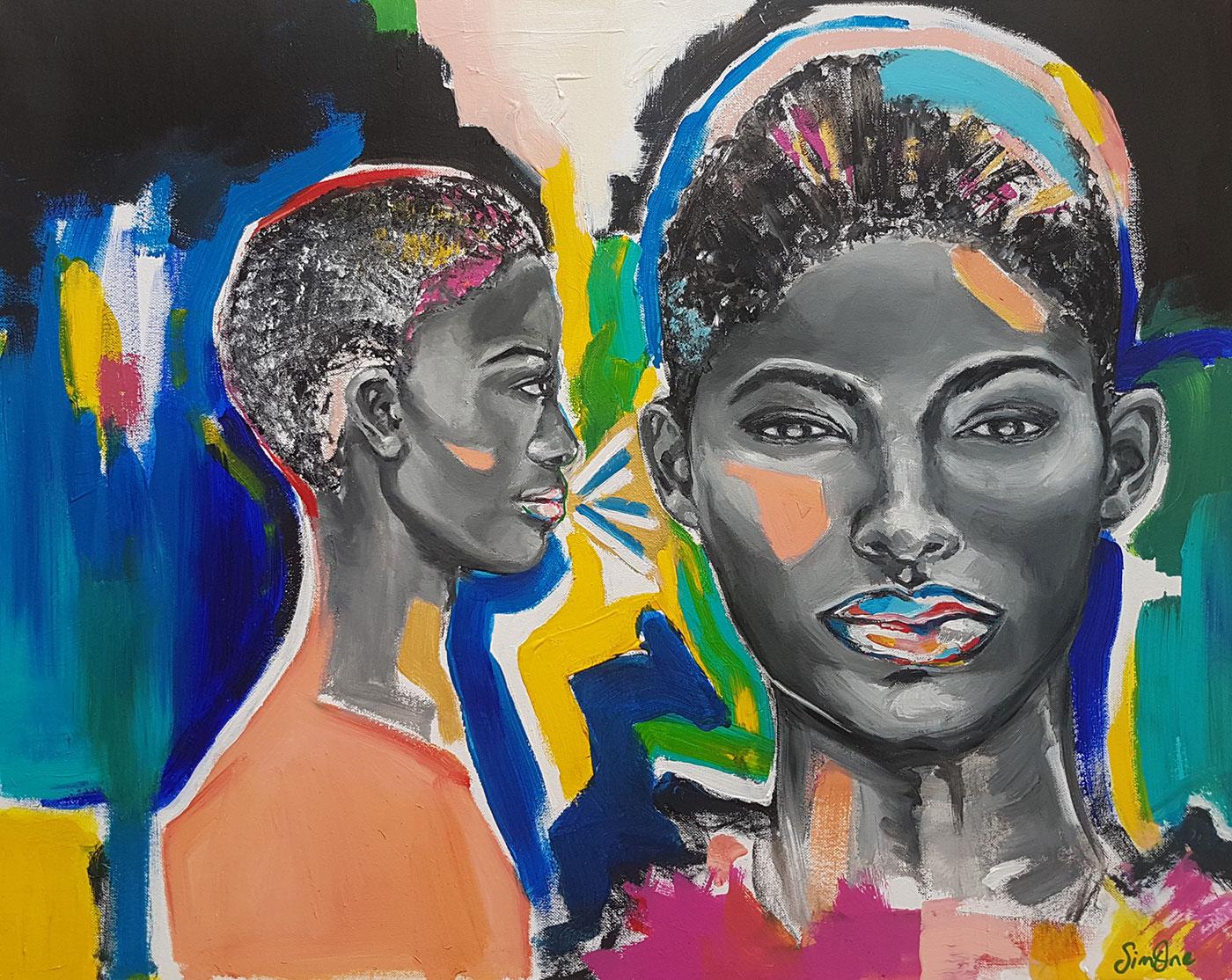 Croydonist: Where do you create your work? 
SimOne: I'm supposed to paint in my little home studio but often end up in my living room as it's more spacious and it's where I started painting.
Croydonist: You're probably better known for your portrait work, which is very powerful, but we also love your more abstract work, and cityscapes. How do you choose a subject matter for a painting? 
SimOne: Thank you 🙂 I started off painting abstracts, experimenting with colour and movement, as that was the work I was most inspired by. Plus when I got back from Brazil I was literally bursting with colour. I began with no prompts and just allowed myself to paint intuitively which was really therapeutic and a great way to just get used to experimenting with no expectations.. I love the structure cityscapes bring to an abstract. I also have some very abstract figurative work.
Croydonist: Are your portraits commissions or do you decide on who to paint? 
SimOne: My portraits are a mix of faces I've imagined or created based loosely on photos from magazines. I've also painted from models. My commissions, which I love doing, are typically created either from a photo or a mix of a sitting and photos.
Croydonist: How long does a painting usually take you? 
SimOne: It really depends. Abstracts can be really quick, especially once I'm in the flow. Portraits take several hours.
Croydonist: What's your process? Do you plan out a piece first, or pick up a brush straight away?
SimOne: For portraits I usually do a rough sketch before getting the paints out. I might also have an idea for a base colour or if it's for a commission sometimes people have a 'must have' colour that should be included. But I'm fortunate to get pretty free reign which allows me to just create and see what happens. I usually start with a loose idea but that changes as I paint. One colour informs the next. There's some experimentation and trial and error and a lot of happy accidents.
Croydonist: Do you have a favourite piece of work?
SimOne: I had two favourite abstract figures but both of them have been bought by collectors. I'm sorry to see them go but love that they've gone to good homes. My current favourite is my most recent self portrait. I like the boldness and it feels confident and free. It feels like me when I'm empowered, self assured.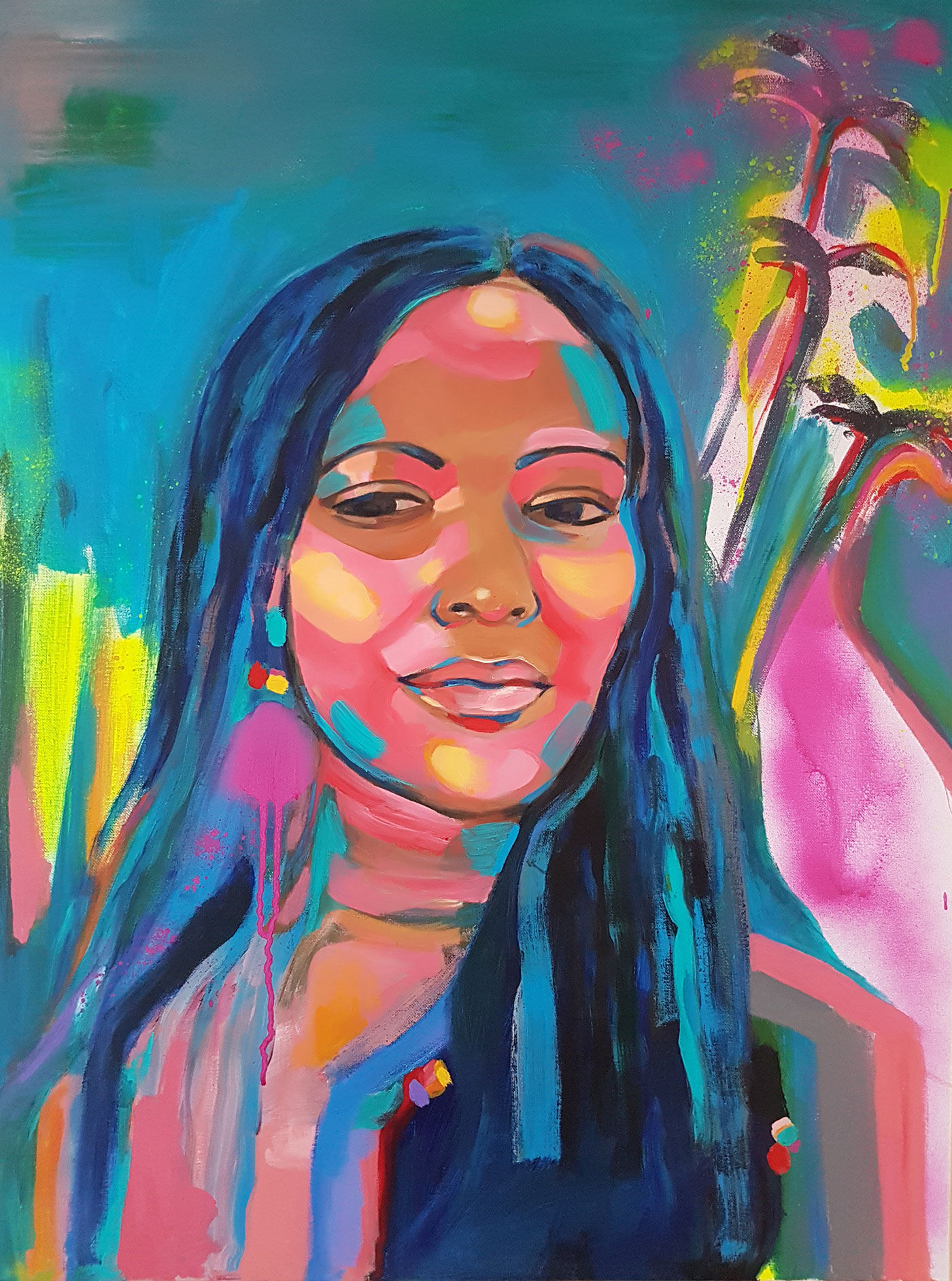 Croydonist: Classic interview question – if you could invite any three artists over for dinner who would they be?
SimOne: Oh that's a tough one!
Amy Sherald and Kehinde Wiley – the artists who painted Michelle and Barack Obama for the National Portrait Gallery in Washington DC. Their styles are so individual and beautiful. I'd love to talk to them about the experience of painting two such phenomenal people and also get under the skin of their techniques. Also Frida Kahlo, to hear her story first hand and be inspired by her resilience and ability to persevere.
Croydonist: What's your favourite place in Croydon for inspiration? 
SimOne: I enjoy the calm of Lloyd Park.
Croydonist: After your September show, what do you have planned next? 
SimOne: My painting 'Majesty' will be on show at the BetterShared pop-up at Nexus in Croydon from 26 September. I'll also be completing the final commissions for the year, and a piece for a special project in Colombia! So it's a busy end to the year but I wouldn't change it. I'm excited to see what 2020 brings.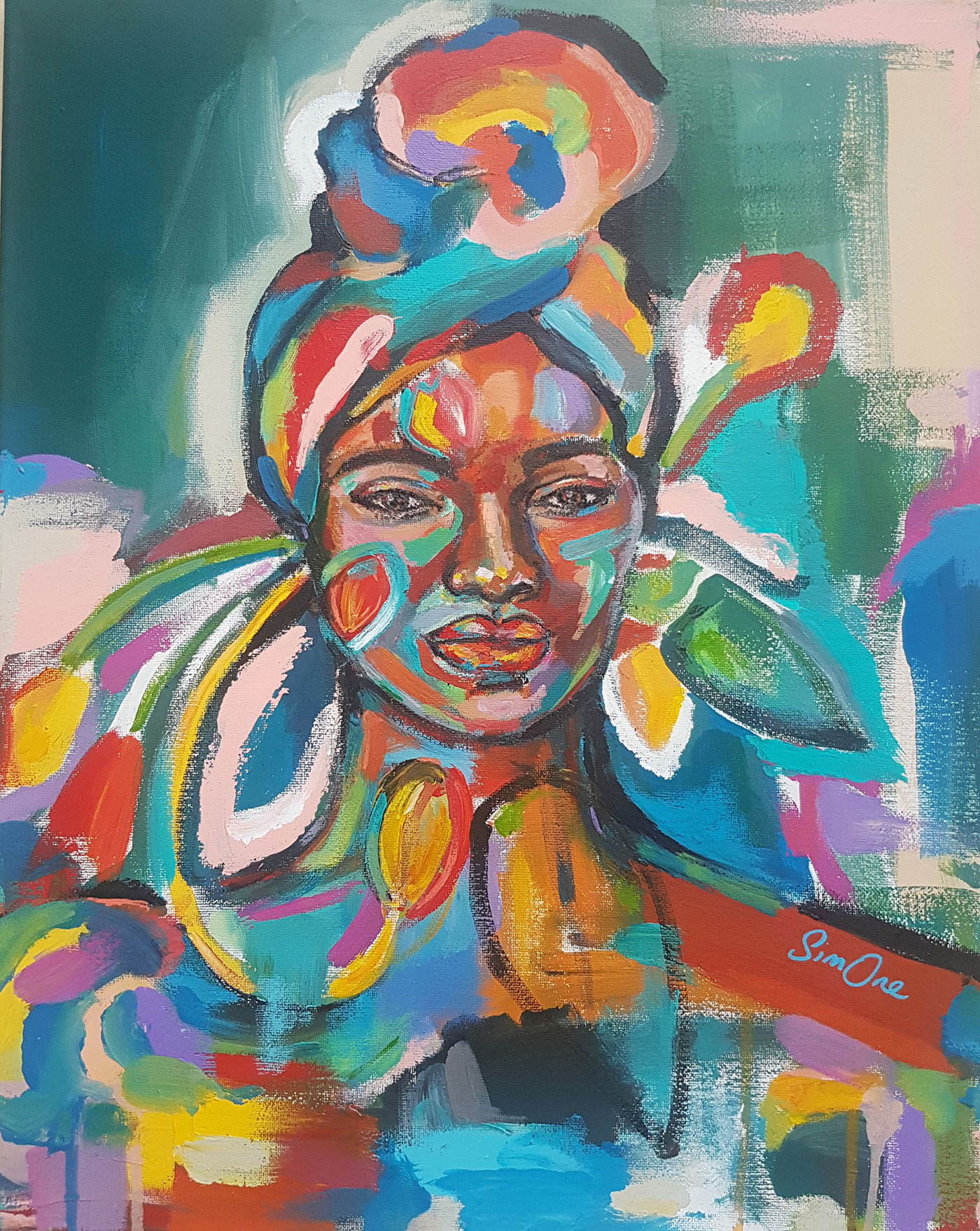 So are we. Thank you to SimOne for chatting to the Croydonist. We can't wait to see 'Woman Enough'. SimOne's solo show opens at Croydon Arts Store on Thursday 19 September 2019 from 5pm-8pm and runs from 11am-5pm on 20-21 September. Get your free tickets here.
All images courtesy of the artist.
Posted by Julia