The festive season is in full swing once again. We've been spending our time rediscovering our favourite haunts, but also adding some new ones to our list in South Norwood.
It's tempting to stick with what you know but we've recently stumbled upon the South Norwood Business Network (SNBN) who are doing great things to champion local businesses as a collective – as a result of this, we've found some truly amazing places and spaces. More articles on these to follow!
SNBN have recently launched a 'Shop Local' campaign alongside the Love South Norwood App and we've been inspired to get involved. We caught up with one of the founders of the network, Nicky Thompson and owner of Nix Hair & Beauty for a natter about South Norwood and the SNBN.
Croydonist: First up, are you a Croydon native or convert and what area do you call home?  
Nicky: Native – I live in South Croydon and went to school in Upper Norwood.
Croydonist: So an absolute true local! What is the South Norwood Business Network and how was it born? 
Nicky: It was born when myself and the other Nicola Thompson decided we needed to meet the other business owner with the same name. 😂
Croydonist: The other Nicola Thompson owns Blooming Desires right?
Nicky: That's right!  We quickly realised that we both had a desire to unite the South Norwood business community, believing that if we joined together we could bring change for the good of South Norwood.
Croydonist: You've just launched a recent campaign. Can you tell us what that's about and how businesses can get involved? 
Nicky: Our Christmas Shop Local campaign is to promote our South Norwood businesses and encourage the local community to buy as much of their Christmas presents locally as well as use the local cafes/bars/restaurants.
Croydonist: You also own a pretty lush hair & beauty salon. How did you get into the profession and what is your favourite thing about it? 
Nicky: Oh thank you ☺️ I initially started my training straight from school in the Kings Road but never quite finished my training at that point.  I then came back into the industry  later on and did my training again!  My favourite thing about my job is being able to make a difference to how someone feels, a bit of pampering always makes you feel better!
Croydonist: I completely agree. It also improves my eyesight when I finally bite the bullet and get my fringe trimmed! Where will you be doing your festive shopping in South Norwood this year? 
Nicky: Treasures!!  It's a lovely gift shop on Portland Road and not far from the salon thankfully!!  It's always full of amazing gifts!
Croydonist: Readers here's the address if you fancy checking it out: Treasures, 273 Portland Rd, London SE25 4XB
What will be your festive entertainment fix locally?
Nicky: The Portland Arms, Colin puts up with us on the last Saturday every year turning up in our Christmas Fancy Dress 😆.
Croydonist: Top tips for festive hair fashions this season?  
Nicky: The hair accessory is definitely on trend this year teamed with effortless waves (that need lots of good product to stay effortless ☺️.)
Croydonist: Lastly, what's next for South Norwood Business Network? 
Nicky: We've been lucky enough to have been taking part in some workshops as part of the regeneration programme with other South Norwood groups. This is helping us with our future direction. But some of those decisions will come from the whole business community, two people alone can't bring change, it needs all of us to get involved.
Thanks to Nicky for chatting with us.
Keep up-to-date with South Norwood Business Network activities on their Instagram.
If you'd like to join the South Norwood Business Network visit here  and find out how to get involved in the SNBN Shop Local Christmas campaign here.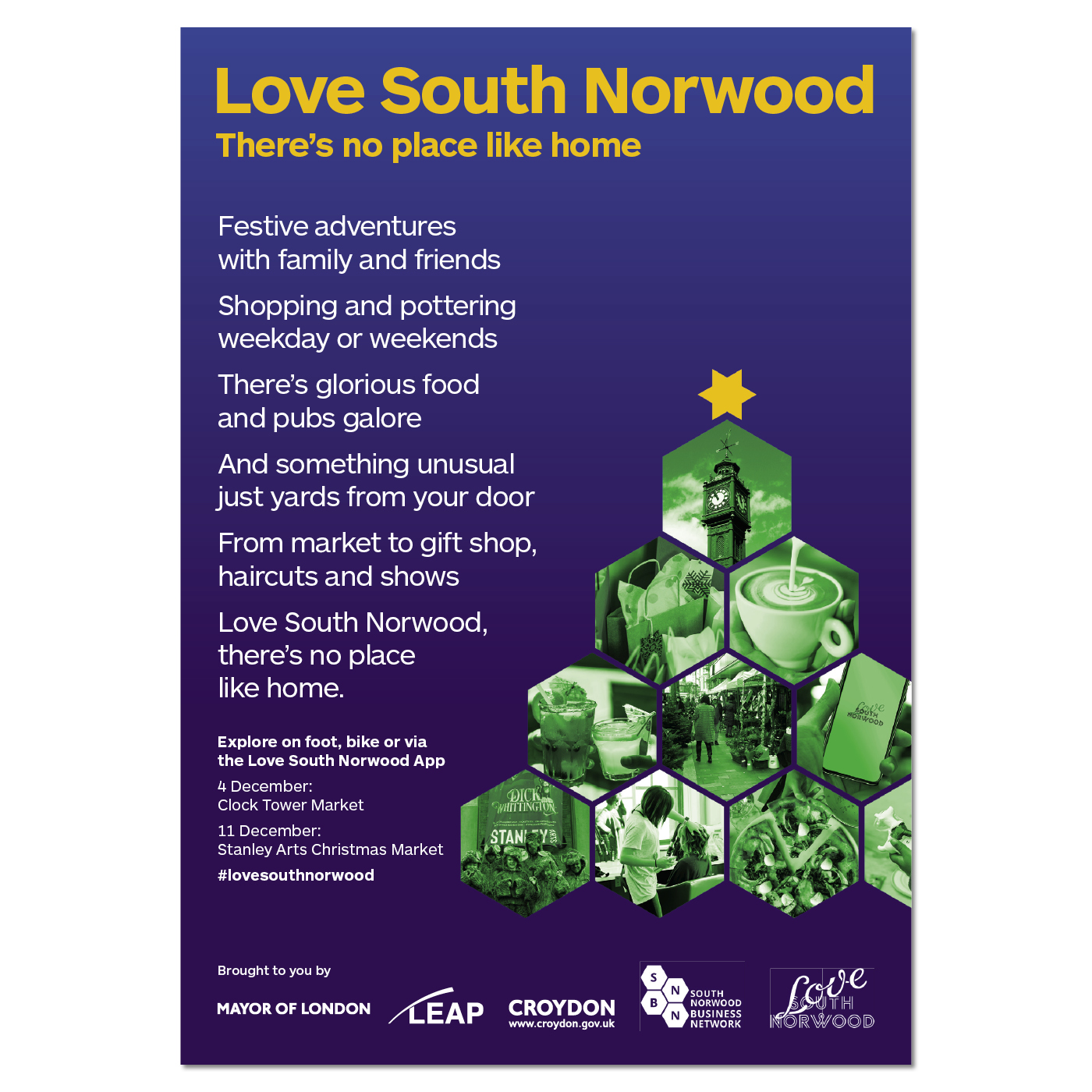 Images courtesy of SNBN. 
SNBN have partnered with the Good Growth funded South Norwood Regeneration Programme to launch their 'Shop Local ' campaign.
Posted by Angela