Music has always been an incredibly important part of my life, both as a writer and fan. One of the things I love about it is its infinite possibilities; reinventing and evolving at an increasingly rapid rate, sometimes with truly inspiring results, and sometimes… not. Either way it's pretty amazing how the sheer number of creations that exist. My quick google research informs me that there are 97 million officially released songs out there, so I guess I'll never get to discover all there is to hear, but I'll certainly not get bored trying. This brings me to a discovery I made earlier this year at our festival, Cro Cro Land. Let me introduce you to the captivating sounds of Stunflower. I caught up with Devaki and Thomas from the band for a natter.
Croydonist: Hey Stunflower, thanks for setting aside some time to chat with us today. For our readers who may not know you can you sum up who Stunflower are?
Thomas: Hey our pleasure… we love what you guys are doing for the local music and arts scene! Stunflower are a group of people whose lives have been intertwined for over 10 years in more ways than one… coming together musically we are a mix of old school music-world passion and influence/mixed with an eastern viewpoint alongside a younger interpretation of classic music.
Devaki: Ever since we've been making music we've struggled with explaining who we are… because our influences are as diverse as The Mighty Sparrow, Prince, Joni Mitchell and Ravi Shankar. We come from opposite parts of the world and opposite musical influences… I grew up a Hare Krishna and my father was a Mantra Rock pioneer touring/recording internationally, blending Sanskrit chants with rock folk melodies and rhythms, Thomas grew up in Trinidad influenced by Soca, Calypso, Soul, Reggae and rebelled by listening and falling madly in love with rock… We play music based on the inspiration of the moment when writing and creating. For slotting sake… psychedelic reggae rock 🙂 to sum it up, we're a couple of veteran musicians from Canada via Trinidad, living in London and teaming up with young Lewisham bass player Alex Barrett.
Croydonist: So we know you're not originally from our fair borough. How the devil did you find yourself in the wonderland of Croydon? No joke, we love Croydon and think everyone should at least visit here once!
Thomas: Well our bass player Alex was born and raised in South London, Lewisham, and Devaki and I moved to London from Canada where Devaki is from, 12 years ago. I'm originally from Trinidad… we met years ago in Vancouver and have been musical and life partners ever since… but we feel like Londoners now and have a real passion for the borough and the city.
Devaki: Haha! Kind of by accident… Me and Thomas met as teens in the Hare Krishna faith and left together… making babies and music ever since. We fronted a band called Samsara touring over 10 years in Western Canada and founded/directed an award winning festival called the Komasket Music Festival from 2002-2011. We moved to London with our 4 sons in 2008 to change gears. Thomas had British Citizenship from his father and his brother invited him to start up an IT company. Thomas and I moved to South Norwood in 2015 because the area was affordable and well-connected to transport and we sensed it had a vibe. We're blessed to have a home studio called the Grow Room for rehearsing and recording.
Croydonist: Your music is this beautifully rich blend of sounds that's ever so psychedelic but also hard hitting in places that keeps the listener rooted. How do you tackle the writing process to create such a sound?
Thomas: I've always viewed song-writing as a representation of my current state of mind and I've been influenced by some powerful songwriters I grew up listening to… for me writing songs is always an attempt to capture an honest and meaningful internal reflection… externally though within a framework of sounds that collide naturally within me through exposure to multiple genres from a young age.
Devaki: Awww thank you… takes one to know one! I think our music represents the diverse and tumultuous lives we've lived… and our broad musical influences… one moment the sadness of losing five males collectively to illness and suicide in our families and leaving multiple communities behind through relocation leads to songs like 'Washed Away' 'Yearning' and 'Then' and the celebrative parts of Trinidad carnival and culture are channelled through songs like 'Govinda' and left over youth angst and a life-long commitment to living outside of any system we find ourselves in proximity to leads to songs like 'Modavader', 'Broke the Spell' 'Turnaround'. Growing up a Hare Krishna influences us using Sanskrit chants and having a strong affinity to Indian classical music.
Croydonist: I can hear a bit of Joni Mitchell in the song 'Then' – it's got that real early 70s storytelling/traveller vibe to it, coupled with a modern edge that makes it so very current. Who were you listening to when you were first getting into music and who are your go to picks today? 
Thomas: Yeah that's cool thank you… Devaki's voice probably hints at the Joni Mitchell vibe as we're both huge fans of her… for me I was listening to a lot of calypso and reggae and was influenced by the lyrical style of people like The Mighty Sparrow and Shadow but later got turned on by song-writers like John Lennon, Roger Waters, Mick Jagger/Keith Richards, Joni Mitchell, Prince, Bob Marley… they are a tiny representation of the people who have inspired me.
Devaki: Beginning influences include Bob Marley, Pink Floyd, The Clash, The Mighty Sparrow, The Stones, The Beatles, Toto, Prince, Michael Jackson, Gregory Isaacs, Genesis, Wyclef Jean, George Harrison, Ravi Shankar, Buffy St Marie, Bob Dylan, John Lennon, Joni Mitchell, Sinead O'Connor, Sarah Mclaughlin, Stevie Wonder, Sly & the Family Stone, The Band, George Michael, Annie Lennox, Beck… it goes on! ☺
More current influences include… Vulfpeck, Damian Marley, Imogen Heap, Lee Scratch Perry, The Free Nationals, Rakesh Chaurasia, Karsh Kale, Lauryn Hill, Mavis Staples, Kate Tempest, Theivery Corporation, Massive Attack, Nitin Sawney and so many more!
Croydonist: What's the best thing about being in Stunflower and being a musician in general?
Thomas: The best thing for me is having a way to express myself that is powerful both on a personal intimate level and being able to share with people that feeling of creativity, passion and expression that's felt through music and specifically in this band.
Devaki: in Stunflower I feel like there are no musical boundaries… if we can think it or feel it we can turn it into a song… we aren't bound by genre, style, expectations, we're rebels for life. ☺ The best thing about being a musician is having somewhere to share your story that can hopefully resonate with other people. Having other humans witness your expressions of yourself through music. Realizing we're all connected… share the same journeys… Losing yourself to the beauty and magic of music… to the moment… brief moments of freedom from life's struggles… no matter how hard life gets you can pick up an instrument and be transported with sound and expression. And the ability to move people's minds, bodies and spirits with something we feel authentic about… no bullshit… just sound and rhythm… in an increasingly fake world we feel blessed to have this sacred medium to hold on to.
Croydonist: What are your top 3 favourite moments of all time in music. 
Thomas: Writing and recording with Jon Anderson from 70's iconic band Yes is a pretty significant moment in my life, we've been working on 5 or 6 songs over the last few years… it's incredibly beneficial to work with someone who is a legend mainly for being a powerfully individualistic and creative representative of the music scene from the 60's to now.
Devaki: Moments in the studio collaborating to find the perfect sound… watching Damian Marley at The Ends this summer and feeling we're on the same wave length… looking out for each other on this suffering planet… staying true to our beliefs… playing on stage with lead singer of Yes, Jon Anderson at the Komasket Music Festival, we played 'Soon oh Soon' with a reggae skank and he sang… this was with our former band. Moments at our gigs with Stunflower where you can feel you're reaching people's souls… at our album launch at The Paxton Centre and our set at Cro Cro Land and Beautiful Days… you look out into the audience and you see people really in the moment with you… getting what you're giving… that's the highest moments and what we keep pushing on for.
Croydonist: What's next for Stunflower? Any new music on the way? and where can we expect to see you play live?
Thomas: Well we're cooking several tracks at the moment… all in different degrees of completion …should be another album by early 2020… no date yet… we're trying to produce as quickly as possible… working from our home studio so when time allows …between 7 to 10 songs …and possibly put out a 3 song EP before Christmas… We're excited about an old-school Calypso cover called 'Soca Baptiste' which is almost done. we have plans in place for a new music video from the last album.
Devaki: a fave London musician/promoter is bringing us to a night at Dingwalls (Camden Lock) on 2 Dec. DJ/promoter Sophie Darling who we met on recent radio appearance 'A World in London' is hosting us at 'Same Waves Musicians Series' at 'The Post' in Seven Sisters on 23 Nov. We have 2 Croydon Diwali shows on 27 Oct at Fairfield Hall, a short set with classical Indian musicians organized by Mayura Patel and 2 Nov, right on Croydon High street for a new friend, Bhupendra Solanki.  Plans for a possible dance/party somewhere in the borough before Christmas too… maybe collabing with other local bands?
Croydonist: Lastly, we always love a Croydon hot tip. Where are your fave hangouts in the borough?
Devaki: First has to be South Norwood Country Park for nature immersion… hang out spots/nightlife…Shelverdine Goathouse, Matthews Yard, BoxPark, The Ludoquist, Bad Apple, The Oval… film clubs SCREEN25… eating places… The Banana Leaf and Chennai Dosa for South Indian, Mama Dough for zaaa …festivals….The Ends, Cro Cro Land, Bamstock/Hoodoos, South Norwood Community Fest, Dance Umbrella/Beeja Dance, Croydon Mela… music/art/dance …Fairfield Halls, Stanley Halls, The Front Room.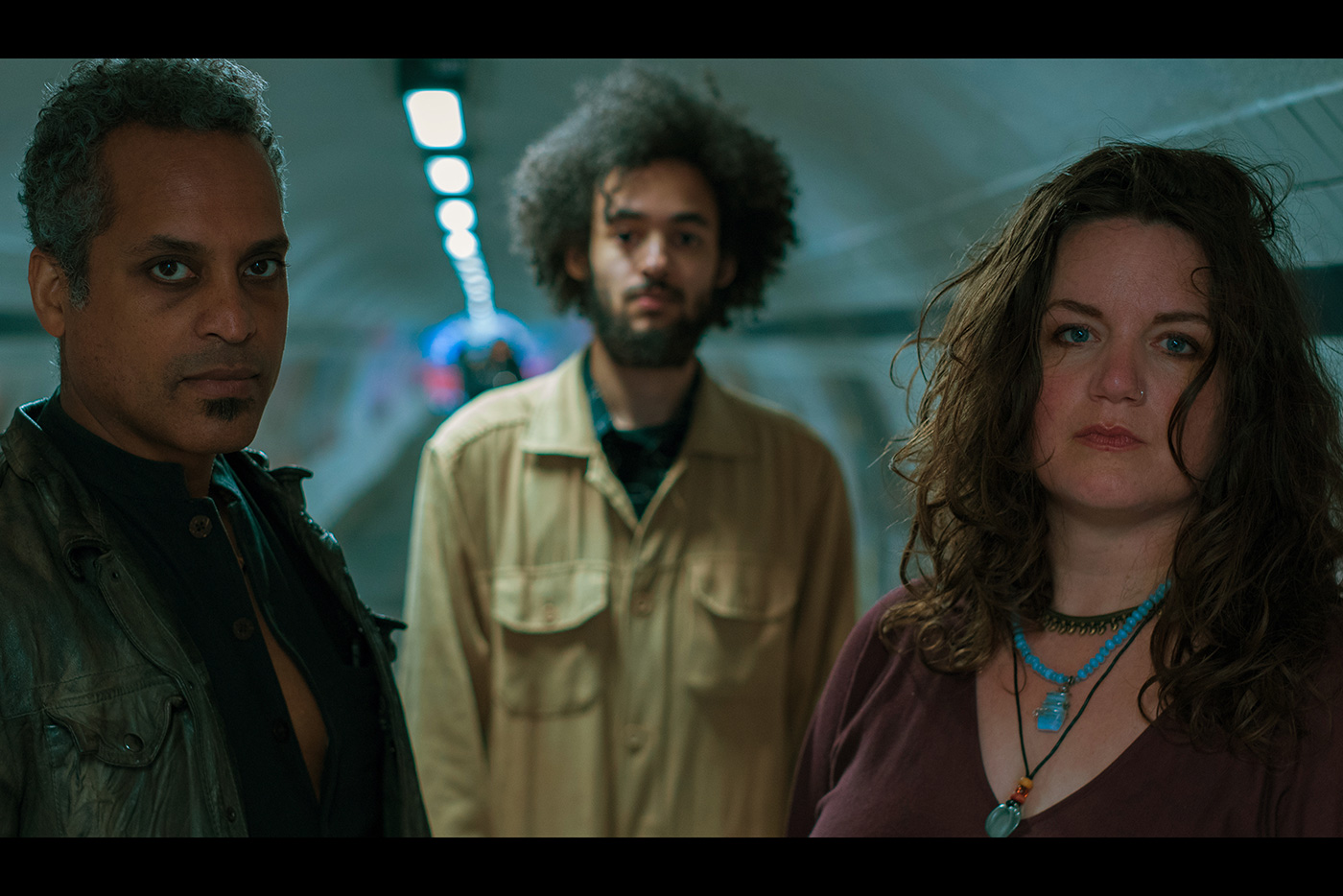 Many thanks to Stunflower for the music and for being this week's feature in the Croydonist.
Header image by Pixabay, modified by the Croydonist
Posted by Angela