Last year I absorbed a hell of a lot of history about late sixties counter culture, whilst designing the V&A book for the exhibition 'You Say You Want A Revolution'. I came up the learning curve, particularly, on the revolutions in music pioneered by the likes of The Beatles, The Grateful Dead, Jefferson Airplane, The Mamas & the Papas, and of course Jimi Hendrix.
Hendrix played his first big US gig at the Monterey Pop Festival, which is often regarded as one of the main starting points for the Summer of Love social phenomenon that peaked in the summer of 1967 in San Francisco. 100,000 hippies streamed into the Haight-Ashbury neighbourhood to live an alternative lifestyle – rejecting main-stream values to experiment with drugs, sex, music and psychedelic art.
Well this year is 50 years since the original Summer of Love and Croydon is celebrating with its own version. Think less of the sex and drugs, and more of the music, flowers and love.
In planning since last autumn, it is the brainchild of Andrew Dickinson. He explains that after 2016 ending badly (both locally with the tram crash, and globally with dramatic political changes), it was an opportunity to celebrate the anniversary of the 1967 Summer of Love, to put some colour and frivolity back into Croydon life – adopting the themes of peace, love, unity, to accept our differences, move on and make good things happen.

The star event of the Croydon Summer of Love is the Summer of Love Festival on Saturday 17th June in Wandle Park. But it's not just about that one day, it's a theme running from now until the end of August, and Andrew wants people to pick up on it, have some fun and put their own spin on it – so for example if you are a restaurateur you might want to add to your menu a 'Light my Fire' cheese burger (after The Doors song) or a Sergeant Pepper's salad.
It is already being adopted by the community – Croydon Summer of Love endorsed last week's Tour Series bike race, the David Lean Cinema is planning to screen a film from '67, residents of Love Lane, (yes, there really is one in South Norwood) are planting flowers for the occasion, EJ Gallery is running psychedelic art workshops and an exhibition of the results, Croydon Saffron Central is creating a rainbow flag in their garden for this year's PrideFest, and Parklike Cafe are planning a Summer of Love evening at Lloyd Park. There are even Croydon Summer of Love T-shirts available to buy, if you want to show you support.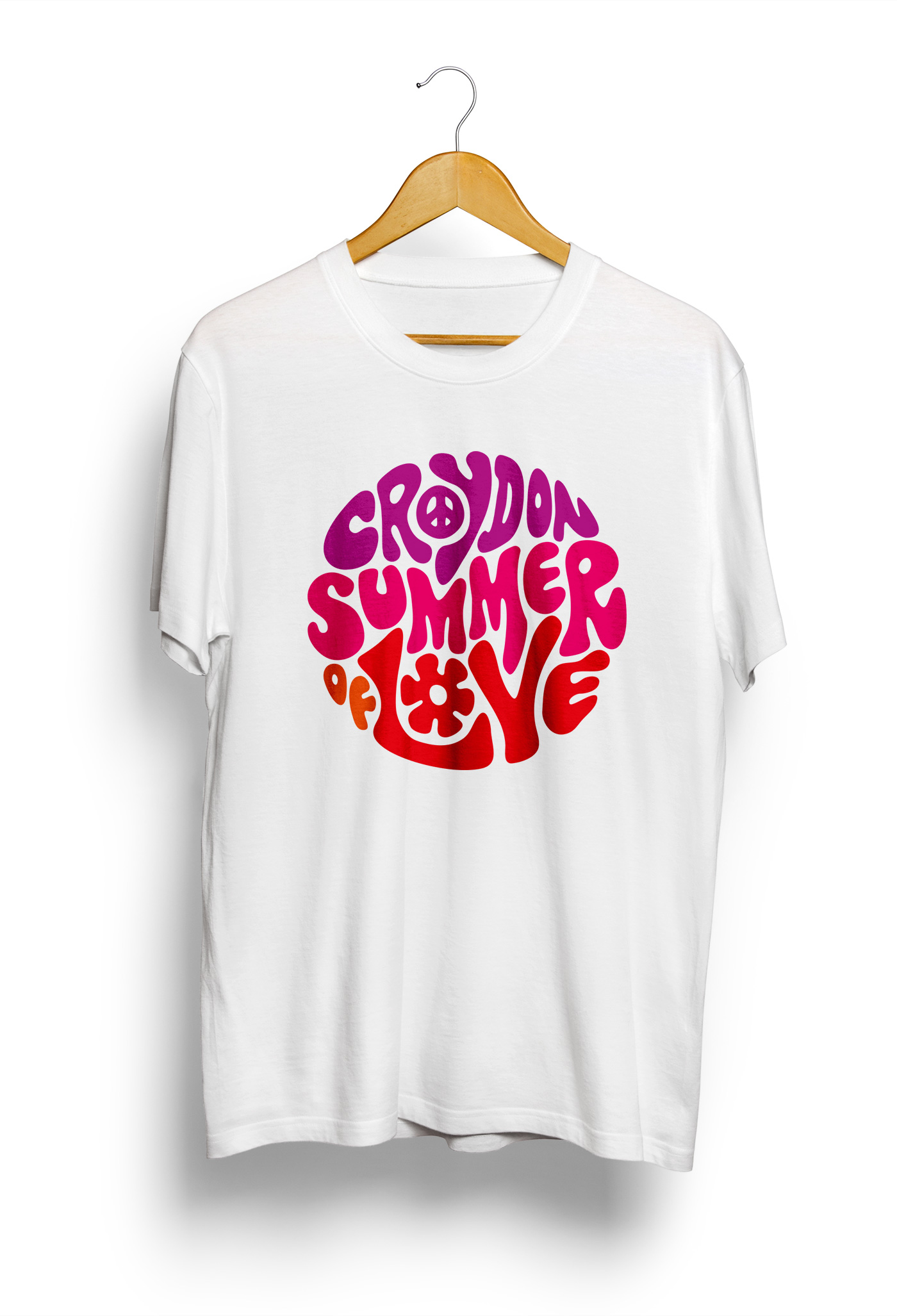 Our own version of Haight-Ashbury is of course Wandle Park, where a whole host of events are planned for the summer from the Environmental fair in June, poets, orchestras and pirates in July, to folk, gospel and cinema in August.
Back to the headline event on 17th June – Andrew has joined forces with Richard and Josi Hamilton from Hoodoos, Kaysen Asante from Pura Aura, DJ Luke Hemment, and Kaylum and Minkles from Broken Circle to organise a free music festival, with support from the Council. Yes, it's FREE folks. There'll be an eclectic range of music, some nodding to 1967, others very much of 2017. If you want to get in the mood check out the very cool bands and solo artists on the line-up, including The Nine Lives, Abi Hudson, Junk Time Party, Billie Fox, Code 8, Leslie Lewis Walker, Captain Paul Watson and my personal favourite Everon Goen.
There will also be spoken word, hip-hop and rap, a fairy love grotto (I can't even imagine!), arts and crafts, massage, meditation, bubble blowing, a hula hoop workshop, free hugs, and lots of lovely stalls. 21,000 mixed colour cornflower seeds have been planted in the Wandle Park community garden, which (if they flower in time) will be used to make necklaces, garlands and headbands. Flower power is literally coming to Croydon. Oh and of course, no festival would be complete without food and drink, with a mix available from healthy vegan to not so healthy hot dogs, and a compulsory bar.
Want to get involved? There is still time to run a stall at the festival. The team is also looking for an instagrammer to cover the Croydon Summer of Love, so if you're interested in festivals, music, events get in touch with Andrew. If stalls and social media don't particularly float your boat, just come along and enjoy the festival. Dressing up is encouraged.
In case you're wondering, our title is inspired by the 1967 Summer of Love anthem 'San Francisco (Be Sure to Wear Flowers in Your Hair)', written by John Phillips (of The Mamas & the Papas) and performed by Scott McKenzie to promote the Monterey Pop Festival. Here it is to get you in the mood for our own Summer of Love in Croydon:
The Summer of Love festival is on Saturday 17th June from midday to 7pm. Keep up-to-date with the line-up here. You can find the full range of Wandle Park Summer events here.
I'm hoping we'll be able to extend Croydon's Summer of Love past 2017. A Wandle Park Woodstock in 2019 anyone?
'You Say You Want A Revolution?' film by FGREAT, bunting photos courtesy of Andrew Dickinson.
Posted by Julia