Now that the Fairfield Halls has reopened its doors in the heart of our borough, we have many varied arts events and opportunities to look forward to in the coming months.
One of the things that particularly excites me about the redeveloped Fairfield is the three very different resident organisations that now call our arts centre their home. We will be chatting to each in turn – first up, Talawa Theatre Company.
Founded in 1986 in response to the lack of creative opportunities for Black actors and creatives, today Talawa is the primary Black led theatre company in the UK, with more than 50 touring productions to its name. Now in residence at the Fairfield, the theatre company has its own 200 seat studio giving them space to develop a community outreach programme, and create and premiere new work. We caught up with Sanjit from the Talawa team to find out how they are settling in…
Croydonist: What does being in residence at the Fairfield mean for you as a theatre company and for Croydon as a whole?
Sanjit: It's a next phase in our story. We want to start our time here by listening to people, and finding out what their creative needs are as well as engage with local theatre artists.
Croydonist: Where else have you called home?
Sanjit: Well, we've had offices across London, most recently at the Rich Mix building in Shoreditch. Before that we had a ten year lease of offices near Old Street's Silicon Roundabout, and before that offices in various places. Back in 1995 was the last time we had offices with a theatre space attached as we now do at the Fairfield Halls.
Croydonist: Talawa is over 30 years old. What have been your favourite three productions over the years and why?
Sanjit: We love them all for different reasons. We produce three main types of work, that's probably a good way to answer your question:
Firstly – Classic productions (Shakespeare, or Musicals) which tour and play in the main houses of well-known theatres. We love these because of the chance to demonstrate Black British excellence on a large scale, across the country;
Secondly – We work with new and emerging theatre artists and creatives through the year. The opportunity to showcase or premiere their work in our new space is really exciting. We love this work for the fresh, innovative, and unapologetic Black voices and stories it brings to the fore;
Finally – For almost two decades we have produced a devised production with people aged 18 to 25 and drawn from Black communities in London who have never experienced formal theatre education – this strand is called TYPT. TYPT productions allow people to shine, to create together a living and breathing story from a blank page, and to see their ideas and narratives on stage. It's incredibly empowering and we love the way it allows a safe space for self-expression and transformative experiences.
Croydonist: How many people make up Talawa?
Sanjit: We are a small team of five full-time staff and 4 part-time staff. We are also recruiting at the moment – check out talawa.com for more.
Croydonist: We hear your Artistic Director Michael Buffong can be bribed with wine gums 😉 If we buy him a pack, could he tell us what he's looking forward to about being resident at the Fairfield Halls? 
Sanjit: Michael's regretting that one, his desk drawers are stuffed with wine gums! Look out for details of events from our website. You'll get to see some of the work we make in March 2020, and details of that are coming very soon.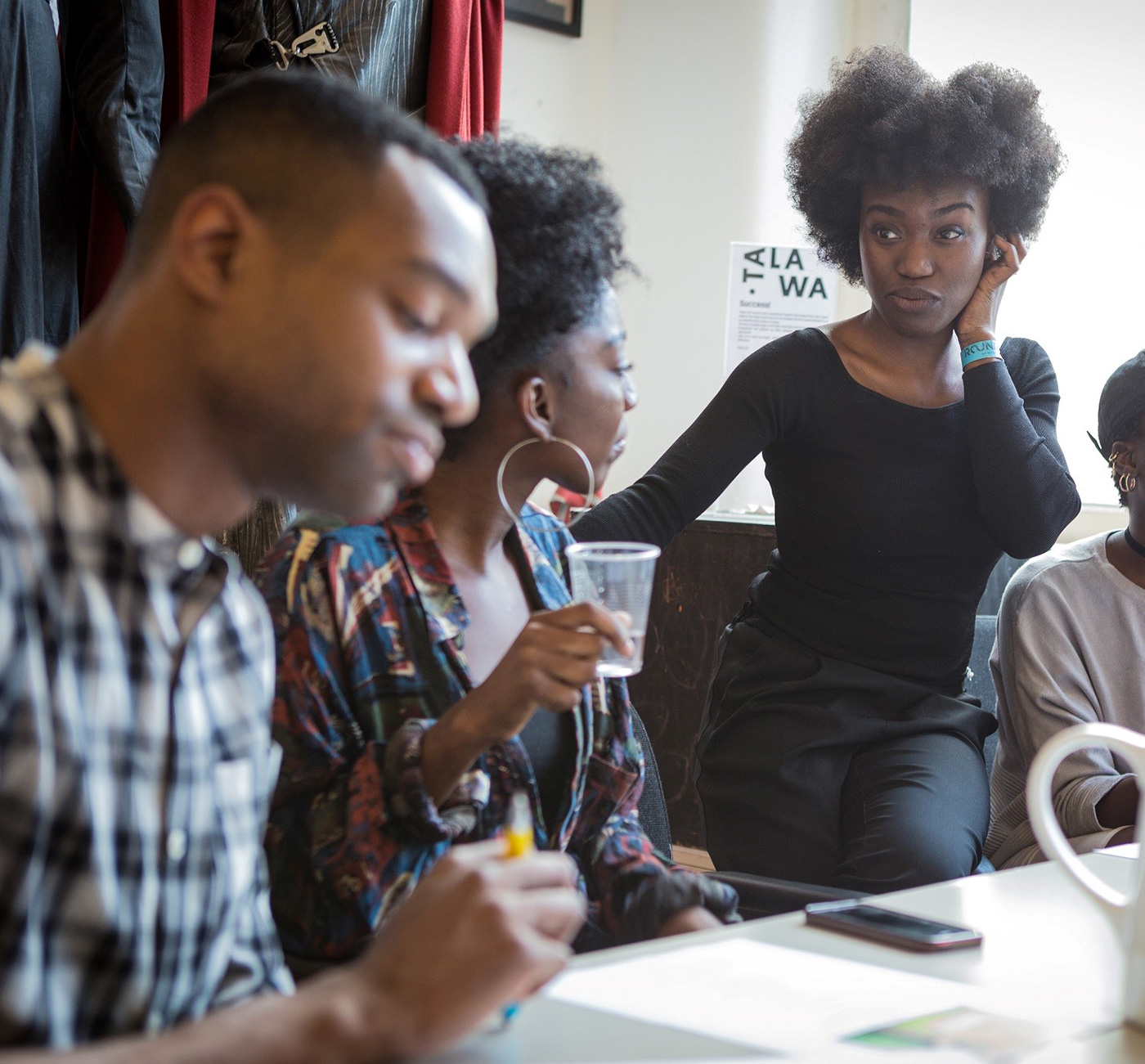 Croydonist: You tour all over the UK. When can we see you perform in Croydon and what have you got coming up at the Fairfield Halls?
Sanjit: We'll have some events in the Talawa Studio at Fairfield Halls in the new year. We'll also have a new show running there in March 2020. And we'll release more details of what's coming across 2020 and into 2021 in February.
Croydonist: What are you enjoying about being in Croydon so far?
Sanjit: There's a real buzz in the borough, and an exciting sense of possibility – we love that. We're 'at home' here.
Croydonist: Are there opportunities for Croydon residents to get involved with Talawa coming up?
Sanjit: Yes, there will be. Look out for details from the start of next year, or sign up to get our newsletter.
Croydonist: What three things should our readers know about Talawa that they might not know already?
Sanjit: We are a charity.
We support Black British theatre artists and creatives.
We are developing community engagement events and initiatives which local people will be part of.
Thanks to Sanjit for chatting to us. Keep an eye on Talawa's website for details of upcoming events. And in case you're wondering, the name, Talawa, comes from a Jamaican patois term and means gutsy and strong: 'me lickle but me Talawa'.
Images courtesy of Talawa.
Posted by Julia