Summer is almost upon us and I've been daydreaming of an ice cold beer in the sun. It doesn't have to be summer of course to enjoy beer, and anyone who knows me will know that I'm an all seasons beer drinking kind of gal!
This brings me nicely onto the subject of this week's article. CRAFT BEER!!! So without further delay, let me introduce you to The Craft Beer Cabin – a cute tap room and beer shop in South Norwood that also has a Gin bar. Plus they have an online store so you can get your faves delivered to your door. I recently had a rather fun evening at the tap room sampling beers, and have also explored the menu online for some tasty treats which included Amundsen Dessert In A Can, Rocky Road Ice Cream Stout, Arbor C Bomb Pale Ale, AZVEX Maximum Conveyor IPA.
It's fair to say that I'm a big fan of The Craft Beer Cabin, so I decided to get in touch with the founders for a natter about their adventures in beer.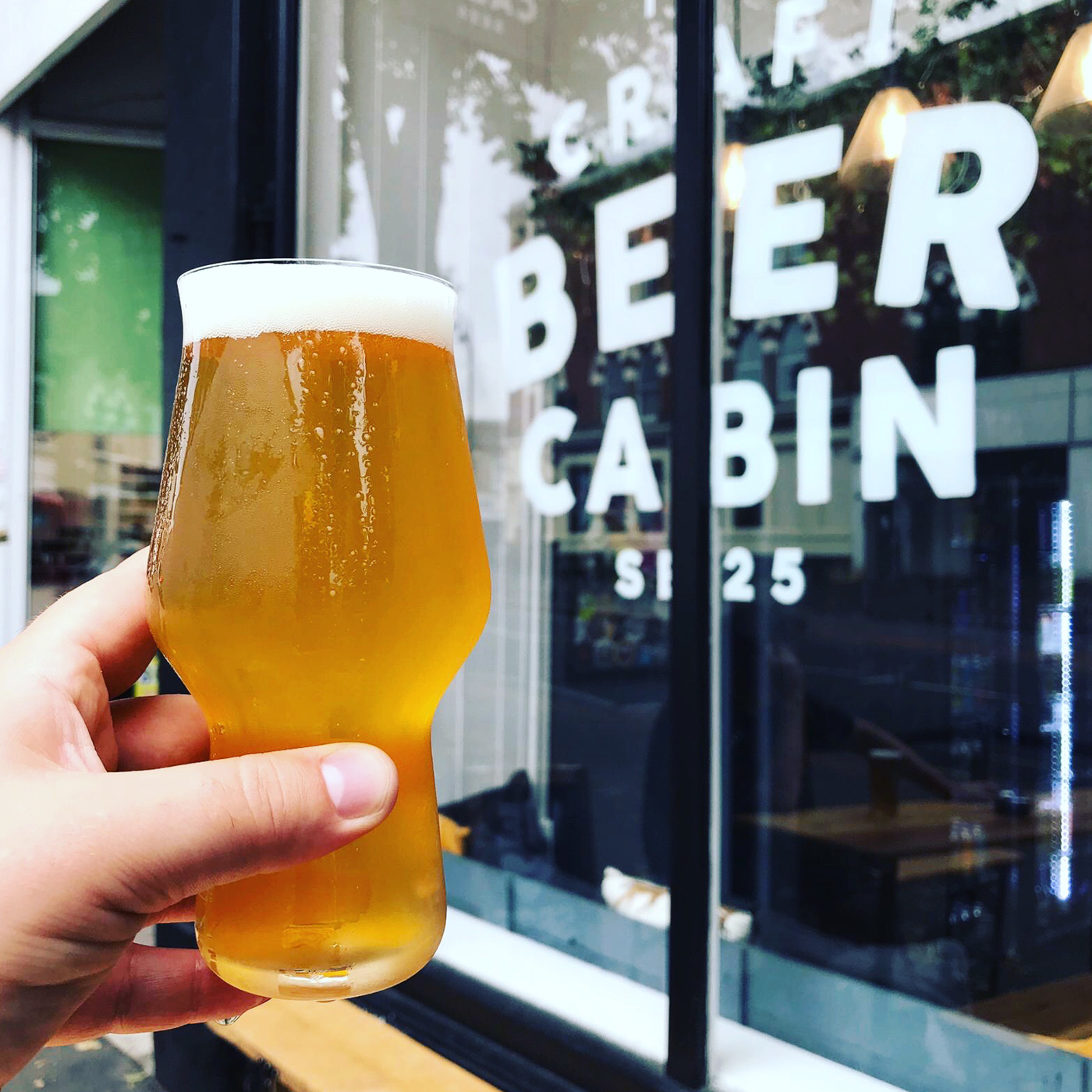 Croydonist First up are you Croydon natives or converts? Basically, where do you call home.
The Craft Beer Cabin: Nick (Kiwi) and Josie (South African) have lived in London for almost 20 years. We met a little over 10 years ago and have both lived in various parts, but have been South East London based for almost 10 years. We're very much at home in SoNo since buying our first house together here in 2017.
Croydonist: We're big fans of The Craft Beer Cabin, in fact we were only there a couple of weeks ago sampling some mighty fine beverages when it dawned on us that we hadn't written about you yet! So, in true' getting to know you' fashion, how did your journey with Craft Beer begin?
The Craft Beer Cabin: Nick's been a beer fanatic as long as he can remember and has travelled the world for beer exploration, visiting many breweries and festivals. A chance encounter found him joining an amazing craft beer distribution company in their early stages and worked for them for over 8 years, in what became a rapidly growing industry.
In 2015 we set up a mobile craft beer bar in a vintage black cab we named Stanley (you might have seen his number plates in The Cabin). After a few years on the road, doing various markets and events, we decided to open a more permanent 'bricks and mortar' venue in the glorious SoNo, where we now live. We wanted to bring all the wonderful products we had had the privilege of sampling and selling to others in our new neighbourhood. So The Craft Beer Cab became The Craft Beer Cabin.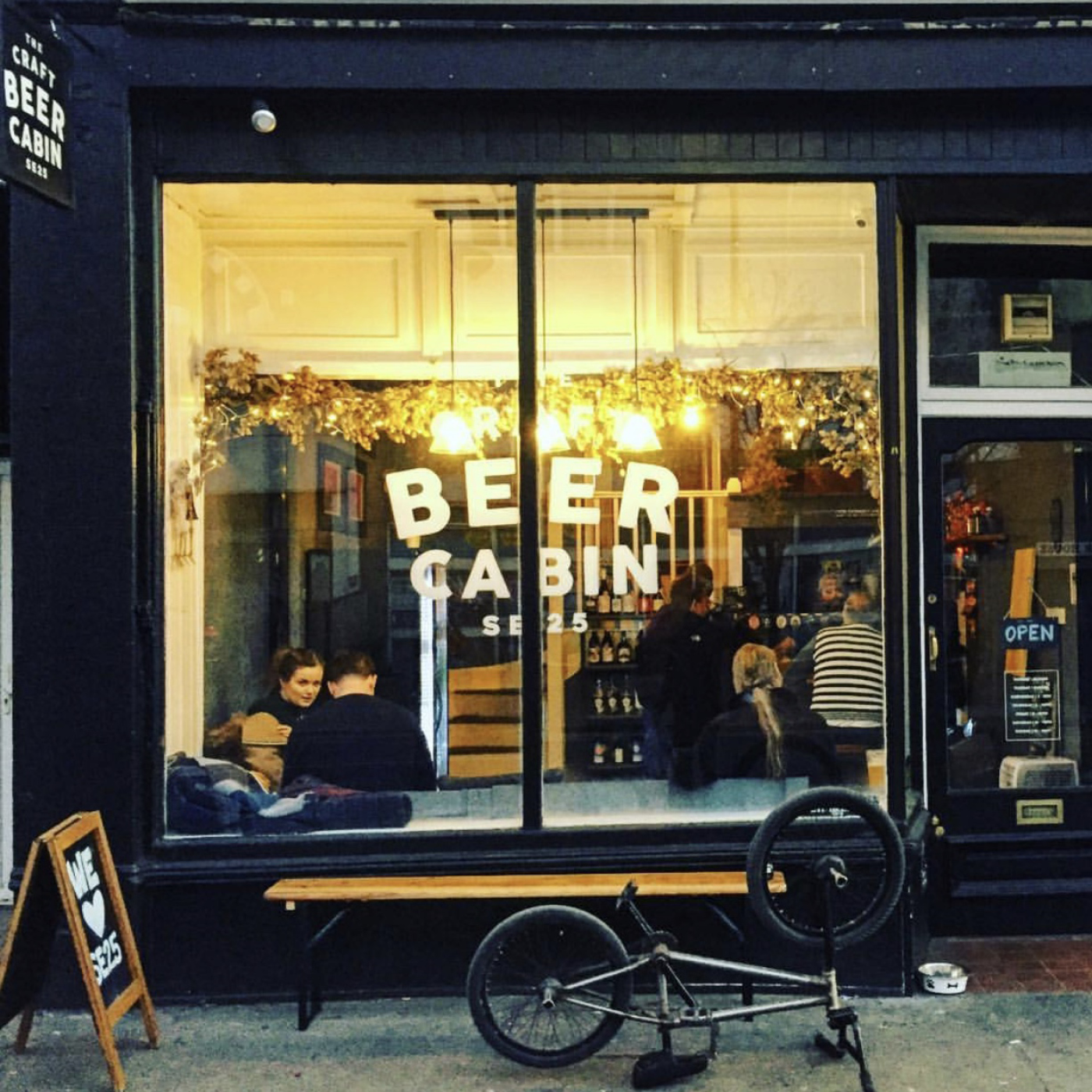 Croydonist: Your cosy beer cabin, come shop, come tap room is a stone's throw from Norwood Junction – any plans to expand?
The Craft Beer Cabin: We were looking to open another location, but the pandemic and uncertainty sadly put those plans on hold. We're hopeful we'll find somewhere suitable in 2022, to bring our cosy, welcoming and conversational atmosphere to a neighbourhood nearby. If anyone has any suggestions on where that should be, we're all ears!
Croydonist: You have 6 beers on tap – which is your favourite one, and what is going down well with punters right now?
The Craft Beer Cabin: Our 6 taps cover Lager, Cider, Pale, IPA, Dark and Sour. Broadly speaking, those 6 styles should provide something suitable for most beer drinkers. For those a little more adventurous, we generally stock around 150 cans and bottles including some of the most sought after beer being brewed in the UK and beyond. We'd say our hoppy taps are the most popular with hazy, juicy, soft New England Pale's and IPA's being the most popular.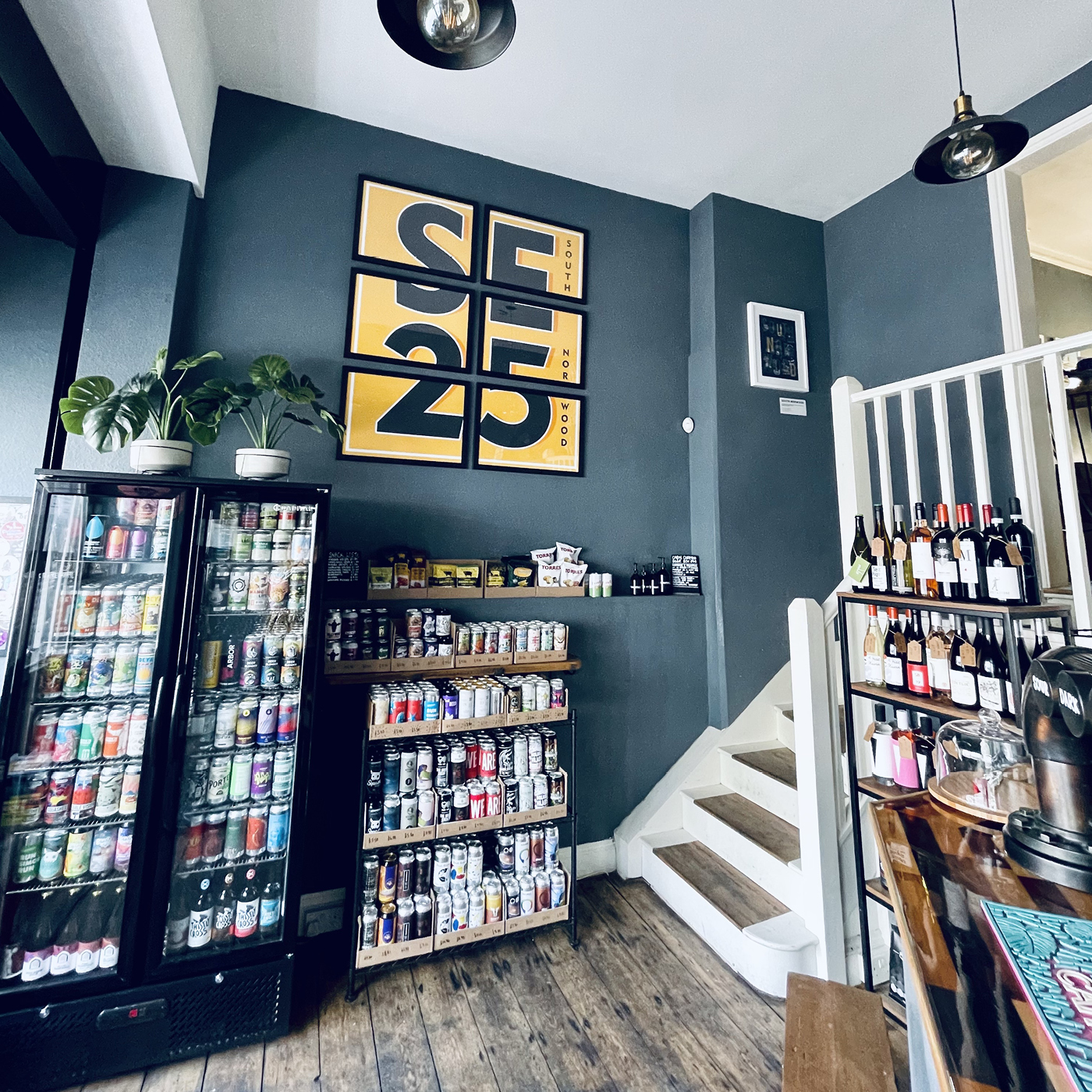 Croydonist It's not all about beer. I noticed online that you have launched a Gin bar at the Cabin with a pretty exciting selection. Can you tell us a bit about that?
The Craft Beer Cabin: We're both fans of flavour exploration and appreciate there's much more to the industry than just beer. Our ethos has always been about making people feel welcome, so catering for the non-beer drinkers is just as important as the beer drinkers. The gin industry has seen growth much like the craft beer industry. In fact, many craft breweries are diversifying into spirits so we liked the idea of having a craft beer influenced gin bar. We also have a great range of natural wines and ciders as well as an amazing seaweed spiced rum from Pembrokeshire which always goes down well with anyone willing to try it. Most recently we have also launched our own spirits range, Lover Fighter Liquor, which we have on sale at The Cabin too.
Croydonist: We're trying to remain upbeat and look at the positives. What has been the best thing to happen in 2021 for you and the Beer Cabin crew?
The Craft Beer Cabin: It's been a tough couple of years, but the local support we've seen through the various lockdowns has been amazing. We've made so many friends in our short time in SoNo and the online orders for local delivery really helped our business navigate the pandemic.
Croydonist: What's in store for 2022? 
The Craft Beer Cabin: We've been looking forward to restrictions easing and being able to safely welcome more people back. Warmer and longer days are on the horizon and we're just excited to catch up with everyone who's supported us so far. Fingers crossed, it would be great to have another site open by the end of the year too.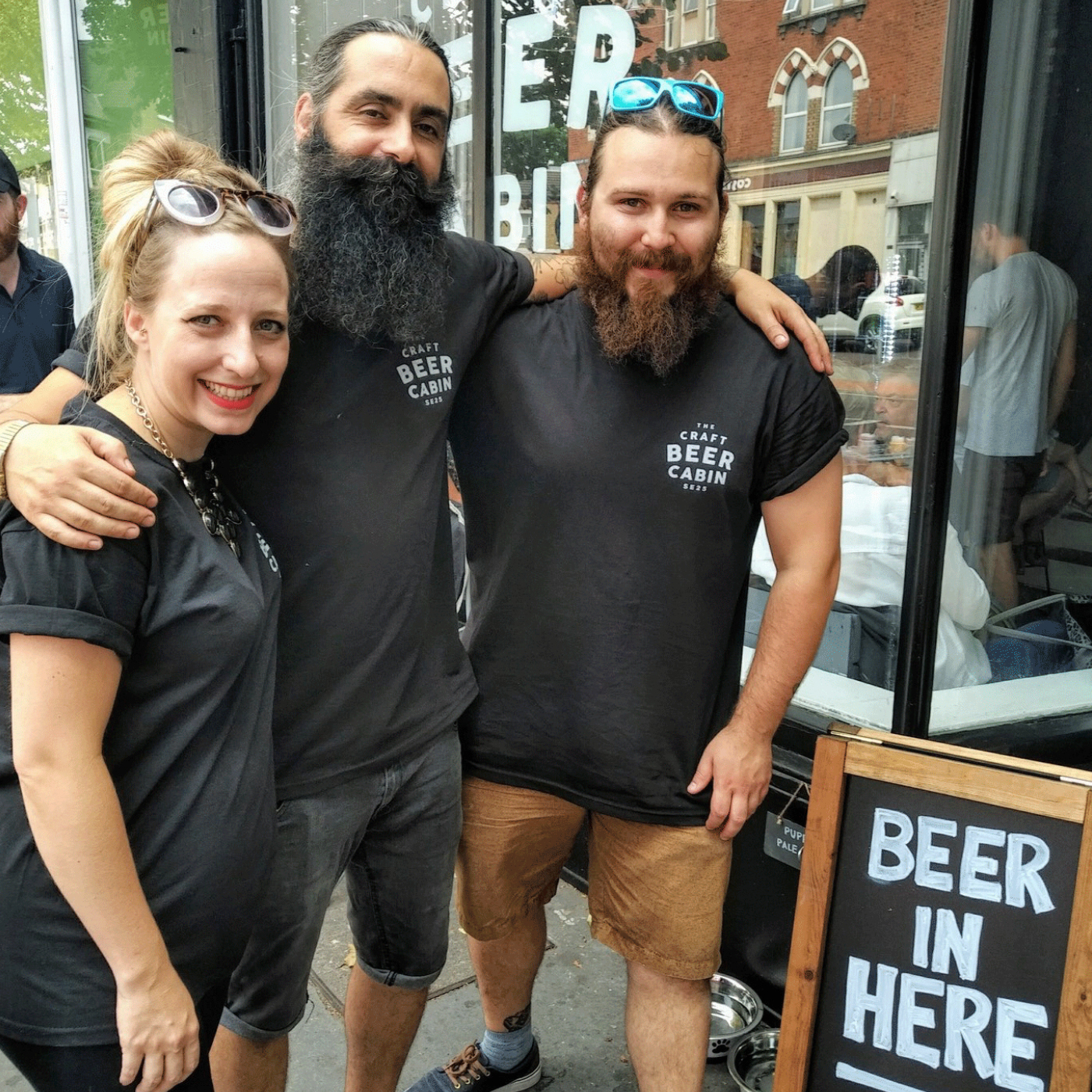 Croydonist: Our last question is a few questions in one as we like to find out what people's favourite local haunts are, so here we go!
A night out locally? Where might we see you?
The Craft Beer Cabin: Having a 3 year old son limits our night's out somewhat. Though there's a growing number of great places to go to in SoNo during more toddler friendly hours. We love a pizza at Mamma Dough, a brunch at Beirut Gourmet and a coffee from No. 241 Norwood.
Croydonist: Fresh air is good for the soul, where do you go to escape the high street?
The Craft Beer Cabin: We have a dog and often visit the Country Park, Shirley Hills, Heavers Farm, South Norwood Recreation Ground and Whitehorse Meadow. Along with great transport links, these green spaces were a real draw for us when considering buying here.
Croydonist: Food, glorious food – if you're not cooking at home, where are you eating?
The Craft Beer Cabin: We love cooking. Nick's always barbequing and slow cooking, but our favourite place would have to be Mamma Dough. Probably because there's no better pairing than beer and pizza, right?
Croydonist: Absolutely!
Thank you to Josie and Nick for chatting with us.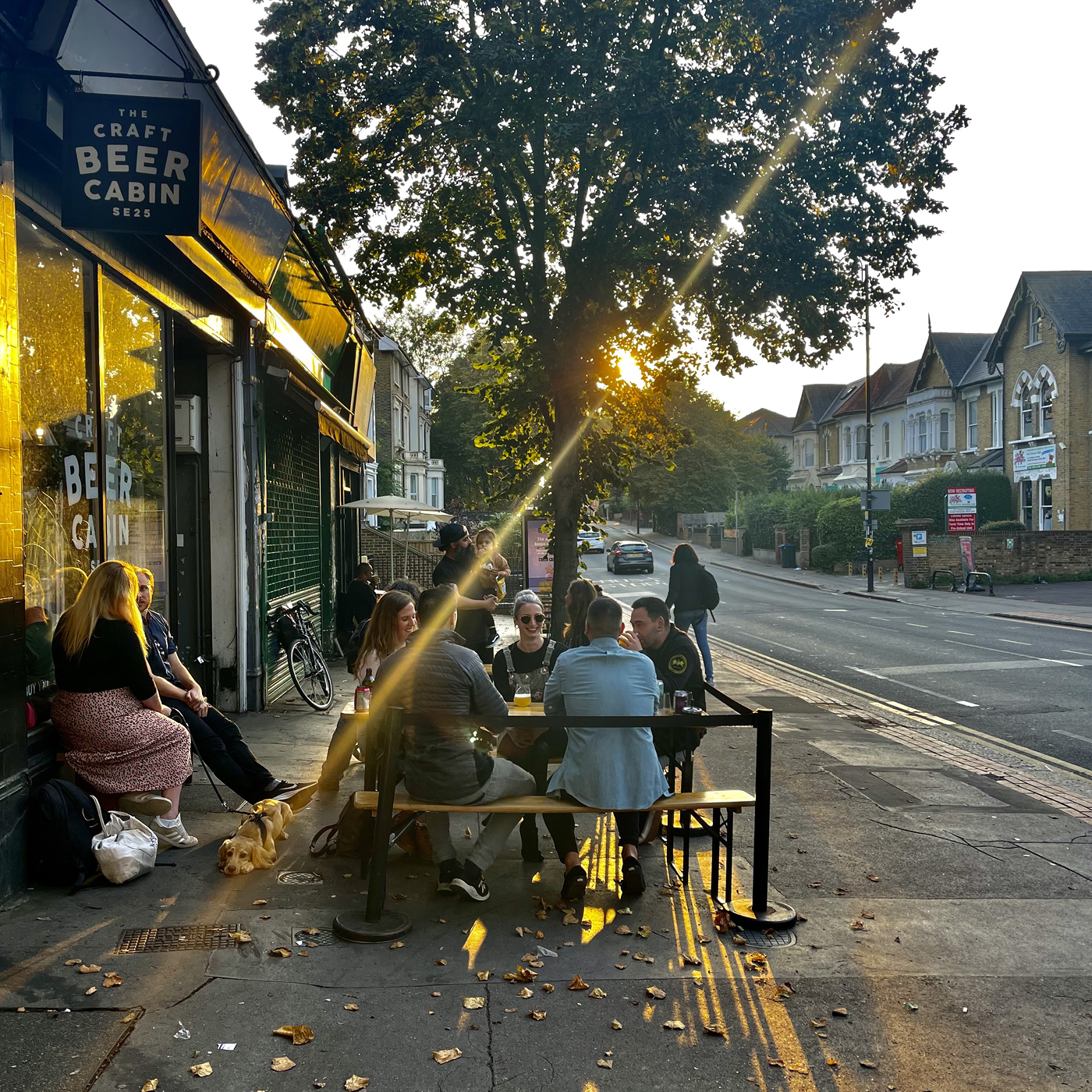 The Craft Beer Cabin is located in the heart of South Norwood, a mere stone's throw from the station at 210A Selhurst Road, SE25 6XU. Opening hours are Wed-Fri 2-10pm, Sat 12-10pm and Sunday 2-8pm. Also make sure you check out their website, and follow them on Instagram and Twitter.
Photos courtesy of The Craft Beer Cabin
Posted by Angela