What connects the following?
1) Centrale Shopping Centre
2) Crazy golf
3) A mole picture in Wandle Park
4) A commemorative set of boulders
5) Croydon airport
No? The answer is Turf.
Not the garden variety, but the art variety. As Turf is a non-profit artist-run project located in our fair borough.
The Turf gallery and workspace is tucked under Centrale Shopping Centre (connection 1), in what used to be a fitness shop called 'Workout World'. (With a few remnants of the previous premises still in existence).
From this Keeley Road base, Turf run a programme of free exhibitions, talks and events for both artists and the wider Croydon community.
We chatted to Alice Cretney and Becky Atherton of Turf to find out more.
Turf all started when Alice curated an artist-designed crazy golf course in Exchange Square back in October 2013 called Putt Putt (connection 2). We're slapping our wrists for having missed this, and also its sequel the following year at Platform Ruskin Square. (We blame our route home from work). Alice wanted more provision for artists in Croydon so from this, she invited a group of artists, architects and filmmakers (all linked to Croydon) to become co-founders of Turf Projects.
Incidentally Turf is actually named after this first project – as in astroturf, used in most crazy golf courses (it has a nice double-meaning because of the organisation's grass-roots too).
In a little over two and a half years Turf has grown from this one public art project with no funding, to a registered charity with a gallery and artists studios, curating around 6 exhibitions a year, with a variety of events, workshops and talks.
One of their current exhibitions concerns the aforementioned mole picture (connection 3). It is part of an off-site poster project in collaboration with Fungus Press. Artists have been commissioned to respond to Croydon's changing public spaces, and the resulting work is exhibited in the Wandle Park and Reeves Corner area. The mole billboard (our favourite) is by Ed Hill.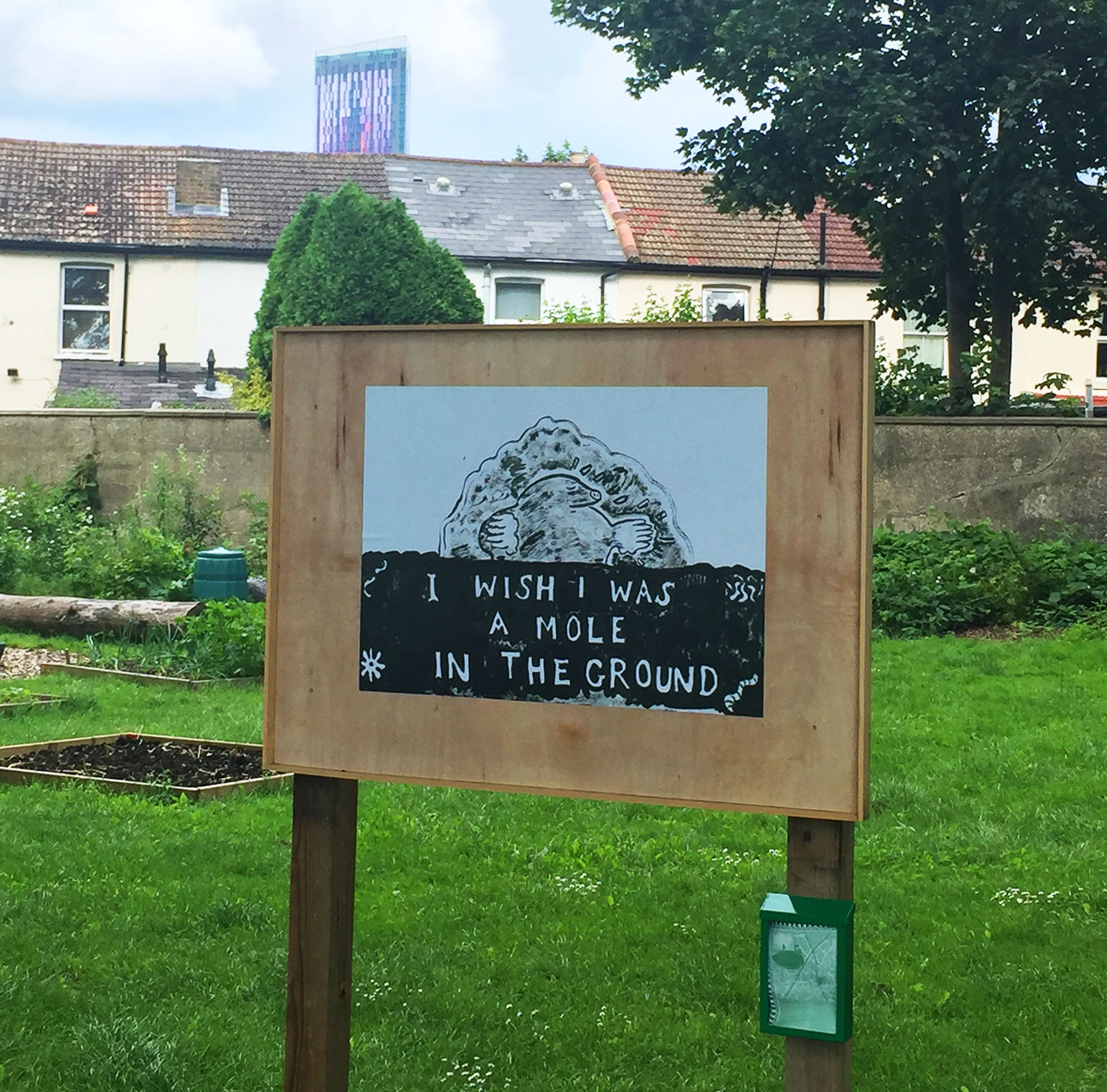 But what about the boulders I hear you ask (connection 4). Did you know there are a series of commemorative stones which have been placed around the borough by the council, named the 'Stones of Croydon'? There are 20 of them altogether, and each one has been installed in one of the original wards of Croydon to celebrate the 50th anniversary of becoming a London borough. (I have seen the one in Wandle Park, but someone did have to point it out).
The connection to Turf? They are running a programme of free artist-led drawing tours, each starting at one of the 20 boulders (next up, Selhurst, then Coulsdon). The tours are led by different artists and designers, and are based on John Ruskin's principles in 'The Stones of Venice' – not intended for the training of artists, but to 'see greater beauties than they had hitherto seen in nature and in art'. I've always been a fan of looking at the environment in a different way, so we'll be joining a tour, at a boulder near you, soon.
Finally we asked Alice and Becky what they saw as their most successful Turf project to date. They decided it had to be their collaboration with Club Soda, who are a collective of artists with learning difficulties or mental health issues. Turf have been providing weekly workshops for the Club Soda artists for a couple of years now, and the partnership has produced a bank of interesting work including two exhibitions, and a comic book inspired by Croydon airport (connection 5).
It really is worth checking out Turf's programme of events, as it's not just for artists – in addition to all of the above, they run family art days, reading groups, artist talks, discussion days, film nights and a whole lot more. They really have spread art all over our turf.
Posted by Julia