A building that has long been a landmark on the Westow Hill side of Crystal Palace Triangle used to be called Upper Norwood Library. My mum worked there before I was born, so I often visited with her as a child. The Library turned into the Upper Norwood Library Hub (UNLH) in recent years, and I have continued to visit, especially for their excellent kids activities. The Hub has carried on providing an amazing array of activities in and out of our lockdowns in the last year, so we wanted to find out more about them. We chat to one of the hub directors Margaret Adjaye about their service, events and how everyone can access them.
Croydonist: First of all, can you tell us a bit about its history and how it evolved into a Library Hub?
Margaret: That's great to hear your mum worked here! It was purely a library service for many years, but it came under threat of closure in 2012. Local residents came together, and the Upper Norwood Library Trust was born, who took on the running of the library hub in 2016. We're now a multi-purpose community and performance arts space with a professional library service delivered by Lambeth Council, co-funded by Croydon Council. We also host the Crystal Palace Library of Things and a live-streaming service with performances, activities and lunchtime shows from our community.
Croydonist: Who runs UNLH?
Margaret: It's a little complex at the moment with most of our team on furlough. But in theory we have two Hub Directors, myself and Emily Jewell, Chris Neath is the Library Hub Manager, Galina Rin is Events and Tech Co-ordinator helping our livestreaming service run smoothly with her technical wizardry, Daniel Stockton is Events and Hub Services Co-ordinator organising our wonderful West End concerts, as well as kids' drama camps and classes, while Georgina Foster is Monitoring and Evaluation Co-ordinator, Kate Willman helps with our social media, and we have one other colleague who is on maternity leave.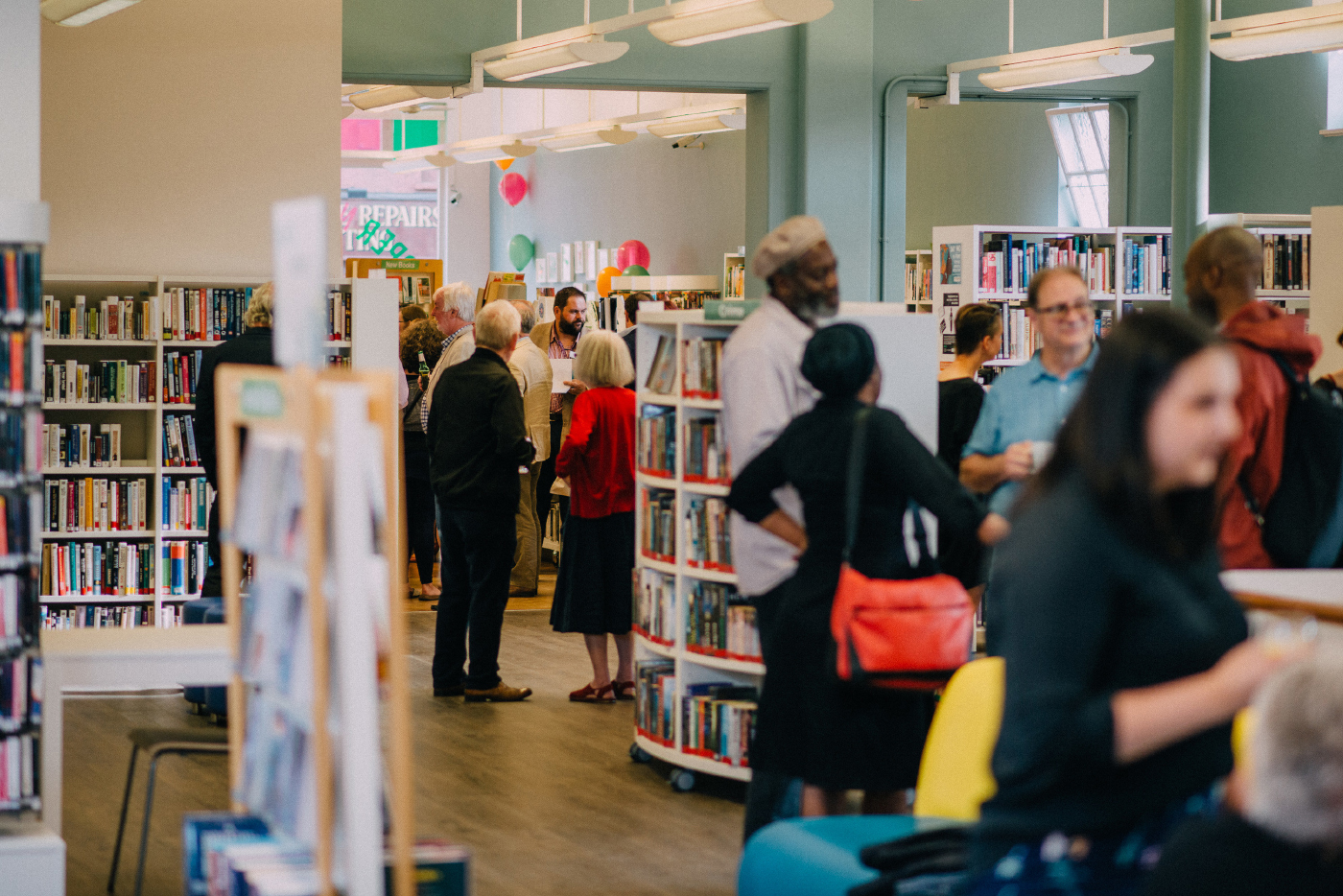 Croydonist: We know UNLH is in a rather unique position straddling different London boroughs. What are the advantages (and challenges) of working with many different neighbourhoods?
Margaret: We have the most amazing community ever, and I mean it. We have a talented, inspiring and very supportive community. Without each one of them, we would not be able to achieve what we have done to date.
The community are right behind us. Some have been with us from day 1 – Marty who does Life drawing, amazing artist; our English-Speaking Volunteers – Wendy, Rob, Simon and many, many others who continue to support us.
They support our events and activities; they tell us what we do well, including areas we need to improve. They share new ideas to inspire us, some partner with us e.g. ClearCommunity Web, Daniel Stockton Productions, the local Choir, Library of Things, Crystal Palace Transition Town, Disentangle Productions and many others – they live or work in the different boroughs which surround us. There are many from the community who volunteer with us, whilst some are Supporters of the Library Hub offering regular donations, and we would like as many people to join our Supporters Scheme as possible.
What has been heart-warming recently is how the community stepped up to support the new Livestream service which we set up in response to the pandemic. So many people volunteered live-streamed activities for everyone's enjoyment.  Local artists also joined by hosting a range of excellent virtual performances supported by the Arts Council England. And just before the recent lockdown we had some socially distanced activities in the library such as the West End in the Library and others.
We have amazing support from Croydon and Lambeth councils, hugely appreciated. We could do with some from the other three boroughs, as many of our library hub users are from those boroughs – Southwark, Lewisham, Bromley. It will be great to connect with them, with the councils and organisations in those areas to explore how we could work together.
We also have a rich diversity of people from our community, and we want to tap into that richness on our doorstep and involve them in our work. Something we need to do more of.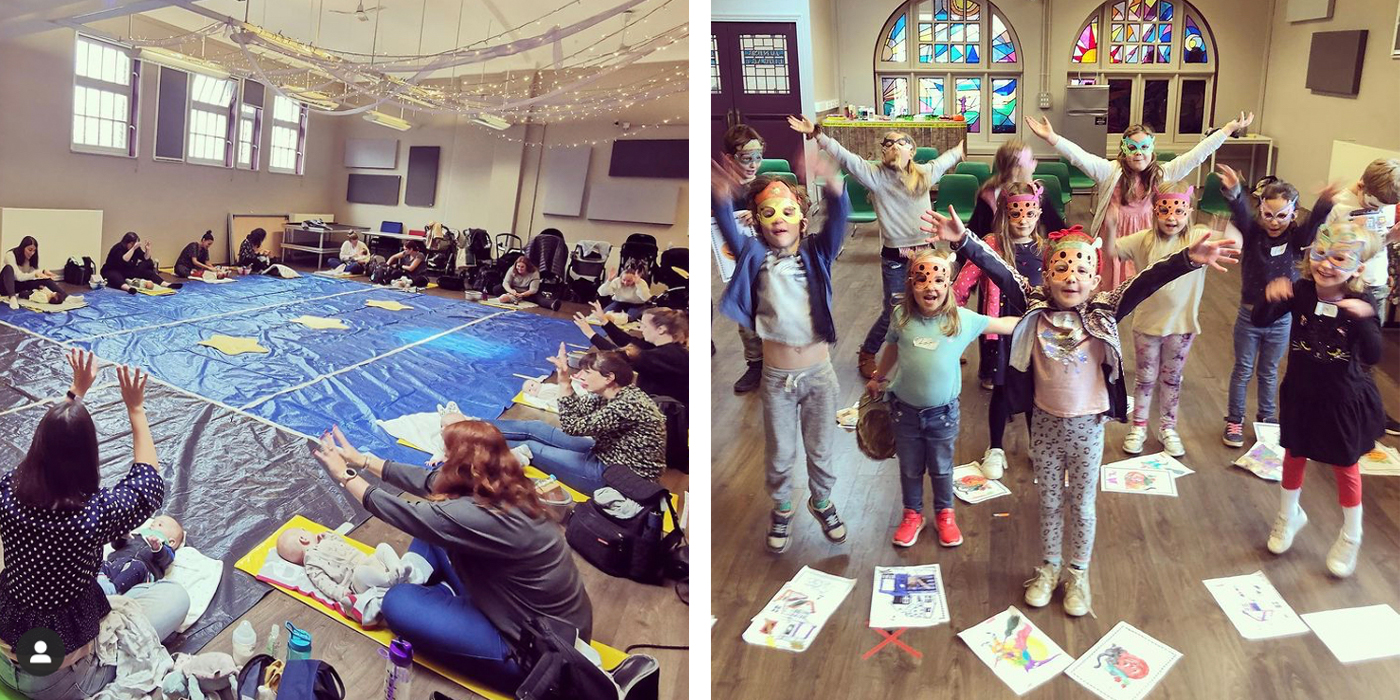 Croydonist: How have your services and programming adapted to Covid times? 
Margaret: Most of our income was generated by letting out space for social, artistic, community and business use; from arts, cultural and performance events, wellbeing and other individual initiatives. This is now impossible due to the lockdown measures so we've really had to completely rethink our model in Covid times. During the first lockdown last March, we wondered about all the people in our community and how they were coping, especially families, seniors and vulnerable adults who used our space. A colleague came up with a fantastic idea to launch a live-steam service to inform, entertain and signpost the community to vital services. The Library Lunch show was born and it's still on every Monday, Wednesday and Friday on our Facebook page sharing stories from the community. Several local volunteers also came forward to offer live music, mindfulness, storytelling, yoga and singing sessions, not to mention the wonderful concerts organised by Daniel Stockton that we've live-streamed using impressive green screen technology, the theatre show Oh No It Isn't by JLA Productions, and the amazing Words Flow Festival of poetry and spoken word that Croydon Poet Laureate Shaniqua Benjamin put on in September. We now have a weekly virtual meet-up too called The Craft Connection where adults of all ages work on craft projects over a cuppa.
We now need to think of ways to generate income from the livestream service to sustain our activities, as we do not know how long the pandemic will last. But for now, we are grateful to funders such as Power to Change, Croydon Council, Arts Council England, Arts Philanthropy Trust who have helped us to sustain the service.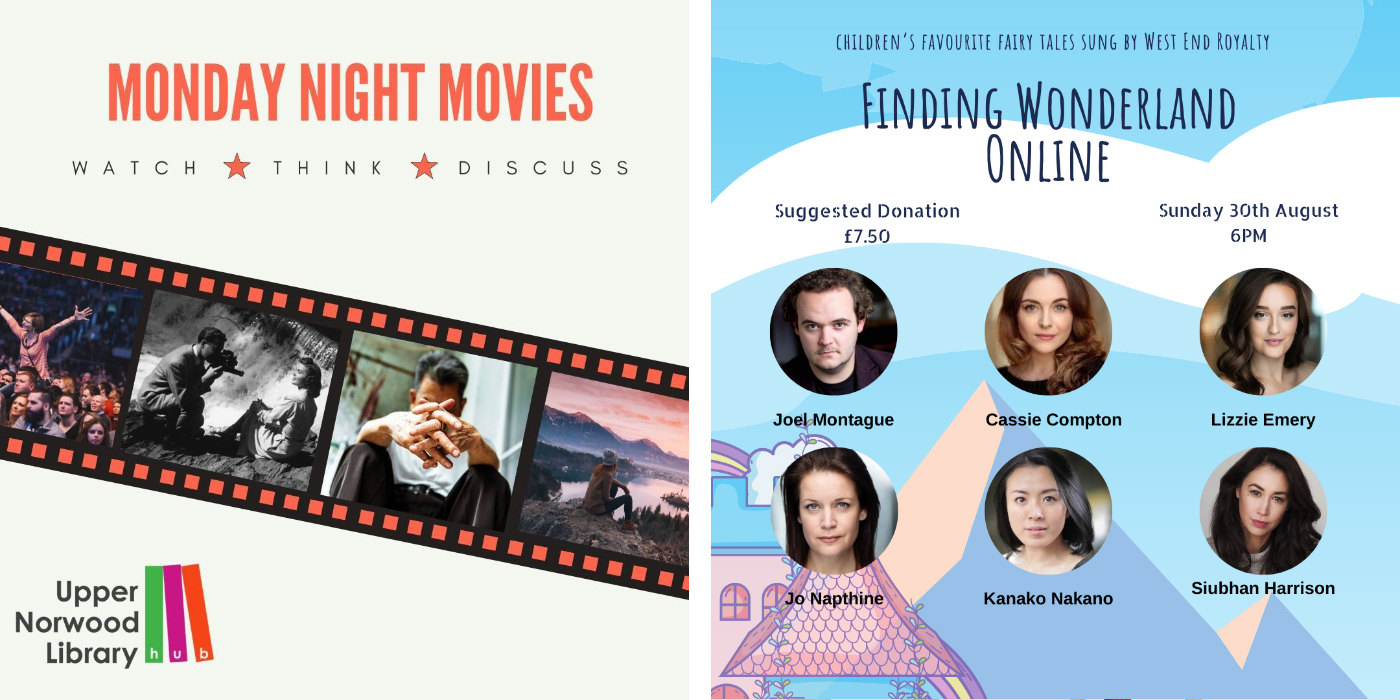 Croydonist: You have a regular Monday night movie night online – tell us more.
Margaret: Tracey Francis from Women in Film has curated a really fascinating season of films for us to kick off what we hope will be a permanent fixture. More than just a film screening each week, our Monday Night Movies are accompanied by talks and interviews, and we've had a great response from the community of viewers who discuss the films in a Facebook group afterwards. We've gone from the British-born Ghanaian filmmaker Comfort Arthur's wonderfully entertaining animation on moving to Ghana, to a heart-wrenching film about a Gambian refugee returning home from Europe after five years, and we've still got a lot to look forward to – the award-winning documentary celebrating the achievements and contributions of prominent African American women A Place of Rage, the Kenyan sci-fi film Pumzi, and we round off the season with Dreaming Rivers, which evocatively weaves together the ambition-fuelled dreams and memories of Caribbean-born Miss T and her family.
Croydonist: You also host a podcast about the community in Lockdown 'All Alone Together' – how did this come about, and will there be regular episodes going forward?
Margaret: We wanted to find out how Covid-19 had affected our community and capture the voices of artists and local residents in lockdown to create a Library of Voices. With the support of the Arts Council and the National Lottery, we've surveyed 79 local residents to date, and we've created the All Alone Together podcast. There are nine episodes available now and we release a new one every Friday – listen out for this Friday's episode here.
Croydonist: UNLH is also home to the Library of Things – is this service still operating in Covid times?
Margaret: The Library of Things is an amazing service allowing people to borrow rather than buy household items, from pasta makers to sewing machines to pressure washers! Unfortunately, it's currently closed as the building is closed, but they're hoping to be able to open again soon.
Croydonist: Tell us something not many people know about UNLH.
Margaret: Hmmm… Good question. Before Covid-19 we were earning a good level of income from the building to cover running costs, sustain the building and services. A great achievement for a very small organisation. Unfortunately, this is now no longer possible due to the pandemic.
The Hub Directors do some consultancy work through Power to Change's Peer Brokerage Programme, supporting other community businesses. Something we want to do more of locally, all income we earn goes back into the library hub.
One Hub Director is also a Power to Change Community Business Panel member.
We also have the Digital Lounge which we run in partnership with ClearCommunityWeb. Lots of digital inclusion activities for Seniors and vulnerable adults take place online – find out more by visiting our website.
As part of our Supporters scheme we have a corporate giving programme and would love to get more local businesses involved – they can donate, sponsor activities and much more. All contributions and donations help us to sustain the library hub.
Croydonist: What's on over the next few months?
Margaret: Aside from our Monday Night Movies, we've got some really exciting shows coming up. On 30 January Galina's Rin's Death Ingloria bring us a night of music, animation and performance on a purpose-built live stream stage. We've then got Listen with Mother on 14 March to celebrate the most important women in our lives for Mothers' Day with an amazing line-up of West End performers and our in-house choir Palace Acappella. Also in the pipeline is a 'Crystal Palace talent show' – watch this space!
Croydonist: Do you need to live in Crystal Palace to take advantage of the vast array of activities you have on offer?
Margaret: Absolutely anyone can get involved, as all our events and activities are currently online – please head to our website for more info or get in touch via our socials!
A big thank you to Margaret for chatting with us, and a special thanks to Kate Willman for sourcing all the UNLH images.
You can follow the Hub on Twitter, Instagram and Facebook.
Illustration of the Hub building by Richard Calvert. Photo of the Hub building by Mark Ahsmann. 
Posted by Julia