If you haven't heard already, September is Warhol month in Croydon. Yes that's right folks, a whole month of events dedicated to the god of pop art Andy Warhol right here on our doorstep – to commemorate 30 years on from his death. This is absolutely not going to be some conventional exhibition – the series of events sees art take to the streets and local venues and it's not going to cost you a single dime to explore. We have an art trail around the streets of our town centre to look forward to with daily walking tours, a programme of lectures, talks and screenings, family friendly activities, as well as a show of original works at the wonderful RISEgallery, who are of course the brains behind it all.
Yes, you did read correctly, it's all free. Just make sure you reserve your places though as we think it's going to book out fast.
We had a quick catch up with RISE gallery's Kevin Zuckowski-Morrison to find out some of the many highlights of Warhol month, and why they put it all together.
Kevin tells us that some of the top Warhol experts are coming to Croydon to deliver an insightful series of lectures and talks. This includes Henry Koelsch who Kevin sees as his mentor – Koelsch is a collector and specialist in Warhol artworks as well as being a consultant at one of the biggest pop art galleries in the States. We have booked ourselves into one of Koelsch's events at Braithwaite Hall on 23 September, about the mass production and mass appeal of Warhol's art.
That brings us neatly onto why RISE are putting on Warhol month – they advocate free public access to art, and want to bring art into the environment where people live. We're with them on that. And who better than Warhol, who has had mass public appeal since the 60s.
Kevin is excited about the exhibition taking place in RISEgallery itself. It's called 'Discovery' and will show a variety of original Warhol works, from the lesser known pieces created in the 50s to the later more iconic pieces, up to his death in the 80s. RISE will be open 7 days a week throughout September from 10am to 6pm with a late night opening on Friday 8 September. So keep an eye out on their social media for further details of that.
As for us, we are most looking forward to the Warhol walk. This is a trail of Warhol inspired artworks by a dozen fantastic contemporary artists placed around the centre of Croydon. So if you've already spotted large metal structures being erected around and about East Croydon the chances are this will be home to a new giant artwork next time you pass. The artists include Dan Cimmermann, Ben Eine, and Rich Simmons, names you may already know for contributing to the awesome Mural Art Project – the latter causing quite the stir with his recent Diana work in the Old Pumping Station on Exchange Square
You can book on a guided tour which are talking place twice daily throughout the month or you can go it alone with the dedicated app available. Who can resist art amongst our Croydon architecture – we certainly can't.
We also hear one of the artists has paid tribute to arguably Warhol's most iconic piece – the Campbell's soup can – so we can't wait to see what form it takes.
Warhol Croydon starts on Saturday 2 September. That's this Saturday. And is totally free. Get booking here. And keep up-to-date on social media at @WarholCroydon and #warholcroydon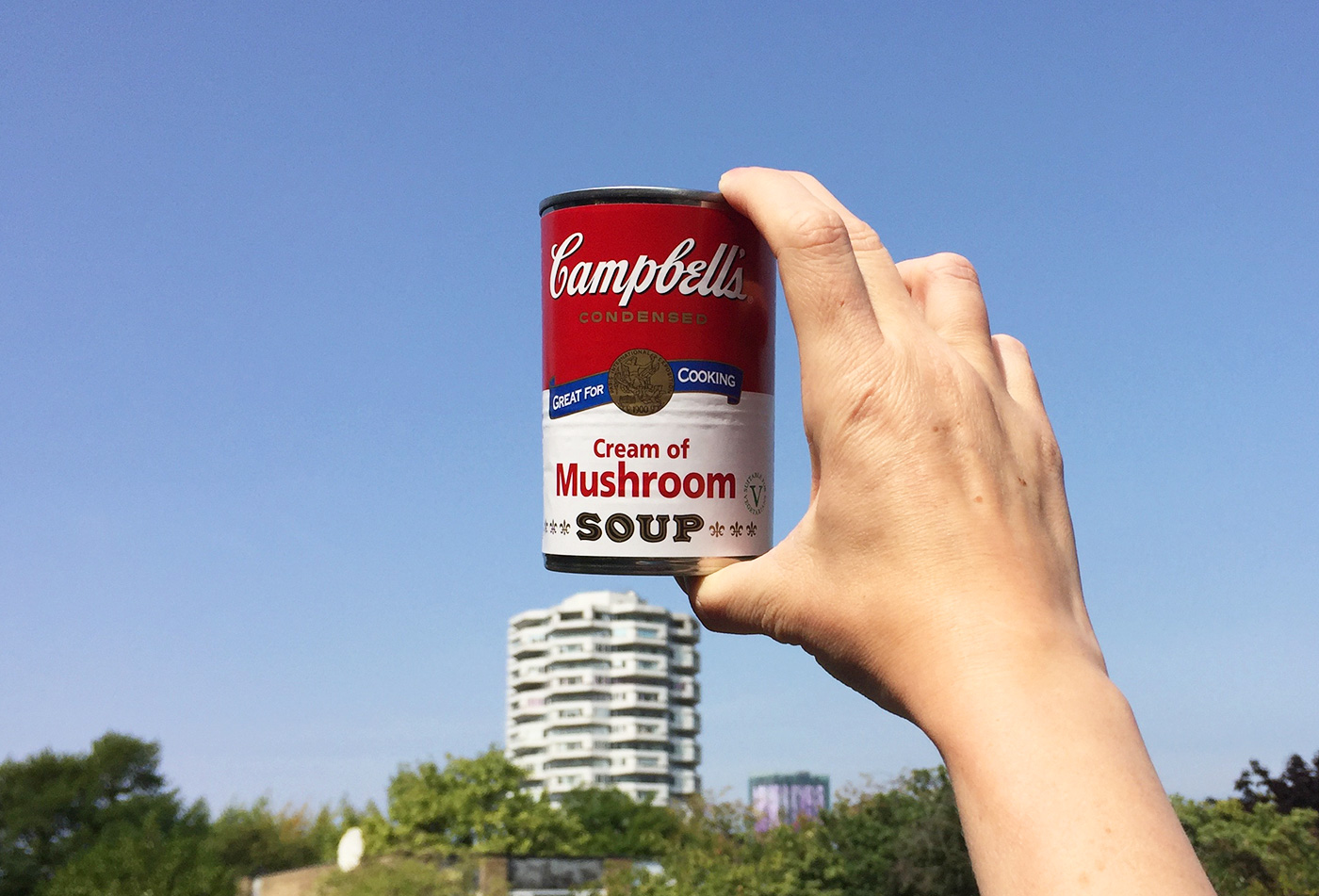 Posted by Julia