Last month Croydon's 423-year old charity The Whitgift Foundation launched its new brand and announced its name change to John Whitgift Foundation, putting the full name of the charity's founder to the front of the organisation, and thus distinguishing itself from the many 'Whitgift' names (from streets to schools and of course the shopping centre) which have become  synonymous with our borough.
Since John Whitgift built the Almshouses on North End and opened a school house just yards down the road in the late 16th century, the charity continues to support thousands of people of all ages and backgrounds across Croydon. 
Our guest writer Tania Rahman looks into the Foundation's origins and importance.
I have worked at the British Museum for many years (since I finished university, in fact). Over the last few years I have been trying to discover more about Croydon and its history, through archeological discoveries in the area and the history of its ancient buildings like Old Palace School, the Almshouses, Croydon Parish Church and Croydon Aerodrome. It all started when I discovered that the remains of a Roman Villa had been discovered on the site that is now Beddington Sewage Farm. From there I started researching other archeological discoveries in Croydon itself.
As well as Croydon's history I have also always been interested in charities and the work they do. In fact, that interest started here in Croydon, when I attended Old Palace School. We had a selected charity each term that we raised money for; and then when I took part in the Duke Of Edinburgh Award Scheme one of the categories was voluntary service, where I volunteered at Kings College Hospital. Since then I have found that taking part in voluntary and charity activities is a good way to learn some new skills and step outside of my regular routine (and comfort zone).
Although I have been researching and blogging about Croydon's history for a while now, (even getting involved in the Croydon Heritage Festival); I have only just started discovering how important John Whitgift Foundation is, (especially the Almshouses), not just to Croydon's history but how the work it does benefits Society today. I have also discovered just how far back Britain's tradition on charitable work actually goes. I had always seen it as a more modern day tradition. In fact, I was lucky enough to get involved with a team of volunteers in the restoration of the chapel at Old Palace School where we helped to take records of and wrap some of the stone effigies that had been put into storage.
John Whitgift Foundation is a charity founded in 1596 by Archbishop John Whitgift to provide education for the young and care for the elderly with the permission of Queen Elizabeth I.
Both Queen Elizabeth I and John Whitgift used Croydon Palace as a Summer Residence. After the defeat of the Spanish Armada, Britain suffered bad harvests and wounded soldiers; Whitgift decided to help by petitioning for and receiving permission from Queen Elizabeth I to build a hospital and a school in Croydon. (Unlike her father, she had a good relationship with her Archbishops). So in March 1596 the Foundation Stone of the Hospital of the Holy Trinity was laid, which led to the development of the Whitgift Foundation as a lasting legacy to the people of Croydon through its mission of care for the elderly and education for the young.
The schools in the Foundation are Old Palace of John Whitgift for Girls, Whitgift School and Trinity School for boys. John Whitgift Foundation grants more than £5 million a year in bursaries to assist with school fees. Meanwhile, Whitgift Care owns three Care Homes: Whitgift House, Wilhelmina House and Whitgift Almshouses to provide care for their elderly residents and even provides a Carers Information Service. Alongside the three schools, the Almshouses not only provide a valuable service today, but are an example of the original forms of charitable organisations in Britain and Europe.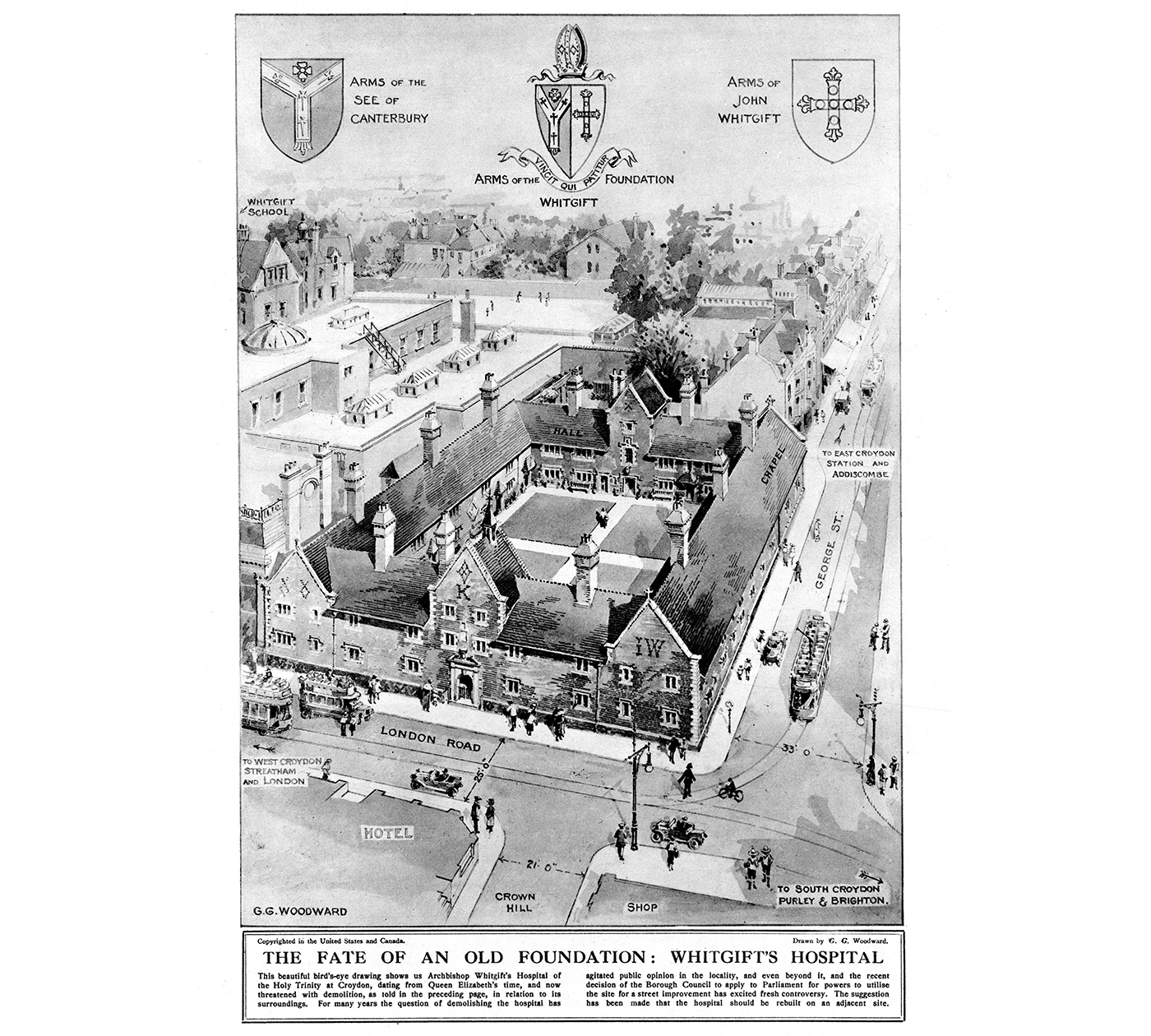 Almshouses date back to the Medieval era (maybe even earlier) , when religious orders cared for the poor. These charities provided education, health, housing, even prisons. Almshouses were established throughout Europe in the Early Middle Ages to provide residence for needy people.
The earliest Almshouse Foundation in existence (in Britain) is thought to be the Hospital of St Oswald's in Worcester founded c. 990. (Another source credits King Athelstan of England (who ruled 924 -939 AD), with founding the first recorded Almshouses in York in the 10th century.) However it is St Oswald, the Bishop of Worcester who is credited with creating a sanctuary where monks, known as 'brothers' could tend to the sick, bury the dead, relieve the poor and offer shelter to travellers who arrived after the city gates had closed at night.
In fact, in Croydon there is a St Oswald's Church (on Green Lane, Thornton Heath) which hosts both religious and community activities.
By the mid 1500s there were roughly around 800 medieval hospitals in the country, but thanks to the dissolution of the monasteries by Henry VIII, many were sold to landowners or left to ruin. Luckily, during the late 16th century the Medieval Craft Guild founded hospitals to care for their elderly members in their final years. Benefactors included Royalty, Archbishops, clergy, aristocracy, merchants and liverymen.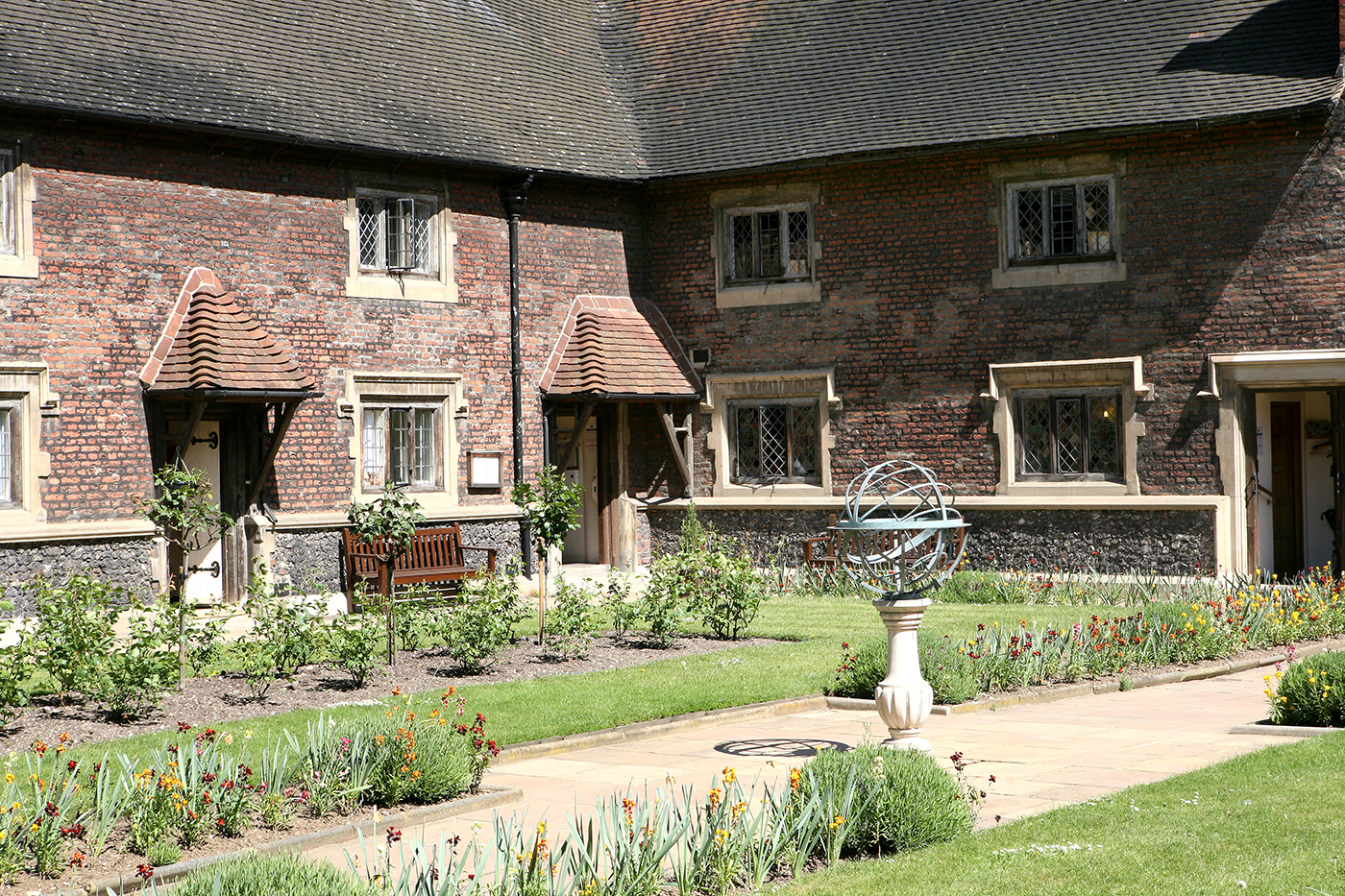 To this day, as well as the work of John Whitgift Foundation, Croydon has a tradition of charitable work. Organisations include Croydon Voluntary Action and the Mayor's Charity as well as community events to celebrate all religions and cultures in the Community.
During Open House Weekend in September the Whitgift Almshouses are open to the public alongside Bernard Weatherill House, the Town Hall, Fairfield Halls and Croydon Aerodrome.
Throughout history, the Church has often been portrayed as corrupt and greedy, exploiting people and in competition with the rulers of the land usually royalty. In fact even the British Museum describes them that way, so John Whitgift Foundation is a positive (and rare) example of how they benefited the community. Also charity and charitable organisations are something that I would associate with more modern day traditions, as they are not really discussed in history.
Photos courtesy of John Whitgift Foundation. Header image adapted by the Croydonist.
Posted by guest writer Tania Rahman.
Tania works at the British Museum and attended Old Palace School from 1988 to 1993.