There is a new theatre company on the block! Their first full show may not be premiering in our borough (at least you can see it south of the river), but the man behind it is very much a Croydonian. We chatted to Michael Greenwood, artistic director of Wrong Shoe Theatre Company about theatre and the sensitive themes behind his new show Baby Blues.
Croydonist: First of all, Croydon native or convert, and which part of the borough do you call home?
Michael: Croydon native, from the south east side of the borough.
Croydonist: How did you get into theatre?
Michael: I was 7 or 8 years old. I'd watched theatre productions before then such as panto and had been a big fan of the Fairfield Halls when it was open but had never been involved in any theatre. I joined Stagecoach Croydon just to see whether being a part of theatre was just as fun as it was watching it. It's safe to say it was a lot more fun performing. I loved learning new routines, songs and scripts every week and challenging myself to be able to embody new characters and change styles at a moment's notice.
Croydonist: Tell us a bit about Wrong Shoe Theatre Company.
Michael: We're a recently formed theatre company with all if its creatives coming from Royal Holloway University of London. Being a fresh, vibrant company and with this being our first full show, we'd previously performed at the Battersea Arts Centre Freshly Scratched event, we can't wait to make our official stamp on the theatre world and start a legacy for ourselves all while teaching our audiences valuable lessons.
Croydonist: We have to ask about the name – why Wrong Shoe?
Michael: As part of our first ever scratch production the actors were required to walk off balance and with an air of strangeness about them. I decided that everyone in the cast should swap one shoe to make this easier to portray, so the name Wrong Shoe came about.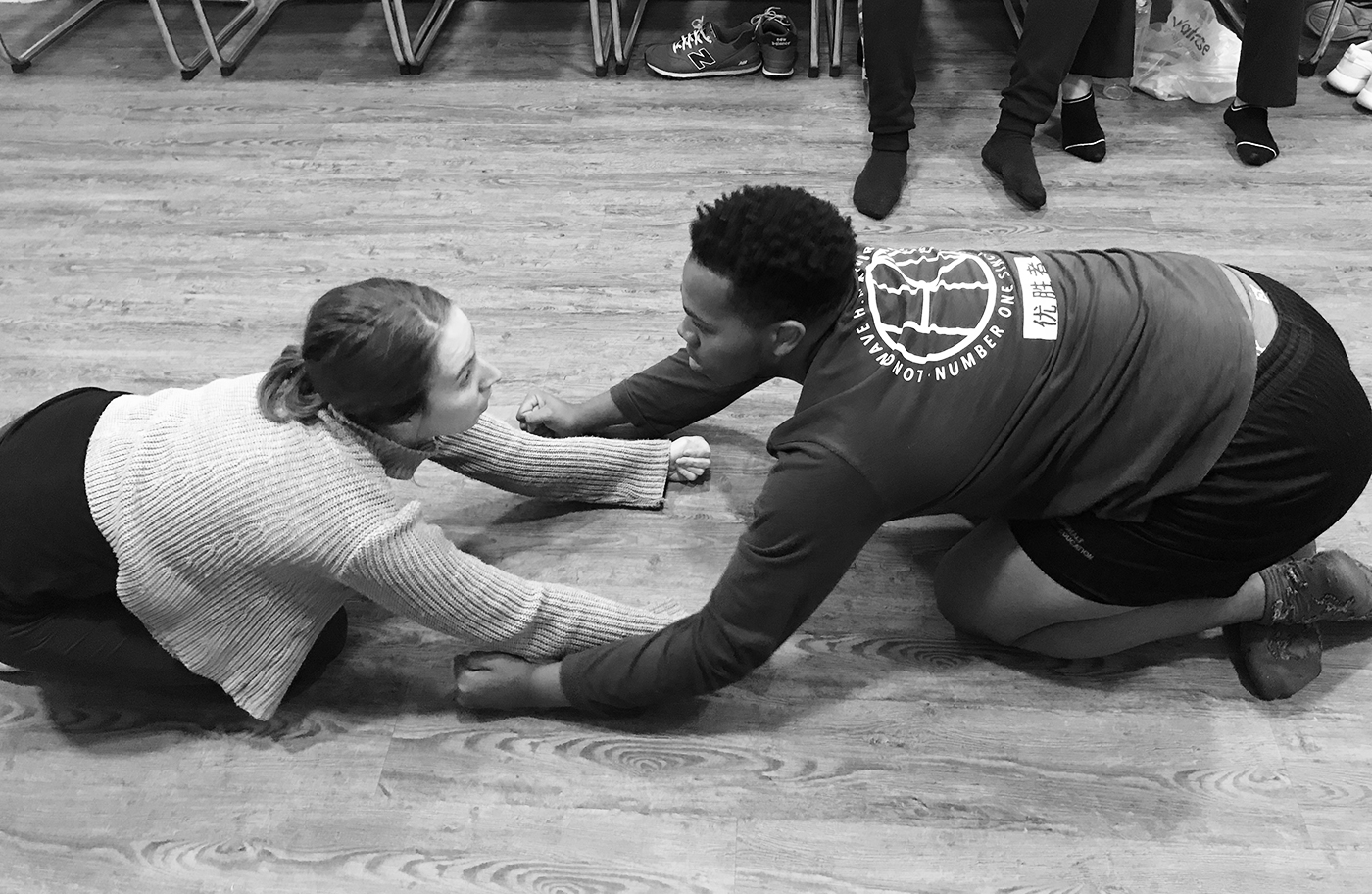 Croydonist: Your December show, Baby Blues is about postnatal depression, which is quite a sensitive subject – why did you decide to tackle this on stage?
Michael: For precisely the reason it's called a sensitive subject. In a society where we are becoming more open and we are talking more about anxiety and depression, why don't we talk about all of the variants rather than just putting it under one big umbrella. All forms of anxiety and depression need to be picked out individually and dealt with one at a time. Doing this show helps to achieve that aim.
I believe as many others do, that theatre is one of the safest spaces in the world – the fact that you can walk up and watch a play about god knows what and leave again without it having a physical impact on you in any way. So why aren't we staging really complex and taboo issues that are challenging for an audience? I believe it is one of the most important ways to learn so why not stage something sensitive where ideas are able to be explored to the fullest in a safe environment.
Croydonist: Can you tell us a bit more about the form of the show and what people can expect from it?
Michael: Expect a true and raw script coupled with soft and striking physical theatre all tied together with superb characterisations. By using these techniques we are hoping to engage, move and encourage a young audience to question what they are seeing on stage all whilst bringing a sense of realisation to the parents.
Croydonist: When you say a young audience what age is Baby Blues suitable for?
Michael: The age range of the production is 6+, although we would prefer a young audience we don't want to discourage any adults from coming to watch the show.
Croydonist: What's been the best theatrical production you've seen this year?
Michael: I've actually got two – they are both great for different reasons. The first is a production called Lamps. I saw this up in Edinburgh during the Fringe Festival. It was an intimate piece set in a caravan with only 4 seats and it consisted of two women manipulating lamps into different objects and scenarios – it was very surreal to watch. I loved it because it was so weird and unlike anything I'd seen before. The second was a piece I saw last month called Providence at the London Horror Festival, where I recently volunteered. It was a two man show about H.P. Lovecraft and his writing. A very thought-provoking show questioning whether an artist can be separated from his art.
Croydonist: Any particular Croydon theatre highlights for you this year?
Michael: My personal highlight was watching and helping stage CODA's Romeo and Juliet in Wandle park.
Croydonist: Where do you go in Croydon for artistic inspiration?
Michael: I like going on public transport, especially the tram, I see so many interesting and different interactions and people, which help inform characters I'm working on, it's also a nice place to go over choreography in my head. I also really enjoy sitting in the pubs in Croydon, especially The Skylark, The George and The Huxley – they are always great places to go and think over scripts. I do most of my script decisions in one of these locations.
Croydonist: If you were inviting three famous people in the arts (alive or dead) to a dinner party who would they be and why?
Michael: That's a tricky one. Stereotypically my first would have to William Shakespeare, not just because I love his works but also to ask how much of his works were actually his own ideas, because of the many theories that he stole entire plots from other writers. Secondly, Samuel Beckett – I am huge fan of his plays and just how absurd they are, I'd also rather like to pick his brains. Lastly Ewan McGregor, because of his versatility – he is my favourite actor and he seems like he'd be a nice person to invite round for dinner.
Croydonist: What's next for you and Wrong Shoe Theatre Company?
Michael: More shows and more creating! We already have a show in the works called 3 Men in a Barrel written by my wonderful friend Laurence Smithers – we've just got to try and find a home for it. Apart from that, reading more original scripts and trying to set up a full year of theatre for 2019.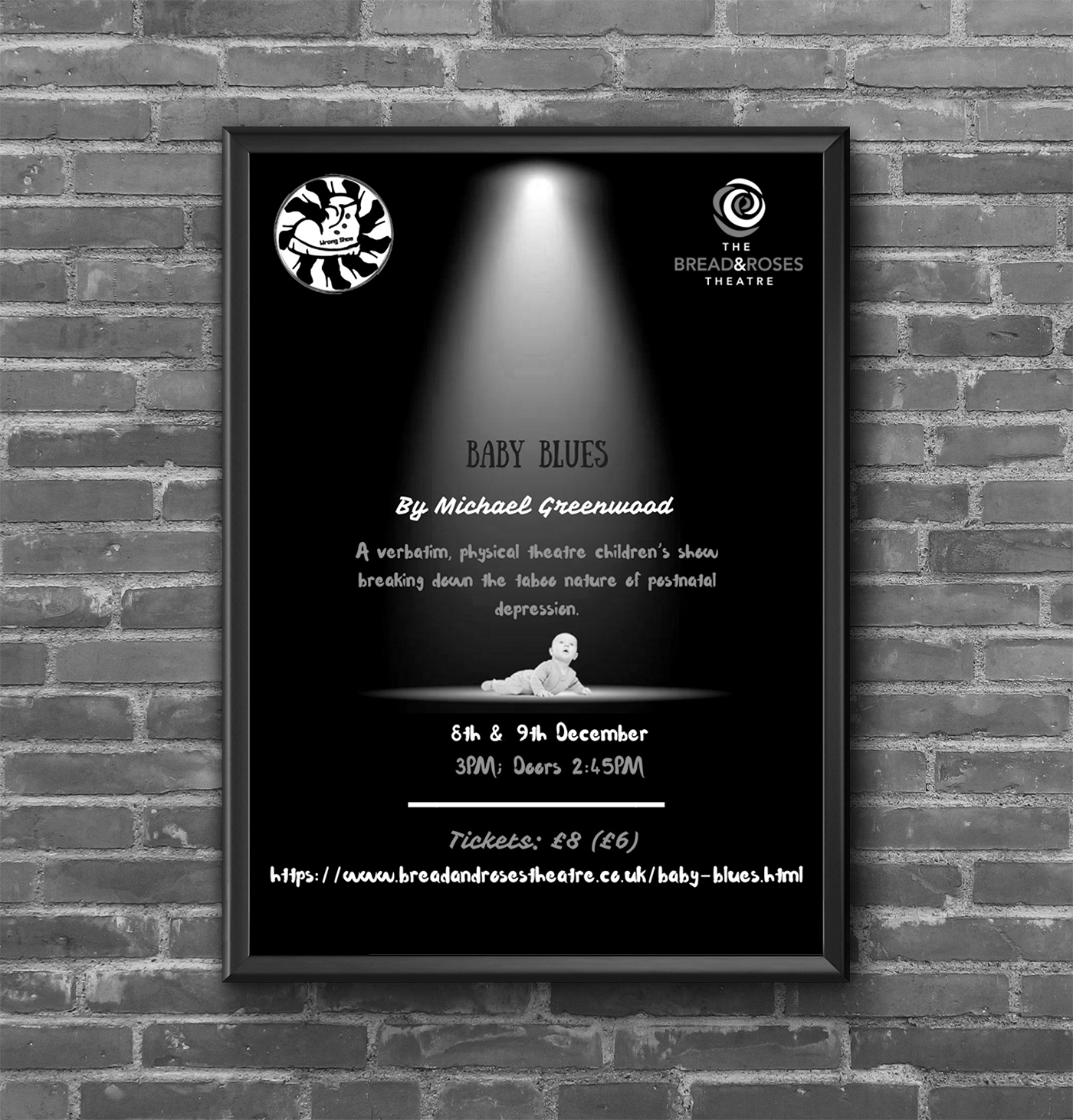 Thanks to Michael for chatting to the Croydonist. Baby Blues will be performed at the Bread and Roses Theatre in Clapham on Saturday 8 and Sunday 9 December at 3pm. Get your tickets here. Keep up to date with Wrong Shoe Theatre Company on Twitter.
Header photo by Pixabay, adapted by the Croydonist. Rehearsal photos courtesy of Michael Greenwood.
Posted by Julia