Christmas is coming round the corner folks – under 6 weeks to go… I know, I haven't thought about starting my christmas shopping either. But why not begin with your christmas cards? This year, to raise money for local homeless charity Croydon Nightwatch, we have collaborated with five Croydon-inspired artists to create a set of festive cards, that hit our stockists this week.
First a bit about the charity. Nightwatch has been caring for homeless people in Croydon since 1976. Founded by members of the Croydon community, Nightwatch has been adapting to the challenges of homelessness for over 40 years – helping people across the spectrum from street homelessness, to those who are housed but still need support to prevent them becoming homeless again. The charity's core activity is a meeting point that's staffed every evening to give basic help with food and clothing and address more profound needs. Still being entirely voluntary we hope you'll agree they are a worthy charity to raise money for this Christmas.
A pack of five cards will only set you back £3, and for the first print run, we have absorbed the cost of production so all the money from sales will go to Nightwatch.
Now for a bit more about the wonderful art donated to us for this project.
Croydon-born artist, James Oliver has donated 'Nativity'.
He says of the piece, 'The Nativity scene started as an "off the cuff" Microsoft paint plan for a Christmas painting I was planning to do, representing the birth of Christ, his family and visitors in a classic, cartoony family pose – I was so happy with the plan, its relative simplicity and joyfulness that I never bothered with the final painting…'
You can read our interview with James here.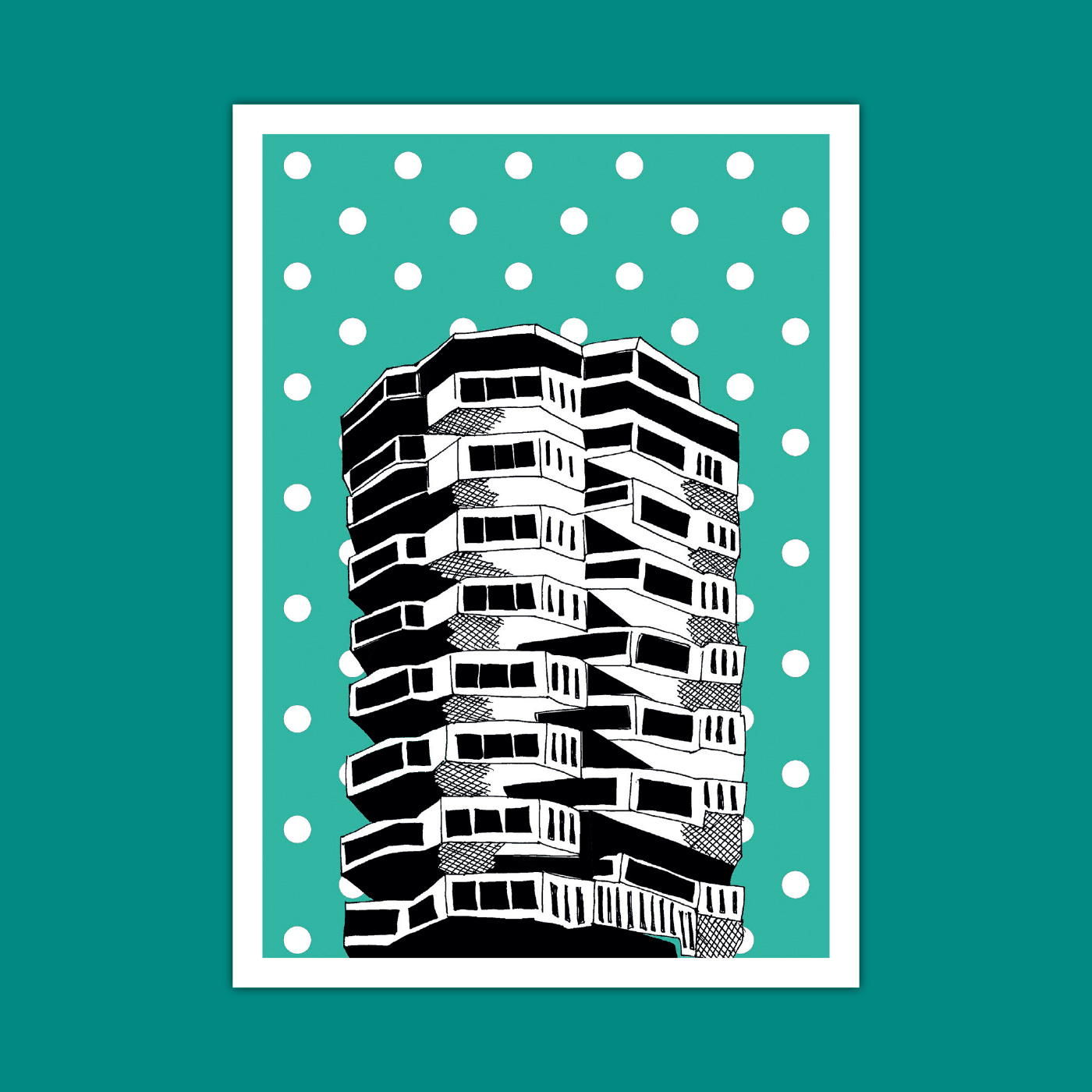 Croydon-inspired artist, Kate Marsden (aka Made by Mrs M) gifted us her 'Number One Croydon' artwork.
She says, 'Number One Croydon has long been one of my favourite buildings and one of my most popular images too, so I couldn't resist turning my artwork into a nice festive snow scene!'
Read more about Kate in our Q&A with her here.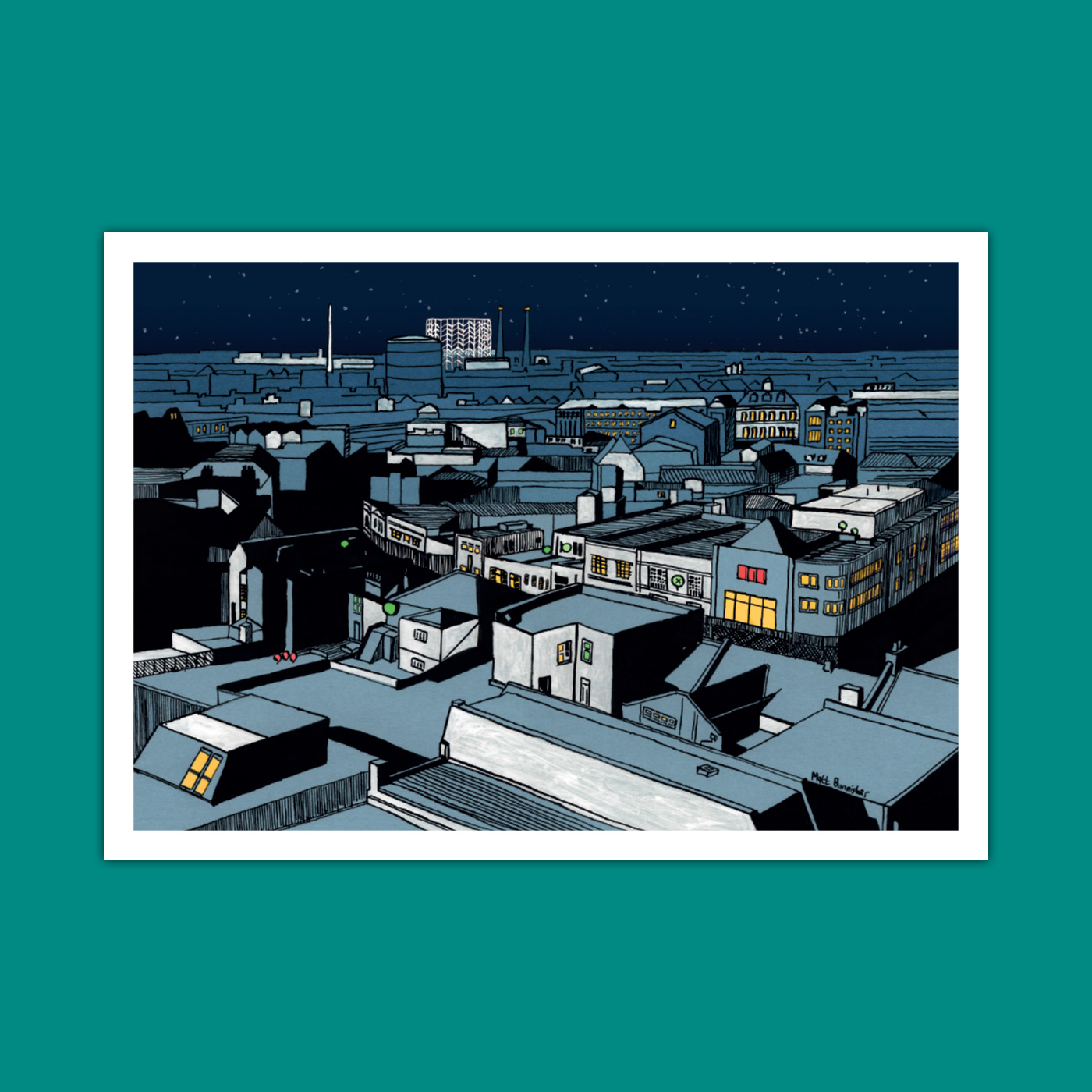 Croydon-inspired artist, Matt Bannister has given us his piece 'Mystery Christmas'.
He says, 'I returned to an image of mine that has already been featured by the Croydonist and added a few extra, but festive, touches. Look up into that cold, Croydon night sky and you might just hear the sound of sleigh bells…'
You can find out more about Matt from our chat with him here.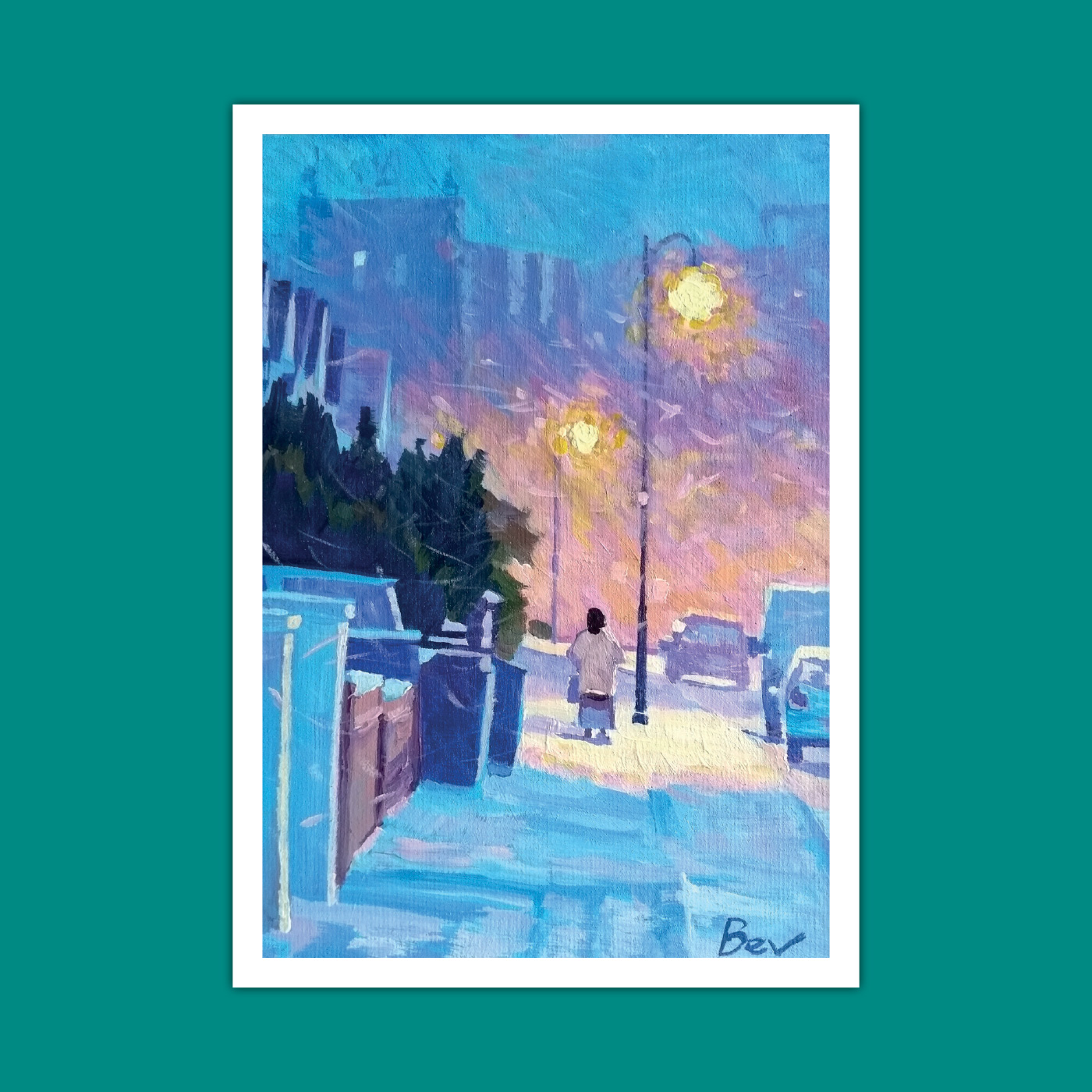 Croydon-based artist, Bev Jones gave us her 'Elgin Road Snow Storm'.
Bev says of her snow storm pictures, 'They came from the very cold snap we had back at the end of February this year. As with many natural phenomena the snow storm had that combination of being both dangerous – with freezing temperatures, and an icy wind – and beautiful. I especially liked the way the snow caught in the city lights both highlighting and obscuring the view, somehow it made all the people seem like great adventurers in an epic story…. travelling through many trials and adversities before finally making it safely to the warmth and security of their homes and families.'
Read more about Bev and her work in our conversation with her here.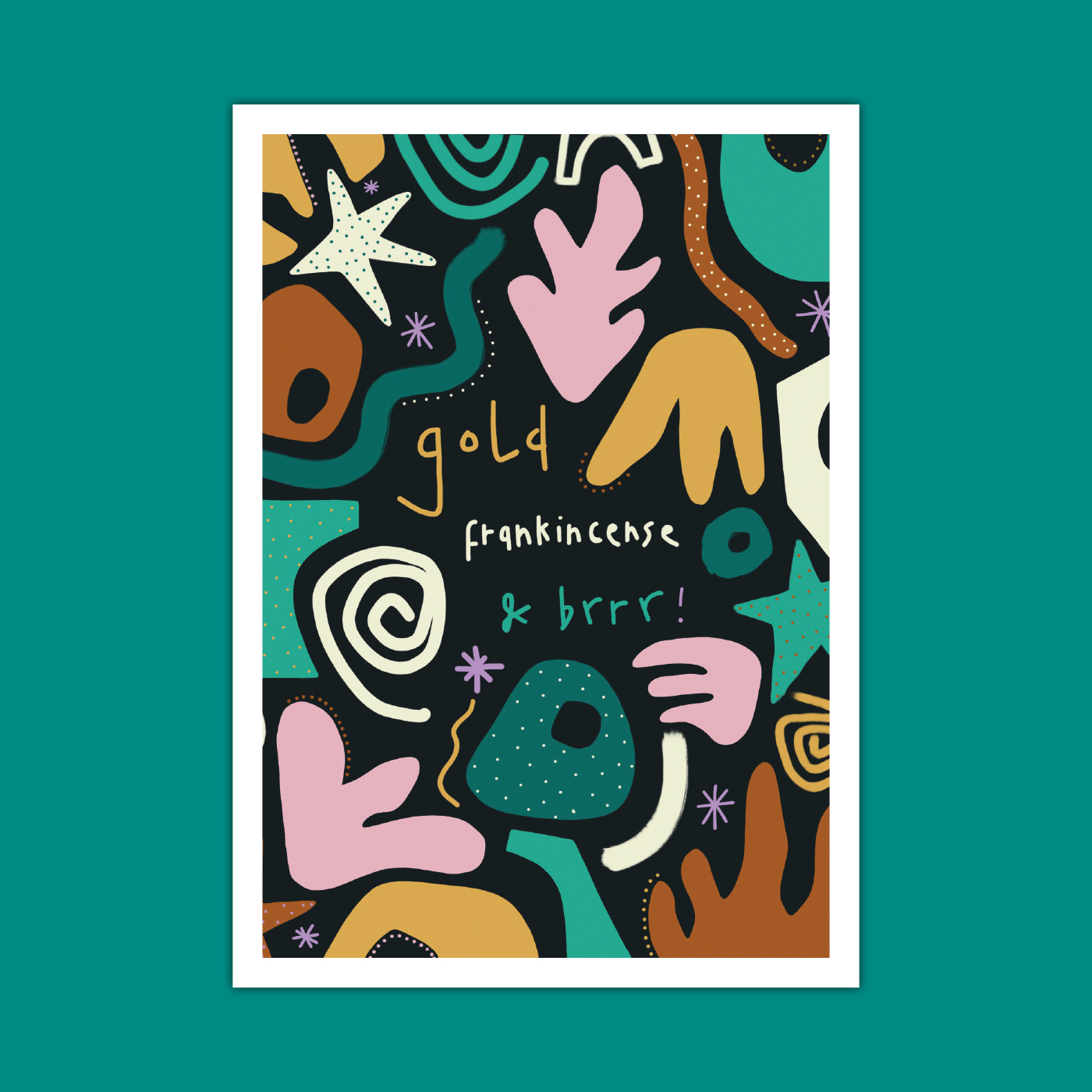 And last but not least, Croydon-based artist, Cherilyn Yeates created a new piece for us called 'Gold, Frankincense & Brrr!'
She says 'Croydon is the embodiment of colour, arts, diversity, young people, community and history. Living and working in this vibrant borough I am never short of inspiration for my practice.'
Find out more about Cherilyn in our interview here.
And this is where you can get your hands on these lovely cards…
Stockists
Oval Tavern
Open daily from 12 noon. Sunday – Thursday until 11pm, Friday and Saturday until midnight.
131 Oval Road, Croydon CR0 6BR
Turf Projects
Open Wednesday – Saturday 11am – 5pm (during exhibitions, but usually staffed between exhibitions during those hours).
46-47 Trinity Court, Whitgift Centre, Croydon CR0 1UQ
The Photo Café, in Croydon House Business Centre
Open Monday – Saturday, 9.30am – 4.30pm.
1 Peall Road, Croydon CR0 3EX
The cards will also be stocked at The Made in Croydon Chalet at the Croydon Christmas Market (North End) from Monday 26 November to Sunday 9 December. Find out more about Made In Croydon here.
We ask that you buy your packs with cash only please. So dig out your spare pound coins peeps – at only £3 a pack, they are a bargain, and you are doing some good too.
Now get Christmas shopping…
Big thanks to Bev Jones, Matt Bannister, Kate Marsden, James Oliver and Cherilyn Yeates for collaborating with us on this project.
Posted by Julia