Croydon is well and truly on the map these days as a slice of foodie heaven. Roll a world map out on the table (we all have one of those right?), close your eyes and pop your finger down. Wherever it lands, I'll bet a dollar that you'll be able to discover its culinary delights right on your doorstep in Croydon. Yum, Yum, Yumn.
It's not just the range of food that makes Da Cronx so great, it's also the number of ways we can experience food, from street vendors in Surrey Street Market, chilled vibes of our many arts spaces and cafés, social eating of Boxpark to popping on your glad rags for a spot of fine dining. Leading the way for posh, but affordable nosh is none other than Yumn Brasserie.
Look east and you'll find them on the first floor of Boxpark, head south and you'll find them in South End's restaurant quarter where the busy establishment lays testament to their popularity.
The first thing that struck me upon entering their South End space, was the clever layout. The place is huge, but the well designed lighting and decor makes it feel incredibly intimate. The service was attentive from the second we opened the door, but not in an overbearing annoying way.
As an aside, don't you just hate it when a waiter keeps asking you if you're food is ok? I'm like seriously, should I be worried something's actually wrong with my food? 'She that doth protest too much' and all that.
We sampled a couple of great cocktails and got stuck straight into the menu. The food at Yumn Brasserie pretty much suits most palates: expect seafood and meaty options to leave you salivating, all delivered with big flavours and a nice twist on some old classics. Vegetarians are catered for too with a few nice options and NO mushroom risotto in sight.
I went for the pan seared marinated scallops with creamed spinach and lemon butter, and I was not disappointed. All too often this is a dish that is overcooked and can be a bit on the chewy side, but Yumn Brasserie score 10/10 for their precision. Cooked to perfection, the scallops simply melt in your mouth with a deliciously warming lemon butter that isn't too overpowering. It looked pretty darn good too. Presentation is clearly important to the folks here.
Julia opted for a fresh take on a good old classic: prawn and avocado cocktail. I couldn't help but steal a forkful of this super cool retro starter. Again, it's a simple dish that many people still manage to get wrong, but fear not people, Yumn pull it off with class, style and favour. I mean what's not to like about this dish served in a cocktail glass?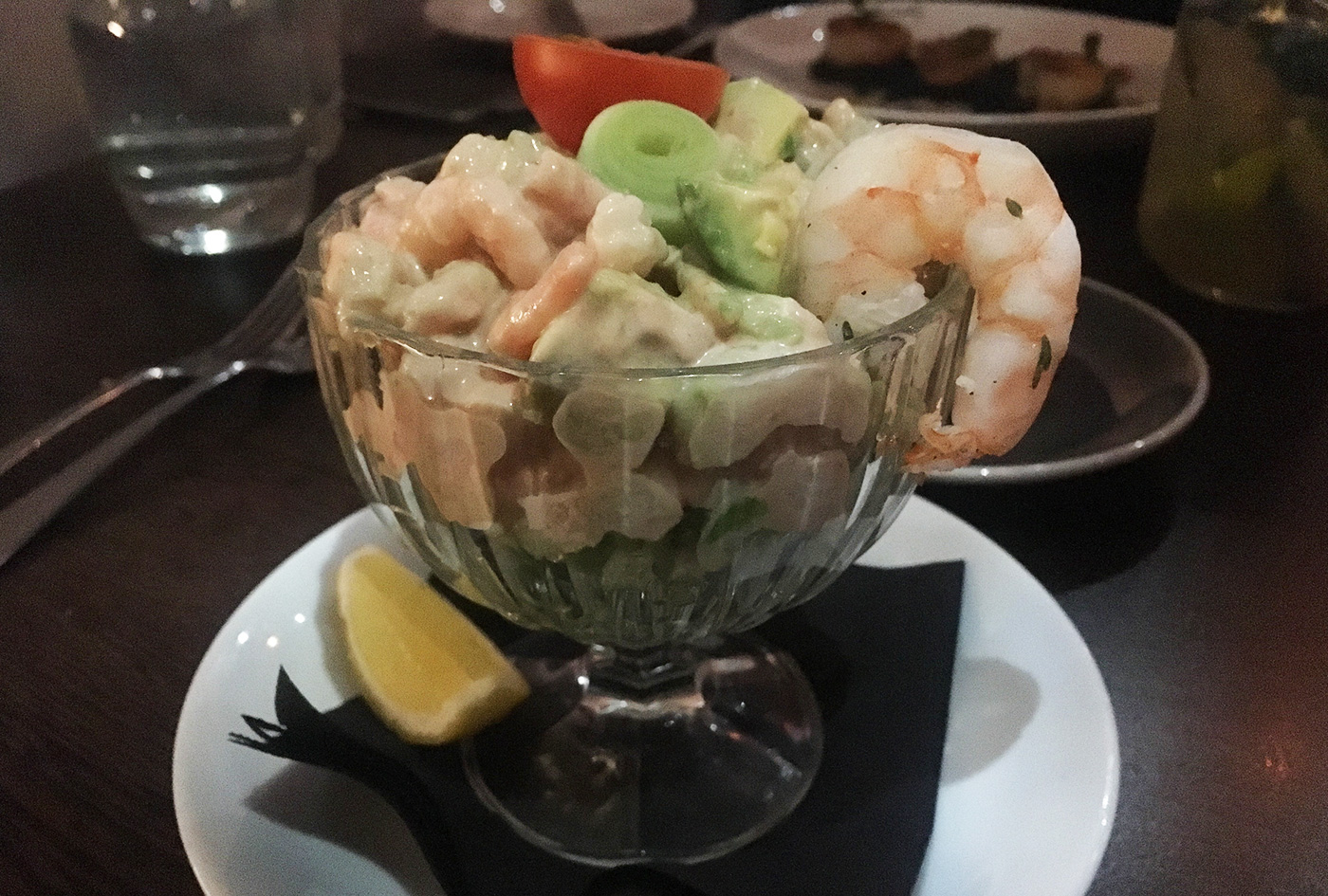 If fish doesn't take your fancy, there's still plenty of other options to explore such as chicken liver pate, mac n cheese, spicy winter veg soup and butternut squash risotto.
Round two and we're on to our mains. It took me some time to choose, as everything looked so good. There's a steak menu as well as burgers which I was very much tempted by, but decided to opt for the Yumn pan-fried duck breast instead. Served with baby beetroot, turnips, carrots, fondant potato and recurrent jus, it looked pretty as a picture. This dish isn't all about the looks though. A delicate balance of flavours sets this dish apart from anything I've eaten recently. The duck breast was so tender and worked extremely well with the accompanying flavours. This is a dish that manages to have all the comforts of a winter roast, whilst also remaining light and refreshing, avoiding the Sunday afternoon food coma. That's not to say it isn't filling – it's just more of a case of less stodge and more vibrancy.
Julia was torn between the pan seared sea bass with crushed new potatoes, black olives and truffle oil, the Yumn avocado quinoa salad, and the mushroom stroganoff. Being that it was bloody freezing outside, she opted for the latter which came with basmati and wild rice. Warming and rich to the max, she described this dish as a warm cuddle. A traditional dish done well.
As always, it gets to dessert time and we feel completely stuffed. Sharing is caring, as they say, so we decided to do the whole, one dish two spoons affair. Normally I would have gone for the creme brulee or the salted caramel and chocolate fondant with honeycomb ice cream, but in the efforts of trying something new, we ordered the pear and almond tart with vanilla anglaise, and raspberry sauce. Again, top marks on presentation. Served beautifully, it tasted wickedly indulgent, just as any good dessert should.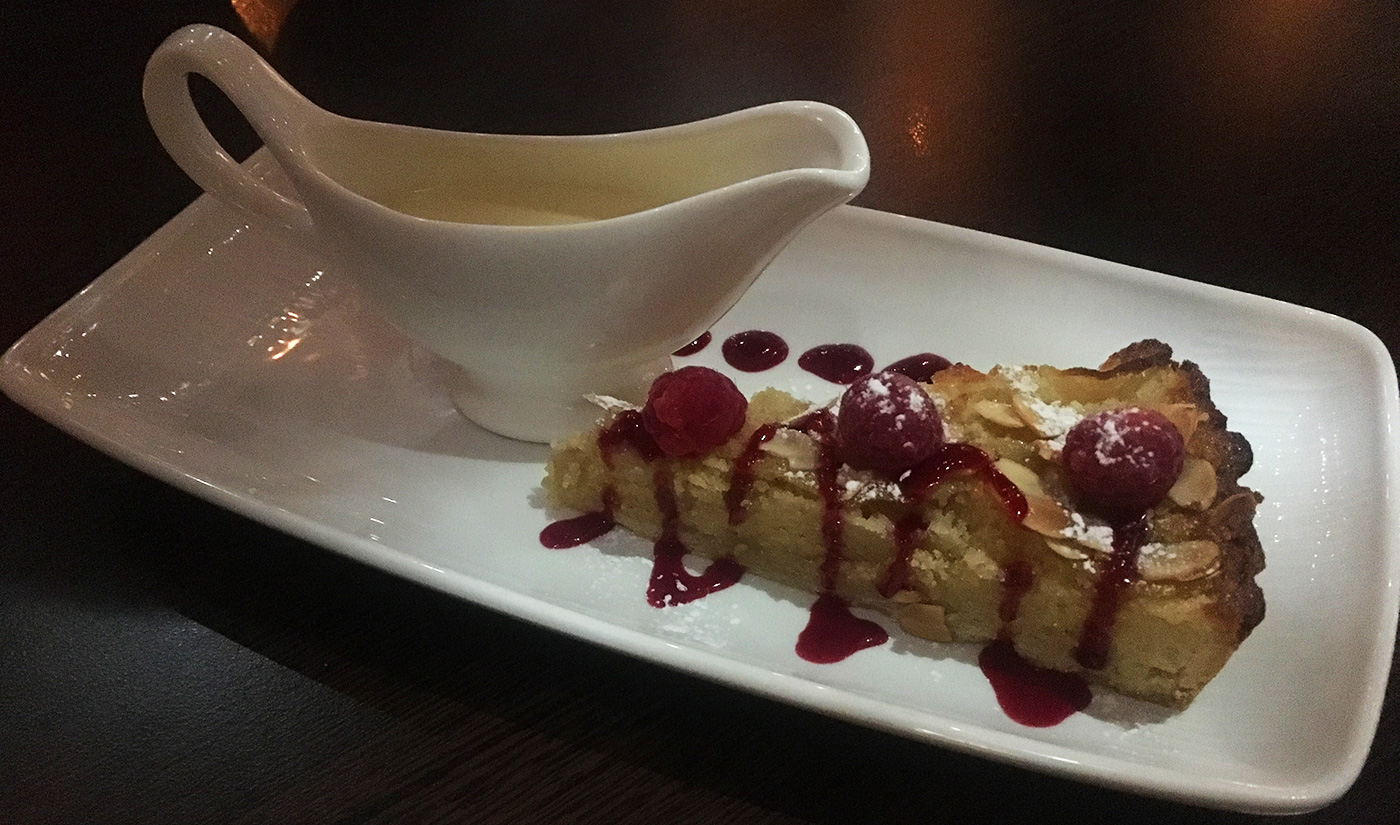 Yumn Brasserie is a fine dining experience with a modern twist. It is neither stuffy nor pretentious but is more a case of food prepared and served with passion in an environment fit for a proper evening out rather than a quick casual bite.
We left with a warm glow of a good meal and have now added a new favourite restaurant to our list of ones to return to.
Yumn Brasserie has two Croydon locations and can be found at:
69-71 South End, Croydon CR0 1BF
Or check out their newly opened second space in Boxpark.
Posted by Angela