Welcome to the second in our series of blue plaque runs. Ok this one isn't 100% blue plaque as it features a green plaque too, but it's an optional stop, so if you want to keep it blue, that's up to you. Oooh that last bit rhymed.
Croydon, as well you know, is ridiculously rich in history so when I published my first blue plaque run, I knew it would be the start of a series as there's just so many wonderful stories and characters. A single route would only scratch the surface and so here we are with route number 2, but if you missed the first one, you can read about it here.
So, without further delay, get your running gear on and let's go… Although I don't really recommend running and reading this on your phone. That's just silly.
---
The Trail
Stop 1 (optional): GREEN PLAQUE – Ashleigh and India Houses
137 – 139 Addiscombe Road, CR0 6SJ
A short walk from Lebanon Road tram stop are a couple houses of interest and the first stop on our run today.
In 1809 the East India Company opened a British military academy at Addiscombe. Known as the East India Company Seminary, the academy's purpose was to train young officers to serve in the East India Company's private army in India (some 260,000 strong). An aside, if you haven't seen the BBC Documentary 'British History's Biggest Fibs', I highly recommend it. It gives you a great insight into their brutal reign as a private trading company turned into an aggressive colonial power that basically seized control of an entire subcontinent beginning in Bengal in 1756.
The academy closed and the land was sold in 1861 for £33,600. Ashleigh and India, two houses built for professors in 1848, are the only outbuildings that remain of what was a vast complex. The company that purchased the land laid out five parallel roads over some of the grounds and built a series of villas. The roads were all given names from soldiers and politicians prominent on the British side, although none of them actually went to the academy. The road names are Outram, Havelock, Elgin, Clyde and Canning.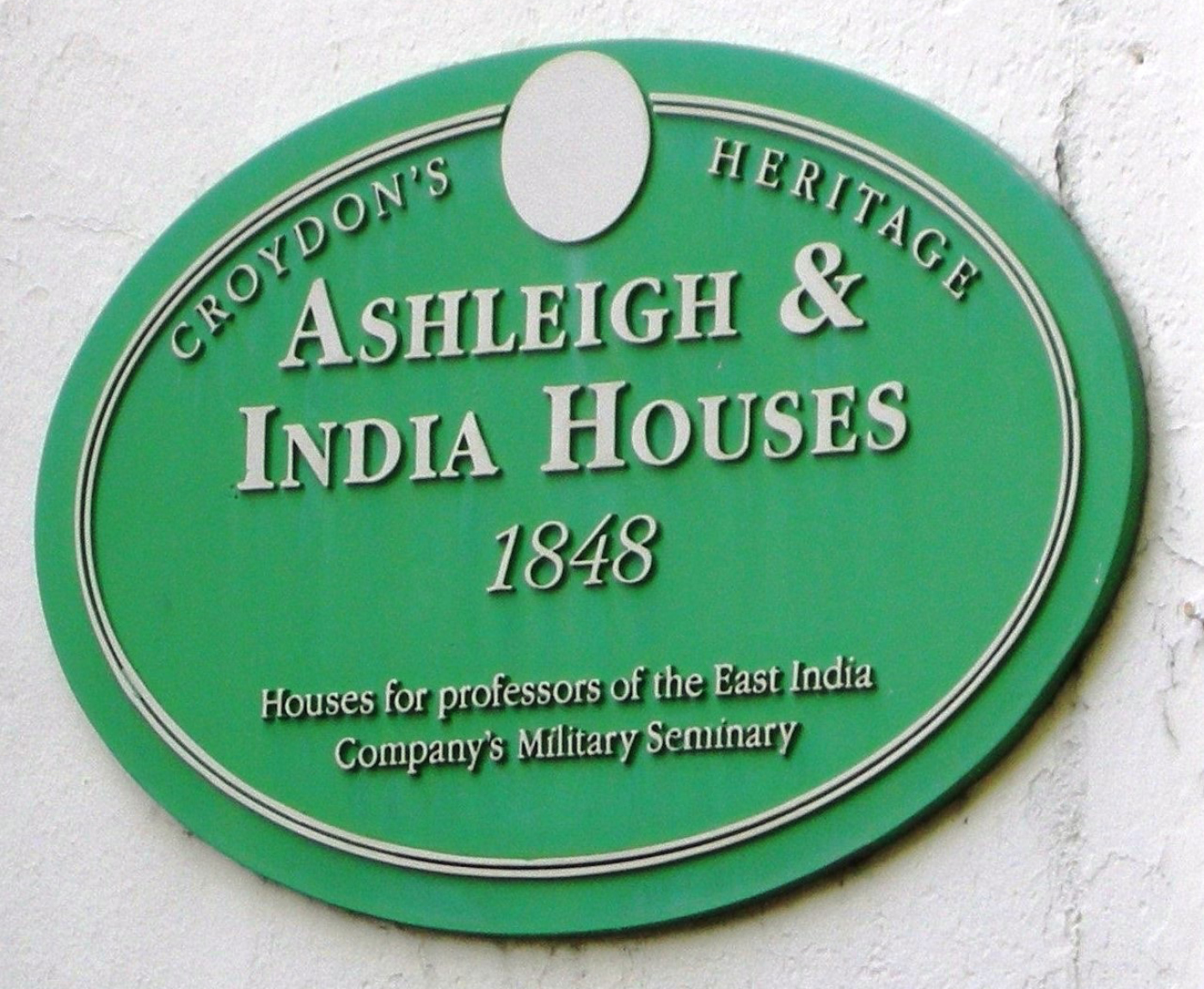 ---
Stop 2: BLUE PLAQUE – Frederick George Creed 
20 Outram Road, CR0 6XE
Ever sent an email? A text message? Of course you have. Well, have you ever wondered where the road to sending and receiving typed communications began? No. Well quite frankly I'm surprised. It all started with the Teleprinter. As stated on Wikipedia, 'a Teleprinter is an electromechanical device that can be used to send and receive typed messages through various communications channels, in both point-to-point and point-to-multipoint configurations'. One of the inventors of this blooming marvellous device was Frederick George Creed. He grew up in Canada but spent most of his life in the UK. Bored with using the old fashioned morse code tools of the day, he came up with the idea of a typewriter machine. He was told it was a basically a stupid idea, but decided to potter in his shed in Scotland to develop the idea. In 1909 he moved to Croydon to fully realise his invention. By 1915 he had outgrown his small factory and expanded to a bigger site in East Croydon. After the war Creed's teleprinters were used by every daily newspaper in the UK and was the world's largest teleprinter network. Not such a dull fact after all eh!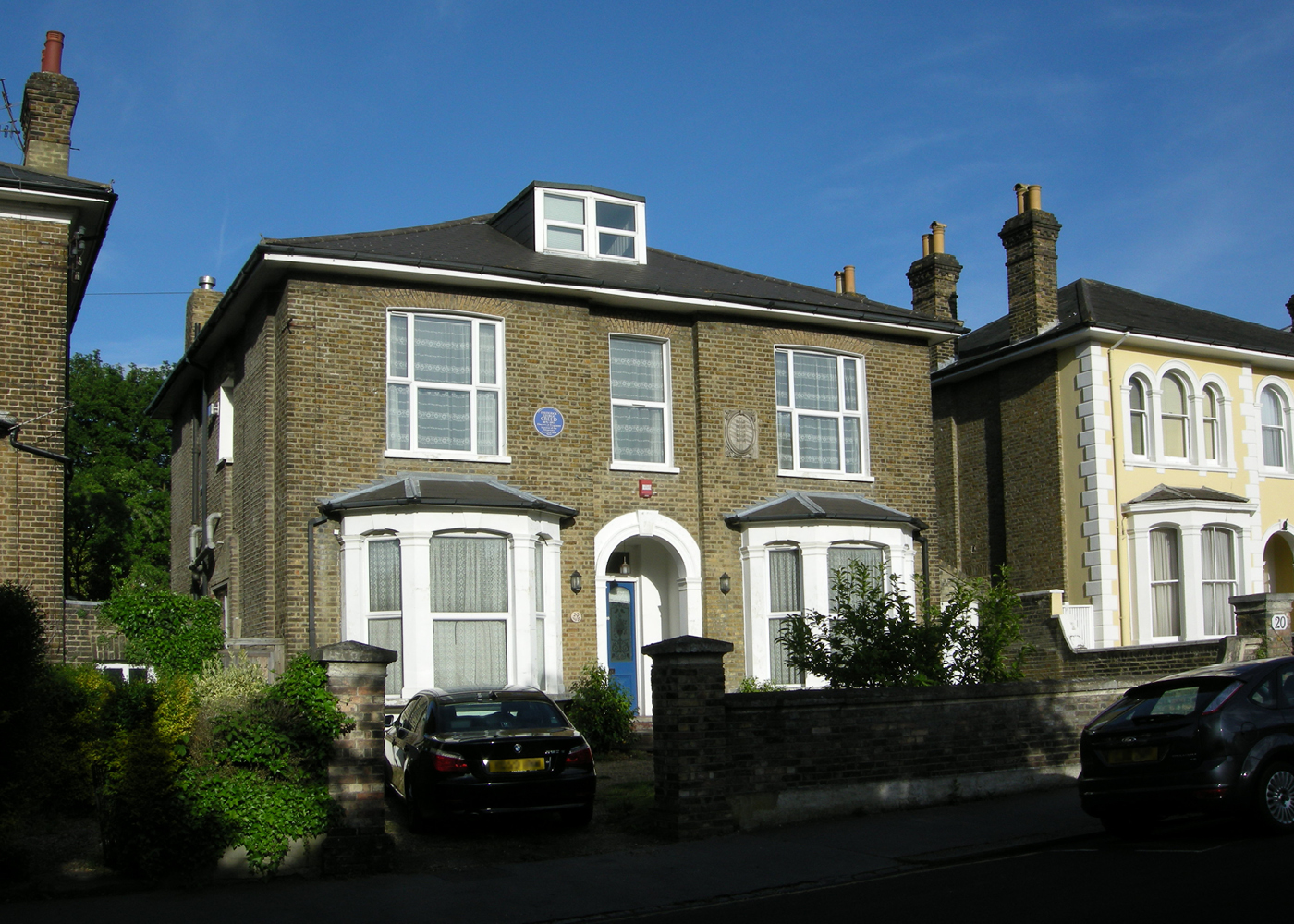 ---
Stop 3 – Colworth Road
If you don't fancy such a long run, then perhaps start at stop 3 which is a stone's throw away from Addiscombe tram stop, and comprises two parts…
3a: BLUE PLAQUE – Betty Westgate
1 Colworth Road, CR0 7AD
Head just off the main road to no 1 Colworth Road and you'll see our first blue plaque of today's route. This is the former home of an absolute legend. Betty Westgate. Betty founded what was then known as the Mastectomy Association in her home in Croydon on Christmas Eve in 1973. This was five years after her own diagnosis of breast cancer. This association would later change its name to Breast Cancer Care (which has recently changed again to Breast Cancer Now).
She knew very little about breast cancer when she was first diagnosed and her questions to her doctors were either ignored or led her down a path of myths, inaccuracies and superstitions. This began her journey of reading and learning as much as she could on the subject.
To begin with, her organisation was run from her home on Colworth Road on a voluntary basis. She provided women with information, gave talks and connected people with breast cancer to share experiences. Betty's understanding of the disease and women's experiences was a much needed service. In 1977 she sought funding and received an annual grant from the Department of Health. She campaigned for greater awareness and to put the topic very much front and centre – something to be discussed and not ignored.
Betty Westgate lived for more than 30 years after her diagnosis, something the doctors had told her wasn't possible at the time. She died aged 81 on 18 December 2000.
3b: BLUE PLAQUE – D.H. Lawrence 
12 Colworth Road, CR0 7AD 
I think we've all heard of D.H. Lawrence, but I have to admit, I never really gave too much thought to what the D.H. stood for. I can reveal the D.H. is in long form David Herbert.  Now Davy boy didn't live in Colworth Road for too long. Just 3 years (1908-1911), but it was enough time for him to pen the novel 'Sons and Lovers'. However let's back up a bit before we talk about the book.
D.H. Lawrence was a newly qualified teacher when he decided to leave his family home and move to Colworth Road. He taught at Davidson Road School while continuing to write. His first novel, 'The White Peacock' was published in 1910. Shortly after this his mother died of cancer leaving Lawrence devastated, so I imagine his time in Croydon was forever tinged with sadness, which may have explained his short stay. Or perhaps it was his growth in popularity, wealth and world travel that tempted him away? Anyway he was incredibly close to his mother and she is one of the influencing forces behind his autobiographical novel 'Sons and Lovers'. His work was often viewed as controversial at the time as it explored sexuality, emotional health, spontaneity and instinct. In fact one of his most famous novels, 'Lady Chatterley's Lover' was banned in 1928 more so for its anti-establishment stance than its sexual content. He subverted class-order and in doing so questioned the status quo. This sort of writing needed to be suppressed. You don't want to give people ideas!
---
Stop 4: BLUE PLAQUE – Ronald Frederick Delderfield
22 Ashburton Avenue, CR0 7JE
A Croydon convert, Ronald Frederick Delderfield was a novelist and dramatist born in South London's Bermondsey in 1912. His family moved to Ashburton Avenue when Ronald was 6 years old and stayed until he was 11. Even though he was still young when he left the area, it would later be a great influence on his writing. 'The Avenue' Novels were based on his life in Addiscombe and Shirley Park. One of the characters in 'The Avenue' (Mr. Short) was inspired by one of his teachers from his school in Croydon. I'm certainly adding this to my reading list!
Ronald had a very successful career with a long list of novels and plays under his belt. His work has been adapted for film and television many atime and here are just a few you may have heard of.
'Carry on Sergeant' (1958), this was the very first Carry on film created and was based on Robald's play 'The Bull Boys'. The film 'On the Fiddle' starring Sean Connery was based on Ronald's novel 'Stop at a Winner'. Diana Dors starred in the film 'Worm's Eye View' which was based on Ronald's play of the same name. The list goes on!
---
Stop 5: Addiscombe Recreation Ground
I love ending in a park. From stop 4 simply take Selwood Road and head down to Addiscombe Recreation Ground. This park is a little hidden gem. Apparently it's commonly known as Bingham Park (the road where the main entrance is). The land was once part of farmland, as was much of Croydon, but by 1905 it was repurposed for housing with the park opening in 1911. Before this time, the land was part of the Ashburton Estate which was absolutely huge. The flint faced farmhouse still survives today (built in 1676). It's very pretty and if you'd like to see it, it's not too far from the park grounds at 281 Addiscombe Road. It certainly gives you a glimpse of how Croydon once was. Back to the recreation ground. It's nice and flat for running with a couple of tennis courts, a kids playground and a lovely green space for a picnic… not that I expect you brought one on your run!
That brings us to the end of our second installment of blue plaque runs. Thank you for your suggestions on social for where you'd like me to cover next. I've been exploring different areas, so expect your third instalment soon…
Over and out.
---
Photo credits: Stop 1: Croydon Heritage plaque on "India", Addiscombe Road (close to junction with Clyde Road), Addiscombe, Croydon, Greater London. With its neighbour, "Ashleigh", built in 1848 as accommodation for professors at Addiscombe Military Seminary. Stop 2: Creed House, 20 Outram Road, Addiscombe, Croydon, Greater London: former home of Frederick G. Creed
Posted by Angela