As you probably already know, Open House London opened its doors (literally) last weekend. The Croydon architectural gems on offer included the medieval/Victorian Croydon Minster, the 1920s Airport House and South Norwood's 1960s brutalist library. Not yet having explored the latter, we headed to Lawrence Road in South Norwood to find out more about this beautiful brutalist building.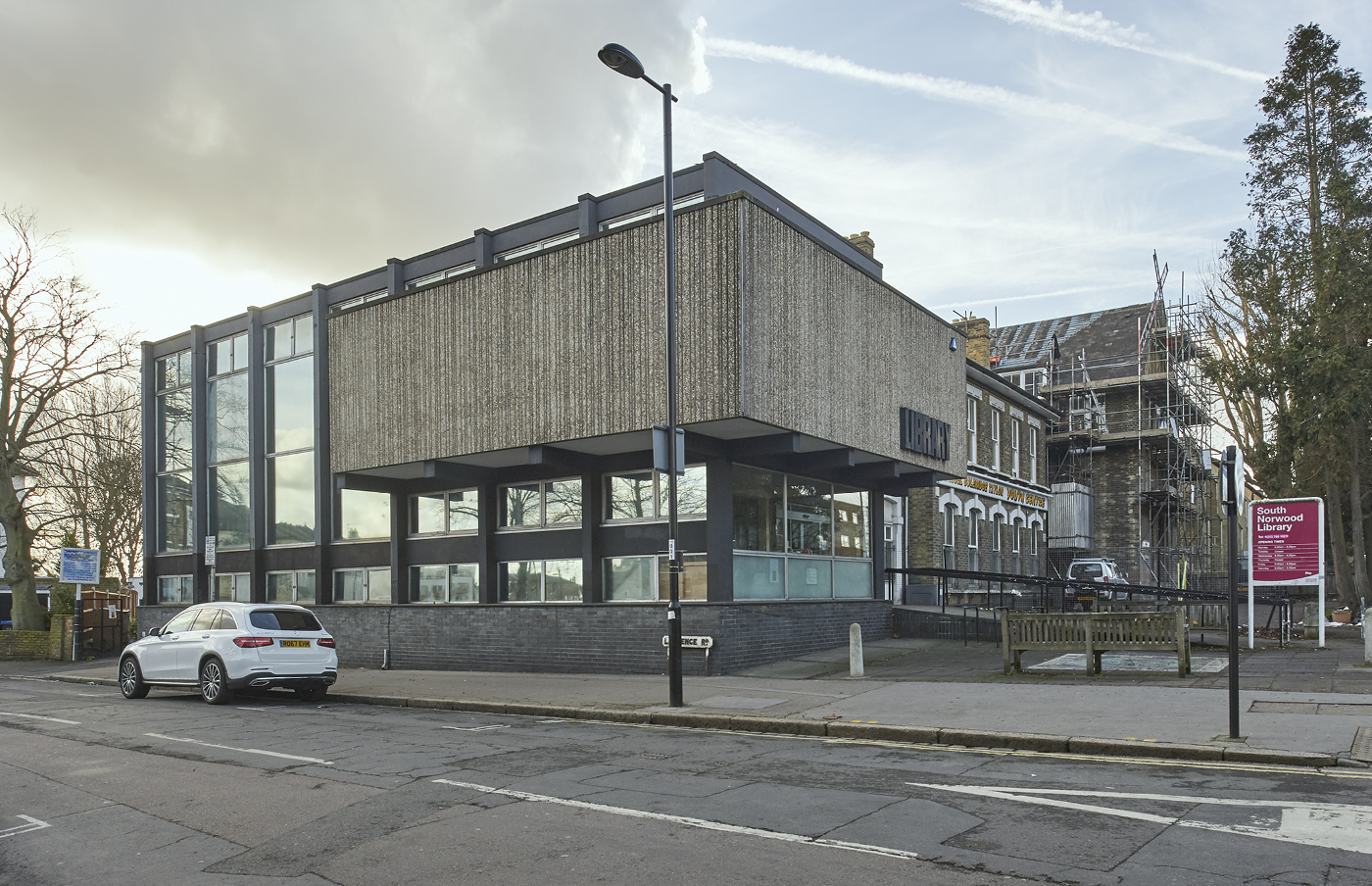 Before arriving we'd heard a bit about the campaign to save the South Norwood library service, but we didn't realise this 60s building was also under threat. In May it was announced that although the South Norwood library service would not be shut down, it would be moved to a smaller new-build premises near Norwood Junction station, which now means this 1960s purpose-built and locally listed library building is currently under threat of demolition. Thus the Brutalist Library group has been created – formed of local volunteers who are campaigning to save this unique building. We can all do our bit by signing their petition here.
On Saturday we met several members of the Brutalist Library group who were on hand to talk to visitors about the building's heritage – they will be back again this Saturday (11 September) to welcome more Open Housers.
If you like brutalist architecture (as I do) it really is a rather lovely example – we were greeted by a huge cuboid of concrete jutting out from an otherwise mostly glass structure. All sharp angles with an undulating texture of concrete on the main 'box', it is even still adorned with the original 'library' sign, set in a bold compressed Grotesk font. Taking a walk around the split-level interior, the ample glass windows let in oodles of light (so great for reading or studying). Technically over three main sections, I think there are actually five levels if you count the mezzanine and study gallery. We spent a while in the second floor children's library reading books with Beth (who didn't want to leave). Sure, the building needs a bit of TLC to restore it to its sixties glory, but it's an awesome space for the South Norwood community. (Incidentally it also has a rather charming community mosaic decorating the pavement in front of the building created by local school children in 2006).
The building's architect, Hugh Lea who finished the library in 1968 was at the time Borough Architect for Croydon. Influenced in style by the pioneering architect Mies van der Rohe, it was also co-designed by the chief librarian T. E. Callander and his team to ensure it was suitable for the needs of their library users. Hugh Lea is also responsible for other notable Croydon buildings including Taberner House (RIP) and South Norwood Leisure Centre on Portland Road.
As is the way with iconic brutalist buildings they tend to take on a life (and character) of their own – South Norwood's library is no exception. It has been lovingly depicted by various creatives, including Hitchin-based architectural photographer Jo Underhill as part of her Brutalism project, Birmingham artist (and Brutalist architecture lover) Samantha Brown, and of course South Norwood-based photographer and founder of Brutalism in Colour Christopher Hope-Fitch. (We are showcasing some of their images in this piece). This week the library also featured on the hugely popular Instagram account Cats of brutalism, so it now has quite the following, with supporters as far afield as Boston, USA and Sydney, Australia.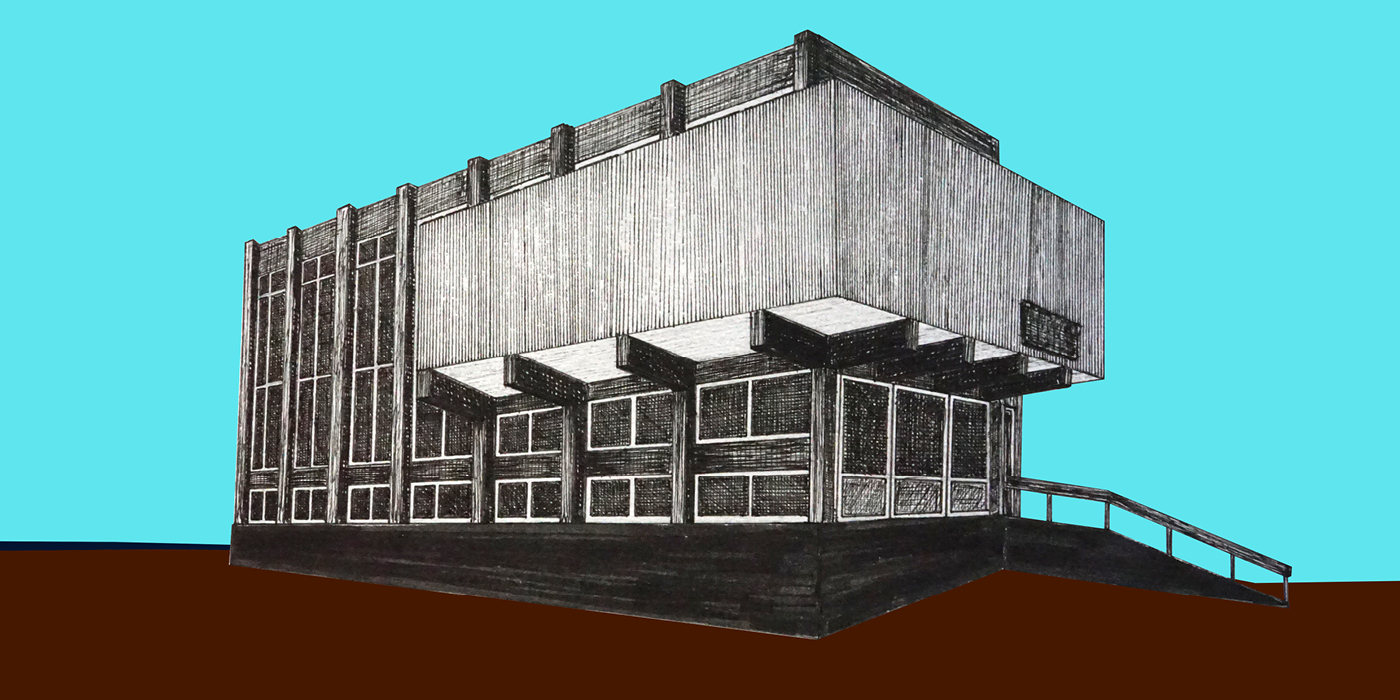 Member of the Brutalist Library group, Verena Ammon says of the building:
'South Norwood Library is close to my heart, it is an incredibly important historical and architectural landmark for South Norwood and the borough of Croydon, and it would be madness to demolish this library – for environmental, historical, financial and cultural reasons. Once this civic building is lost, we won't be able to get it back – there will be a time when we have to answer to future generations why we did not protect and preserve these important monuments, why we did not treasure landmarks of our cultural heritage'.
Another member of the group, Lynn Chambers adds:
'The library is such a unique building. It's synonymous with SE25 because quite simply, there's nothing else like it.  If the building is demolished, the local area will be losing a significant part of its architectural history and I'm fearful that South Norwood will become increasingly more generic. We need to preserve what's special, original and is much loved by residents. There's an opportunity to preserve the building and re-think our need for community space in a post-covid world.  More and more individuals will be working remotely and craving social space to engage with others. Whilst the library service in South Norwood will continue at another site, Croydon council should review the broader needs of the area and work with partners to recycle this space so as to continue to positively impact the lives of residents.'
Don't forget this year the Open House London Festival lasts 9 days from 4-12 September, so you still have the opportunity to visit certain London landmarks, including South Norwood's brutalist library, which is open this Saturday (11 September) between 10am and 2pm.
Check out the Brutalist Library website here for further information on the building and follow them on Instagram and Twitter for updates. Sign the petition to help save the building here.
A special thanks to South Norwood resident and member of the Brutalist Library group Verena Ammon for coordinating imagery and information for us. 
Image credits from the top: images 1, 3, 8 and 10 courtesy of the Brutalist Library group; image 2 © Jo Underhill; images 4 (a & b), 6, and 11 © Christopher Hope-Fitch; image 7 © Samantha Brown; images 5 and 9 by the Croydonist.
Posted by Julia