There's so much more to brutalist architecture than grey concrete, but seeing the buildings photographed in vibrant colours is definitely unusual. Croydon-based photographer Christopher Hope-Fitch does just this with his personal project 'Brutalism in Colour' where he brings a more colourful approach to our favourite style of architecture. We catch up with Christopher to chat about the project, his process and his styles and inspirations as a photographer.
Croydonist: First of all, Croydon native or convert, and what area do you call home?
Christopher: I grew up in nearby Wallington, but have lived in South Norwood for over twenty years now and have no plans to move.
Croydonist: How did you become a photographer?
Christopher: When I was 11 my dad showed me how to process and print my own black and white photos at home, it stuck as a hobby. After uni' I got a job in a leading London lab (Tapestry) doing just the same. I had no idea it existed as a job and loved it. My Boss at the time was great and would encourage me to process and print my own work, including sponsoring my first two exhibitions, which helped enormously.
However, conventional printing was a fading industry when I joined, and I found my workflow being absorbed into the digital side of production which enabled me to transfer all the skills I'd learned in the traditional darkroom into working on digital images using Photoshop. Not long after that Getty images put a call out for new photographers via Flickr and that was the start of my relationship with them. Also, while at Tapestry and since I've been supplying architectural images to the RIBA, which also led to me becoming their archive photographer at the V&A
A bit of a convoluted process really with no stand out moment, but a gentle progression mostly born out of saying yes to opportunities that presented themselves.
Croydonist: We all think of brutalist architecture as being rather monochrome so seeing the buildings in vibrant colour is a breath of fresh air and really draws attention to the detail. How did the idea for the project come about?
Christopher: I've always been interested in the way long exposures can give a different view of the world and experimented shooting with colour film at night years ago. The image that made me realise the potential was when I photographed Brighton old pier by moonlight. I'd expected the cool light of the moon, but hadn't realised how well it would contrast with the orange light pollution from the town, I was very happy with the result and the image went on to be featured in the first 'Landscape Photographer of the Year' book.
Once I was shooting on digital cameras I was able to choose the white balance and saturation to further enhance night time shots even more and this approach seemed a natural choice when I wanted to do something a little different with Brutal architecture. I tried a few test shots in London one evening about three years back with a great success rate and the project has grown from there.
Croydonist: What's the process of photographing a building in such a colourful way?
Christopher: There's usually a bit of prep beforehand checking the location to see if I can get the angle I want, which mainly involves checking that no strong sources of light will be in shot and so cause problems with flare. I then spend some time walking around the building looking for where I'll get the greatest contrast of light sources. Then finally I'll set up the tripod and spend, sometimes close to an hour finding the perfect exposure and fine tuning the angle. Thankfully, once the first image is in the bag the rest follow a bit more quickly, but it's still usually a few hours standing around on dark, cold nights. Afterwards there's at least an hour or more of colour grading in Lightroom and Photoshop to bring out the greatest range of colour.
Croydonist: Do you have a favourite photo?
Christopher: Very hard to pick a favourite, but this featured one [below] of Welbeck St car park. After many tries, I managed to find the perfect combination of lens, aperture, and angle to have only the concrete facade of the building showing, no external distractions or internal features showing and with it all being sharp. So glad I managed to crack it before it's demolition.
Croydonist: What building have you not photographed that you would like to?
Christopher: I'm slowly, but surely, running out of subjects in London and have plans for other parts of the country, but if I were to cast my net really wide I'd love to photograph a Louis Khan building, probably the National Assembly building in Dhaka because it has a bit of everything, curves, angles, and is surrounded by water, so much potential.
Croydonist: Favourite Croydon building?
Christopher: The NLA tower (or No.1 Croydon), pretty stock answer I'm afraid, but it's such a  joy to photograph and I've not run out of possibilities with it yet.
Croydonist: When you're not photographing buildings for your Brutalism in Colour project do you specialise in a certain genre of photography for your day job?
Christopher: Candid portraits of my friends and family are what I mostly supply to Getty, it's the complete opposite of architecture photography, all handheld and much looser in style, a refreshing counterbalance.
Croydonist: Am I imagining it or have I spotted some Croydon locations in your images for Getty?
Christopher: Yes, South Norwood Country Park has featured many a time as it's on the school run which is always a good time to grab a shot or two, also several streets around South Norwood have made good generalised suburban backgrounds. I try not to make the location too obvious though as buyers like it to potentially be a stand in for their own location.
Croydonist: How do you go about selecting a theme to photograph for Getty?
Christopher: Generally speaking the theme is daily life, so very open. I tend to just grab moments when I can and only occasionally set anything up.
Croydonist: What's been your most memorable photography job? 
Christopher: I photographed a pizzeria in Hammersmith for Antonio Palella + Fabrizia Costa Cimino, I've never been so well fed on a shoot, plenty of fine coffee and fresh food from the kitchen. Also, they spoke hardly any English and I don't speak Italian so we communicated via a lot of gestures and google translate. It was one of my most fun shoots, they loved the images and paid early, perfect.
Croydonist: Have you had to adapt how you work this year, and if so how?
Christopher: The work at the V&A has completely dried up as it can only be done at that location, but this has left me with more time to submit stills and videos to Getty, as well as finally set up online print sales for my Brutalism in Colour work.
Croydonist: Classic interview question – if you had to invite 3 photographers or creatives out for dinner (dead or alive) who would they be and why?
Christopher: William Burroughs, Celine Sciamma, Tracey Emin. All very different artists, but ones who've never stood still and constantly evolved.
Croydonist: Where do you like to go in Croydon for inspiration?
Christopher: I'm very fond of the Museum of Croydon, it's small, but you can't fault the quality so it's never a short visit. I'm also a keen attendee of the monthly Lenses of Croydon talks, great community and it's always nice to have a chat with fellow photographers in the pub afterwards.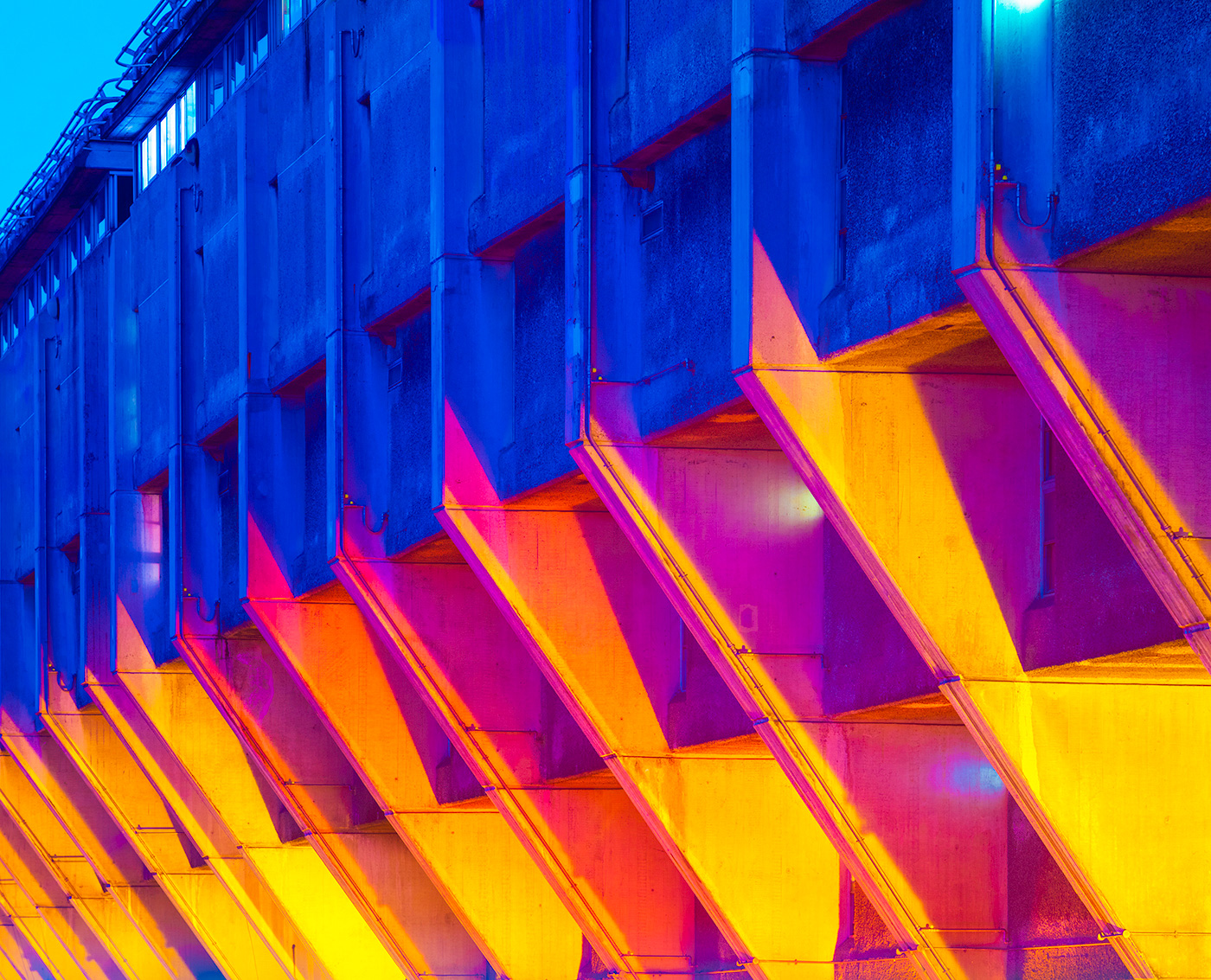 Big thanks to Christopher for chatting with us. See more of his work on his website and Instagram, and be sure to follow his Brutalism in Colour project here.
All images courtesy of Christopher Hope-Fitch. Header image is a crop of Alexandra Road Estate.
Posted by Julia