This week we go on a tour of the Museum of Croydon (in digital form), as we catch up with Marie Tulley-Rose over a virtual cuppa, and discuss everything from representing a diverse community and archiving lockdown, to going on a historical pub crawl. We learned more than a few things we didn't know about Croydon as we chatted…
Croydonist: First of all can you tell us a bit about your role at the museum.
Marie: My role is Museum & Archive Manager and I was appointed to look after the Museum of Croydon and Archive. This is made up of  the Borough Archive containing over a 1000 collections relating to the London Borough of Croydon, its predecessor bodies and the communities it now serves. The Borough Art Collection of over 2,500 artworks, over 500 oral histories, Bronze Age, Roman, Anglo Saxon objects and the Riesco Collection of Chinese ceramics. Over 500 objects are on display in our galleries, some of which are loans from other Museums and individuals.  From textiles, our Trojan Bubble car to our current 'Bones of Croydon' display featuring an almost complete Anglo-Saxon skeleton – the collection is diverse in material and stories. We also have a huge local history collection which includes street directories, newspapers on microfilm, local history books, pamphlets, photographs and a large collection of sales particulars.
I was appointed to take the museum forward and we've created a new vision statement which I hope really captures the direction of travel – We seek to provide a radical space to celebrate our diversity and to explore how Croydon unites us. Our collections and spaces will represent every aspect of Croydon; as a place, a culture and an identity in its own right that challenges perceptions through empowering communities to answer that all-important question 'What's Your Croydon?
Croydonist: What's your connection to the borough? 
Marie: Croydon is my hometown! It's been really serendipitous working for Croydon Council and for the museum specifically as my career has been in the sector. I grew up just outside Croydon (coughBromleycough) but spent most of my teens on the 119 to hang out in the Whitgift. I then joined a band rehearsing at Scream Studios where I met my Palace-loving husband and spent most of my evenings in the Black Sheep Bar, The Green Dragon and the Cartoon.
Croydonist: How have you and your team adapted for remote working? 
Marie: I can only applaud them! It's been a huge change for us as museums and archives are typically built on a physical experience so replicating that digitally and trying to continue to deliver our service has been a huge effort. We've had to get used to MS Teams overnight and not being able to work in the office together and have the typical chat over a cup of tea. We have been doing that virtually though including the odd quiz!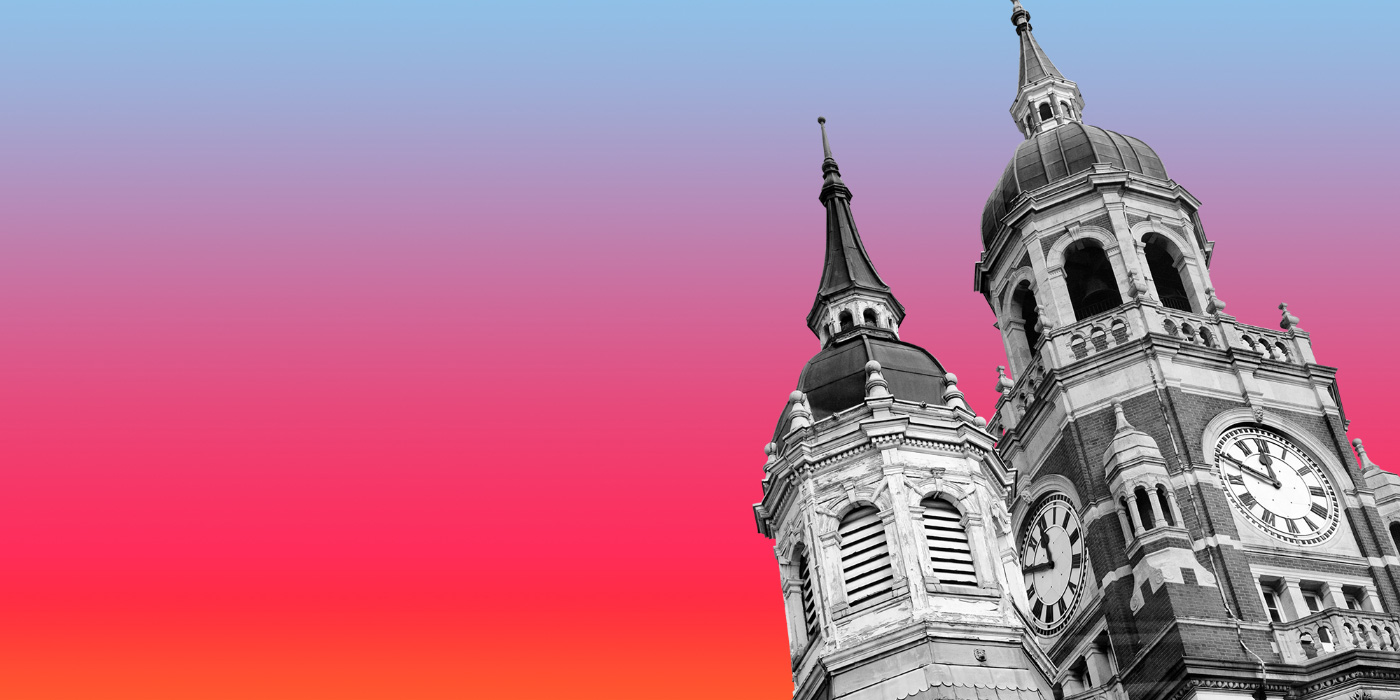 Croydonist: You recently overhauled your website (as if you knew lockdown was coming!) and you have a dedicated section called 'Museum from Home'. Can you tell us a bit more about how our readers can interact with the museum remotely? 
Marie: It was really fortunate we did as our previous website wasn't coping too well (not because I'm psychic!) and we needed something that allowed us to be really responsive and easy for us to update. The switch to a total digital offer has been really significant as it's blown us away how much it has increased our audiences but more importantly given us the opportunity to be able to respond and partake in contemporary discussions regarding museums much more effectively. We can be at the forefront of these and being much more engaged on our social media has also meant we work with audiences in a more proactive rather than reactive way.
Our digital offer has many aspects which we hope means we can provide something for everyone. Our Museum from Home section came from the national #museumfromhome push by museums to ensure there was content provided during physical closures and to open up collections in different ways for people to experience. We've used this as an opportunity to collaborate with other organisations and artists and delve further into our collections through blogs and even podcasts!
We have a number of online exhibitions which have a variety of digital experiences ranging from galleries, to film and activities. It's been really refreshing to work in this way and to consider how we tell the stories of our collections for audiences virtually. It's also been a nice opportunity to look to how we can support and promote local artists and organisations who in turn help us understand different perspectives of our collections and other ways we can reach out to communities.
Croydonist: What's been your favourite 'Museum from Home' activity? 
Marie: For me it is the Letter from Lockdown. It's a chance for anyone to share their stories of lockdown which are then digitally submitted to the collection where we will select a variety to keep permanently. It's been really eye-opening to see the different experiences of lockdown and also it's so important museums have a means to collect contemporary stories. Our collections effectively stop in 2011 following the riots and we recognise just how much history that is missing from our collections since then. To proactively collect during COVID ensures we can record what is one of the largest events to happen in modern history but also hopefully ensure future generations can learn from it. It's challenging to think of COVID in this way as we are all living through it and adjusting to a 'new normal' but this is where the significance of the museum and in particular, a local social history museum becomes really important.
Croydonist: You have some exhibitions currently running online – one is called Virtual Storytellers. How did you work with the exhibition curators 'Good Wolf' to evolve the exhibition for a digital environment? 
Marie: First of all, huge shout out to Good Wolf – we love them! They were part of our first round of exhibitions for our 'What's Your Croydon?' programme. This was a programme where we invited local artists, community groups and organisations to submit proposals for exhibitions through an open call. The aim being to demonstrate what is relevant in terms of Croydon's history and how they could be inspired by our collections or not if they could prove we hadn't collected it yet – hence calling it 'What's Your Croydon?'. It was really interesting to work in such a collaborative way and Good Wolf were part of our first set of exhibitions with their amazing 'Storytellers' exhibition and we were only open to the public for 6 weeks before we had to close. They have since worked super hard with the team to translate their exhibition online which was participatory and therefore recreate the experience online by asking people to create their own stories inspired by Croydon's amazing history of storytelling and authors. You can explore stories from home using our virtual handling box and share these with us or choose your very own object and tell a tale. This exhibition allowed us to showcase some of our collections alongside Good Wolf's displays of Croydon authors including the character reference for D.H. Lawrence when he taught at Davidson Road School. Lawrence lived in Croydon periodically where myth has it he wrote draft manuscripts for what later became Lady Chatterley's Lover and when the owner of the house he lodged in found them he burned them!
The other two exhibitions including Play for Progress with 'Roots and Branches' and Croydon Natural History and Scientific Society (CNHSS) also went virtual which has been really exciting. Both of these exhibitions have revealed the depths and also limits of our collections with CNHSS showcasing the John Gent postcard collection and Play for Progress highlighting the voices of those normally not represented in museums who are the unaccompanied minor refugees they support. We feel really fortunate to work with all of these organisations and hope we've presented a really interesting cross-section of Croydon's history with more to come.
Croydonist: You and the team have been busy blogging and creating podcasts in the past couple of months. What's the most unusual thing you've found out about the history of Croydon that you didn't already know? 
Marie: It's been really interesting. I think for us it's revealed the risk museums have in too narrow focus on content and how this needs to be challenged. By that I mean we need to acknowledge the limits in our own collections in terms of the voices that have typically been represented and therefore those who have been erased from them as a direct result. With the momentum of Black Lives Matter for instance and the spotlight it has put on museums in being non-neutral spaces it's really important to recognise that and ensure that the myth of impartiality in museums and archives is recognised as incorrect and rectified to actually present all aspects of that history. The Windrush exhibition last year we hosted with All Islands Together was the first step in a totally community co-curated approach. It was really inspiring to see the museum space be used in this way which highlighted for me how much museums should be these safe yet radical spaces to question our collective heritage by working with communities directly to let them tell their own stories, and crucially, in the ways they would like to do so.
Therefore in terms of the most unusual thing we've found I think it has yet to be discovered and we need to work out how to find it – we'd love people to tell us what they think!
Croydonist: It's wonderful how the Croydon cultural community has joined together in this period. Which other organisations we haven't already talked about have you collaborated with during lockdown?  
Marie: It's been brilliant. The sense of community spirit amongst the cultural community has been really profound but also in terms of the sheer number of groups and organisations supporting residents during this time, as a resident I feel really proud. In terms of the museum we've collaborated with Scene in Croydon for their 'Colour Croydon' competition which has been really therapeutic! We've showcased Croydon Music and Arts 'Coronavirus time capsules' filmed by the young people they work with as part of the Croydon Creative Collective. We also got the opportunity to showcase a number of our pubs through our virtual pub crawl which showcased historic and contemporary pubs including the Oval Tavern, Cronx Bar, The Ship and The Green Dragon.
We're about to launch Queer+ Croydon in the next couple of weeks, an online exhibition led by Mark Goldby an artist based from Conditions. He delivered the fantastic 'Bold' group show exhibition last year in recognition of the 50 year decriminalisation of homosexuality. This exhibition will look at examples of queer visibility in the Borough and will conclude by establishing a queer archive of Croydon. This will be an opportunity for LGBT+ people with a connection to Croydon to digitally donate their own stories, images and objects to an ongoing collection, first established in 1995. These donations will be released in blog format on the Museum's website and we're actively collecting these right now.
Croydonist: What are you missing most about being physically at the museum? 
Marie: I miss being able to roam the stores looking at all the collections – it's one of the perks! It's also hard not welcoming our volunteers and visitors into the space and I've particularly struggled not meeting all the amazing artists and cultural practitioners in the borough. It's been a real joy in this role just meeting all the creatives in Croydon and having been here as an audience member, I've been so lucky to meet so many people I've hugely admired.
Croydonist: Who is looking after the collection whilst the physical museum is closed? 
Marie: We are all visiting the building to check on collections whilst the museum is closed and to answer enquiries remotely. This has been a great chance to get more up close to objects and also undertake essential collections care – pests and the like don't stop for COVID unfortunately. It's also been a chance to check in with our sector colleagues and it's actually been a really interesting time in terms of collaboration and sharing information with other museums.
Croydonist: Are you able to share your plans for re-opening? 
Marie: We welcome the news that museums and galleries can now open. We're working through our plans for what this could mean for the Museum of Croydon and our staff, volunteers and visitors and will share these as soon as we know. Our layout is complex in terms of ensuring the measures can be followed along with the additional challenge of operating out of Croydon Clocktower.  In the meantime we're going to continue to focus on our digital offer and also broadening our outreach to focus on ways we can bring the Museum of Croydon direct to communities and audiences.
We look forward to visiting the museum again in the physical, but in the meantime we are very much enjoying all the resources online. Thank you to Marie for chatting with us. Visit the museum here, and follow them on Twitter, Instagram and Facebook.
All images courtesy of the Museum of Croydon, except Roots and Branches exhibition photos and Colour Croydon competition entry which are by the Croydonist.
Posted by Julia