The evenings are drawing in, there's a chill in the air, and the mince pies are already on supermarket shelves. You've guessed it, it's beginning to look alot like Christmas. I realise we haven't quite passed Halloween, but we've peaked way too early with our spooky celebrations in the Croydonist household as our carved pumpkins are already going mouldy. So we're more than ready to move onto the next festivity. Therefore it's time to think about Christmas shopping…
This year festive gifts are going to be easy, as the Cronx Boutique is back. It's bigger and better than 2019, returning for two months from next Wednesday, 3 November.
The Cronx Boutique is a collaboration between a trio of local brands that most Croydon residents already know and love: The Croydon Photographer, East Croydon Cool and Johnny Howl Club.
This year the trio are on a mission: to champion local creative talent and bring some post-pandemic positivity to the Cronx with their alternative festive shopping experience.
We catch up with Glenn (The Croydon Photographer), Giselle (Johnny Howl Club), and Maddy (East Croydon Cool) to find out more. Start your Christmas wish lists now.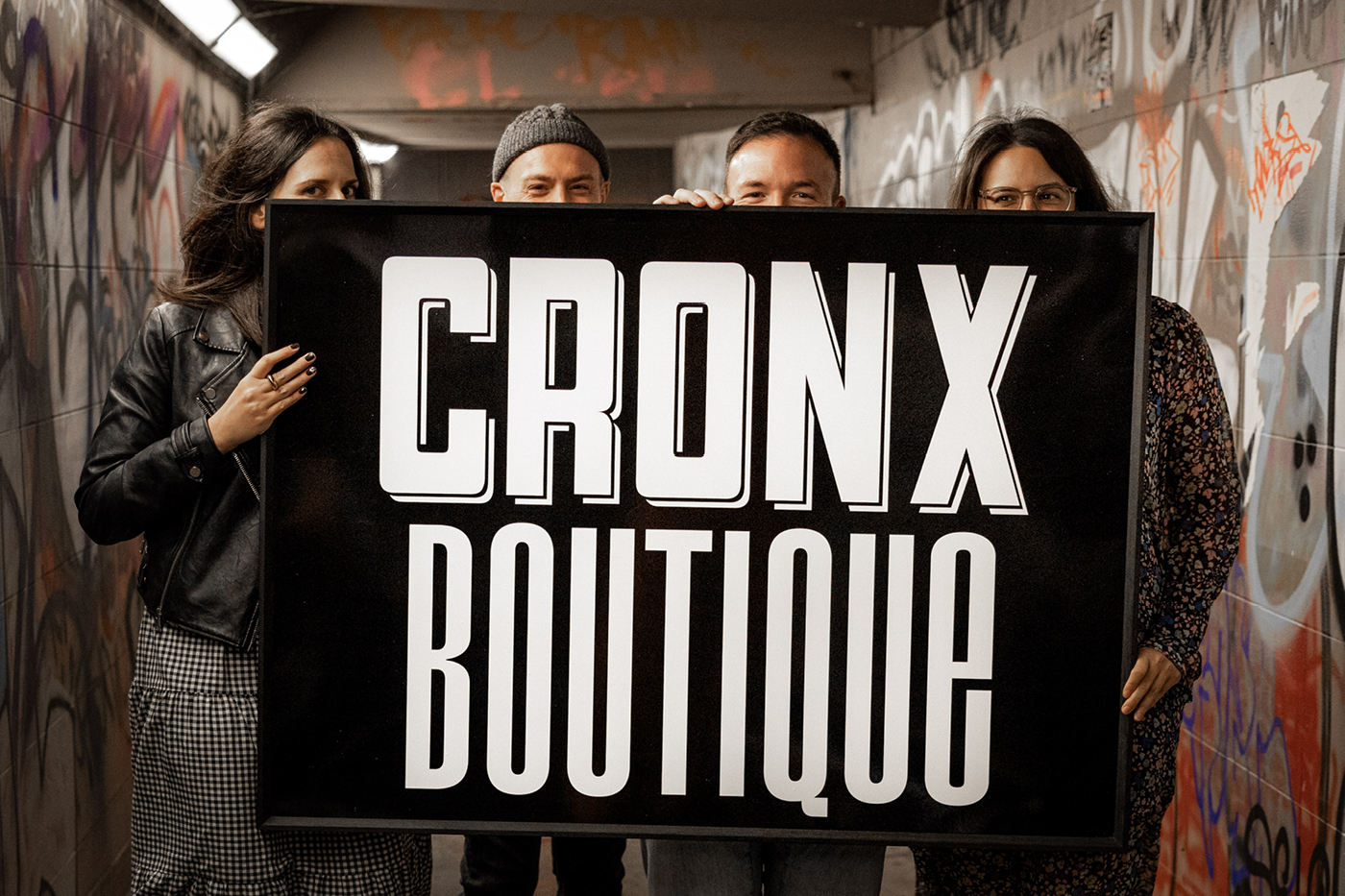 Croydonist: First of all, Croydon natives or converts, and what areas do you call home?
Glenn: I'm Croydon born and bred! Born in Thornton Heath now living in Addiscombe.
Giselle: Johnny and I moved to Croydon in 2013, but we've lived in South London our whole lives.
Maddy: Well, I'm not a native – but definitely a convert! I moved here in 2016.
Croydonist: How will this year's boutique differ from your 2019 boutique?
Maddy: Being largely self-employed ourselves, we were very aware of the impact the pandemic has had on small businesses. So we wanted to use this year's Cronx Boutique to help showcase and support some of the creative talent in the neighbourhood. The decline of high streets across the UK has been well publicised (even more so in Croydon where we've had the Westfield issue!) so we hope projects like the Cronx Boutique can become examples for what town centres could invest in going forwards.
Giselle: This year's boutique has a strong emphasis on showcasing local creatives. We are welcoming a range of people to the shop floor including Three Piece Sweet (vintage clothing and vinyl), Ray Ray's Flowers (floral bouquets), So & So Studio (slow-made vintage vibe jewellery), Mr Tinto (Colombian coffee), S.V.M (handmade dresses and accessories) and House of Lilah (art inspired candles and teas) as well as three bakers Laborjee, Chatsworth Bakehouse and Dear Friend Bakery who will be using the boutique as a pick up point.
Glenn: In another nod to supporting local, we're also working with Laura Sawyer on a new interior design scheme and will be playing Croydon FM in store. Since we've got the space for two months this year, we also have a few more surprises to keep things interesting…so watch this space!
Croydonist: We know the Cronx Boutique is a collaboration between your three brands, but how did the idea for the boutique originally come about?
Giselle: I came up with the name 'Cronx Boutique' after Maddy approached us to share a stall at a makers' market in 2017. A while later we were having a light-hearted conversation with Glenn about us having our own pop-up shop, the conversation got somewhat out-of-hand and now here we are!
Maddy: Having started as a stall at the Made in Croydon Market at Boxpark Croydon, it's been great to work together to grow and develop the Cronx Boutique to what it is today!
Croydonist: Can you give us a taster of what gifts your three brands will be selling?
Glenn: I'll be stocking framed and unframed fine art prints (plenty of new designs), poster prints, coasters, Christmas cards and magnets. Also a new addition from me this year will be t-shirts featuring a new bold Cronx design!
Giselle: We have three new collections, 'The Croydon Edit', 'Art and Milk', and 'Icons'. 'The Croydon Edit' showcases Croydon's much-loved architecture through hand-drawn art prints while Cronx Life tote bags and Cronx Gal pouches provide a celebration of community spirit. 'Art and Milk' is a fun collection for little ones, including iron on patches and art prints with pop culture references. 'Icons' is a collection of hand-drawn digital prints that depict some of pop culture's beloved figures including David Bowie, Jean-Michel Basquiat, and Amy Winehouse.
Maddy: Our Croydon Mugs (featuring tongue-in-cheek statements such as 'New York, Paris, Milan, Croydon' and 'Croydon is Always a Good Idea') will be back again! As will the notebooks and prints. This year will also see the launch of the 'Eau de Croydon' candle range. They are designed to evoke memories of the Borough past and present and the range includes 'Le Mouton Noir' and 'Orchidée Bleue' – a nostalgic nod to old Croydon nightclubs (how good is your French? 😉)
Croydonist: Your weekend takeovers will definitely keep the experience fresh for shoppers – how did you curate the programme with other local creatives?
Maddy: Last time, we welcomed 3 weekend sellers and we were really keen to expand on this for 2021. It was such a difficult process as there is so much talent around but we were keen to work with people whose work we loved and who we'd had experience of working with before. We also felt it was important to bring in sellers who offered something different to us… I think we've found a good mix with vinyl, flowers, jewellery, clothing, tea and coffee!
Giselle: Johnny and I came up with a shortlist of local creatives who inspire us and who would diversify the boutique. These were then discussed with the rest of the Cronx Boutique team along with their suggestions. Our talented guest sellers and bakers have a wide range of products, so we hope you'll be back each week to support them and get your Christmas shopping done!
Croydonist: We love the idea of having a bakery pick-up point at the boutique on weekdays – do we order our baked treats online in advance or will there be goods in store for passing shoppers?
Maddy: With there being so many local cafés and restaurants nearby (including our neighbours at Boxpark!) we were slightly restricted in what we could offer in terms of food and beverage. But we were keen to showcase some great home bakers and so came up with the Pick Up Point concept.
Giselle: Essentially, this means that the bakers will be taking orders online in advance and using the boutique as a space to meet their customers and hand over their baked goods.
Glenn: We've had the go-ahead to let the bakers give out some free samples… which will pair up perfectly with a coffee from Mr Tinto who operates just next door to us at the end of Caithness Walk!
Croydonist: What are you particularly looking forward to snapping up as Christmas gifts at the boutique?
Giselle: Johnny will be reading this, so I can't tell you!
Maddy: Err one of everything from everyone?! 😉
Glenn: I'm really looking forward to having a look through Three Piece Sweet's vintage clothing for some gems!
Croydonist: Where will the boutique be located this year and can you give us a few hints as to how it will be designed courtesy of Laura Sawyer?
Giselle: We were very lucky to secure the same unit as last time, which is perfectly located near to East Croydon train station and Boxpark. It's the ideal place to pick up gifts on your lunch break or commute. Laura's theme this year is 'Dark Urban Sparkle' – we can't wait for you to see it!
Maddy: We are excited to be working with Laura again this year who has managed to fit us in whilst also working on designs for The Savoy! We've gone for a darker look this year and the chic black exterior will be juxtaposed by organic materials including wood, stone, plants and dried flowers.
Glenn: Laura's got me working on a window display – which (if we can pull it off!) should be a really nice welcoming feature.
Croydonist: Random interview question to get our readers in the festive mood – what's your favourite Christmas film?
Glenn: Gremlins! Brings back great childhood memories.
Maddy: The Family Stone – gets me every time!
Giselle: Home Alone, it's a classic!
Croydonist: And to throw in a final tricky question – what inspires you most about Croydon?
Giselle: Since having our child in 2019, we have seen Croydon from a new point of view through his eyes and as parents. His love and excitement of everyday things such as riding the tram and playing in local parks has inspired several of our new prints.
Glenn: The architecture has inspired a lot of my designs – specifically the brutalist architecture Croydon has to offer.
Maddy: How everyone here is so loyal towards their borough. We know it's got its issues and it's not perfect, but everyone we've met is always really enthusiastic about Croydon's potential and keen to work together as a community to promote the more positive sides of the neighbourhood.
Thank you to Giselle, Glenn and Maddy for chatting with us. We'll definitely be first in the queue for a 'Le Mouton Noir' candle. 
The Cronx Boutique (located on Caithness Walk) will run from Wednesday 3 November to Friday 24 December as follows:
12pm to 8pm on Tuesdays, Wednesdays, Thursdays and Fridays
10am to 6pm on Saturdays and Sundays
Find out more about the Cronx Boutique here, or check out the Instagram hashtag #CronxBoutique.
Images courtesy of the Cronx Boutique, header by the Croydonist.
Posted by Julia