Croydon has been at the forefront of many exciting things in its time – world record breaking flights, innovation in aviation and rail – plus it has a rich history in arts and entertainment.  In fact, Croydon was the top leisure destination in the mid 19th century.
Since those times, we may have had a few knocks and scrapes, and to some, unfavourable facelifts of regeneration of the area, but one thing's for sure, Croydon is once again back in the spotlight.
Continuing with a history of firsts, it stands to reason that innovators of the world's first pop-up mall would choose Croydon as their home to revolutionise casual dining. With over 40 traders and a capacity of 2000, this makes it the largest food outlet and entertainment hub of its kind.
Welcome to Boxpark Croydon.
Kicking off with a two day festival, taking place on Saturday 29th and Sunday 30th October, Boxpark aims to please. And it is certainly a pleasing bill of entertainment – from Grime to chilled beats, they've got it covered. Here's the lowdown.
Saturday 29th October
Eskimo Dance has partnered with Boxpark to bring you the top talent in Grime. And in case you're not familiar, it is the brainchild of Wiley (a.k.a The Godfather of Grime). Eskimo Dance began back in 2002 and breathed new life into the rave community.
Continuing on with legendary parties to this day, the event on 29th is set to be one of London's hot tickets, and they're going fast. With an exciting packed bill including Wiley, Ghetts, Novelist, Solo45, Elf Kid, President T, P Money, Merky Ace, Blakey, Splurge Boys, and loads more, plus a top secret special guest, the opening day is certainly not to be missed.
Tickets are £15 and are available here. The event runs from midday until 11pm.
Sunday 30th October
NME joins forces with Boxpark to bring you a free showcase of the best up and coming bands and artists.  Before I get on to the acts, would you like to hear my interesting NME fact? Of course you would! Did you know that the publication, first published around 1935, was called the Accordion Times and Musical Express? Accordions were THE instrument to play in the 30s, hence the need for a musical paper of this nature. It wasn't until 1949 that the paper became our beloved New Musical Express and would go on to be one of the biggest music papers in the world. History lesson over.
Featuring on Sunday so far is A2, Alfa Mist, Barney Artist, Club Kuru and Nova Twins (more to be announced shortly).  Nova Twins are very much top of my list to see.
Sunday 30th October is a free event and you can register for the NME ticket ballot here.
All in all, the launch weekend is a pretty cool start to the opening of what promises to be a place that combines food, drink and the love of cultural arts, with more events on the way.
Will it be a replacement for my favourite haunts such as The Oval, Matthews Yard, The Dog and Bull, and the many restaurants on South End? Well, no. Boxpark is a different experience is all, one which I used to head into the centre of London for and soon I won't have to. It's a new addition on our doorstep and another reason for me and my friends to spend even more time right here in Croydon.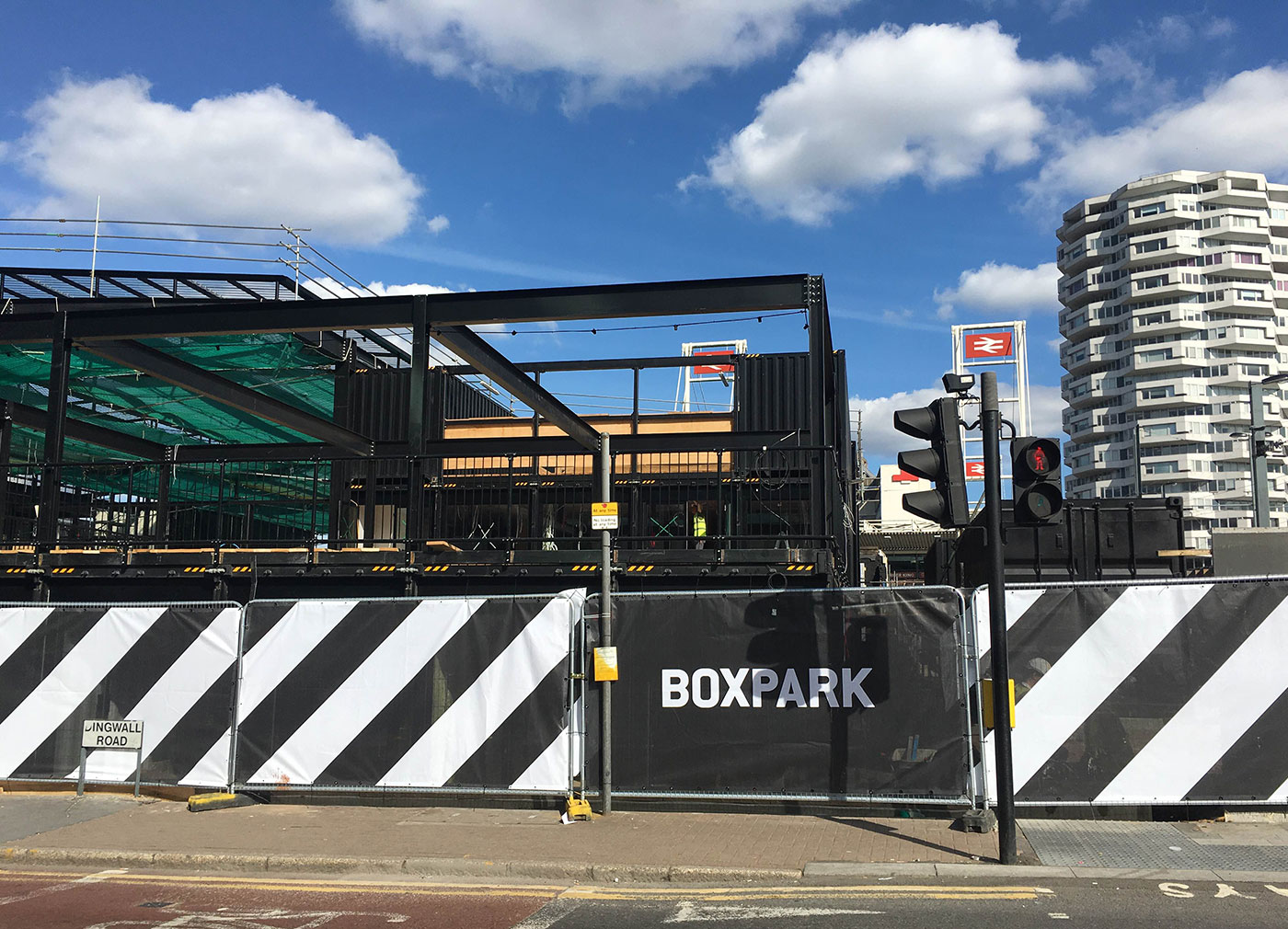 Boxpark's opening festival takes place on the weekend of 29th and 30th October. Tickets and a list of some of the box of delights for foodies from both local and further afield traders are listed below:
Traders:  MEATliquor; The Breakfast Club; Chilango; Craft Beer Co; Yumn Brasserie; Mama Lan; Indi-go; Cronx Brewery; Wine&Deli; Cafe Mud; Fish Wings & Tings; Viet Do.
Posted by Angela